Technology for Work and Travel
In the Year 2020
In 2020, employees of most service-oriented firms work from home offices. Telecommuting; flexible work schedules; and real-time, interactive video-teleconferencing enable them to maintain close ties with clients - especially international clients or suppliers - and allow quick response to their clients' needs.
Although there are peak travel times, rush hour frustrations have been reduced significantly. The automobile remains the dominant choice for personal and business travel, but many individuals use small, fuel-efficient vehicles with state-of-the-art emission controls that eliminate harmful pollution. Local commuting and other short trips can be made in economical, alternative-fuel vehicles and small, battery-powered cars. Standard safety equipment on many new vehicles includes electronic lane tracking; enhanced night vision; and automatic, intelligent, and adaptive cruise control with assisted steering and braking.
Many roadways are equipped with pavement sensors that monitor real-time traffic conditions and automatically adjust signal timing, ramp metering, and lane control to keep traffic flowing. Satellites that track weather conditions interact with other sensors in these roads and communicate with maintenance operations centers about current surface conditions. Managers have information about water, ice, or snow on the roadway and can assign crews as needed.
Take the Bus - or the Train, Subway, or Ferry
A variety of public transportation options are available to 21st century travelers. Compact, fuel-efficient buses use express lanes to shuttle commuters to and from business districts, commercial cores, and outlying commuter centers with connections to subway, ferry, rail, or air terminals.
Frequently, the commute is via major arterials that connect "edge cities" - business and commercial centers that have emerged around major metropolitan areas. Within some of these metropolitan areas, automated highways carry buses and passengers to their destinations through tunnels, leaving surface roadways for local travel.
Public transportation is an attractive, convenient alternative to driving because, on many systems, passengers may use "smart cards" to pay fares, tolls, and user fees electronically. It is also competitive. The systems factor in vehicle weight, driving distance, and peak-period use. Fees are established through cooperative agreements among state, local, and regional transit authorities and are based on developed congestion-pricing alternatives and the transportation needs of the communities they serve.
Technologies also ensure that freight traffic moves smoothly. An automated intermodal network, operating in North America, uses satellite remote-sensing to track truck, rail, barge, and boat shipments. Each shipment has a unique electronic signature so that shipping companies, manufacturers, and clients always know the location of their goods. There is no need to stop at border, toll, weight, or inspection stations because onboard transponders allow enforcement personnel to check the vehicle's safety, credentials, and size and weight data electronically. The reliability of freight movement allows manufacturers to adjust production schedules as needed and ensures that delivery is fast, frequent, and dependable.
Yes, in 2020, the nationfs intermodal system moves people and products efficiently, economically, and safely.
Why Wait for 2020?
As we race toward the end of the millennium, speculation about the lifestyles of future generations and how they will conduct business has become a national pastime. An appealing feature of an imagined future is the elimination of problems that vex our lives today.
For the transportation community, images of 2020 portray a safe, congestion-free, structurally sound, fully integrated surface system that promotes personal mobility and fosters national economic productivity. Crashes and gridlock are unpleasant memories.
Are we just dreaming? The scenario depicting the high-tech, efficient intermodal transportation network of 2020 is not the stuff of daydreams. The National Highway System (NHS) is the principal component of a fully integrated surface transportation system, and a goal of NHS is to identify and coordinate the intermodal routes and connections that will accommodate national and regional freight and passenger transportation demands. As the Interstate Highway System nears completion, the Intermodal Surface Transportation Efficiency Act of 1991 (ISTEA) and NHS are promoting the use of advanced Intelligent Transportation System (ITS) technologies to improve the capacity and safety of that system for the next generation of drivers.
Development of ITS technologies is very much a joint effort among members of the transportation community, including public and private sectors, academic institutions, and transportation associations. Thanks to the NHS mandate and to ITS, transportation managers and engineers are using advanced technologies and products to solve today's transportation problems, and other potential advances are being tested in the laboratory or in the field.
Hi-Tech Traffic Management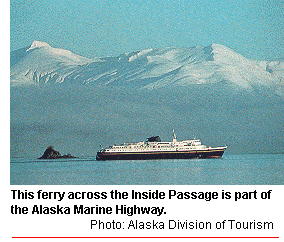 With a 30-percent increase in traffic in just the past decade and an estimated 50-percent increase in the next decade, the fundamental challenge to the transportation community is to manage the traffic flow and keep it moving safely. To accomplish this, researchers and engineers are developing products and adapting sophisticated technologies produced for other industries, including defense technologies.
These technologies are important because they allow traffic managers to coordinate regionwide systems that control traffic flow. Experiments and test programs are under way to use remote-sensing and satellite technologies to monitor real-time traffic conditions and adjust signal timing, as necessary. Lexington, Ky., for example, has computerized its traffic system and has reduced stop-and-go traffic by 40 percent.
Ramp metering, which controls access to freeways, is not a new technology. These meter signals, however, are not usually linked to other traffic management systems. Conventional meters cannot respond to traffic jams or congestion caused by a crash or incident. Using ITS technologies, Minneapolis has linked its traffic system with the ramp metering system. As a result, freeway speeds have increased by 35 percent, and the crash rate has decreased by 25 percent.
Technology also is reducing the time that passenger and commercial vehicles spend at toll roads and bridges. Twelve regional transportation authorities are collecting tolls electronically. On New Yorkfs Tappan Zee Bridge, eight toll booths were replaced with five electronic lanes, and traffic went from a crawl to an average speed of 40 kilometers per hour.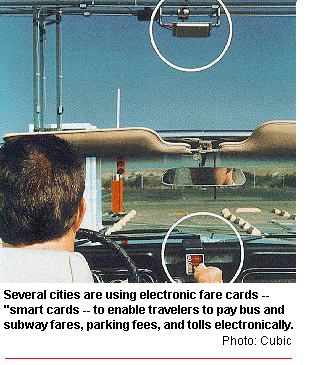 Several metropolitan areas, including Washington, D.C., are experimenting with electronic fare cards. Like bank automatic teller machine (ATM) cards, these cards move travelers through parking lots and bus and subway terminals more quickly with no need to worry about exact change or chase the quarter that just rolled under the driver's seat.
Satellite technology also assists mass transit. Using the Global Positioning System (GPS), major metropolitan areas are able to monitor bus operation. Denver is setting the pace by equipping 800 buses with GPS receivers that communicate vehicle location and movement. With this information, managers can adjust schedules as necessary. Buses in Baltimore and Milwaukee - and soon in Portland - are being outfitted. Currently, 18 percent of the nation's 66,000 buses are outfitted.
Technology and Infrastructure
While some technologies keep traffic moving, others help managers keep road surfaces and infrastructure safer, more durable, and more cost-effective. The need for road maintenance and repair will never completely disappear, but resourceful public and private industry collaboration is producing high-performance, non-corrosive materials and sophisticated testing and monitoring equipment.
A model of these collaborative efforts is the five-year Strategic Highway Research Program (SHRP) and the continuing implementation of SHRP products to apply innovative technologies to infrastructure problems. Currently, more than 100 products developed under SHRP are improving concrete pavements, bridges, and other structures. The following are examples of SHRP technology at work:
Superpave is a mix design and analysis system that significantly advances hot-mix asphalt pavement design. The system enables highway departments and contractors to factor climatic conditions and project traffic loads to create pavements that resist rutting and cracking. Transportation departments in Indiana and Colorado are using Superpave in selected reconstruction and rehabilitation projects, and officials estimate that increased pavement life will save thousands of dollars in maintenance costs.
A new test kit to measure the extent of chloride-induced corrosion of the reinforcing steel in portland cement concrete bridge decks is being used by the Alaska Department of Transportation and Public Facilities (ADOTPF). The ability to conduct tests and get results in the field has reduced ADOTPFfs testing cost by 93 percent per bridge.
Computer and ultrasound technologies have been used to develop several nondestructive testing methods that are less invasive to the infrastructure and that greatly reduce the effect on the traveling public.
A space-age plastic wrap process to remove chloride ions from reinforced concrete structures is being tested in Virginia. The electrochemical chloride extraction (ECE) process draws the chloride ions out of the structure. At the same time, ECE halts further corrosion for an indeterminate time. ECE is particularly well suited for substructures, where it does not interfere with traffic.
In the forefront of adapting and evaluating the advanced products and technologies for highway design is the Turner-Fairbank Highway Research Center (TFHRC) of the Federal Highway Administration (FHWA). TFHRC has been instrumental in developing and updating traffic simulation computer models that help manage traffic flow. TFHRC materials laboratories conduct advanced testing and research on pavements, foundations, robotics and automation, and decision-analysis technologies. An example of TFHRC's work to adapt private sector initiatives to transportation use includes research into retroreflective signs and roadway delineation markings. Efforts have begun on a technology transfer program for these markings and signs.
Roadway Technology
The same satellite and remote-sensing technology that is improving traffic operations and management is helping road managers oversee maintenance efforts. Managers in several parts of the nation are employing GPS technology to chart pavement surfaces and structures. This effort can provide an important perspective on an entire road system. The technology complements scheduled cyclic maintenance efforts because it is sensitive enough to register indications of cracks, failure, or scour that require immediate attention. Weather satellites can also augment information from sensors embedded in pavements and structures to advise managers of real-time roadway and weather conditions that affect traveler safety. The New York State Department of Transportation has established 13 road weather information system (RWIS) sites in six regions around the state. Each RWIS provides real-time weather information via site-specific weather forecasts and sensors.
More down to earth, 18 states are using SHRP-developed, anti-icing strategies to lower the freezing point of water on pavements. Different anti-icing mixtures and application rates can be used for different weather conditions. The anti-icing strategy prevents snow or frost from bonding to the pavement surface. The pavement may be wet or slushy, but not icy, which makes driving safer and plowing operations easier. Sensors embedded in the pavement to record temperature augment anti-icing efforts by indicating when application is necessary.
Anti-icing technology also applies to the problem of bridge deck freezing. Maintenance funds are conserved because no one has to "baby sit" roads or bridges, waiting for them to freeze. Also, by eliminating salt and abrasives, there is much less stress to the roadway surface and structures.
Technology and Commerce
An important mandate of ISTEA and NHS is to support economic productivity. Seamless transportation has begun with the enactment of the North American Free Trade Agreement (NAFTA). Several test projects are using new technology to assign electronic signatures to container shipments. The motor carrier industry supports using new technology as an economical alternative to weigh stations and inspections and as a way to enhance security.
Several states are experimenting with electronic licensing systems that allow motor carriers to purchase credentials and report fuel and mileage tax information electronically, which reduces considerably the administrative burden on states and motor carriers.
An electronic tracking system will be crucial for transporting hazardous chemicals, including radioactive materials, on all modes of transportation. The system will improve both oversight and incident response coordination.
Technology and Safety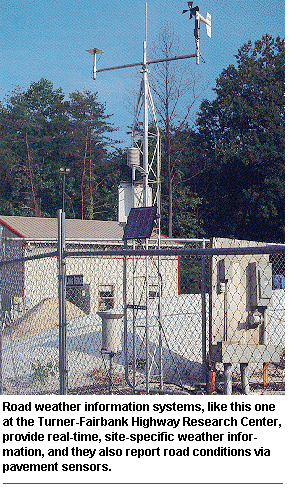 Satellite and cellular technologies also influence traffic safety. An ITS surveillance operational test on the Washington, D.C., Beltway is using cellular technology to monitor traffic flow and to track 911 calls, enabling response teams to locate and deal with traffic incidents quickly.
Emergency response providers in Houston have adapted traffic control system technology to allow emergency vehicle drivers to control traffic lights. If a light is about to turn yellow, emergency vehicle drivers can hold the green signal until their vehicles have cleared the intersection.
Technology is also at work keeping motorists and maintenance crews safe. There is now an array of devices to control traffic and warn workers of dangerous situations. Variations to the flashing stop/slow paddle include several modifications that add high-intensity or halogen lights that can be activated if an approaching motorist doesn't seem to be obeying the flagger's instructions. The lights are bright enough to be seen on the sunniest day.
California has recently turned to robotics to improve worker safety at landslide sites. Remotely driven front-end loaders keep workers safely out of harm's way when debris is cleared from highways.
The traveling public now looks to technology to keep it safe while en route. Drivers are familiar with air bags, passive restraints, and reinforced bumpers and side panels, and now a new and intriguing technology is capturing their attention. Recently developed and tested collision-avoidance technology alerts the driver if he is overtaking another vehicle too quickly, and it warns if another vehicle is in the driver's "blind spots." In addition to the warning, some systems include an adaptive cruise control that will automatically slow the speed of the vehicle if it is approaching another vehicle too quickly.
A two-year pilot test of a collision-avoidance system on Greyhound buses reduced crashes by more than 20 percent. Additional tests are being conducted to perfect the system and lower costs.
Travelers also are using new technologies to make travel decisions. Real-time travel information is widely available by radio, cellular phone, and cable channels that monitor travel corridors and intersections. Travelers' use of cellular technology also improves safety as incidents and road conditions are reported more quickly to traffic control centers. Regions are beginning to offer traveler information services about road conditions, repair locations, and suggested routes.
Information Technology
The information superhighway is also playing an important role in promoting the exchange of highway technology on a worldwide scale. Two important examples are the Internet and the World Interchange Network (WIN).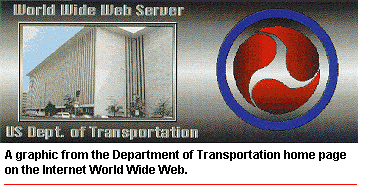 FHWA's Office of Technology Applications, whose mission is to promote the use of new transportation echnologies, has a site on the Department of Transportation (DOT) home page on the World Wide Web. The Technology Applications Program report includes information about the SHRP program; dates and locations of demonstration, application, test and evaluation, and special projects; and details on highway technology, including concrete pavements, environment, structures, geotechnology, hydraulics, safety, motor carriers, and traffic and operations management. The Technology Applications Program address is http://www.dot.gov/dotinfo/fhwa/hta/fhwahta.html.
The World Road Association (WRA), formerly the Permanent International Association of Road Congresses (PIARC), is promoting the global exchange of road-related information through its recently launched World Interchange Network. WIN advances information-sharing by researching and arranging contacts between technical experts and those seeking information. The uniqueness of WINfs approach is engendering communication at the level that best suits the situation - local, regional, national, or international - using similarities in climate, terrain, and economy as the basis.
Promoted as a "network of networks," WIN connects existing technical exchange networks among institutions in the public, private, academic, and nonprofit sectors. Each site, or location, is designated as a node that provides technical expert references for those seeking information; the nodes do not deliver technical data. Once a referral has been made, the client and expert determine their best means of exchanging information. It could be by phone, fax, e-mail, or Internet. The type of relationship established after the initial contact is determined by those involved.
Improved communication worldwide will lead to improved roadway technology worldwide; in addition, it is another avenue to foster good will in the transportation community.
The Transportation Challenge: Increase Capacity Through New Technology
Yes, tomorrow's technology is at work today, but there is a long road to be traveled if that technology is to meet the transportation demands of the next generation. In a speech before the Transportation Research Board in January 1996, DOT Secretary Federico Peña invited attendees to join him on a journey down that road.
The challenge to today's transportation community is to build the next frontier in surface transportation for the next generation. It has already been tagged the "Information Age," but as Secretary Peña commented, "If tens of millions of Americans can surf the information superhighway, why can't 175 million drive on high-tech highways?"
Secretary Peña's goal to meet the challenge is ambitious: to build an Intelligent Transportation Infrastructure (ITI) across the United States to save time and lives and to improve the quality of life for Americans. As a measurable goal, 75 of the nation's largest metropolitan areas will be equipped with a complete ITI by 2005. He made a similar commitment to upgrading technology in 450 other communities, for rural roads, and on interstate highways, as warranted.
Technology Is the Economical Choice
The potential of ITI is enormous, and as cited in this article, many cities, states, and regions already are using the technology and have many of the elements in place. As Secretary Peña stated, "It's really a matter of connecting them."
The connections will be expensive, but ITI is not nearly as costly as the $150 billion price tag to increase highway capacity by 34 percent to serve just 50 cities - the requirement to meet forecast demands. For $10 billion, these same 50 cities could implement an ITI from scratch.
States can use federal-aid funds to build 100 percent of ITI, and many states are using these funds to take advantage of this technology. The secretary has called on all members of the transportation community to work together creatively to make the necessary investment to meet the goal of ITI.
A Journey Together
Predicting the future of surface transportation is risky because our concept of the future is grounded in today's technology and systems. The ITI initiative is targeted for 2005. It will lay the technical cornerstone of a system that will support the next generation of American drivers. Accepting the challenge of ITI and meeting the goals of NHS mean that our nation's commercial and travel interests will have the best surface transportation system that creative, innovative technologies can devise.
Secretary Peña has invited all members of the transportation family to join him on a journey to ensure a future with a high-tech transportation network that meets our transportation needs, supports our national defense, provides economic growth, and adds to the quality of life in the United States well into the 21st century.
Just imagine ...
William Zaccagnino is the chief of the Technology Support Branch in FHWA's Office of Technology Applications. He also served as a writer-editor and transportation assistant with FHWA's Office of Research and Development during his 21-year career with the agency.