Automatic Weather Station Installed at Turner-Fairbank Highway Research Center
A state-of-the-art automatic weather station (AWS) was installed at the Federal Highway Administration's Turner-Fairbank Highway Research Center (TFHRC) in McLean, Va., on July 26, 1993.
The data collected by AWS includes air temperature, precipitation, wind speed and direction, relative humidity, and incoming solar radiation. The data will be used with other pavement-related data to develop improved pavement design and performance prediction models.
The installation was a cooperative effort by TFHRC's Pavements Division and the Long-Term Pavement Performance Division (LTPP). The AWS is currently located at a temporary site and will later become part of the expanded Accelerated Loading Facility now under reconstruction at TFHRC. Presently, the AWS is being evaluated by the LTPP Division for possible use at the LTPP's Specific Pavement Studies (SPS) project sites.
As part of the LTPP program, an extensive climatic data base is being developed for more than 2,000 test sections monitored under the program. For the most part, the data base is being developed using data from the National Climatic Data Center and Canadian weather stations. However, onsite AWSs are planned to collect site-specific weather data for the test sections that are newly constructed under the Structural Factors for Flexible Pavements (SPS-1), the Structural Factors for Rigid Pavements (SPS-2), and the Environmental Effects in the Absence of Heavy Loads (SPS-8) experiments.
AWS selected for the pilot evaluation at TFHRC is a tower-mounted system. The 3-meter- (10-foot-) high tilt-tower holds the temperature, relative humidity, and wind instruments plus the data-logging, power supply, and data storage modules. A separate pole assembly is used for mounting the rain gauge. Once the concrete pedestals have been constructed, AWS can be installed and fenced at a site within four hours, using only light tools.
AWS is powered by a 12-volt power pack trickle-charged by a solar panel. In the northern, freeze areas, an external power source for heating the rain gauge is required.
The weather data will be sampled every three seconds and recorded at intervals of 60 minutes. Data will be stored in solid-state data modules that will be retrieved every two or three months from the project site. The accumulated data can be downloaded to a laptop PC computer using an RS232 interface cable or a DC112 telephone modem. The DC112 telephone modem enables communication between a computer with a modem and the data processor over a public telephone network. A cellular telephone package is also available, and a customized version of the data acquisition software has been developed for pavement applications.
AWS is undergoing pilot testing at TFHRC for several months. The maintenance needs are being evaluated and ruggedness testing is being performed. Based on the final evaluation results, AWS will be installed at future SPS-1, SPS-2, and SPS-8 project sites. In addition, AWS, as configured and with the customized software, will be available for installation at any future pavement test section location.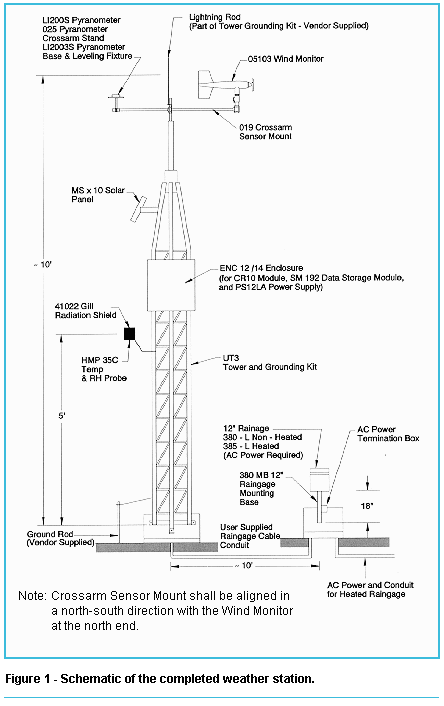 Aramis Lopez is a team leader in the Long-Term Pavement Performance Division at the Turner-Fairbank Highway Research Center. He has worked for FHWA for 16 years. Previously, he was an engineer with the Puerto Rico Department of Transportation. He has a bachelor's degree in civil engineering from the University of Puerto Rico at Mayaguez.