Tools of the Traffic Analysis Trade
Using the appropriate tool effectively can make all the difference. When it comes to tackling the Nation's growing congestion problem, highway officials can use the "Traffic Analysis Tools" Web site, developed by the Federal Highway Administration's (FHWA) Office of Operations, to solicit guidance on choosing the right tool for the job. Available at http://ops.fhwa.dot.gov/trafficanalysistools/index.htm, the site offers information to help the transportation community evaluate, optimize, and simulate the operation of transportation facilities and systems.
The site features several traffic analysis tools — software-based analytical procedures and methodologies that support different aspects of traffic and transportation analysis. The tools can help evaluate innovative transportation management concepts, improve the decisionmaking process, decrease time and costs for evaluation and design, reduce risk and disruption to traffic caused by field experimentation, guide evaluation of design and operational improvements, and monitor the performance of transportation facilities and systems. The Web site houses the following products: Next Generation SIMulation (NGSIM), Dynamic Traffic Assignment (DTA), Corridor Simulation (CORSIM/TSIS), Intelligent Transportation Systems (ITS) Deployment Analysis Systems (IDAS), and the Traffic Analysis Toolbox.
Fully Loaded Toolbox
In May 2006 The Urban Transportation Monitor conducted a national survey to obtain information and opinions on the best tools and resources in the urban transportation industry. The results, published in the June 9, 2006, issue, featured responses from transit, traffic engineering, and transportation planning staff, among others. When asked, "What do you consider to be the best handbook in the field of traffic engineering?" transportation professionals ranked FHWA's Traffic Analysis Toolbox in the top nine. Over a year later, the multivolume toolbox continues to serve the transportation industry with its guidance on traffic analysis tools and the challenges and limitations of using each one.
Site visitors can download and reference all three volumes — Traffic Analysis Toolbox Volume I: Traffic Analysis Tools Primer (FHWA-HRT-04-038), Traffic Analysis Toolbox Volume II: Decision Support Methodology for Selecting Traffic Analysis Tools (FHWA-HRT- 04-039), and Traffic Analysis Toolbox Volume III: Guidelines for Applying Traffic Microsimulation Modeling Software (FHWA-HRT-04-040).
"A Microsoft® Excel® file automates the decision process associated with the second volume, making the framework useful for other traffic studies and features," says Grant Zammit, an FHWA traffic management/system operations specialist. "The third volume provides a framework or process that follows a statement of work built around seven tasks to support the effective application of microsimulation."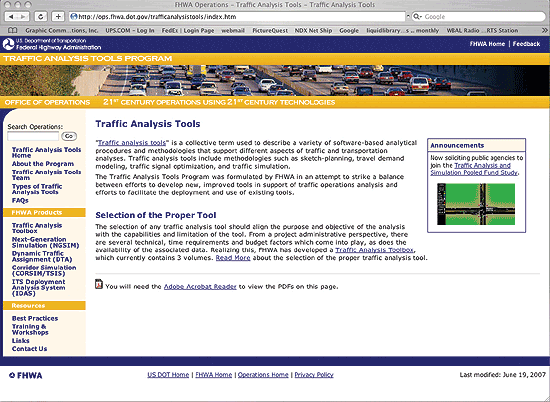 Market-Ready Applications
The "Traffic Analysis Tools" Web site also hosts two market-ready technologies, DYNASMART-P and IDAS. DYNASMART-P is a dynamic traffic assignment analysis tool that operates on the Microsoft® Windows® platform. Transportation engineers and planners can use DYNASMART-P to address complex operations and planning issues. DYNASMART-P also overcomes the limitations of traditional static assignment and simulation models by using advanced traffic modeling techniques to capture the dynamics of congestion formation and dissipation associated with variations in time and network conditions. IDAS is software developed by FHWA for use in planning ITS deployments. State, regional, and local planners can use IDAS to estimate the benefits and costs of ITS investments. IDAS can predict relative costs and benefits for more than 60 types of ITS investments.
"We currently are developing an overview presentation that will focus on the benefits of traffic analysis and include references to the market-ready technologies DYNASMART-P and IDAS," Zammit says.
Tried and True
Future upgrades to the Web site will offer testimonials from practitioners and decisionmakers on how these traffic analysis tools have benefited their efforts. According to Zammit, the tools available on the site equip the transportation community to address the Nation's congestion problem. "The 'Traffic Analysis Tools' Web site," he says, "provides techniques that support traceable, reproducible, credible, and effective decisions."
To view the "Traffic Analysis Tools" Web site, visit http://ops.fhwa.dot.gov/trafficanalysistools/index.htm. For more information, contact Grant Zammit at 404-562-3575 or grant.zammit@fhwa.dot.gov.
---
Brittany Boughter is a contributing editor for Public Roads.