Harnessing Technology to Ease The Way
FHWA's EAR Program is mapping a path forward for the development of assistive navigation tools for visually impaired pedestrians.
For the approximately 2 million working-age adults in the United States with reported vision loss, independent travel and interactions with the surrounding environment present significant daily challenges. These difficulties can result in loss of independent mobility, reduced quality of life, and compromised safety. To address these challenges, the Federal Highway Administration's Exploratory Advanced Research (EAR) Program funded three projects; one each with the City College of New York, TRX Systems, and Auburn University to examine new technological solutions for wayfinding and navigation guidance for people with vision impairment.
In November 2015 and March 2016, FHWA held demonstrations of new technologies from these projects to assist blind and vision-impaired pedestrians. The technologies adapt sensor and guidance systems found in luxury passenger vehicles. For the demonstrations, blind pedestrians navigated across busy streets in Washington, DC, and into an office in the headquarters building of the U.S. Department of Transportation.
How the Demos Came About
Starting in 2009, as part of seeking out next-generation technologies for connected vehicles and infrastructure, the EAR Program invested in research on multisensor data fusion to provide potential high-precision, low-cost systems for lane navigation in vehicles. The goal for the technology was to develop systems robust enough to work in dense urban areas and other conditions with limited GPS reception.
Mohammed Yousuf, a research transportation specialist in the Office of Operations Research and Development, suggested applying similar advances to assist people with disabilities. Working with FHWA's reference library, Yousuf performed a reference scan of who was conducting related cutting-edge research.
FHWA then held a 1-day workshop in February 2011 with experts from a range of disciplines and industries.
"We wanted to further examine technological innovations in accessible transportation," says Yousuf. "It was critical to better understand the requirements of pedestrians and travelers with visual impairment or other disabilities." In September 2011, the EAR Program released a workshop summary report, Technological Innovations in Transportation for People with Disabilities (FHWA-HRT-11-041). The report is available at www.fhwa.dot.gov/advancedresearch/pubs/11041/index.cfm.
Finding Ways To Assist
Based on the feedback received at the workshop, the EAR Program decided to invest in research on assistive technologies for accessible transportation and included the topic in a broad agency funding announcement. In response to the announcement, research teams of investigators from different sectors and disciplines came together and proposed approaches for solving transportation questions, such as how to provide navigation and wayfinding to visually impaired pedestrians. In 2012 and 2013, FHWA made awards to three teams, each with a different approach.
The Exploratory Advanced Research Program
The EAR Program addresses the need to conduct research on longer term and higher risk breakthrough research. The program seeks out advances in science and technology that could result in transformational improvements in highway transportation. Each year, staff members work with subject matter experts to evaluate dozens of potential research topics across a range of scientific disciplines and industries. The team seeks to assess fundamental advances that have the potential to be applied to current or emerging transportation issues. The EAR Program then invests in three or four topics annually through an open solicitation.
The City College of New York received an award to research situation awareness and assistive navigation technologies. Working with Visibility Metrics LLC, the team used a computer vision approach to mapping, localization, and audio directions using data from GPS, geographic information systems, and intelligent transportation system infrastructure.
TRX Systems, a small business located in Maryland, worked with AnthroTronix, the University of Maryland College Park, and the Abrahamson Pediatric Eye Institute at the Cincinnati Children's Hospital to develop a navigation aid that can track the location of a user anywhere, including areas where GPS is unavailable. Such a tool will help to increase the mobility of people with vision disabilities by providing them with spatial awareness for long-path planning and guidance. The project uses data from multiple sensors, including wideband beacons and haptic information--touch-based notifications such as vibration--to guide the user.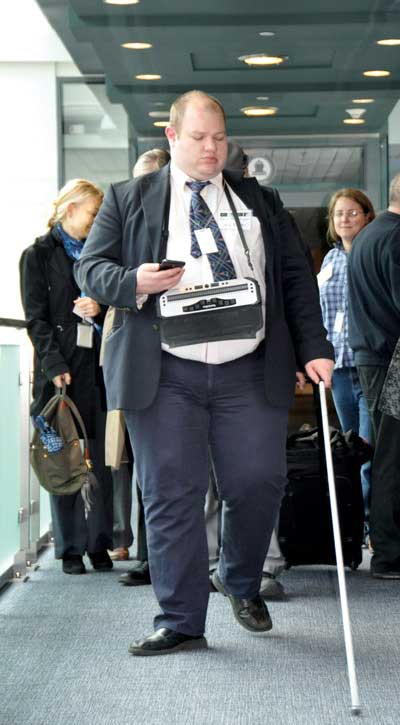 Auburn University, working with Draper Laboratory and the National Federation of the Blind, received an award to develop a system designed to fill gaps where GPS navigation is insufficient, such as in parks, intersections, and general pedestrian zones. The team focused on indoor and outdoor navigation, combining satellite signals with inertial and other sensors to provide precision location information.
Testing the Technologies
With the research ongoing and positive initial results from laboratory testing, in 2014 the EAR Program asked the research teams to demonstrate their technologies for Federal staff and stakeholders. With support from the Volpe National Transportation Systems Center and the District Department of Transportation, the EAR Program determined a test route. Blind pedestrians would navigate along urban sidewalks in Washington, DC, across a signalized intersection, into USDOT's west headquarters building, through an underground concourse to the east building, and then to an office on the eighth floor.
TRX Systems and AuburnUniversity participated in the initial demonstration in November 2015 with a group of about 40 stakeholders observing from USDOT, other Federal organizations, State and local transportation agencies, and nongovernmental organizations. City College demonstrated its system using the same route in March 2016. All of the teams showed the potential of tools for assisting blind pedestrians using current or near-market smartphone technology combined with other low-cost sensors. The technology is not a substitute for good navigation skills using a cane or guide dog and route planning.
Combined with good navigation skills, the technology has the potential to enhance the confidence and safety of blind individuals when crossing signalized intersections, encountering unexpected detours, or finding points of interest such as a restroom or cafeteria in a building that they have not traveled to previously.
The EAR Program is working with stakeholders so the advances do not end up on the laboratory shelf.
"With the continued advances in mobile technology and mapping," says Yousuf, "There is strong potential that the technology can be both affordable and reliable."
---
David Kuehn is the program manager for FHWA's EAR Program. He holds a master's degree in public administration from the University of Southern California and a B.A. from the University of California, Irvine.
For more information, see www.fhwa.dot.gov/advancedresearch/pubs/15040/index.cfm or contact David Kuehn at 202–493–3414 or david.kuehn@dot.gov.