Roadmap to The Future
States are working with FHWA to expand the role of pavement management systems in improving pavement design. Read on to find out what all the buzz is about.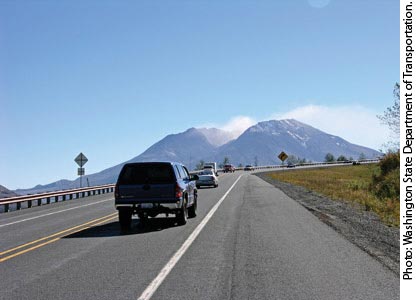 Pavement design meets pavement management. Bringing these normally disparate elements together to improve overall performance is the Federal Highway Administration's (FHWA) Pavement Management Roadmap (FHWA-HIF-11-011), a far-reaching guide to the Nation's pavement future.
Historically, State transportation agencies have seldom used data on pavement management to improve pavement design because the two disciplines reside at separate divisions in most departments of transportation (DOTs). DOTs' maintenance divisions use data collected on the condition of a roadway, such as whether it is cracking, to make decisions on when to perform repairs. But DOT designers often do not use those data to evaluate whether a pavement is performing as expected or is developing cracks prematurely--and thus they infrequently use the data to refine the designs of future pavements. One of the ideas behind the Roadmap is to overcome this separation of pavement design and management, with the ultimate goal of improving pavement performance.
Introduced in 2010, the Pavement Management Roadmap is intended to improve the effectiveness of pavement management programs used by transportation agencies to address agency needs at the project, network, and strategic levels. These programs use decisionmaking tools such as electronic pavement management systems to store data and monitor pavement conditions, measure performance, predict trends, and recommend maintenance projects and pavement preservation treatments. Today, engineers also use the data to calibrate pavement performance models so they can predict pavement distresses more accurately.
"Pavement design and pavement management had been uncoupled, but now there is a new marriage of the two," says Nadarajah Sivaneswaran, senior research civil engineer at FHWA's Turner-Fairbank Highway Research Center in McLean, VA.
Creating the Roadmap
FHWA developed the Roadmap during three regional workshops held in 2010 in Phoenix, AZ; Dallas, TX; and McLean, VA. Partners in the workshops included representatives from State and local highway agencies, FHWA, Canadian government agencies, metropolitan planning organizations, academia, and private industry.
Workshop participants identified and prioritized 23 short-term research and development needs (spanning 5 years) and 24 long-term needs (5 to 10 years out). Meeting those needs would require $14.6 million in funding.
The project's technical working group, FHWA, and FHWA's development contractor for the project grouped the needs according to four themes:
Use of existing tools and technologies. An example of a short-term research need under this theme is defining requirements for data quality to improve various business decisions, such as whether to replace rather than repair a pavement segment. A long-term research need is to determine the risk, uncertainty, and variability in pavement management decisions.
Institutional and organizational issues. A short-term need is to improve the contracting process to accommodate timely selection of pavement treatments. A long-term example is promoting the benefits of pavement management to nontechnical audiences, such as legislators.
The broad role of pavement management. Here, a short-term need is to address near-term technology issues in data storage and integration. A long-term need is to advance analytical tools for continual calibration of predictions of pavement performance.
New tools, methodologies, and technology. A short-term example is to develop a fully automated processing tool for identifying pavement distress conditions, such as cracking. A long-term need is to identify strategies for incorporating emerging technologies into pavement management systems.
Here, we will focus on the third theme only, the broad role of pavement management.
The Roadmap's Vision
The Roadmap presents a 10-year overarching vision for States and FHWA to partner to improve pavement management and the research, development, and technology transfer initiatives needed to help DOTs achieve that future. The vision targets how States can improve pavement management through electronic systems for data collection and how they can use robust, comprehensive, and credible practices in pavement management to investigate new materials and designs, and communicate project options to stakeholders.
The Roadmap's vision takes pavement management beyond reporting and estimating to a new analytical role, where agencies can use pavement management data to evaluate construction and design practices, safety, and sustainability. Ultimately, today's pavement management data can lead to improved pavement design and performance.
As noted in the Roadmap, "The availability of quality data has a tremendous impact on an agency's ability to compare different investment options and to make sound business decisions that consider both engineering and economic factors."
Asset Management
Over the past 20 years, in addition to implementing technological innovations in pavement materials and mix designs, DOTs have adjusted the way decisions for allocating resources are made. Increasingly, the emphasis is on management of infrastructure assets. Moreover, asset management offers a coordinated approach over entire life cycles.
In following an asset management approach, agencies use data, economic analysis, performance measures, and performance-based goals to make decisions. Specifically, those decisions consider the most effective combination of new construction, which upgrades or replaces infrastructure components, versus the maintenance and renewing of existing assets.
The emphasis on asset management and the importance of quality data have resulted in a growing and changing role for pavement management systems and the output from analyses using those tools. Beginning with States such as Washington in the late 1970s, agencies have used pavement management systems--which today exist as software models--to assess and report pavement conditions, prioritize capital improvements, and estimate funding needs.
Mechanistic-Empirical Models
The new era for pavement design began with the introduction of the Mechanistic-Empirical Pavement Design Guide by the National Cooperative Highway Research Program. Adopted by the American Association of State Highway and Transportation Officials (AASHTO) in 2008, the published guide replaced an earlier AASHTO guide for pavement design.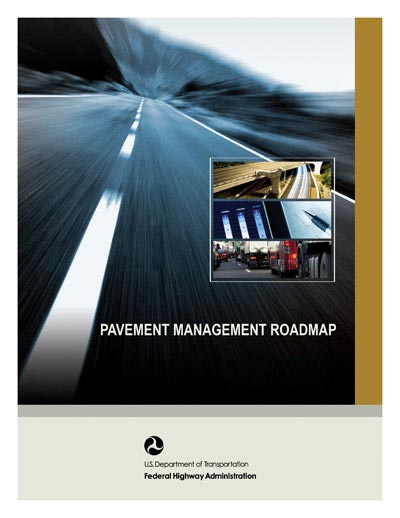 A mechanistic pavement design approach uses mathematical models to calculate the response of pavement to traffic loads. A mechanistic-empirical approach uses both mathematical models and experimental data to predict pavement performance.
The earlier AASHTO design guide used empirical design models derived from a road test conducted between 1958 and 1960 by the then American Association of State Highway Officials (AASHO). The road test used a limited number of pavement sections at a single test site in Ottawa, IL. Traffic loads and volumes varied but were far below those of today.
Today's mechanistic-empirical approach more realistically characterizes inservice pavements. The mechanistic-empirical model enables transportation agencies to better predict pavement performance over time and to make more informed decisions when designing pavements.
The Design Guide now is accompanied by associated software for pavement design, available as Pavement ME Design™, in the AASHTOWare® line of products. The software is an expanded and improved version of the prototype first released under the title Mechanistic-Empirical Pavement Design Guide, Version 1.1.
"The development of the Mechanistic-Empirical Pavement Design Guide brought to the forefront both the need for and the benefits of relinking pavement design and pavement management," says Sivaneswaran.
Broadening the Mechanistic-Empirical Approach
Today, many agencies are transitioning to using the mechanistic-empirical model to predict pavement performance during the design phase. Now, broadening that model via the Roadmap's vision, agencies can feed actual performance data from their pavement management systems back into their mechanistic-empirical design models and thereby update them. Through that process, they can improve their next pavement design by considering maintenance and preservation needs during the pavement's entire life cycle.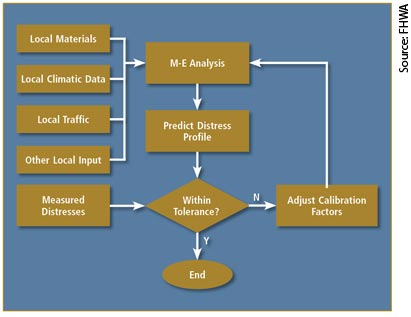 "You start adjusting the design based on the pavement performance data," says Sivaneswaran. "It is a continuous process in which performance monitoring is a component of systems for managing pavements but is also the feedback loop for pavement design."
Researchers across the country are taking the first steps in fulfilling the Roadmap's vision, enabling agencies to both expand the role of pavement management and improve pavement design. By incorporating the feedback loop for pavement design, the Roadmap's long-term vision reflects a transformation--a new era--in the way transportation agencies conduct the daily business of planning, building, and maintaining roadways.
The vision of broadening the role of pavement management systems and using pavement management data to improve pavement design is intrinsically linked to the Mechanistic-Empirical Pavement Design Guide, as several States are using pavement management data to calibrate the Design Guide for local use. The Roadmap does not replace the Design Guide, but rather it lays out what is needed to be done over the next 10 years to improve current pavement management practices.
Projects underway around the country, whether conducted individually by States or through FHWA sponsorship, are making progress toward achieving this 10-year plan. From improving predictions of pavement performance to making it easier for States to effectively use the data collected by their pavement management systems, these projects collectively are helping to achieve the Roadmap goals.
Local Calibration of The Design Guide
Meanwhile, DOTs across the country are implementing the Design Guide by performing local calibration of the guide's models. The local calibrations analyze input data for such categories as traffic, climate, and materials, and estimate damage accumulation over the service life of various pavements. The Roadmap's vision of broadening the role of pavement management is helping States improve this implementation process.
Although the mechanistic-empirical models are based on data from across the United States, including data from pavement test sections initiated under FHWA's Long-Term Pavement Performance (LTPP) program, calibration that uses local data provides agencies with improved predictions of pavement performance. Many States are finding that data from their pavement management systems serve as important inputs for this calibration.
In 2005, shortly after the introduction of the Design Guide, a study sponsored by FHWA examined the use of pavement management data by eight States to calibrate and validate the new guide. To conduct the study, the researchers visited Florida, Kansas, Minnesota, Mississippi, New Mexico, North Carolina, Pennsylvania, and Washington. In addition to ensuring a broad geographical representation, FHWA selected those States due to the strength of their pavement management systems and their commitment to implementing the Design Guide.
Based on the site visits, the study presented guidance on using data from pavement management systems to carry out calibration. The study also recommended that each State develop a separate electronic "satellite" database using data on pavement management and design for each project designed and constructed using the Design Guide. Data used in the design phases of each State's projects, along with pavement management data, were to be stored in this separate database, which would be compatible with the State's database on its pavement management system.
"The only way to calibrate the Mechanistic-Empirical Pavement Design Guide long term nationwide is through using data from pavement management systems," says study researcher W.R. Hudson, senior consultant at AgileAssets, Inc., and professor emeritus at The University of Texas at Austin.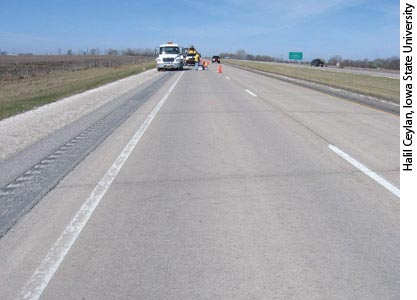 The final report came out in 2006 and noted, "Such a satellite database will provide an opportunity to better coordinate and tie together pavement design and pavement management. The original development of pavement management was as a pavement design system and, although pavement management has become generally a planning tool, this is a great opportunity to pull the two back together for future benefits."
A followup to the 2005–2006 study evaluated its recommendations. In the followup, the researchers developed a local calibration database for the Mechanistic-Empirical Pavement Design Guide using data from the North Carolina Department of Transportation's (NCDOT) pavement management system. This followup demonstrated that pavement designers could use NCDOT's existing data on flexible and rigid pavement sections to calibrate pavement distress models contained within the Design Guide.
The followup report, Local Calibration of the MEPDG [Mechanistic-Empirical Pavement Design Guide] Using Pavement Management Systems (HIF-11-026), published by FHWA in 2010, contains an estimated timeline for performing local calibration, ranging from selecting roadway segments to evaluating project and distress data to interpreting results. As noted in the report, one of the major challenges with calibration involves correlating data on pavement conditions collected as part of the LTPP program with data contained in the State's pavement management systems. Depending on the amount of data collected in pavement management systems, highway agencies also might need to add data from their as-built construction records, material-testing databases, or their other databases.
Iowa Improves the Accuracy of Performance Predictions
After the followup FHWA study, States continued research into improved implementation of the Mechanistic-Empirical Pavement Design Guide through the use of local calibration factors. An Iowa initiative, for example, is improving the accuracy of predictions of pavement performance for the State's jointed plain concrete pavements.
Taking into consideration both geographical locations and traffic levels, Iowa State University researchers, in consultation with the Iowa DOT, selected representative sites across the State for calibration and validation. The researchers obtained data inputs for the Mechanistic-Empirical Pavement Design Guide primarily from the Iowa DOT's Pavement Management Information System and material-testing records.
"The local calibration improved the accuracy of performance predictions for jointed plain concrete pavements," notes researcher Halil Ceylan, associate professor in the department of civil, construction, and environmental engineering at Iowa State University and pavement research engineer at the university's Institute for Transportation. These performance predictions included faulting, transverse cracking, and pavement smoothness as measured by the International Roughness Index. "The locally calibrated performance prediction models for jointed plain concrete pavements identified in this study have been recommended by project researchers for use in Iowa as alternatives to their nationally calibrated counterparts," says Ceylan.
Arkansas Develops New Software
Arkansas also has invested in efforts to implement the Mechanistic-Empirical Pavement Design Guide through a series of research projects conducted by the University of Arkansas. Based on the work of several past projects, the university researchers completed a study in 2009 titled "Database Support for the Mechanistic-Empirical Pavement Design Guide."
This project paved the way for the State's development of a software tool known as Prep-ME, which is used to prepare traffic, weather, and materials datasets for direct input to the Mechanistic-Empirical Pavement Design Guide.
"The module that processes traffic data quality and other features in Prep-ME caught the eyes of pavement engineers from FHWA and several State highway agencies," says former University of Arkansas professor Kelvin Wang, now professor of civil engineering at Oklahoma State University.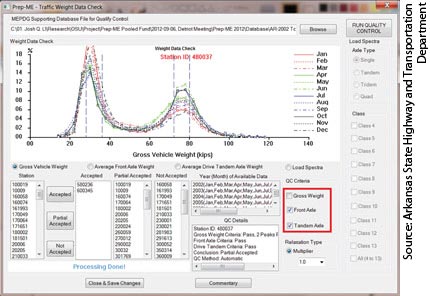 In 2011, FHWA and eight State DOTs launched a pooled fund research study to refine Prep-ME so that it can serve as companion software to the Mechanistic-Empirical Pavement Design Guide. The Louisiana Transportation Research Center is the lead agency for the study. The Arkansas and Oklahoma transportation agencies separately are continuing their support of the development of Prep-ME. Testing of a new version with updated capabilities is underway and will run until fall 2014.
Louisiana Calibrates The Design Guide For Local Conditions
As the Louisiana Department of Transportation and Development (LA DOTD) transitions to using the Mechanistic-Empirical Pavement Design Guide, the agency has evaluated results obtained using the guide's design software and compared them to data on pavement performance from the State's pavement management system and other State data sources. Calibration of the guide's design models against local conditions is particularly important in Louisiana, as the national calibration for the Design Guide uses LTPP data, among other data sources. Louisiana has very few LTPP pavement test sites, and none of them were included in the national calibration.
"Louisiana needs the local data and design criteria as it moves forward in implementing the Mechanistic-Empirical Pavement Design Guide," says Zhong Wu, program manager for accelerated pavement research at the Louisiana Transportation Research Center and associate professor of research at Louisiana State University. "It is the current reality in Louisiana and probably in various other States that the validation and calibration of the Design Guide have to be based on pavement management system data."
A study conducted by the Louisiana Transportation Research Center from 2009 to 2011 evaluated 40 asphalt concrete pavement projects throughout the State. These projects represented five typical types of asphalt pavement structures in Louisiana: asphalt concrete constructed over (1) an asphalt concrete base, (2) a portland cement concrete base that has been "rubblized" or fractured into small pieces, (3) crushed stone, (4) a soil cement base, and (5) stone interlayer pavements. For the selected projects, the researchers obtained original information on pavement structural design and data on network-level pavement management systems from various LA DOTD data sources, including Louisiana's pavement management system and other project-tracking databases.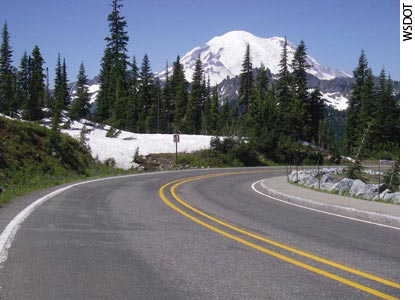 The Louisiana Transportation Research Center developed design inputs for materials, climate, and traffic based on Louisiana conditions for version 1.1 of the software. For all of the projects, the researchers stored the design inputs in a satellite database known as the Louisiana Mechanistic-Empirical Pavement Design Guide, along with pavement performance data retrieved from the State's pavement management system. By comparing the data, the researchers developed proposed local calibration factors for the various asphalt concrete pavement structures.
A new project to be completed in spring 2014 is expanding the earlier research by evaluating both asphalt and concrete pavements using the pavement mechanistic-empirical design software and comparing the results to data from Louisiana's pavement management system.
Integrating Data for Improved Pavement Management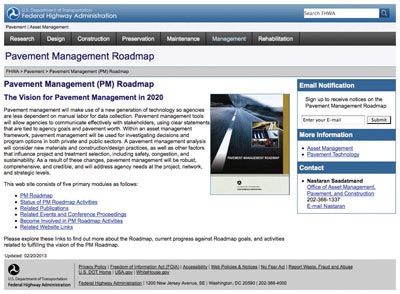 Data integration is the key to achieve the full benefits offered by a comprehensive pavement management system, including improved pavement design and management. Although many highway agencies have most of the data elements required for a fully integrated and comprehensive pavement management system, the data often are scattered in different formats, including both electronic and paper files. Integrating the data would make data mining easier, thereby improving the efficiency and maximizing the benefits of both pavement management and overall asset management.
FHWA recently completed a research project on Procedures for Integrating Pavement Distress and Other Data Elements to Maximize the Benefits of Pavement Management. The project developed guidelines for integrating data and identifying the optimum set of data needed to implement a cost-effective pavement management system and determine the benefits of various pavement treatments.
Researchers analyzed pavement management system data on pavement condition and distress from Colorado, Louisiana, Michigan, and Washington State, as well as data from Minnesota's MnROAD pavement test track and LTPP program databases. The four States included in the study collect and store data for a pavement segment of 0.1 mile (0.16 kilometer) along each road in their entire networks. Washington collects data annually, while the other three States perform the collection every other year. Because MnROAD is a test track, its data collection varies from multiple times per year to an as-needed basis.
Currently in draft form, the project report will detail the required elements for data integration and recommend implementation procedures for States to use. The report also will include algorithms for calculating and comparing the benefits and cost-effectiveness of various pavement treatments.
Guidelines range from collecting data on pavement conditions to preparing data for analysis to selecting pavement treatments and planning maintenance and rehabilitation programs. The guidelines are flexible and can be tailored easily to the needs and objectives of any highway agency, from those that already have developed a pavement management system and want to make the most of their data on pavement performance to those planning to introduce a pavement management system.
The Road Ahead
The Pavement Management Roadmap has sparked a new era in pavement management across the country. It is leading to a broader role for pavement management data and a closer link between pavement design and management.
FHWA's Web site for the Pavement Management Roadmap features updates on goals and activities, information on projects currently underway in support of the Roadmap, and links to related publications and Web sites. Visit today to join pavement management's new era and explore with other members of the highway community how advances in pavement management can build a safer, more durable, and more sustainable highway system for the future.
---
Nastaran Saadatmand is the program manager for asset management in FHWA's Office of Asset Management in Washington, DC. She has more than 24 years of experience in highway engineering. Saadatmand holds a B.S. in mechanical engineering from the Iran University of Science and Technology in Tehran; an M.S. in civil engineering from the University of New Hampshire; and a professional engineer license from the State of New Hampshire.
Beth Visintine is a project engineer for AMEC Environment & Infrastructure, Inc. She holds a B.S., M.S., and Ph.D. in civil engineering from North Carolina State University.
Gonzalo R. Rada is a principal engineer for AMEC Environment & Infrastructure, Inc. He holds a B.S., M.S., and Ph.D. in civil engineering from the University of Maryland, College Park, and is a registered professional engineer in five States.
For more information, visit the Pavement Management Roadmap at www.fhwa.dot.gov/pavement/management/roadmap or www.fhwa.dot.gov/asset/hif11011/map00.cfm. Or contact Nastaran Saadatmand at 202–366–1337 or nastaran.saadatmand@dot.gov, Beth Visintine at 301–210–5105 or beth.visintine@amec.com, or Gonzalo R. Rada at 301–210–5105 or gonzalo.rada@amec.com.