Cable-Stayed Bridges Provide Option for Long-Span Projects
Roughly 90 percent of bridges in the Unites States are girder bridges, which are often supported by multiple piers. If site conditions limit the locations where piers can be placed, designers might need to consider alternative bridge types that support longer spans.
One alternative is the cable-stayed bridge, which has one or more towers from which cables support the bridge deck. Cable-stayed bridges are a small subset of alternative bridge types, and many engineers involved in bridge projects have limited familiarity with them. However, continual advances in cable stay technology, such as greater structural efficiency, lower maintenance, and improved fatigue performance, are increasing its popularity. To close the education gap, the National Highway Institute (NHI) developed its course 130096 Cable-Stayed Bridge Seminar, which provides an introduction to the planning, design, and construction of cable-stayed bridges.
Guidelines Prompt Need for Training
After developing the award-winning reference document, FHWA Design Guidelines for Arch and Cable-Stayed Signature Bridges (FHWA-NHI-11-023), instructors at NHI recognized the need for training courses on this bridge technology. "This type of bridge has seen more applications in recent years than arch and suspension bridges and has proven to be viable for spans between 800 and 3,400 feet [244 and 1,036 meters]," says Joe Tse of Parsons Brinckerhoff, one of the seminar's instructors.
Because of the emerging popularity of this bridge type, transportation professionals needed to learn how to apply the design guidelines properly. NHI's 130096 Cable-Stayed Bridge Seminar was the first course developed based on the guidelines. The seminar provides an understanding of the overall process of designing and constructing a cable-stayed bridge.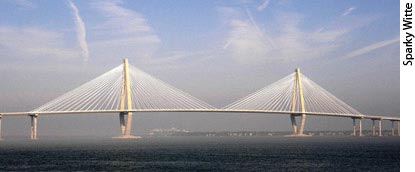 "The course is designed to demystify this type of bridge," Tse says. "The objective is to prepare participants to become design coordinators or members of a design or review team for cable-stayed bridge projects."
The 1-day instructor-led training covers important features of cable-stayed bridges, construction and maintenance considerations that can affect the design, and lessons on the analyses needed to design this type of structure. Course content introduces principles involved in designing cable-stayed bridges without being overly theoretical. In addition to instructor-led presentations, discussions, and group activities, participants review a case study to help understand how to apply the curriculum to basic design decisions.
Texas Pilots Course
Several engineers from the Texas Department of Transportation's (TxDOT) Bridge Division attended a course pilot in Austin, TX, in March 2013. Currently, the State has only four cable-stayed bridges, so most participants had little to no experience working on this type of structure.
"Prestressed concrete girder bridges are the most common type of bridge used in Texas," says Dacio Marin III, a senior bridge design engineer with the TxDOT Bridge Division. "There are a few locations where the cable-stayed bridge would be more effective, and we were open-minded about learning more about this less common type of bridge."
According to Marin, "The section on basic proportions was very interesting, and the ideas presented would help to plan and estimate the budget for a potential project."
Jeff Tomkins, a bridge project manager with the TxDOT Bridge Division, also attended the course and brought his perspective as an engineer focused on project development and management. He found the course useful because of its attention to considerations involved in choosing this type of bridge over others.
"The course outlines the benefits of this type of bridge," Tomkins says. Further, it "explains where we would need to use this type of bridge and also lists drawbacks and things to expect during construction, including construction conditions that could drive the end product."
Both Marin and Tomkins agreed the course instructor was "excellent" and that the course presents new information at an appropriate level of complexity for engineers who have limited experience with cable-stayed bridges.
In addition to this one, NHI's Structures program offers more than a dozen courses ranging from bridge design to inspection. For more information about this course and other NHI training, please visit www.nhi.fhwa.dot.gov.
---
Candice Jackson is a contractor for NHI.
---
10/2/2013 Correction: In the Training Update article on page 34 in the September/October 2013 issue, the caption should have read as follows: "The Cooper River Bridge, shown here, connects Charleston to Mount Pleasant, SC, and is one of North America's longest cable-stayed bridges."