Making Walking Safer for Arizonans
An FHWA focus State speaks out about enhancing pedestrian safety through various innovations, including improved midblock crossings on multilane roads.
Pedestrian safety is a vital concern to State and local transportation agencies because of the severity of vehicle crashes that involve walkers. In Arizona, pedestrian-vehicle collisions comprise only 1 to 2 percent of total traffic crashes, whereas 13 to 20 percent of the traffic fatalities in recent years were pedestrians.
Achieving safe conditions for pedestrians (and eliminating crashes involving them) is especially challenging in urban and suburban areas with multilane roads and high speeds. Nationally, pedestrian fatalities are far more common in urban localities than in rural areas, often representing 25 to 40 percent of the total traffic fatalities.
One of the most significant challenges is improving the safety of midblock crossings on multilane roads. Crossings on roads with more than one lane in each direction involve a multiple-threat condition, where a motorist stopped for a crossing pedestrian creates a visual screen, blocking the view of motorists in adjacent lanes.
Although concern for pedestrian safety is paramount, almost equally important is a desire to make communities more walkable to promote healthy habits among residents and to help reverse the Nation's rising obesity trend. Walking is the most universal form of transportation, and walkable neighborhoods can add to a metropolitan area's economic vitality because of commercial activity by pedestrians, including shopping, dining, banking, job access, etc. Moreover, walking is environmentally friendly because it eliminates the need to use energy produced by fossil fuels.
In 2003, the Federal Highway Administration (FHWA) identified Arizona as 1 of 13 pedestrian focus States and Phoenix as 1 of 5 focus cities. FHWA listed as focus States those with 150 or more pedestrian fatalities per year and a pedestrian fatality rate above the national average rate of 2.5 per 100,000 population. Focus cities were those with the highest total pedestrian fatalities. Accordingly, FHWA established a strategy to develop and implement pedestrian safety action plans in the focus States. (See "Spotlight on Pedestrian Safety" in the January/February 2012 issue of Public Roads and "Focusing on Pedestrian Safety" in the May/June 2008 issue.)
In 2007, after reviewing more current crash data, FHWA revisited its criteria for identifying focus States and cities. Four cities stayed on the list at that time: Chicago, IL; Los Angeles, CA; New York, NY; and Phoenix, AZ. Later, Washington, DC, was added and Detroit, MI, dropped off and then came back on again in 2011 when FHWA significantly modified the criteria for identifying focus cities and States.
The 2011 criteria for cities included having an average of 20 or more pedestrian fatalities per year over a 3-year period or a pedestrian fatality rate higher than 2.33 per 100,000 population. Focus States became those that contain a focus city. As a result, FHWA identified several additional focus cities and designated their States as focus States. Phoenix and Arizona stayed on the list because Phoenix continued to experience high pedestrian fatalities, primarily due to a large number of wide, high-speed roadways. Although those roads carry large volumes of traffic efficiently, they are not pedestrian-friendly, and those conditions cannot be easily changed.
The Arizona Response
The Arizona Department of Transportation (ADOT) responded to its FHWA designation as a focus State with the formation of a statewide pedestrian safety group including representatives from Federal, State, regional, and local agencies to discuss the issues and develop action plans.
With support from FHWA, ADOT held four workshops related to pedestrian safety -- one in Flagstaff, two in Phoenix, and one in Tucson between 2006 and 2007. Then in April 2007, ADOT developed an Arizona-specific supplement to the FHWA guide, How to Develop a Pedestrian Safety Action Plan (FHWA-SA-05-12).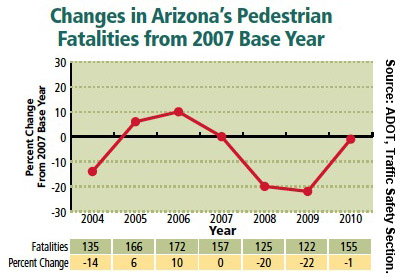 In accordance with a requirement under the Safe, Accountable, Flexible, Efficient Transportation Equity Act: A Legacy for Users (SAFETEA-LU), Arizona developed a Strategic Highway Safety Plan in August 2007. The Arizona plan includes six emphasis areas based on analysis of statewide crash data: restraint usage, young drivers, speeding, impaired driving, roadway/roadside (lane departures and intersections), and data improvement. Although pedestrian safety was not one of the emphasis areas, countermeasures proposed under "intersections" include considerations for pedestrians.
A recent statewide trend analysis by ADOT showed, however, that pedestrian fatalities have become a slightly larger proportion of total traffic fatalities in Arizona. In 2007, there were 157 pedestrians killed in crashes on streets and highways in Arizona, which is 15 percent of all traffic fatalities that year. The years 2008 and 2009 experienced a marked reduction in the number of Arizona's pedestrian fatalities. But due to a reduction in the State's total number of traffic fatalities during those years, the percentage of pedestrian fatalities remained almost unchanged (13 percent of all traffic fatalities in 2008 and 15 percent in 2009). The exact reasons for the overall reduction are unknown, but reduced vehicle miles traveled due to the economic downturn could be partially responsible. Engineering enhancements and vehicle technologies, coupled with education, enforcement, emergency responses, and legislative changes, could have contributed.
Unfortunately, in 2010, pedestrian deaths accounted for 155 fatalities, which is almost the same number as in the 2007 base year (the year selected in the Arizona Strategic Highway Safety Plan). It also represents a higher percentage (20 percent) of the total statewide fatalities during that same time period, due in part to the overall significant decline in the total number of traffic fatalities. Data from Phoenix show a similar trend of pedestrian fatalities.
In 2009, ADOT developed a Pedestrian Safety Action Plan (PSAP) to address pedestrian safety issues along the State highway system, including safety issues at segments and intersections exclusively maintained and operated by ADOT, as well as at State segments overseen under joint agreements with local jurisdictions. Based on a safety analysis included in the PSAP, the State identified critical locations requiring further investigation.
The State PSAP recommends some incremental steps that will make it easier to implement complete streets concepts that make roads safer for all users. The needs for pedestrians were accommodated, for example, in a roadway project along State Route 179 between the village of Oak Creek and Sedona. What Moves You Arizona: Long-Range Transportation Plan 2010-2035, published in November 2011, includes specific recommendations on complete streets and context sensitive solutions.
From 2004 through 2010, Phoenix alone had more than 30 percent of statewide pedestrian fatalities. The city's Street Transportation Department developed a draft PSAP as well. The city currently is implementing the provisions contained in that PSAP.
Implementing Pedestrian Safety Improvements
ADOT and county and city road agencies already were working to improve pedestrian safety even before the State transportation agency developed its own PSAP. Actually, ADOT was conducting Road Safety Assessments (RSAs) and existing programs such as the Highway Safety Improvement Program, Safe Routes to School program, Transportation Enhancement activities, and the Congestion Mitigation and Air Quality Improvement program (in the Phoenix metropolitan area), which provided funding for pedestrian safety projects. Since 2009, ADOT also has had an initiative to adopt an internal complete streets policy.
The Highway Safety Improvement Program (HSIP) is the umbrella Federal program that primarily addresses infrastructure safety issues. HSIP can fund a variety of pedestrian safety projects, provided certain eligibility requirements are met. Several location-specific and systematic improvement projects on all public roads (for example, State highway systems and local road facilities) specifically address pedestrian safety issues.
The Road Safety Assessments (also known in some States as Road Safety Audits) are formal examinations of user safety on future or existing roadways by independent multidisciplinary teams. The RSA program is a well-established tool in Arizona with several statewide pedestrian assessments conducted to date.
A common finding of the RSAs performed on tribal reservations is the high percentage of fatal pedestrian crashes. For example, a safety assessment on State Route 73 through the White Mountain Apache Reservation found that 36 percent of the fatal crashes on the highway involved pedestrians, with 89 percent of the pedestrian crashes occurring at night.
"This percentage is quite high for a rural area," says Mike Blankenship, the ADOT program manager for RSAs. To improve safety for pedestrians on the reservation, the RSA team recommended installing improved street lighting and enhanced crossings.
"Numerous pedestrian safety projects (such as installing pedestrian hybrid beacons and countdown signals, and improving street lighting) were developed and implemented after RSAs were conducted throughout the State," says Blankenship.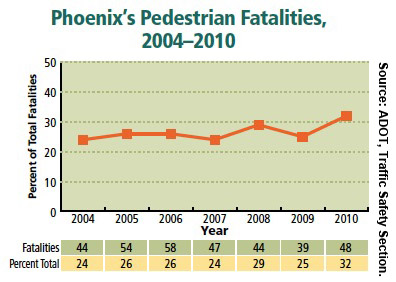 Arizona's Safe Routes to School program provides funding to develop projects to address infrastructure and noninfrastructure needs. Examples of the former include construction of new sidewalks and installation of a pedestrian hybrid beacon at a school crossing. Examples of addressing noninfrastructure needs include implementing educational curricula, encouragement measures such as prize giveaways, and enforcement steps such as school crossing guard STOP paddles, safety vests, and hats. Eligible funding applicants include schools, school districts, municipalities, and tribal communities.
Safe Routes to School education and funding continues to be an important priority in Arizona. In 2005, the program participated in the first national instructor training course in Tucson, developed by the Pedestrian and Bicycle Information Center and now run by the National Center for Safe Routes to School, and has since offered additional instructor trainings in Flagstaff and Phoenix.
Although International Walk to School Day is celebrated throughout the State, Phoenix implemented Walk to School Month to accommodate 27 separate walk-to-school events in 2011. The events were preceded by school assemblies for educating students on the importance of pedestrian safety and walking as a healthy lifestyle choice. The city and schools encouraged student participation through the use of poster and essay contests on pedestrian safety. The total participation included 5,000 participants who walked to school and 20,000 students who attended the assemblies.
Phoenix continues to reach out to pedestrians and pedestrian organizations through the Mayor's Commission on Disability Issues and neighborhood associations, and receives feedback from individual citizens. The mayor's commission was the prime motivator for recent changes to the Phoenix Traffic Barricade Manual and adoption of a right-of-way management ordinance to better protect the rights of access for pedestrians and vehicles and safety in construction zones. The Right-of-Way Management Program added certification in traffic control for construction zones and the ability to impose fines if sidewalks and streets are improperly blocked or unsafe conditions for pedestrians and drivers occur during construction or maintenance activities. The city also added new inspectors. Neighborhood organizations have been the primary advocates for pedestrians and were responsible for the implementation of the first road diet projects in Phoenix, largely to make the neighborhoods safer and more walkable.
A number of projects provide pedestrian safety improvements through Transportation Enhancement grants, such as the Bicycle Pedestrian Statewide Safety Education Project sponsored by Valley Metro, the public transit provider for the Phoenix metropolitan region.
Highlights of New Safety Tools
Arizona is no stranger to developing and implementing pedestrian safety improvements. For example, Tucson was the birthplace of the High-intensity Activated crossWalK, or HAWK. City traffic engineer Richard Nassi (retired from Tucson but currently working for the Pima Association of Governments) first developed the HAWK, based on a similar concept seen in Europe. Nassi wanted to assist pedestrians crossing busy, higher speed multilane streets, without requiring traffic signals to be installed. Traffic signals are expensive and can lead to unintended negative consequences, such as higher numbers of motor vehicle crashes and vehicular and pedestrian delays.
Nassi's idea was to develop a new traffic control device that would provide greater responsiveness to pedestrians while minimizing delay to motor vehicle traffic at midblock and minor street crossings. The city of Tucson did extensive field testing with the HAWK, and FHWA eventually adopted it for inclusion into the national 2009 Manual on Uniform Traffic Control Devices as the pedestrian hybrid beacon.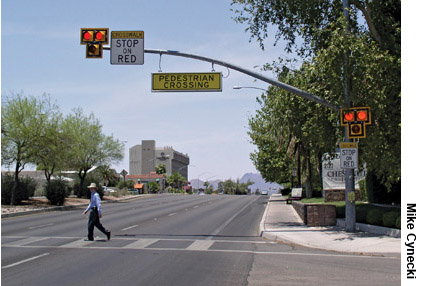 The device features two red light indications located above a single yellow light. The beacon indications are dark to motorists unless activated by a pedestrian. Extensive testing by the Texas Transportation Institute using comparison sites and before-and-after Empirical Bayes evaluations found that pedestrian hybrid beacons not only reduced pedestrian crashes, but also reduced total vehicle crashes.
Tucson and agencies in the adjacent metropolitan area have installed more than 100 of these devices since their inception in 2000. In addition, Phoenix has installed 12 of the beacons since 2009, and 2 more currently are under design; Scottsdale has installed 4; and Glendale, Mesa, Peoria, and Tempe also have installed a few. For safer pedestrian crossing, ADOT has installed its first pedestrian hybrid beacon on U.S. 60 in Globe and is in the process of installing one on State Route 95 in Bullhead City. Scottsdale also installed a modified version of a two-stage crossing with a pedestrian hybrid beacon that separates pedestrians crossing from each direction of travel.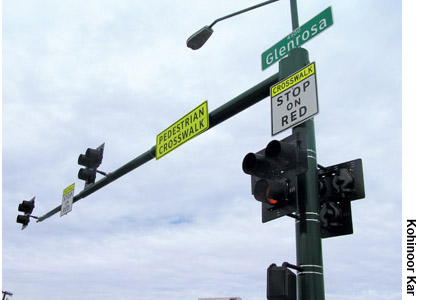 In addition to pedestrian hybrid beacons, Tucson has installed a two-stage PEdestrian LIght Control ActivatioN (PELICAN) pedestrian signal along an arterial street. The PELICAN permits pedestrians to cross each direction of vehicular travel separately by first crossing to a central median island. Traffic synchronization is maintained in both directions.
Other pedestrian innovations in Tucson are the TwO groUps CAN (TOUCAN) crossing. In a TOUCAN crossing, two groups (pedestrians and bicyclists) cross side by side using separate pedestrian and bicycle signal indicators. In addition, a pedestrian crossing extension using a microwave detector determines whether pedestrians need additional crossing time.
Phoenix was the first city in Arizona to implement the rectangular rapid flashing beacon (RRFB) at two crossings near schools. This device features a flashing pattern that is similar to the pattern used on emergency vehicles. Experiments in Florida have shown this device to be far more effective than standard flashing warning devices.
Initial evaluations in Phoenix confirmed that the yield rate by motor vehicles is much higher than it is for a standard yellow beacon or the in-pavement flashing warning lights that the RRFB replaced. However, Phoenix determined that education and monitoring are needed to ensure that more pedestrians push the button before crossing. Recently, Flagstaff has announced plans to provide RRFBs at two crossing locations, and additional municipal agencies in Arizona are considering their implementation.
In recent years, other innovations in Phoenix include the two-stage crossing, in which pedestrians cross halfway to a central median island and then face approaching traffic once they reach the island before crossing the second half of the street. Two-stage crossing islands are most appropriate at midblock crossings of multilane streets with high pedestrian activity. Unlike the PELICAN two-stage, signal-controlled crossing, the Phoenix two-stage crosswalks operate without traffic signals.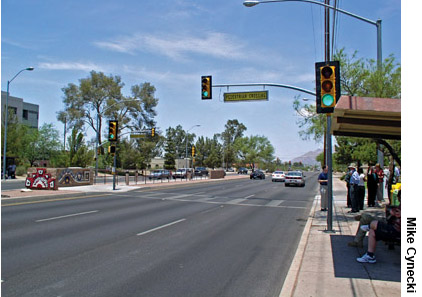 Phoenix installed its first two-stage crossing in 2006 in direct response to an FHWA workshop on pedestrian safety in the same year. The crossing is at the 3200 block of West Van Buren Street, where it facilitates access between a residential neighborhood and the Carl Hayden Community Center on the opposite side of a multilane arterial. Residents of the neighborhood were so pleased with the pedestrian enhancement that the Phoenix Street Transportation Department received an award from Chicanos por la Causa, a national consortium of nonprofit developers of affordable housing. Since that time, Phoenix has constructed several other two-stage crossings across multilane arterial streets.
Summing Up
In recent years, ADOT and several municipal agencies in Arizona have undertaken initiatives to evaluate pedestrian safety issues and implemented innovative solutions, such as the pedestrian hybrid beacon, rectangular rapid flashing beacon, and two-stage crossing.
Since 2009, Phoenix has converted more than 62 percent of its pedestrian signals to countdown signals, in a system containing 1,097 signalized locations. In addition, the city has requested Federal funding for assistance in converting the remaining pedestrian signals to add the countdown feature. Arizona is using a portion of its Highway Safety Improvement Program funding for installation of countdown pedestrian signal heads throughout the State.
These systematic improvements help provide pedestrians with substantial safety benefits. Although infrastructure improvements have the potential to reduce pedestrian fatalities and injuries, nonengineering countermeasures, such as education and enforcement, can play a vital role where driver and pedestrian behavioral factors contribute significantly.
Securing funding in a competitive environment (especially during a tight economy) and completing all of the processes involved in executing these types of projects can take anywhere from 1 year to several years. Implementing systematic safety improvements that involve limited environmental impacts is one way to streamline project development and funding.
Although total traffic fatalities in Arizona declined by 30 percent between 2007 and 2010, pedestrian fatalities have not experienced the same decline, indicating more work remains. When updating its Strategic Highway Safety Plan, Arizona will increase emphasis on pedestrian safety. State and municipal agencies have expressed a willingness to continue to explore further pedestrian safety treatments and funding for implementing those treatments.
"Based on our analysis of crash data from 2010, we have experienced large drops in the number of traffic fatalities since adopting the State's Strategic Highway Safety Plan in 2007," says Mark Poppe, State safety engineer. "Unfortunately, we have not seen the same type of declines in pedestrian fatalities. I would like to see continued emphasis on pedestrian safety, working with [our] traffic safety partners across Arizona as we address this critical issue."
---
Kohinoor Kar, Ph.D., P.E., PTOE, a professional engineer with 23 years of combined experience in the roadway, traffic and safety field, has been with ADOT for 8 years. He has published research papers in refereed journals and presented at several conferences. Kar serves on a number of safety-related advisory committees at the State, national, and international levels. He has a Ph.D. in civil engineering from Wayne State University.
Michael J. Cynecki, P.E., retired from the Phoenix Street Transportation Department in 2011 after a career of 26 years and currently is with the consulting firm of Lee Engineering, LLC. He serves as chair of Transportation Research Board Section ANF00, which includes the pedestrian, bicycle, and motorcycle committees, and also is involved in Safe Routes to School training. He has B.S. and M.S. degrees in civil engineering from Wayne State University.
Disclaimer: Information or opinions presented in this article are those of the authors or references cited herein and do not necessarily represent the views of the agencies they are affiliated with.
The authors gratefully acknowledge the resources and support provided by FHWA's Office of Safety, Resource Center, and Arizona Division Office to help address pedestrian safety issues in Arizona. The authors also are grateful for helpful input provided by ADOT Bicycle/Pedestrian Coordinator Michael Sanders.
For more information, contact Kohinoor Kar at 602-712-6857 or kkar@azdot.gov, or Mike Cynecki at 602-443-8476 or mcynecki@lee-eng.com.