What Does It Take to Change How We Do Business?
Leaders in the transportation community ruminate about strategies to meet the challenges facing the highway world.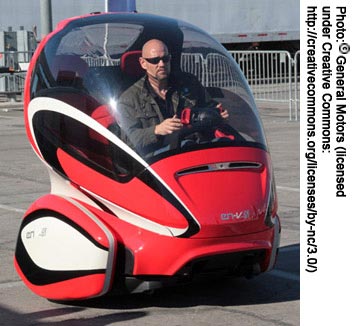 What's going on?
Everywhere you look today, long-standing approaches, systems, organizations, even entire governments are being turned upside down. Natural disasters, a worldwide economic downturn, and challenges to centuries-old political, social, and religious dogmas are ushering in sweeping changes to the status quo.
The transportation community is not immune. Basic tenets of highway programs that have been around since the beginning of motorized transportation are no longer reliable. The funding bedrock of highway construction and maintenance -- taxes on petroleum-based fuels -- already has proven inadequate in the face of factors such as improved engine efficiencies, decreased travel brought on by the economic downturn, and a hesitance by leaders to increase the per-gallon tax rate or endorse other broad-based revenue enhancement alternatives. And an even greater technological challenge to that funding approach is looming: increased use of transit and electric cars.
"Today's cars and trucks are primarily mechanically driven, powered by internal combustion engines, energized by petroleum, controlled mechanically, and operated as stand-alone devices," writes General Motors' Director of Advanced Technology Vehicle Concepts Christopher E. Borroni-Bird. "In fact, they have essentially the same 'genetic makeup' as automobiles pioneered by Karl Benz, Ransom Olds, and Henry Ford over a century ago."
In Reinventing the Automobile, published in 2010, Borroni-Bird, with coauthors Lawrence D. Burns and the late William J. Mitchell, describes how General Motors and other car manufacturers are moving toward a "new automotive DNA," one that relies on newer technologies such as electric-powered vehicles that are wirelessly interconnected to avoid crashes and that can incorporate additional technologies as they come along. These changes, according to Borroni-Bird, will continue to unfold over the next 10, 20, or 30 years.
The transformation is underway already. Late in 2010, Osamu Suzuki, the 80-year-old chairman of Suzuki Motor Corporation, warned Japanese automotive parts makers to start gearing up for the changeover to electric cars. "We are in the midst of an industrial revolution," he said, as quoted in The New York Times. "Our suppliers need to start studying how they can transform their business." At that time, according to the same article, almost 30 percent of sales in Japan's $430 billion auto parts industry came from parts that could be rendered obsolete by electric-powered vehicles.
The New Normal
Thomas K. Sorel, commissioner of the Minnesota Department of Transportation (Mn/DOT), speaks of the current environment as the "new normal." He adds, "The new normal means higher interest rates, slower economic growth, an increasing number of retirees, less consumption, more savings, a more diverse population, more uncertainty in our personal and national futures, and more uncertainty about the future in general." He further muses that, for highway organizations, "Maybe this is the new normal: the uncertainty in the way we live our lives, the uncertainty in the way we deliver our programs. And we just have to learn how to live with that and work with it."
Hal Kassoff, senior vice president at Parsons Brinckerhoff, one of the country's largest transportation planning and design firms, agrees that times are different. "I've been in the highway business going on 45 years," says Kassoff, "and the last 10 years [have] seen more in the way of change and innovation [than] the previous 30."
But recognizing the magnitude of change is only the first step. The big question is how can transportation organizations, both in the public and private sectors, meet the unprecedented challenges of change? How can they thrive or even survive in such an environment? As with any other problem, the best approach may be to find examples of people and organizations that have met those challenges successfully and are actively addressing them today.
Sorel and Mn/DOT fit the role. Both have received praise for providing Minnesotans with a high level of transportation service. Reporter Dave Beal of the MinnPost.com wrote, "When [new governor] Mark Dayton asked [Sorel] to stay on as commissioner at the Minnesota Department of Transportation, it was a telling confirmation of how much times have changed for the better at the agency under Sorel." (Sorel previously worked for a Republican administration and was reappointed under a Democratic administration.) Prior to leading Mn/DOT, Sorel headed the Minnesota Division of the Federal Highway Administration (FHWA).
How do Sorel and his agency deal with the new normal? Sorel points to a three-way relationship between the new normal and the concepts of sustainability and quality of life. To him, that approach has been key to the agency's success.
"It is not necessary to change. Survival is not mandatory."
-W. Edwards Deming
To determine sustainable solutions, Mn/DOT looks at how society, the economy, and the environment come together. Under society, for example, the agency studies aspects such as equity, health, culture and history, accessibility, involvement, livability, and values. "We've focused in on sustainability, and I really believe that that's the umbrella that's going to help us respond to the new normal," Sorel says. "The sustainability umbrella, I think, can really prompt innovation and creative thinking."
With regard to quality of life, he adds, the question is, What does it mean to Minnesotans? The agency has undertaken extensive market research to understand which transportation-related factors align with Minnesotans' views of quality of life, and whether those transportation quality-of-life influencers are in alignment with Mn/DOT's strategic directions.
"Piecing the transportation puzzle together," Sorel says, "we acknowledged that [uncertainty] and we managed our risks." Mn/DOT's approach has embraced the concept of risk management and combined it with market research for a market-based risk management approach in how it delivers programs and products.
Some, of course, dread venturing into unknown waters. Business guru Peter Drucker wrote in Management Challenges for the 21st Century, "We do not hear much anymore about 'overcoming resistance to change,' which, 10 or 15 years ago was one of the most popular topics of management books and management seminars. Everybody has accepted by now that 'change is unavoidable.' But this still implies that change is like 'death and taxes': It should be postponed as long as possible, and no change would be vastly preferable."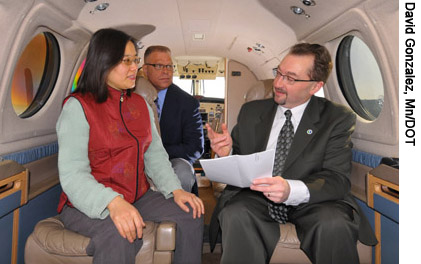 Minnesota's Sorel feels the opposite should be the case. "We shouldn't fear this. Why fear the new normal?" he asks. "It plays to our strengths!" He adds that productivity growth in the public sector will be essential to future economic growth.
Parsons Brinckerhoff's Kassoff agrees: "The bottom line is...knowing how to change through reinvigorating our organizations can lead to the resources we need to bring about even better changes for our customers in the long run."
Getting the Public's Attention
But, again, highway organizations face the challenge of insufficient resources to operate. Although much has been said about the possibility of a revised taxing structure, the dangers of outdated infrastructure, and the benefits of new technologies, the word does not seem to be getting to the people who matter: the motoring public.
Dr. Peter Ruane, president and CEO of the American Road & Transportation Builders Association (ARTBA), sees the problem as being, to some degree, the industry itself. To him, the highway community spends "most of our time talking to ourselves." He points to major articles on highway projects in national publications and notes that, all too often, they came about not by any effort by the highway community to tell its story, but rather by serendipity, sheer luck.
"Our industry must work together collectively to change how people think about us," he says. "We have been defined not by ourselves but by others."
Ruane notes the importance of recent major highway construction programs aimed at stimulating the economy and how they showcased the industry's capabilities. Yet, he grimaces at the phrase "shovel-ready" that came into favor in re--cent years. "I think that politically trite sound bite set us even further back as an industry in terms of how we approach our day-to-day business. The image of someone standing around on a shovel has been a false caricature that's been out there for years. Unfortunately, the shovel-ready characterization only served to reinforce that image.... My message to all industry professionals is simple. Take ownership of the good work you do in building a better America, and share your transportation success stories with your elected officials, local business leaders, and news media. We should be touting the engineering, construction, and technology achievements of projects like the Hoover Dam Bypass and the Woodrow Wilson Bridge. After all, if we don't tell the truth, who will?"
Kassoff notes that what got him into the highway industry was a Reader's Digest article that he read when he was 12 or 13 years old about the proposed interstate highway system. "It talked about this system [of highways] where you go coast to coast without a stoplight. That was unbelievable!" He adds when recalling a visit to the highways of the future exhibit at the New York World's Fair in 1964 and 1965: "We have to figure out a way, not just to be inspired, but to inspire others."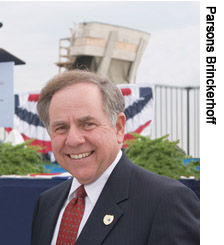 Prior to his position at Parsons Brinckerhoff, Kassoff led the Maryland State Highway Administration. In his 12 years as State highway administrator, he oversaw more than $6 billion in improvements delivered in a ramp-up that nearly tripled the size of the program, while adhering to schedules and budgets. He worked for six different Maryland secretaries of transportation during that period.
Kassoff states that the idea of innovation within organizations needs to be ingrained into employees: "Not just allowing innovation but actually celebrating innovation. It's a culture issue that needs to permeate vertically, from the front office to the front lines, and horizontally at all peer levels of an organization, from Skunk Works® [research and development services]...to stakeholders."
Performance Measures
Pete Rahn was brought into the Missouri Department of Transportation (MoDOT) in 2004 to institute change. Previously, he had headed New Mexico's dynamic State highway program. Rahn points to performance measures as the key to driving organizational change at MoDOT.
When he took over as head of the agency, he began "by gathering all the managers for a strategic advance," he says. "It was an 'advance' because I didn't want them to think we would be retreating from any challenge. During the first day of the advance, we hammered out a new mission statement and 17 value statements. The mission identified our direction, and value statements set our boundaries and playing field. The next day we spent looking at how MoDOT measures success. I challenged the group to list what our customers expected from MoDOT. The [outcome] was 18 tangible results. These were to be the driving force behind everything we do."
MoDOT's list included performance measures such as uninterrupted traffic flow; smooth and unrestricted roads and bridges; and personal, fast, courteous, and understandable responses to customer requests. "But there had to be a stronger link than some posters on the walls of our conference rooms," Rahn says. "That's why the second assignment to my managers was to identify measures that would give us the best indication of how we were doing at delivering those tangible results, such as pavement conditions...We also found gaps in our performance measures that had to be filled."
Ultimately, the department came up with several individual performance measures. Although Rahn has now left the agency, the concept has continued. Each quarter, MoDOT publishes the results of the measures and makes them available, both internally and externally, to decisionmakers, partners, and the Missouri citizenry.
Internal Communications
Merely recognizing the need for change is not enough. That message must be delivered to everyone in the organization. Although experts in organizational change differ on any number of things needed to make for successful change, many agree that a high level of communication with employees about the proposed changes is critical.
For example, Harvard Business School Professor John P. Kotter writes in "Leading Change: Why Transformation Efforts Fail," published in the Harvard Business Review, that a common error of leaders is "undercommunicating the vision by a factor of 10." Management needs to use all the tools available to them to get their message out. "Employees will not make sacrifices, even if they are unhappy with the status quo, unless they believe that useful change is possible," Kotter writes. "Without credible communication, and a lot of it, the hearts and minds of the troops are never captured."
In Missouri, communication has taken many forms. In addition to publishing the results of the performance measures every quarter, Rahn held quarterly meetings with senior managers and those responsible for specific measurements to discuss strategies for how to drive change more effectively. Divisions and districts had their own versions of the list of performance measures, and individual employees' performance plans listed expectations that linked directly to specific organizational performance measures.
MoDOT set up what it called its Performance Plus employee incentive program, whereby an employee can earn up to $500 per quarter by meeting established performance goals that generate savings for the department. The department established an online database to store best practices that had been identified in evaluating and documenting how employees did their work on those performance measures.
Describing MoDOT's efforts, Rahn concludes with a list of the agency's accomplishments: Missouri had the largest drop in traffic-related fatalities of any State in the Nation (161) in 2006, and, while other States were canceling or delaying highway improvements, MoDOT delivered record amounts of road improvements under budget and on time. And the agency was selected as a winner of a Missouri Quality Award in 2007, modeled after the annual Malcolm Baldrige National Quality Award presented by the President of the United States. In the Missouri award's 19-year history, only one other State agency had ever won.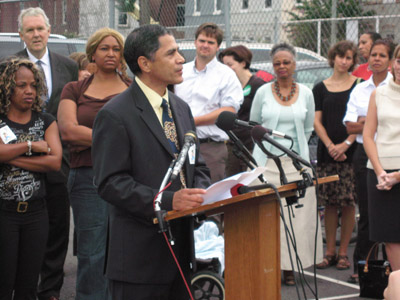 The Role of Innovation in Organizational Change
Often, innovations are thought of as changes in themselves, rather than as the means of dealing with change and better managing the turmoil of the new normal. Faced with a backlog of projects demanding attention, organizations exhibit an understandable resistance to taking time out, even if it is to learn about a better, faster, less costly way of completing those projects.
To FHWA Administrator Victor Mendez, innovation is the key to dealing with change. "Our success will hinge on how creative and innovative we can become," he says. Like Sorel, Kassoff, Ruane, and Rahn, Mendez has been a leader in more than one highway arena. Before joining the Federal Government in July 2009, he served as director of the Arizona Department of Transportation (ADOT).
"In the industry, we have been very successful in doing what we do," Mendez says. "We have been very successful building [the Nation's] infrastructure. But I think to be even more successful, we're going to have to find other ways of delivering to the American people."
Mendez talks about how FHWA has raised the bar in recent years: "At FHWA we have been very focused on becoming a culture of innovation. We're changing how we move new ideas throughout our entire agency, and [how] to get them out to State and local transportation agencies, to the public and private sectors."
He sees partnerships as a critical element in accomplishing that transfer of ideas, and he gives an example of how, when he was with ADOT, the agency's partnerships with utilities in the Phoenix area were vital. "ADOT could not succeed if we did not have in place partnerships with the industry," he recalls. For example, in developing roadways, especially in downtown areas, having good relationships with the people who will relocate electrical, pipeline, and other utilities can mean the difference between getting a project delivered on time or having it delayed weeks or months.
FHWA's focus on innovation intensified in 2005 when industry consensus grew around the concept of faster project delivery. "FHWA at that point created Highways for LIFE," says Mendez. "Under the program, we did pioneer some ways of doing business that really are now standard within FHWA and the industry."
Mendez provides some examples: "Within FHWA, we created teams around specific technologies, a training program that we call Leap Not Creep that was intended to help us develop deployment plans, and identified how we would deploy grants for projects that put certain technologies out into the field in actual practice."
Shortly after becoming administrator of FHWA, Mendez gave the agency a challenge. "One of my priorities was to shorten project delivery time," he says. "The general consensus out there is that major projects take about 13 years. I established a goal for all of us: How can we reduce project delivery time by 50 percent?"
Naturally, there were skeptics. As might be expected, many people said that can't be done. But Mendez stresses persistence and insistence on looking at how to get there. "Maybe we don't get to 50 percent; that's still my goal, but we have to look at it. We can't just say, 'It can't be done.'"
As a vehicle to this goal, Mendez established Every Day Counts, an initiative with two business goals: to shorten project delivery and to speed up deployment of innovations and technologies. Mendez describes Every Day Counts as extending the efforts inaugurated by Highways for LIFE by introducing key leaders to Leap Not Creep and thereby continuing the focus on deploying technology faster. The agency initiated a series of 10 regional summits throughout the country to explain the Leap Not Creep initiative. "The intent of the innovation summits was to bring the critical stakeholders to the table," Mendez explains, "people at the front lines [who] actually have to deliver projects [and] who actually have to deploy technologies and new ideas."
Mendez notes that the summit concept for explaining innovations is totally new for FHWA. But the summits were just the beginning.
"Since the summits, we have engaged our individual [division] offices...to work with the States and the stakeholders [who] came to the summits to create State-specific implementation plans," Mendez says. "Something I feel very strongly about...: It's important for us not to think that everything needs to be driven from Washington, DC."
As FHWA's staff works with State and local agencies, plus the private sector, to encourage the adoption of innovations, Mendez points to a new mindset that he's encouraging FHWA employees to adopt. The new way of thinking, called "leaning forward" as Mendez describes it, is much like being a waiter at a fine restaurant. The waiter not only presents the menu, he also makes recommendations based on his knowledge. "It's different than when we sit back and wait for someone to ask the right questions. Our 'leaning forward' posture is to be at the table with new ideas, new suggestions, and to be asking the States, does this work for you?"
Of course, when a number of innovations are coming at one time, knowing how to deal with all of them is difficult, especially when trying to do that within an existing system built for another time. Minnesota's Sorel recognizes the challenge and refers to it as closing the gap between policy and technology: "We have a lot of innovations, a lot of technology that exists," he says. "But sometimes the policy is lagging behind the technology. And somehow, we've got to figure out how to close that gap -- and not only at the State level but at the Federal level as well."
Sorel adds an example: "For instance, we know that information technologies can provide for sustainable solutions that enhance safety and mobility. However, legislative barriers may exist that prohibit their implementation. Thus, as an industry, we spend much time and resources educating policymakers about the benefits of such solutions."
ARTBA's Ruane asks, "Are we really doing all we can to remove those barriers [to the use of new technologies]?" Removing policy barriers to innovation is another challenge facing every individual and organization in the highway community. Dealing with that challenge and the funding issue is not going to be easy, and every organization's approach will be different. But trying new ideas and sharing them will be the only way to deal with the new normal -- the world as it is today.
As President Barack Obama noted in his State of the Union address in January 2011, "The future is ours to win. But to get there, we can't just stand still."
---
Kathleen A. Bergeron is a marketing specialist with FHWA in Washington, DC, and works primarily on the Highways for LIFE program. Prior to joining FHWA, she managed communications and marketing programs for consulting engineering firms and transportation agencies at the State and local levels. She has a bachelor's degree in journalism from the University of Texas at Austin and a master's degree in transportation management from San José State University.
For more information, contact Kathleen A. Bergeron at 202-366-5508 or kathleen.bergeron@dot.gov.