Fighting Congestion With Smarter Highways
Washington State is using active traffic management to operate its existing transportation system more efficiently.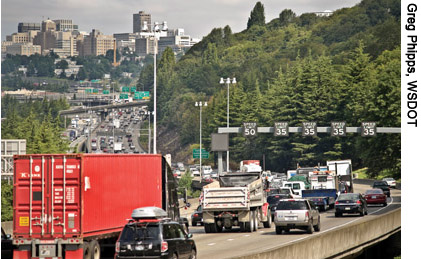 In many parts of the country, continued growth in travel along congested urban freeways and limited funding for roadway expansion challenge the ability of transportation agencies to provide sufficient roadway capacity to ensure mobility. High construction costs, constrained rights-of-way, and environmental factors are driving agencies to explore alternatives and innovative concepts to mitigate traffic congestion while optimizing the use of limited resources. As a result, many States are championing use of advanced technologies, such as intelligent transportation systems (ITS), to operate roadways more efficiently.
Washington State, for example, is using active traffic management strategies to address safety and mobility issues. Active traffic management is an integrated approach to managing and potentially reducing traffic congestion and improving safety within the footprint of the existing infrastructure. Fueled by a partnership with the U.S. Department of Transportation (USDOT) and the Washington State Department of Transportation's (WSDOT) Moving Washington initiative, the Seattle area is leading the State's fight against congestion by making its busiest highways "smarter."
Moving Washington and Smarter Highways
The Seattle metropolitan area, also known as the Puget Sound region, experiences some of the worst congestion in the Nation. A private traffic information provider, INRIX, issued the National Traffic Scorecard 2010 Annual Report, which ranks Seattle/Tacoma as the 10th most congested metropolitan area in the United States. The major freeways, including I-5, I-405, and SR-520, experience the area's worst congestion, as well as high numbers of incidents resulting from the congestion. Construction costs, environmental impacts, and difficult terrain prevent local transportation agencies from widening the roads to mitigate the problem.
Instead, WSDOT initiated in 2008 a program called Moving Washington that offers a balanced, integrated approach. Moving Washington combines three specific strategies: operating the existing transportation system more efficiently, providing travel choices that help manage demand, and adding road capacity strategically where feasible. The program incorporates 2-, 6-, and 10-year plans that focus on the most troublesome corridors in the State, starting with I-5. WSDOT's goals are to improve travel times by 10 percent, reduce crashes by 25 percent, improve trip reliability by 10 percent, and provide alternative travel choices for commuters in major corridors. Active traffic management systems, dubbed "Smarter Highways" by WSDOT, are a key component of the Moving Washington strategy.
Urban Partnerships
In 2006 and 2007, USDOT demonstrated its commitment to helping reduce traffic congestion in major urban areas by issuing two Federal Register Notices soliciting cities to apply for Urban Partnership status under the Urban Partnership Agreement and Congestion Reduction Demonstration Programs. The selected cities with the most aggressive congestion-relief programs would receive priority consideration for available Federal discretionary funds (approximately $1 billion) across 10 programs.
Between 2007 and 2008, following a competitive selection process, USDOT chose six metropolitan areas as urban partners: Atlanta, GA; Los Angeles, CA; Miami, FL; Minneapolis-St. Paul, MN; San Francisco, CA; and Seattle, WA. Each urban partner agreed to implement a comprehensive policy response to urban congestion that includes the four "T's": (1) a tolling (congestion pricing) demonstration, (2) enhanced transit services, (3) increased emphasis on telecommuting and flexible scheduling, and (4) deployment of advanced technology.
Although each partner's technical approach varies (for example, Miami is converting high-occupancy vehicle lanes to high-occupancy toll lanes, while Seattle is implementing full-facility variable pricing), all of the projects represent aggressive solutions to reduce urban congestion over the long run. "There is no single solution to relieving congestion, and only through a combination of investment and innovative approaches can we help address the problem," says Federal Highway Administrator Victor Mendez.
The Seattle area's Lake Washington Urban Partnership Agreement is between USDOT, WSDOT, King County, and the Puget Sound Regional Council. The agreement provides a conditional award of $154.5 million to improve traffic flow within the SR-520 urban corridor and ferry services in the region. Known locally as the Lake Washington Congestion Management Program, the effort involves a series of projects including implementation of variable tolling on SR-520, use of active traffic management systems on SR-520 and alternate travel routes (I-90, I-5, and I-405), enhanced transit services in the region, and improvement of telecommuting and demand management programs.
Smarter Highways: Spotlight on Efficiency
In August 2010, WSDOT became the second State department of transportation to implement high-tech overhead signs displaying variable speed limits, lane status, and real-time traffic information so drivers know what is happening on the road ahead. The first installation was on northbound I-5, a major freeway traversing the southern part of Seattle. Since then, WSDOT has implemented similar systems on SR-520, completed in November 2010, and I-90, completed in June 2011, with funding under the Lake Washington Urban Partnership Agreement.
"For decades, WSDOT has fostered a culture of embracing technology to help solve transportation problems," says Craig Stone, director of the WSDOT Toll Division. "Active traffic management builds on our existing tools; it's the logical progression."
The existing tools include ramp meters, traffic cameras, and electronic message signs. The new systems feature a network of sensors and electronic signs that automatically respond to changing traffic conditions, with data verification and control modifications made by WSDOT staff. The overhead signs alert drivers to change lanes when an incident blocks traffic ahead or to adjust their speeds as they approach slower-moving traffic, helping to make more efficient use of roadway capacity and encouraging drivers to travel safer and smarter.
The system features gantries that span the travel lanes and display changeable speed limits and lane control symbols. Activation of the variable speed limit signs alerts motorists that they are approaching congestion, collisions, or backups and directs them to slow down or change lanes accordingly. Gantries are approximately one-half mile (0.8 kilometer) apart, so a minimum of one gantry is visible to drivers at all times. Other key aspects of the Seattle system include dynamic message signs on the roadside that provide drivers additional information on downstream conditions. Signs displaying estimated travel times and other traffic conditions enable motorists to take more control over their commutes and make on-the-road decisions about which routes to take.
As illustrated in the renderings below, in active traffic management, operations engineers can modify the variable message signs over each lane to show reduced speed limits (below) or directional arrows with "Merge" messages to help upstream motorists make safe and timely decisions in the case of blockages downstream.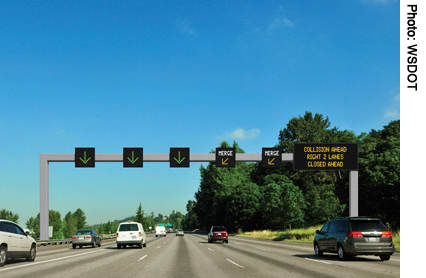 Because the Seattle systems are based on real-time roadway conditions, they help reduce speeds upstream of congested areas, give drivers information about the causes of backups, and direct motorists to merge into appropriate lanes to avoid blockages caused by crashes, stalled vehicles, or work zones. To ensure that the data fed into the traffic management center that controls the signs are robust and accurate, WSDOT added new roadway traffic sensors and installed data-carrying fiber-optic cables, as well as new traffic cameras along the roadways for all three installations. Traffic engineers monitor data input 24 hours a day, 7 days a week and verify the information before activating the system.
Early Results at a Glance
Results so far have been encouraging. Motorists clearly understand the meaning of the signs and both first responders in the field and observers from the traffic management center have seen drivers change behavior in response to the signs. Although 1-2 years of collision data will be needed for a statistical analysis of collision frequency, WSDOT officials expect to see a measurable and statistically significant reduction in collisions.
"So far we've been happy with the active traffic management system," says Stone. "We see drivers getting out of closed lanes sooner and giving workers more room to safely accomplish their task."
WSDOT engineers are still in the process of evaluating the magnitude of mobility and congestion benefits afforded by the I-5 active traffic management system. In addition, USDOT is funding a comprehensive evaluation of all the Urban Partnerships projects, including the Seattle SR-520 and I-90 systems, which will shed additional light on the safety and mobility impacts.
Learning From Abroad
In Europe, some countries have been installing active traffic management strategies such as variable speed limits, lane controls, and hard shoulder running (using the shoulder as a travel lane during times of congestion and reduced travel speeds) for many years. Here in the United States, as highway agencies are seeking new methods to address traffic congestion problems and improve safety, interest in actively managing transportation networks is growing.
"After seeing working examples of active traffic management in Europe, we were convinced that these strategies could improve safety on our busy State corridors," says Stone. "We hope to duplicate Europe's success in reducing injury collisions by up to 30 percent. Smarter Highways helps break the cycle of congestion and collisions by providing advance warning to drivers. Many more of our busy corridors would benefit from this tool."
Next Steps
The early results from active traffic management applications in the United States, including those in Seattle, show positive impacts on crash reduction, and the concept is gaining traction within WSDOT and across the country. WSDOT is evaluating other corridors in the Puget Sound region for the feasibility of adding active traffic management systems. Stone says his department hopes that in the future it will become standard practice to include active traffic management installations in major corridor improvement projects, just as ITS improvements have now become standard.
"The active traffic management concept is not new, and it is not intended to replace legacy systems," says Robert Arnold, director of the FHWA Office of Transportation Management. "The fundamental philosophy is to apply an integrated approach to actively balancing travel demand and traffic by combining existing or emerging applications and technologies to optimize the efficiency of the systems. There is no one-size-fits-all solution to fight congestion and safety problems. States must carefully evaluate their needs and available alternatives to select the appropriate applications that offer the most effectiveness and benefits to the network."
More cities and States are exploring and implementing variations and combinations of operational strategies and applications. To support this growing interest, FHWA recently created a national Active Transportation and Demand Management program that offers opportunities for peer exchanges, conducts foundational research, develops awareness and educational information, and provides technical assistance. The tools and assistance available through this program will help decisionmakers and practitioners with their active traffic management projects -- from determining which strategies are feasible to selecting combinations of strategies that best work to solve local and regional problems. The goal is wider deployments with many more success stories to follow.
---
Jennifer Charlebois, P.E., is the tolling and systems project engineer for WSDOT. She has 10 years of experience at WSDOT, where she has focused on roadway design and construction. Charlebois is currently working on the implementation of variable tolling on SR-520. She received a bachelor's degree in civil engineering from Gonzaga University.
James Colyar, P.E., is a transportation specialist in the FHWA Office of Transportation Management. Previously, he was a mobility and ITS engineer for the FHWA Washington Division. He received a bachelor's degree in civil engineering from the University of Idaho and master's degrees in civil engineering from North Carolina State University and in transportation policy, operations, and logistics from George Mason University.
Jessie Yung, P.E., serves as the lead point of contact for FHWA's Urban Partnership Agreement and Congestion Reduction Demonstration Programs in Seattle and Atlanta, which total more than $250 million in Federal funds. She received her B.S. and M.S. in civil engineering from the University of Maryland. She is a registered professional engineer in the State of Maryland.
For more information, contact Jennifer Charlebois at 206-716-1106 or jennifer.charlebois@wsdot.wa.gov, or James Colyar at 360-753-9408 or james.colyar@dot.gov, or Jessie Yung at 202-366-4672 or jessie.yung@dot.gov. The authors wish to acknowledge the contributions of Annie Johnson, with WSDOT Communications, to this article.