To Lessen Work Zone Impacts: Try TMPs
Transportation management plans help DOTs identify and coordinate strategies to reduce crashes and traffic congestion during construction projects.
Maintaining and enhancing U.S. roadways necessarily results in the use of work zones and some disruption to normal traffic flow. Across the Nation, transportation engineers face the daily challenge of managing the mobility and safety impacts of individual roadway projects and multiple projects occurring concurrently. Fortunately, States such as Michigan have found ways to address this challenge through the development of effective transportation management plans (TMPs).
In Genesee County, MI, the crash rate on a well-traveled portion of I-69 decreased by 16 percent during construction in 2009, as compared with the crash rate average for the previous 2 years when no construction was occurring on that interstate (49 crashes in 2009 versus an average of 58.5 crashes in 2007 and 2008). Drivers actually drove the speed limit through the corridor during construction, and delays caused by the work zone were less than expected. How is this possible?
It's not magic or sheer luck. To increase safety and mitigate congestion impacts from work zones, the Michigan Department of Transportation (MDOT) is using a combination of strategies that any State department of transportation (DOT) could implement through effective transportation management planning. The strategies include the use of extra-wide crossover lanes, emergency pulloff lanes, extended acceleration lanes, split-lane merges, and low-profile pavement marking to delineate temporary lanes. In addition, MDOT is using 16 portable message boards placed on and around I-69 to alert motorists to lane closures and upcoming work.
MDOT credits its work zone safety and mobility policy as the catalyst that is leading the agency to look outside normal operations when planning, designing, and constructing highway projects. By developing TMPs for projects, MDOT identifies sets of coordinated strategies to mitigate the expected safety and mobility impacts of construction.
According to Julie Johnston, MDOT work zone delivery engineer, "The TMP process gives us the opportunity to better plan for and manage our work zones. As a result, we are able to identify potential impacts that previously might not have been recognized and identify innovative strategies to manage those impacts through the coordination of construction design and delivery."
Michigan is not alone in realizing the benefits of TMPs. Other States are seeing a reduction in delays, an increase in safety, and higher public satisfaction with work zones due to the development and implementation of effective TMPs. For example, in California, the TMP for the I-10 Long-Life Pavement Project helped decrease traffic demand by an estimated 57 percent, leading to major reductions in total vehicle-hours of delay and queue lengths versus the original projections. The TMP included an extensive public outreach campaign to inform motorists about the work and alternate routes, and used transportation operations strategies such as a moveable barrier to provide an additional lane in the direction of peak traffic flow.
Similarly, in Ohio, for a beam and deck replacement on an overpass on I-275, developing a TMP enabled the Ohio Department of Transportation (ODOT) to identify a creative strategy that maintained three lanes of traffic in each direction. ODOT accomplished this mitigation by using the outside shoulders in both travel directions and crossing over one lane of traffic in the opposing direction to bypass the bridge work. As a result, the work zone caused no additional delays or serious injury crashes, and elicited positive feedback from the public.
Discussions between the Federal Highway Administration (FHWA) and work zone TMP experts at several State DOTs reveal a growing body of experience and best practices for developing and implementing these plans. Building on this experience and existing tools, templates, and other resources can help State DOTs create effective TMPs and ultimately make their work zones safer and keep traffic flowing smoothly.
What Is a TMP?
To address safety issues and congestion related to road construction, FHWA updated the Work Zone Safety and Mobility Rule (23 CFR 630 Subpart J). The rule, which FHWA revised in 2004 with a compliance date of October 12, 2007, now requires States to develop TMPs for all Federal-aid highway projects.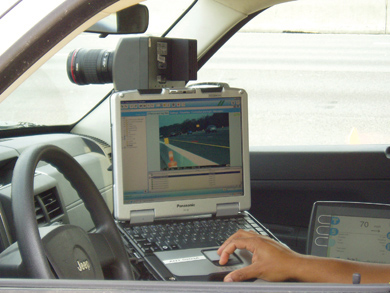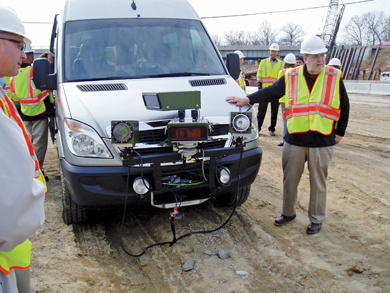 According to the rule, "A TMP lays out a set of coordinated strategies and describes how these strategies will be used to manage the work zone impacts of a project. The scope, content, and level of detail of a TMP may vary based on the agency's work zone policy and the anticipated work zone impacts of the project."
Simply put, a TMP contains mitigation strategies to help minimize impacts such as delay and to maintain safety in and around work zones. All TMPs must include a temporary traffic control plan, while TMPs for projects with greater impacts to safety and mobility ("significant projects") also must include transportation operations and public information and outreach components.
FHWA based this TMP requirement on a similar requirement that the California Department of Transportation (Caltrans) began implementing in 2000 to help manage the impacts of work zones. Caltrans defines a TMP as a document that combines traditional traffic mitigation strategies with public information; demand, incident, and system management; and alternate route and construction strategies. Other States have their own variations. Ohio concisely defines a TMP as consisting of strategies for maintaining "acceptable levels of traffic flow during periods of construction activities" and notes that "a TMP can be used for either single projects or for coordination of multiple projects within a given area." Maryland defines a TMP as a single document that "details work zone impact management strategies and how they will be implemented," and makes provision for updates and revisions to the TMP throughout a project.
Benefits of Developing TMPs
To many States, the idea of planning for maintenance of traffic in work zones is not new. Their transportation agencies were carrying out various aspects of TMPs before the FHWA requirement was in place. What is new, however, is a formalized process for developing more comprehensive TMPs and a mechanism for documenting the analysis of work zone impacts, mitigation decisions, and the resulting performance. Having a formal process enables a DOT to streamline TMP development across its agency, ensure the appropriate stakeholders are included in the process, develop more comprehensive TMPs, and better plan future projects by documenting successful strategies from earlier projects.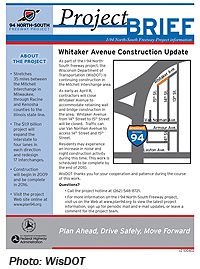 After developing hundreds of TMPs, a number of States have integrated the practice seamlessly into their project development processes. During several discussions with FHWA,State DOT representatives from Maryland, Michigan, Oregon, Rhode Island, and Wisconsin acknowledged that they initially faced some pushback from their own agency staff and had to overcome challenges when developing TMPs. However, they unanimously agreed that they have seen positive change in the way work zone impacts are assessed and managed as a result of TMPs.
What these States originally thought to be the biggest challenge -- extra upfront effort in the development of more comprehensive TMPs -- they now consider a great benefit over the life of projects. Scott McCanna, traffic control plans engineer for the Oregon Department of Transportation (ODOT), explains that clearly documenting design and development decisions can save time, energy, and money in the development of a project.
"A developed project may sit on a shelf for months, even years, waiting for construction funding," McCanna says. "Having recorded these development decisions aids in refreshing the minds of those picking up the project after a long delay. Also, the benefit of the TMP shines when ODOT can use the document to respond to requests made by contractors to modify the original traffic control plan in some way during construction. ODOT can use the information and decisions recorded in the TMP to determine whether the integrity of the traffic control plan, the promises made to stakeholders, traffic safety, and operation all can be maintained if the contractor's request is implemented."
These States clearly believe that the increased effort was well worth it, even under tight budgetary times. Moreover, recognizing the benefits of TMPs, some agencies have expanded the requirement beyond Federal-aid projects and develop TMPs for every job, with the level of effort depending on the project's work zone impacts.
Another advantage is that TMP strategies lead to reduced delays for drivers. Agencies cite improved customer satisfaction with work zones as an important benefit. Since the Rhode Island Department of Transportation (RIDOT) began developing TMPs, the number of customer complaints about roadwork appears to have decreased. Similarly, in Michigan, customers have telephoned with positive comments, which MDOT's Johnston credits as "a testament to our being proactive about getting community input on TMPs early in the process."
Finally, the TMP process also can facilitate improved project coordination and scheduling by bringing all stakeholders to the TMP development table early in the process. Early collaboration enables the identification of impacts and mitigation strategies that reach beyond the immediate work zone area and can help bring to the forefront the need for project coordination within a corridor or adjacent area.
So how are States developing TMPs in a way that allows them to take advantage of these benefits and overcome the challenges? FHWA's discussions with various States and review of available State TMP guidance documents highlighted some common practices regarding who should be involved with TMP development, when the process should begin, how to determine work zone impacts and mitigation strategies, and how to put all the information together into an effective TMP.
Involving All Stakeholders Early On
Many DOTs, in their work zone policies and TMP guidelines, specify the stakeholders who need to be involved in the TMP process. The guidelines of the Virginia Department of Transportation (VDOT), for example, include a section that identifies the internal stakeholders, such as project managers, roadway designers, regional traffic engineers and operation directors, and public affairs managers. The VDOT guidelines also detail the expected roles and responsibilities of each of these team members.
The discussions mentioned earlier between FHWA and five State DOTs highlighted the importance of bringing all stakeholders into the process as early as possible, but also indicated that, in many instances, this can be a challenge. In Maryland, for example, TMP development begins in the planning phase, but at this stage, involvement by members of the design team is optional. Maryland has discovered that leaving designers out early on sometimes causes the agency to have to significantly revise a TMP during the design phase, potentially leading to costly changes to the project. Maryland is working to engage all parties earlier in the planning phase.
Involving the community is just as important as including stakeholders from the DOT and contractor. The Wisconsin Department of Transportation (WisDOT) learned this firsthand when forming a TMP advisory group for reconstruction of the heavily traveled I-94 corridor between Milwaukee, WI, and the Illinois State line. WisDOT organized task forces of representatives from local government agencies and school districts in the affected areas, law enforcement officials, emergency responders, and key business leaders. Focusing on traffic operations, public outreach, and incident management individually, the task forces met several times to identify needs, concerns, and potential strategies for mitigating the issues, and then the TMP advisory group as a whole met to reach consensus on the identified strategies.
As a result, WisDOT was able to implement strategies to mitigate work zone impacts, such as freeway service patrols, coordination with emergency responders, use of law enforcement in the corridor, development of a project Web site, radio and television updates, and distribution of informational brochures in Wisconsin and northern Illinois. According to Tom Notbohm, WisDOT traffic engineer of design, "By involving the public, the resulting TMP met the needs of the community and was developed with their direct input, resulting in greater satisfaction among those affected by the project."
Work Zone Impact Analysis Assists With TMP Development
Tools such as commercial software -- CO3, Synchro, QuickZone, and CA4PRS -- plus State-developed tools and analysis methods can be used to help identify potential safety and mobility issues earlier in the TMP process.
Wisconsin officials expect that their recently developed General Lane Closure Impact Analysis software will facilitate earlier awareness of potential delay impacts and therefore mitigation of those impacts. The tool covers segments of freeways and expressways statewide and contains hourly traffic count data and precalculated estimates of road user delays that would likely occur if a lane were closed during representative times of the day and days of the week in the spring, summer, and fall construction seasons. WisDOT has not yet used the tool widely but is starting to provide training for its regional personnel so that it can become a standard part of the TMP process.
Similarly, Rhode Island used guidance from its Work Zone Safety and Mobility Policy and NCHRP Report 581: Design of Construction Work Zones on High-Speed Highways to identify traffic control strategies that would create the least delay for RIDOT's State Route 146 freeway/expressway reconstruction. RIDOT determined that temporary traffic control setup and breakdown, and offpeak (night) lane closures using readily movable temporary barriers, were preferable over traditional concrete barriers (pinned, individually set, removed, and relocated). A cost analysis revealed that although the initial cost of the movable barriers (including a leased transfer and transport machine) would be higher than the traditional concrete barriers, the cost over the entire project would be less.
According to Russell Holt, RIDOT senior civil engineer, "An early estimate showed a savings of $20,000 if we used a movable temporary barrier system instead of the more traditional temporary traffic controls for lane closures -- including truck-mounted attenuators and police presence -- over the assumed project duration. Because further analysis of the proposed construction sequence revealed that the project schedule for highway work could be reduced by 1 year with the use of the movable barriers rather than the traditional barriers, additional cost savings due to reduced traffic impacts and delays on State Route 146 are expected."
FHWA has developed a number of resources to help with the analysis of work zone impacts. (See www.ops.fhwa.dot.gov/wz/traffic_analysis/index.htm.)
Plan Early, Save Later
Although many State guidelines call for TMP development to begin during systems planning, putting this suggestion to work is often difficult because at that point the available data are insufficient to provide an understanding of all the potential impacts. Wisconsin's Notbohm notes, however, that including mitigation strategies in the scoping/budgeting process is beneficial from a cost standpoint. "The entire process has challenged WisDOT to consider the impacts of the work on the public earlier in the project development process, so if there are significant mitigation strategies to implement, they are anticipated at the time that project cost estimates are put together," Notbohm says.
Maryland was able to identify a cost-effective impacts mitigation strategy for reconstruction of the Suitland Parkway Interchange by looking at options during systems planning. Analyzing the impacts during systems planning showed that the level of service and resulting queues would be unacceptable. The TMP team, which included individuals familiar with the project's planned phasing, found that, during one stage, the contractor would construct a ramp and then leave it dormant until later in the project. The team realized that the contractor could use the ramp to divert traffic around the interchange, reducing impacts on both motorists and workers. By investigating alternatives early in the TMP process and including people on the team who had the foresight to think about the ramp, Maryland was able to identify a solution that was feasible and provided the needed mobility during construction.
Oregon's McCanna says it best: "The earlier a project team can begin collecting the necessary data and documentation and recording its design decisions, the better."
What Does a TMP Look Like?
TMPs have no required format. Some agencies document their TMPs in Microsoft® Excel® spreadsheets, while others create TMP reports in Microsoft® Word® or similar software, and still others put their TMPs into presentation formats. Some agencies, such as WisDOT, are considering developing a Web-based template, enabling their staff members to fill out the TMPs and store them online for future reference when creating new TMPs and to facilitate the coordination of adjacent projects.
Typically the format will depend on the type of project. In Wisconsin, for example, the basic format is a worksheet that provides a checklist of items that need to be considered in the TMP and project documents: staging for maintaining traffic; lane closure and detour information; coordination with special events to minimize traffic disruptions; analysis of traffic and capacity to estimate travel time and delay impacts; identification of mitigation, public information, and incident management strategies; and adjacent projects affected by the work. For significant projects, the worksheet serves as an executive summary to a full TMP report. For other projects, the worksheet alone serves as the TMP.
FHWA recently developed two samples to assist agencies that might be uncertain as to how to best develop a TMP. The sample TMPs represent two projects with different levels of impacts to illustrate how the scope and complexity of a TMP should vary based on the project and its expected impacts. FHWA also developed templates to accompany the sample TMPs. The templates outline possible sections of a sample TMP and provide tips, discussion, and references. The sample TMPs and templates illustrate potential formats but are not the only way to do a TMP. They are meant to demonstrate flexibility in the levels of depth and detail allowed under the Work Zone Safety and Mobility Rule.
Training, Guidance, and Templates
Many agencies credit their use of TMP training, guidelines, and templates as key factors in institutionalizing the process and facilitating uniform documentation. Michael Paylor, leader of the traffic policy and management team at the Maryland State Highway Administration (SHA), explains the benefits of these tools: "If you have developed checklists, guidance, and other materials to help facilitate this process, then you are less likely to miss steps in your TMP development or leave out important components."
In Wisconsin, the TMP process initially challenged project designers, who were unsure of their roles and how much detail was necessary. According to Notbohm, the training and guidance that WisDOT develops, "helped answer their questions and led them to realize that it is an appropriate and not burdensome process."
Although WisDOT already has made general guidelines available, the agency also is developing benefit-cost guidelines that will help its engineers select the best mitigation strategies, given constraints such as site conditions and budgets. The guidelines will help designers compare the benefits of reduced road user delay to the cost of work zone traffic management alternatives in order to select the most cost-effective strategies.
In Rhode Island, the DOT assigns an impacts level between 1 and 4 to its projects and makes a TMP spreadsheet template available for each level of project. The templates include worksheets for the TMP, potential strategies, implementation costs, and a postconstruction performance assessment. The TMP worksheet contains sections for roles and responsibilities, project information, temporary traffic control plans, public information plans, transportation operations plans, performance monitoring plans, contingency plans, and TMP approvals.
After developing the templates, RIDOT held internal meetings with its staff and then external meetings with consultants and utility contractors to walk them through the new process and educate them on how to fill out the templates. The agency also created a dedicated email account for TMP-related questions, with responses developed by an informal committee of RIDOT traffic engineers. The number of questions sent to this email address has declined steadily over time, probably due to the availability of the guidance and templates, plus the process becoming more institutionalized.
A number of other agencies also have developed TMP guidance and training resources. Several States used an FHWA publication, Developing and Implementing Transportation Management Plans for Work Zones (FHWA-HOP-05-066), to develop their own processes and guidance.
Michigan's Johnston points out that the guidelines and templates need to take into account that "projects vary in complexity and therefore the template and guidelines need to be flexible to accommodate different types of projects." Maryland's Paylor brings up a keypoint about the importance of follow-through: "What an agency includes in its TMP guidelines may look good on paper but can be effective only if the guidelines are implemented in the way that is intended."
Sampling of TMP Resources Developed by DOTs
| | |
| --- | --- |
| Resources | States |
| Templates | MI, PA, RI, TN |
| Guidelines | CA, MD, MI, NC, NJ, OR, VA, WI |
| Training | CA, FL, MI, MO, NC, RI, WI |
Note: The table is not all-inclusive; other States might have developed similar resources.
Source: FHWA.
Ensuring Effective TMPs
Having procedures in place does not automatically guarantee development of effective TMPs. Agencies need a mechanism to evaluate their TMPs and identify any needed improvements. Some agencies have developed specific approaches to review and monitor their TMPs on a regular basis, with the twin goals of identifying needed adjustments on current jobs and improving future TMPs. Although monitoring is challenging, particularly with tight budgets and staffing constraints, agencies are using a variety of innovative and cost-effective strategies. In many cases, the efforts are as simple as sharing best practices among regions or documenting anecdotal observations from project engineers in the field.
During the design stage, Michigan uses peer review teams to assess TMPs for all significant projects. A peer review team includes the statewide work zone manager plus engineers independent of the MDOT region that submitted the TMP for review. The team members individually review each of the TMPs that are ready for review and then meet to discuss them. The team uses a checklist to assess and rate each TMP as green, yellow, or red, indicating whether the project can move forward as is, potential issues exist and some changes might be needed, or the TMP is incomplete or requires changes before moving forward. In addition to improving the TMP, the peer review team process is a mechanism to share ideas and best practices. In some cases, personnel on the team find that other regions are implementing good ideas that they had not considered previously.
During training sessions, RIDOT makes it clear that its own construction staff members are required to document all monitoring activities. In addition, RIDOT contracts occasionally include a line item requiring contractors to monitor TMP implementation. The agency has developed a specific set of TMP performance monitoring strategies. Finally, its TMP template includes a postconstruction assessment of work zone performance that is to be completed for each project by the agency's TMP implementation manager to document lessons learned and provide recommendations on how to improve future TMPs.
Resources for Developing TMPs
FHWA offers a number of resources to help State DOTs develop and implement TMPs. In addition, several agencies make their resources publicly available online.
FHWA's TMP guide, Developing and Implementing Transportation Management Plans for Work Zones (FHWA-HOP-05-066), available at http://ops.fhwa.dot.gov/wz/resources/publications/trans_mgmt_plans/index.htm, includes information on how and where a TMP fits into typical project-level procedures, a list of components to consider for inclusion in a TMP, descriptions of work zone management strategies, and examples of how agencies currently are using TMPs.
At http://ops.fhwa.dot.gov/wz/resources/final_rule/tmp_examples.htm, FHWA provides sample TMPs and links to resources from a number of agencies.
FHWA is developing a self-study course on TMPs that describes how to develop an effective and complete TMP, including content, sources of information, roles and responsibilities, processes, selection of strategies, and assessment of TMP effectiveness.
Additional work zone rule resources, at www.ops.fhwa.dot.gov/wz/resources/final_rule.htm, include links to examples of how agencies are implementing the work zone rule, frequently asked questions, implementation guides, rule language, informational materials, and presentations to assist agencies with rule implementation.
Michigan includes monitoring plans in its TMPs for significant projects. The plans include before-and-after crash analyses and comparisons with similar work zones. Staff members in each region perform delay and queue measurements using portable trailers with sensors, field staff observations, and work zone drive-throughs by student interns. The monitoring initially occurs weekly during peak and offpeak periods, with the frequency reduced if conditions are stable. The region submits completed monitoring forms to MDOT's project records system, where designers can reference the forms for future projects. The agency also enters delay and queue data into a database for periodic analysis. In 2009, MDOT's monitoring showed that the majority of projects either met or exceeded the agency's goal of having less than a 10-minute delay at each work zone.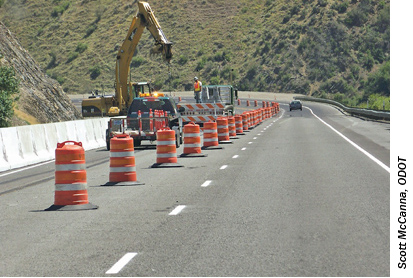 At the end of each construction season, MDOT's statewide work zone unit collects information from regional staff to determine compliance with its work zone safety and mobility policy and its standards for temporary traffic control. MDOT compiles this information into a report regarding which strategies are working and which are not. In addition to using the results as guidance for future safety and mobility training, MDOT posts the information on a public work zone safety and mobility listserv that shares up-to-date developments on its policy.
In another example, Wisconsin collects TMP best practices through a statewide review team that looks at a selection of projects each year. WisDOT shares these practices annually at conferences and training sessions. In December 2009, WisDOT held a discussion session on those projects that would start over the following 2 years and how to best coordinate them. At that meeting, each region shared lessons learned and best practices culled from its TMPs. The State intends to hold similar sessions annually to help plan for the upcoming construction seasons.
TMP Development Tips
FHWA based the following advice on the discussions, mentioned earlier, with representatives of Maryland, Michigan, Oregon, Rhode Island, and Wisconsin, as well as tips from California's nearly 10 years of experience with developing TMPs.
Start early so that TMP strategies can be accounted for in the budgeting/scoping process.
Coordinate early and include input from all of the key stakeholders: planning, design, operations, construction, safety, maintenance, and public affairs representatives; technical specialists; and representatives of FHWA, local transportation agencies, enforcement agencies, utility providers, emergency services, local businesses, and community groups -- so that important strategies are not overlooked.
Use templates, guidance, and other standardized agency tools to help ensure that TMPs within an agency are consistent. These tools also simplify the process by helping those developing TMPs understand what is expected.
Provide training for all personnel involved in development and implementation to help ensure consistent TMPs and help personnel understand why the process is important. Training also can help gain management buy-in.
Monitor, assess, and update the TMP and include resources for monitoring traffic conditions during construction to track the plan's effectiveness and make adjustments as needed.
Document everything so the TMP becomes a written history of the project's design and traffic management decisions. At the completion of major projects, produce a brief standardized report that describes the TMP process and outcomes for reference in future projects.
Facilitate use of alternate routes by looking into their feasibility early in the TMP process. If improvements are needed to alternate routes, schedule that work at least 1 year prior to the project so they can be ready once the project begins.
Understand diversion rates because reduced demand due to motorists taking alternate routes may facilitate a broader range of construction and maintenance of traffic options, possibly reducing project or TMP cost.
Employ strategies that keep lanes open,especially during peak traffic times. Examples include night work, narrowing of lane widths or occasional use of shoulders during peak periods to maintain a full complement of lanes, and imposition of damages for late lane opening. 
Consider using extended closures or full closures, versus numerous night closures, to reduce overall construction time and often cost, and to improve safety.
Keep the public informed about the project and throughout the TMP process to enlist cooperation with the agency's efforts to mitigate work zone impacts. This strategy can produce the biggest bang for the buck and generally leads to a safer work zone, increased mobility, happier drivers, and a more satisfied community.
Keep your eyes on the bigger picture when developing the TMP. Think of how the project affects the entire corridor or surrounding area and how to coordinate the project with other road construction in the area. Focusing just on the work zone itself might lead to missing potential impacts or important mitigation strategies.
Identifying and implementing effective strategies to help reduce and manage traffic impacts are key to work zone safety and mobility. As Washington State DOT's work zone policy says, "Effective work zone safety and mobility strategies minimize traffic delays and provide a safe environment in which to work and drive." The strategies that Michigan is using to manage impacts on I-69 during reconstruction are not unique or difficult to plan and implement. Many other States are identifying and using similar traffic management strategies and reaping the benefits. Each of these States has found that having a good TMP development process is key to identifying effective strategies and implementing a successful work zone.
In addition, the National Highway Institute course Advanced Work Zone Management and Design (FHWA-NHI-380072) provides guidance on developing temporary TMPs for safety and mobility. For more information, visit www.nhi.fhwa.dot.gov.
---
Tracy Scriba is a program manager with FHWA's headquarters work zone team. She leads FHWA's efforts to implement the Work Zone Safety and Mobility Rule and is responsible for FHWA program areas related to work zone data and performance measures and best practices. She holds a B.S. degree in systems engineering from the University of Virginia.
Jennifer Symoun is a research analyst with Science Applications International Corporation (SAIC) in McLean, VA. Since 2004, she has assisted FHWA's work zone mobility and safety program with outreach. She holds a B.S. in commerce from the University of Virginia.
Kari Adkins Beasley is a junior industrial engineer with SAIC, currently supporting FHWA's work zone mobility and safety program. She holds a B.S. in industrial and systems engineering from Virginia Tech.
For more information, contact Tracy Scriba at 202-366-0855 or tracy.scriba@dot.gov, or Jennifer E. Symoun at 703-676-6849 or jennifer.e.symoun@saic.com, or Kari A. Beasley at 703-676-2297 or kari.a.beasley@saic.com.