Policy and Legislation
Along the Road is the place to look for information about current and upcoming activities, developments, trends, and items of general interest to the highway community. This information comes from U.S. Department of Transportation (USDOT) sources unless otherwise indicated. Your suggestions and input are welcome. Let's meet along the road.
FHWA Develops Guidance on Work Zone Final Rule
The Federal Highway Administration (FHWA) is developing guidance documents that will help State departments of transportation and other transportation agencies understand and implement the provisions of the updated rule on work zone safety and mobility.
Published in September 2004 in the Federal Register (23 CFR 630 Subpart J), the rule will help States consider the broader safety and mobility impacts of work zones and to guide implementation of appropriate strategies to manage these impacts during project delivery. All State and local governments that receive Federal-aid highway funding are required to comply with the rule's provisions by October 12, 2007.
The forthcoming guidance documents will provide sample approaches for implementing the rule, share examples from States currently using successful practices, and list sources for more information. The documents will cover topics including developing work zone policies, assessing the impacts of work zones, preparing transportation management plans for work zones, and developing public information and outreach plans.
For more information about the rule and the guidance documents, downloadable fact sheets and a brochure are available at www.ops.fhwa.dot.gov/wz/resources/final_rule.htm. The guidance documents will be uploaded to the site as they become available in fall 2005.
For more information, contact Tracy Scriba in the FHWA Office of Operations at 202-366-0855 or tracy.scriba@fhwa.dot.gov.
Public Information and Information Exchange
Alaskan Way Viaduct EIS Recognized For Environmental Excellence
The environmental impact statement (EIS) for the Alaskan Way Viaduct and Seawall Replacement Project in Seattle, WA, recently won an award for environmental excellence from the National Association of Environmental Professionals (NAEP). In addition to receiving an award in the category National Environmental Policy Act, the project also was named the "best of the best" among entries received in all categories. NAEP presented the award in spring 2005 at its national conference in Washington, DC.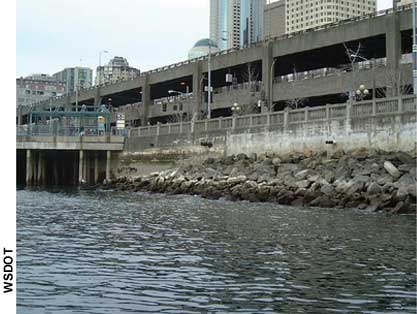 The environmental impact statement for a project to replace the Alaskan Way Viaduct in Seattle, WA, recently was recognized by the National Association of Environmental Professionals. The aging seawall, shown here, stands in the soft, poor-quality soils that the viaduct and much of the waterfront are built on.
Compiled jointly by FHWA, the Washington State Department of Transportation (WSDOT), and the Seattle Department of Transportation, the EIS explains the need to replace the earthquake- and saltwater-damaged structure.
The EIS is the first to showcase WSDOT's new emphasis on preparing more reader-friendly environmental documents. The introduction, for example, responds directly to several of the public's most frequently asked questions on the project, including "Why was the Alaskan Way Viaduct and Seawall Replacement Project initiated?" and "Who will decide what will replace the viaduct and seawall, and how can I be involved in this decision?"
The EIS also includes a "purpose and need statement" that includes the function of the replacement, the reasons it is needed-to address deficiencies in roadway design and enhance traffic safety-and the objectives that the project will attain. Residents can submit comments via e-mail or through one of several public hearings in the Seattle area.
For more information, visit http://www.wsdot.wa.gov/news/2005/apr06_viaductaward.htm.
WSDOT
U.S. to Assist Thailand in Collecting Traffic Data
U.S. Transportation Secretary Norman Y. Mineta recently pledged to help the government of Thailand reduce traffic-related deaths and injuries by developing a better system to collect information about traffic incidents. The United States, working with other Asia-Pacific Economic Cooperation countries, will help Thailand develop, implement, and maintain a new, reliable system for collecting data on crashes. The goal is to reduce nonreporting or underreporting of traffic incidents.
The rapidly increasing number of motor vehicles in Thailand and the rate of traffic fatalities underscore the importance of improving traffic-safety data. Between 1987 and 1997, the number of registered vehicles nearly quadrupled, from 5 million to 18 million. In addition, more than 13,000 people are killed and 70,000 injured in crashes annually, according to the Thai government. These totals, however, may not reflect the full extent of the problem, given the limited scope of Thailand's current system for collecting crash data.
A team of experts representing USDOT's National Highway Traffic Safety Administration and highway agencies from other countries will work with the Thai government to develop a master plan for improving its traffic data. The plan will include data and procedural manuals (which may eventually be adapted for use in other countries), development of new software, and use of new and emerging technologies, such as event data recorders and global information systems.
In a separate announcement, Secretary Mineta said that the U.S. Government would work with Thailand to identify intelligent transportation systems (ITS) technologies-including traffic signal controls and electronic toll collection-that could ease highway congestion and enhance safety for commuters traveling to Bangkok's new Suvarnabhumi Airport, scheduled to open in 2006.
For more information, contact Bill Mosley at 202-366-4570.
Texas DOT Opens New JFK Causeway Section in Corpus Christi
The Texas Department of Transportation (TxDOT) recently held a ribbon-cutting ceremony at the Laguna Shores turnaround to celebrate the newly constructed John F. Kennedy (JFK) Causeway elevated project near Corpus Christi, TX. Because much of the JFK Causeway was at an elevation of less than 0.91 meter (3 feet) above the mean high tide, flooding caused by storms or tidal conditions used to affect traffic flow on the causeway, temporarily closing one or more lanes.
A joint effort by the city of Corpus Christi, Nueces County, the Corpus Christi metropolitan planning organization, and TxDOT, the project involved raising a portion of the JFK Causeway/Park Road 22 to a minimum of 2.7 meters (9 feet) above mean sea level between the mainland and the islands.
The JFK Causeway serves as the only nonferry evacuation route for more than 10,000 full-time residents of Padre and Mustang Islands, and the elevated roadway will provide a safe and efficient island evacuation route during high tides and tropical storms. The causeway also will better accommodate the 50,000 to 200,000 visitors who travel each day to Padre Island for recreation.
For more information, visit www.dot.state.tx.us/CRP/projects/JFKcauseway/project.htm.
TxDOT
Oregon Motorcycle Safety Program Rated Top in Nation
Oregon's motorcycle safety program is the best in the Nation, according to preliminary results of a study sponsored by the National Highway Traffic Safety Administration (NHTSA). Oregon scored highest among the 47 States surveyed in the categories of program administration, rider education courses, and motorcycle licensing, according to a study of best practices conducted for NHTSA by the American Institutes for Research. The Journal of Safety Research (Volume 36, Issue 1) recently published the preliminary results.
"This is confirmation that the Team Oregon motorcycle safety program is providing riders exactly what they need to ride safely in Oregon's unique geography," says Stan Porter, motorcycle program coordinator for the Transportation Safety Division at the Oregon Department of Transportation (ODOT).
The Team Oregon program derives its name from the group of motorcycle rider organizations and educational and government agencies that originally sat on the Oregon Governor's Advisory Committee on Motorcycle Safety. Team Oregon was developed through collaboration between in-State riders and Oregon State University, which conducts rider education courses through a grant from the ODOT Transportation Safety Division. Oregon's program is notable because its State-specific safety curricula for beginning, intermediate, and advanced riders rely on extensive assistance from nationally known experts and practitioners in motorcycle safety.
The Driver and Motor Vehicle Services (DMV) division of ODOT administers the motorcycle licensing program. Individuals applying for a "motorcycle endorsement"-a required document that motorcycle users must obtain in conjunction with a regular driver's license-may substitute a basic course certificate from the Team Oregon program as an alternative to taking the DMV knowledge and skills tests.
For more information, contact David House at 503-945-5270 or david.j.house@odot.state.or.us, or visit http://teamoregon.orst.edu.
ODOT
VTrans Receives Public Space Award For Route 9 Construction
In spring 2005, Vermont Governor Jim Douglas honored the Vermont Agency of Transportation (VTrans) with the State's 2004 Public Space Award for reconstruction of State Route 9 (S.R. 9) in southern Vermont. Recently named a Vermont scenic byway, S.R. 9 serves as the primary corridor linking Brattleboro and Bennington.
Completed in 2004, the reconstructed 5.9-kilometer (3.7-mile) stretch from Searsburg to Wilmington incorporated a construction design that successfully minimized the impact on the Deerfield River and left large segments of riparian and wooded vegetation untouched. The alignment of S.R. 9 with the existing topography, however, presented difficult design challenges because the road is wedged between steep, wooded slopes and the Deerfield River and Harriman Reservoir.
The VTrans landscape architect and project manager worked closely with regulatory agencies to develop solutions using plants native to the area. In sections where slopes needed to be cleared to the water's edge, VTrans placed stone fill on the steep slopes to improve stability and applied native soils to promote revegetation.
Established in 2002, the Public Space Awards recognize exterior or interior public spaces in Vermont that have been defined or enriched by design or planning to promote positive public uses. The awards are sponsored jointly by the Vermont Chapter of the American Society of Landscape Architects, Vermont Planners Association, Vermont Section of the American Society of Civil Engineers, and Vermont Chapter of the American Institute of Architects.
For more information, contact Ian Grossman at 802-828-1647 or ian.grossman@state.vt.us.
VTrans