Stop. You'Re Going The Wrong Way!
Tracey Fischer told the Seattle Times that she didn't remember the crash that killed her friend, Erin Klotz, on I-90 east of Seattle, WA, on the night of November 18, 2001. The two women, both 20 years old, were driving westbound on I-90 near Snoqualmie in Fischer's small sedan at around 10 p.m. when the unthinkable happened. 

About a mile down the freeway, Debra Acey, driving a 1997 sports utility vehicle (SUV), entered westbound I-90 going the wrong way. Seconds later, Fischer's car slammed head-on into Acey's SUV. The impact hurled both vehicles off the interstate in opposite directions, killing Klotz instantly and seriously injuring Fischer.
As in most wrong-way crashes, investigators couldn't determine exactly how and why Acey drove right past two large "Wrong Way, Do Not Enter" signs and entered the freeway going the wrong way. But one circumstance was certain: Acey's blood-alcohol level was 0.30, more than three times the legal limit of 0.08. Prosecutors charged Acey, 44, with vehicular homicide and vehicular assault, the Seattle Times reported.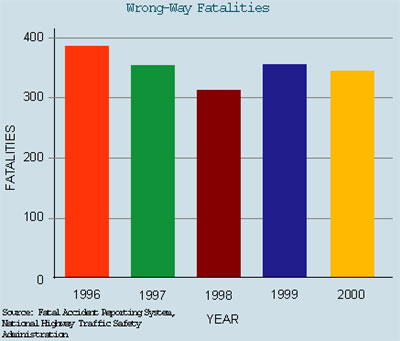 A Persistent Problem
Driving the wrong way on freeways has been a nagging traffic safety problem since the interstate highway system was founded in the late 1950s. Despite four decades of highway striping and sign improvements at freeway interchanges, the problem persists.
Studies, such as those performed by the Washington State Department of Transportation (WSDOT), show the vast majority of wrong-way drivers correct their mistakes before causing a crash by simply turning around and heading in the right direction. But for unknown reasons some drivers, even when sober, head straight into oncoming traffic with devastating consequences.
On average about 350 people are killed each year nationwide in wrong-way freeway crashes, according to an analysis by retired FHWA traffic engineer Dennis Eckhart using the National Highway Traffic Safety Administration's Fatal Accident Reporting System. The 350 figure covers those killed on divided highways, including driving the wrong way on one-way traffic ways such as freeway ramps. From 1996 through 2000, 1,753 people died in wrong-way crashes on the Nation's freeways, according to Eckhart's analysis. Thousands more are injured. In the four-county area where Klotz was killed King, Snohomish, Skagit, and Whatcom counties—136 wrong-way crashes between 1997 and 2000 resulted in 81 injuries and nine fatalities.
"While there are safety programs exclusively for rail crossings and work zones," says Eckhart, "I am not aware of any national-level program to combat the wrong-way problem. However, at the State level, some States such as California do have a wrong-way prevention program that funds safety improvements." State departments of transportation (DOT) across the country have taken additional measures to improve ramp designs, signage, and striping to prevent wrong-way incidents. Other States are experimenting with intelligent transportation system (ITS) technology to address the problem.
Sensor and Video Information for Making Modifications
WSDOT currently is managing two projects, and planning a third, to study wrong-way driver behavior and test various wrong-way countermeasures using ITS technology.
At the I-82/Hwy. 22 interchange near Toppenish in south-central Washington, WSDOT outfitted two exit ramps with sensors and digital video cameras. The system uses two 1.8-meter (6-foot) induction loops connected to a Reno S-Series loop detector to provide directional detection. From the detector a contact closure is connected to a Lanex RVC 2000 digital recorder, which serves as an incident log and recording center. The Lanex is a system designed for bank surveillance and continuously records video to a 30 gigabite hard drive.
Upon receiving a contact closure, the Lanex device enters a time stamp into its system log with the label "wrong way" and saves that portion of the hard drive from being rewritten. At the same time, the recording device increases recording speed from one frame every 2 seconds to two frames every second. This increased speed helps improve image quality for the next recorded minute. By having the device record before the incident, researchers can see the direction the vehicle is coming from and observe the driver's behavior. With this information traffic engineers hope to learn more about how and why drivers wind up heading into oncoming traffic.
A WSDOT study of wrong-way incidents over a 10-year period along a 129-kilometer (80-mile) section of I-82 from Yakima, WA, to the Tri-Cities area (Richland, Kennewick, and Pasco) showed that there were 30 wrong-way crashes from 1986 through 1996 along this corridor, 11 of which involved a total of 15 fatalities and three serious injuries.
WSDOT engineers determined the most probable location for most of the wrong-way entrances was at I-82 and Hwy. 22, classified as a "partial cloverleaf" interchange.
From May-December 2001 the Lanex system recorded 18 wrong-way incidents. Of those, 12 drivers, or 67 percent, turned around and returned, while 5 continued on and disappeared from camera view. The sun shining directly into the camera obscured one incident.
Based on data collected from the videotapes, WSDOT's South Central Region is already making changes to its partial cloverleaf interchanges. The region has several of these looping ramps, which are separated by concrete barriers and come up to the stop bar. Video taken by the Lanex at the I-82/Hwy. 22 interchange indicates that drivers may be staying to the left of the barrier because they cannot see the on-ramp on the barrier's other side.
WSDOT also has removed about 12 meters (40 feet) of concrete barrier at other interchanges in the region and plans to do the same at the I-82/Hwy. 22 interchange, with video surveillance continuing to determine how the modification affects wrong-way movements.
"I think this study will lead to major innovations in the way we deal with the wrong-way problem," says Jim Mahugh, assistant traffic engineer for WSDOT's South Central Region and manager of the I-82/Hwy. 22 project. "Our best bet for preventing wrong-way incidents is to build into any system a combination of video surveillance and detection."
Mahugh says that a system could be modified so that once a wrong-way vehicle is detected, the video is transmitted to a traffic management center or a highway patrol dispatch center, where an operator then can monitor the incident and send an officer if necessary.
"This is all entirely possible with today's technology," Mahugh says. "We just need to overcome the cost associated with bringing information back from a remote location."
Embedded Sensors, Videos, And Flashing Lights
The second WSDOT project is at I-5 and Bow Hill Road, a rural area about 113 kilometers (70 miles) north of Seattle. When electromagnetic sensors embedded in the ramp pavement detect a wrong-way vehicle, the system performs three primary functions. First, two signs mounted on both sides of the northbound exit ramp begin flashing an alternating red-yellow "Wrong Way" message for several minutes. At the same time, a closed-circuit video camera and time-lapse VCR record the incident to help traffic engineers determine the cause of the wrong-way incident and develop measures to prevent future wrong-way crashes.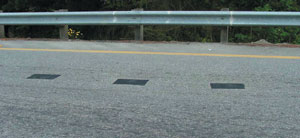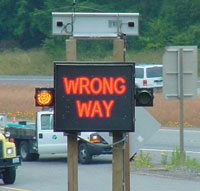 Dawn McIntosh, a WSDOT project engineer, was selected to lead the project. After collecting regional crash data, McIntosh developed a list of eight sites where wrong-way incidents were unusually high. The northbound I-5 off-ramp to Bow Hill Road was selected after review of 1997-2000 crash data revealed three wrong-way incidents, one resulting in a double fatality.
Despite a WSDOT engineering review determining the wrong-way warning signs as adequate for this intersection, the westbound Bow Hill Road traffic tends to turn southbound onto the northbound off ramp. Heavy vegetation and the lack of lighting tend to obscure views of the interchange at night, the time when most wrong-way crashes occur.
On July 20, 2001, the Bow Hill ramps were closed, and the system successfully tested. Since the electronic system was installed, no recorded incidents have occurred. Tests indicate that the system activates, but no vehicles appear on the tape. WSDOT maintenance personnel have been working with the manufacturer to determine whether these incidents are false alarms, the result of faulty equipment, or misaligned cameras.
Video Detection System and Flashing Lights
WSDOT is poised to begin testing another wrong-way detection and warning system at the I-90/161st Avenue Southeast interchange, just 32 kilometers (20 miles) west of where Klotz was killed. This project will use a Traficon Video Detection system, which consists of a camera installed on a signal pole. When the video detector is activated, a signal is transmitted to the message sign, which flashes a wrong-way message to the driver while the VCR records the incident.



After McIntosh reviewed the crash data in the Seattle metropolitan area, I-90 at 161st Avenue Southeast was selected because the evidence suggested that an injury wrong-way crash had occurred recently at the interchange.
WSDOT's studies will assess how successful these new systems are in reducing wrong-way crashes. Monitoring the incidents with cameras and VCRs will enable WSDOT to evaluate the effectiveness of the three types of systems and compare rural-to-urban applications. The studies also will help determine whether the incidents are caused by driver error or interchange deficiencies, or a combination of both. WSDOT intends to reassess those interchange locations not originally selected to determine whether signing and striping changes would help reduce wrong-way movements.
"Due to the high cost of making major changes to interchange geometrics, our goal is to come up with a low-cost system that we can actually put in place elsewhere," McIntosh says. "We won't use the system on a wide level, just at the most problematic interchanges. In doing this we hope we can save lives while minimizing cost to the taxpayer."
The Washington State projects are the brainchild of Eckhart. He conceived the system, then assisted WSDOT in obtaining a $67,000 FHWA grant to launch the demonstration projects.
"There's a serious problem out there with respect to wrong-way crashes," he says, "and I always wanted to find ways to do something about it." Eckhart, who retired in 2001 after 37 years with FHWA, adds, "The detection equipment was out there; we just had to figure out how to apply it effectively to wrong-way prevention."
Interchange Designs and Wrong-Way Incidents
In a 1989 Caltrans study, Prevention of Wrong-Way Accidents on Freeways, (Report No. FHWA/CA-TE-89-2) Joyce E. Copelan found that driving under the influence of alcohol or drugs is by far the primary cause of wrong-way crashes. But she also examined the relationship between wrong-way movements and interchange designs and offered suggestions for interchange improvements.
Full Cloverleaf Interchange
This type of interchange is seldom a problem and is considered the most desirable as far as preventing wrong-way movements, especially if reflective markers and a double yellow stripe or other barrier is used on the overcrossing bridge to keep motorists on the proper side.
The Two-Quadrant Cloverleaf
The two-quadrant cloverleaf, which developers prefer because it creates properties on the two opposite corners, is less desirable in terms of wrong-way movements. However, separating the on- and off-ramps can prevent movements, as can designing the orientation of the on-ramp for easy access; constructing a larger, better-lit opening for the on-ramp than the off-ramp; and constructing a curb nose between adjacent ramps.
Full Diamond Interchange
This interchange, though considered a good design, presents some potential problems. Motorists occasionally mistake an off-ramp for a frontage road located parallel to the ramp, and drivers can mistakenly turn left from the over-crossing street on to the off-ramp. An island constructed to partially overlap the off-ramp can prevent this from happening. Proper guide signing and direction pavement arrows are important to direct motorists to the correct lane for left turns on the freeway. Pavement markers also can be installed to direct drivers to the on-ramp entrance and, if space permits, a left turn lane may be provided.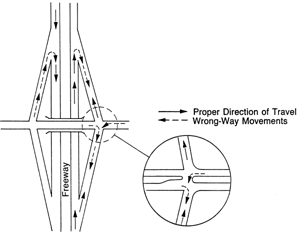 Half-Diamond Interchanges
Good signing is extremely important in this type of interchange. Wrong-way movements can occur if the guide signing does not clearly indicate a safe route for the driver to enter and exit the freeway.
Trumpet Interchanges
Wrong-way movements can be avoided in trumpet interchanges by installing curbed medians on the ramps or by using double-yellow stripe barriers and reflectors. As a last resort, a trumpet interchange can be modified using a concrete median barrier.
Slip Ramps
Slip ramps have relatively few problems, except in locations where a two-way frontage road terminates at a slip ramp. An elephant's ear with a stop sign may be installed at the end of the road to assist motorists in turning around. Slip ramps entering a frontage road at flat angles are more desirable than those oriented perpendicular to the frontage road because flat angles discourage turns onto the one-way ramp.
Buttonhook Ramps
Buttonhook ramps can be very susceptible to wrong-way movements. Problems can be minimized, however, using signing and a clear separation of the on- and off-ramps. The nose may be reconstructed and the on-ramp made wider and better lit than the off-ramp.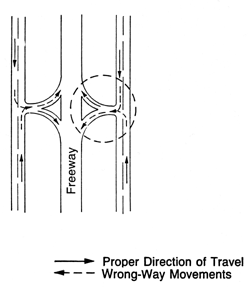 Incomplete and Partial Interchanges
Incomplete and partial interchanges can present problems. The I-82/Hwy. 22 interchange in south-central Washington State is a classic example. The interchange was designed originally as a diamond, but the on-ramp in the northwest quadrant was never constructed. Instead, a loop ramp (partial cloverleaf) was constructed in the northeast quadrant. This configuration eliminates a heavy left turn and makes it into a much safer right turn. However, the design lends itself to more wrong-way entrances. Most of the interchange's wrong-way movements, about 66 percent, occur on the loop ramp.
Interchanges with Short Sight Distance
Interchanges with short sight distance at the decision point have a disproportionate number of wrong-way movements. These locations lack some of the visual cues, such as headlights of oncoming vehicles, that alert wrong-way drivers that they have made a mistake.
Illustrations courtesy of Joyce E. Copelan, California Department of Transportation, Prevention of Wrong-Way Accidents on Freeways, 1989
Projects in Other States
WSDOT isn't the only State DOT currently researching and experimenting with wrong-way detection and warning systems. The Texas Department of Transportation is considering the possibility and feasibility of performing a research project beginning in fiscal 2003 that would examine potential wrong-way countermeasures.
A series of horrific wrong-way head-on crashes on New Mexico freeways in the early and mid-1990s prompted the New Mexico State Highway and Transportation Department (NMSHTD) to examine ways to prevent wrong-way crashes. One of those crashes killed four members of the same family on Christmas Eve 1992.
Maleness Cravens, 31, and her three daughters, ages 9, 8 and 5, were killed and her husband, Paul, seriously injured when their minivan was hit head-on by a drunk wrong-way driver on I-40 near downtown Albuquerque, just a few miles from what the State calls a Directional Traffic Sensor System project. The driver was later convicted of vehicular homicide and vehicular assault and sentenced to 22 years in prison. The accident and subsequent trial became the focal point for reform of the State's drunken driving law.
Additionally, the NMSHTD, in cooperation with the Alliance for Transportation Research (ATR) and New Mexico State University, developed a prototype Directional Traffic Sensor System that has been in use since 1998 on the southbound exits of I-25 at Montgomery Avenue in Albuquerque, NM.
The system uses loop sensors, a modified 3M Canoga (TMI) C400 Vehicle Detector, and standard interstate highway warning signs. When wrong-way traffic is detected, the Canoga detector illuminates two sets of warning lights for 1 minute: A red set faces the wrong-way traffic warning drivers of imminent danger, and a yellow set faces right-way traffic and warns of a possible off-ramp problem. Video recorders are not being used on this project.
Wrong-Way Crashes Extremely Severe
Wrong-way crashes tend to be severe, resulting in a high proportion of deaths and serious injuries. A recent crash in southern California demonstrates this point.
On June 24, 2002, six people were killed and several seriously injured when a van loaded with 27 suspected illegal immigrants drove into oncoming traffic with its headlights off on I-8 east of San Diego, sideswiping two cars before hitting an SUV head-on. The driver of the van was killed along with four of his passengers. The driver of the SUV also was killed and his passenger critically injured. In this single wrong-way crash, 31 people were taken to local hospitals for treatment, the largest trauma event San Diego hospitals faced in 2002.
DUI—One of the Main Culprits
Though law enforcement and traffic safety researchers do not fully understand exactly why and how drivers wind up going the wrong way on freeways, they do know many times alcohol and drugs play a major role. Of the 30 wrong-way crashes in the I-82 Yakima-to-Tri-Cities corridor study, for example, 15 were alcohol- or drug-related.
A 1989 California Department of Transportation (Caltrans) study, one of the most comprehensive wrong-way research projects to date, found that impaired drivers were involved in 59.4 percent of all wrong-way crashes and a whopping 76.8 percent of fatal wrong-way crashes in the State from 1983 to 1987. Most wrong-way crashes, according to the study, happened at night, increasing significantly after 10 p.m. and peaking between 2 a.m. and 3 a.m., just after bars and other drinking establishments close in California.
One of the San Francisco Bay Area's worst Fourth of July holiday weekend crashes occurred just before midnight on July 6 when a suspected drunken driver drove the wrong-way with his headlights off on the Dumbarton Bridge (Hwy. 84) in Fremont. The driver sideswiped a pickup before slamming head-on into a minivan, killing the two adults in the front seats and seriously injuring two children riding in the back seat.
At the time of the report, the California Highway Patrol was still investigating how the driver, despite a concrete barrier separating opposing traffic, got onto the bridge going the wrong way. The driver was charged with vehicular manslaughter, felony drunken driving, and felony hit-and-run.
Wrong-Way Remedies
Though law enforcement and traffic safety experts suspect drunken driving is the main cause of wrong-way crashes, State DOTs are looking at several possible preventative measures. In addition to using the latest in ITS technology, State DOTs have experimented with high-intensity reflective sheeting for signs and thermoplastic, Methyl Methacrolate, and preformed cold-applied-tape wrong-way arrows, all of which are more visible to drivers, including impaired, disoriented, or confused drivers.
In the mid-1970s, Caltrans experimented with using red runway-type pavement lights to warn wrong-way drivers in the San Diego area. The pavement lights proved effective in reducing wrong-way movements, but because the equipment was costly to install, about $10,000 for each unit, and required constant maintenance, the project was discontinued.
Ramp and Interchange Design
The author of the Caltrans study, Joyce E. Copelan, a civil engineer and 18-year Caltrans veteran, examined the role that freeway ramp and interchange designs play in wrong-way movements. Although interchange design is not considered the primary cause of wrong-way crashes, Copelan found that certain interchange types tend to be more susceptible to wrong-way movements than others. For example, trumpet interchanges and buttonhook ramps are the most susceptible to wrong-way movements, while full cloverleaf and full diamond interchanges seldom have problems.
Spikes and Other Barriers
Shortly after Klotz died in the Snoqualmie, WA, wrong-way crash mentioned earlier, her father, Duane Klotz, called for the State to install slanted spikes that puncture the tires of wrong-way vehicles. Unfortunately, spikes and other types of devices that physically prevent wrong-way entries onto freeways have been impractical and, in some cases, caused more problems than they solved. Parking-lot spike barriers were tested in California in 1965 to determine if they could be used at off-ramps to stop wrong-way vehicles. As it turned out, spikes, even when modified with a fishhook shape, did not cause tires to deflate fast enough to prevent a vehicle from entering the freeway.
Furthermore, the spikes broke in heavy traffic, leaving stubs that damaged the tires of right-way vehicles. Some right-way drivers, upon seeing the spikes, jammed on their brakes, thus creating additional hazards.
In her 1989 Caltrans study, Copelan sent a questionnaire to chief traffic engineers in all 50 State DOTs to find out what each State is doing to reduce wrong-way crashes. She received replies from 40, and none supported using parking-lot spikes, barriers, raised curbs, or similar devices.
MUTCD Adequate for Signs
In the same survey, most traffic engineers agreed that the Manual of Uniform Traffic Control Devices (MUTCD) is adequate for wrong-way markings. Some States have exceeded MUTCD recommendations by installing a second set of "Wrong Way, Do Not Enter" signs farther down the ramp at problem interchanges to give drivers a second chance to realize their mistake.
One of the study's most useful tools is Copelan's "Check List for Wrong-Way Entry Review," in Appendix A of the report, which traffic engineers can use to evaluate and improve interchanges. The check list takes the reader through a 13-part review process that includes such items as reviewing pertinent accident data, inspecting ramps during both daylight and night time conditions, checking signs, evaluating ramp openings, and taking steps to deal with recurring problems. You can obtain a copy of the report at www.dot.ca.gov/hq/traffops/survey/iptest.html.
"The decrease in the allowable blood alcohol limit from 0.10 to 0.08 plus the check list helped us [Caltrans] significantly reduce wrong-way accidents after the report was introduced and implemented," Copelan says. "What's really important is we all need to work together to prevent wrong-way accidents."
---
Author's Note: Some of the statistics used in this article were from a 1989 comprehensive study of wrong-way crashes, the most recent nationally conducted study available. Although some States have generated more recent research about wrong-way crashes in their own States, the results and countermeasures are not readily accessible in one central location.
---
Steve Moler is the public affairs specialist at FHWA's Western Resource Center in San Francisco, CA. He has worked in various areas of journalism for more than 15 years, including public relations, media relations, news writing and editing, community outreach, and communications strategic planning. Moler is one of three instructors who teaches the FHWA Media Training Course, which prepares participants to better handle media inquiries, develop main message points, and prepare for all types of media interviews and public meetings. For more information, call Moler at 415-744-3103
or e-mail him at steve.moler@fhwa.dot.gov.