Colossal Partnership: Denver's $1.67 Billion T-REX Project
Metro Denver's Transportation Expansion Project (T-REX), a $1.67 billion combined freeway reconstruction and light-rail extension, is as massive as the name implies, and three years ago, it was nothing more than a dream.
It existed only in concept and proposal — and in commuters' wildest imaginations— but in an astonishing blitz from March 1998 to May 2001, T-REX, now one of the largest transportation projects in the United States, won all environmental approvals, received full funding, and secured a contractor who agreed to finish the project two years earlier than planned and $39 million under budget.
How could a project of this magnitude — reconstructing 17 miles (27 kilometers) of Denver's outmoded Interstate 25 and Interstate 225 freeways and extending the city's light-rail system an impressive 19 miles (almost 31 kilometers) — accomplish so much in such a relatively short period of time? In an industry in which both modes have historically traveled down separate and sometimes competing tracks, the answer might surprise you — collaboration.
"The sense of cooperation between highway and transit has been the backbone of this project," said Bill Jones, the Federal Highway Administration's Colorado Division administrator. "When the two modes first came together in this project, we realized one could not be done without the other. In my 30-plus years of experience, I have never seen any project with such high levels of cooperation."
A Unique Project
From the moment the project was conceived in the mid-1990s, four transportation agencies — the Federal Highway Administration (FHWA), Federal Transit Administration (FTA), Colorado Department of Transportation (CDOT), and Denver's Regional Transportation District (RTD) — have managed to set aside personal egos and agency turf wars to work like a team of synchronized swimmers in bringing the project to fruition.
T-REX, which until May 2001 was called the Southeast Corridor Project, involves the simultaneous rehabilitation of I-25 and I-225 and construction of the light-rail extension and its 13 stations — all in one massive design-build contract.
The freeway component involves adding one additional lane in each direction along most portions of the project (two lanes in each direction in the more congested areas), eight interchange reconstructions, the complete reconstruction of the I-25/I-225 interchange, replacement or rehabilitation of 18 bridges, complete reconstruction of the "Narrows" section of I-25 between Broadway and Steele streets, shoulder widening, and major improvements in drainage.
One light-rail line will extend about 15 miles (24 kilometers) along the west side of I-25 from the existing Broadway station south to Lincoln Avenue just inside neighboring Douglas County. A second line will stretch east about 4 miles (6.5 kilometers) down the median of I-225 to Parker Road in the city of Aurora.
Constructing the highway and light-rail components simultaneously provides several advantages. It saves taxpayers an estimated $300 million to $500 million in construction costs, and it minimizes public inconvenience, which is one of the project's highest priorities. RTD Director Cal Marsella explained the logic: "The alternative can be compared to building a storm drain down your street, then seeing the contractor come back a year later and dig up the street again to build the sewer. It wouldn't make a lot of sense. Let's do T-REX one time and minimize the disruption."
Freeway and light-rail projects have been built together before, but not on the scale of T-REX.
"This project is unique in that it's the only project of its size where you find highway and transit working together on a single project," Jones said. "This is the ultimate ONE DOT project." (ONE DOT is a management strategy that builds on the strength of mutual collaboration between the agencies of the U.S. Department of Transportation to reduce duplication and save resources. See "We Are ONE DOT!" by Melissa J. Allen in the January/February 1999 issue of Public Roads.)
In the project's early stages, when CDOT Executive Director Tom Norton told transportation officials around the country that Denver planned to construct a combined highway and light-rail project along the same right of way, they responded mostly with skepticism.
"At first, we didn't get much encouragement from the industry," Norton said. "No one thought we could do this. Now, I hear people saying, 'Wow, how did you do it?'"
How It All Began
T-REX's initial footsteps can be traced back to a 1992 congestion study commissioned by the Denver Regional Council of Governments (DRCOG). The study found that traffic volume along the corridor had exceeded its maximum capacity of 180,000 vehicles per day and, within a few years, the freeway would be near gridlock most of the day. Adding to the gloomy forecast of gridlock, planners projected that 150,000 new jobs would be added in the downtown area and at the huge Denver Tech Center, which is 15 miles (24 kilometers) to the south, over the next 20 years. The study not only recommended widening the freeway by several lanes, but it also suggested incorporating some type of mass transit into any future improvements.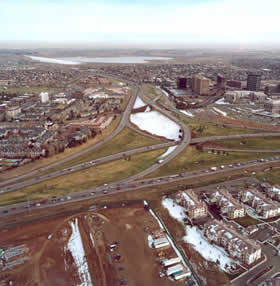 The study's recommendations, however, presented several difficult, if not nearly insurmountable, challenges. First, purchasing the required land along the highly urbanized corridor to add freeway lanes would be extremely expensive. Also, adding lanes would require replacing, expanding, or repairing up to 20 bridges, and the I-25/I-225 interchange, the 14th most congested interchange in the United States, would have to be completely reconstructed. The corridor's route through several municipalities would likely complicate planning and decision-making, and no one knew for sure if the public would embrace mass transit. Furthermore, who would have jurisdiction over construction and management of any future improvement project — CDOT or RTD or some other entity?
T-REX History
April 1995 — Southeast Corridor Major Investment Study (MIS) begins. Recommends 19-mile (31-kilometer), 13-station light-rail extension and major safety improvements (but no additional lanes) to I-25/I-225.
October 1997— Denver Regional Council of Governments adopts MIS.
March 1998 — Public meetings begin for project's environmental impact statement (EIS).
November 1999 — Voters approve two bond measures that pave the way for project financing.
December 1999 — Final EIS signed.
March 2000 — Record of decision issued.
July 2000 —T-REX begins qualifying contractors for bidding.
November 2000 —FTA awards $525 million full-funding agreement. Request for proposal released to qualified bidders.
May 2001 — Southeast Corridor Project renamed Transportation Expansion Project (T-REX). Southeast Corridor Constructors, a Kiewit-Parsons team, selected to build the project.
June 2001 — Contract awarded; notice to proceed issued.
Sept. 24, 2001 — Groundbreaking.
October 2001 — Construction begins.
In April 1995, CDOT and RTD took the first step toward developing the partnership that ultimately became T-REX. The two agencies and DRCOG commissioned the Southeast Corridor Major Investment Study (MIS), which sought the best solutions to the I-25/I-225 congestion problem. Arapahoe and Douglas counties and the cities of Denver, Aurora, and Greenwood Village also participated in the MIS. Two other Denver-area corridor studies were also undertaken.
Two years later, DRCOG adopted the MIS recommendations, which included the 19 miles of double-track light rail and 13 stations with the track running next to or in the median of I-25 and I-225. On the highway side, while the report recommended major safety improvements such as acceleration and deceleration lanes and wider shoulders, it did not call for additional lanes. FHWA and CDOT were troubled by the omission, and leaders of all four agencies agreed that the MIS placed too much emphasis on transit.
"We weren't going to spend over a billion dollars on this project without involving more highway capacity. It couldn't be a predominantly transit project," Jones said. "This was the turning point when we realized together that the transit part of the project couldn't be built without the highway part."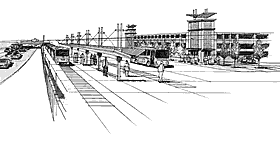 A Team Is Born
After the adoption of the MIS, all four agencies in June 1998 signed a "partnering charter" that created a leadership team to identify and pursue the best multimodal solutions. Then 16 months later, they signed a "partnering agreement" that established four goals:
Minimize inconvenience to the community, motorists, and public. Meet or beat the total program budget of $1.67 billion.
Provide a quality project.
Meet or beat the project's operational deadline of June 30, 2008.
In November 1998, DRCOG adopted Metro Vision 2020, the Denver area's 20-year regional transportation plan. T-REX was a top priority in the plan.
"We looked at ways to break down the highway vs. transit rivalry and started looking at mobility," Marsella said. "Let's look at highway and transit as coordinated pieces of a comprehensive strategy to maximize mobility in a project with limited available right of way. We set our sights on a project that was a win-win [proposition] for both transit and highway. What emerged was the T-REX project."
CDOT and RTD next assembled a project team that was housed in one location. At the same time, top management from all four agencies began meeting every two weeks. The purpose of the senior-level meetings was "not just to get briefings," said Chick Dolby, Federal Transit Administration deputy regional administrator, "but to do the planning and make decisions."
CDOT and RTD then signed an intergovernmental agreement that established a cooperative framework to finance, design, and construct T-REX. CDOT hired the consultant Carter & Burgess to begin work on the environmental impact statement (EIS). Meanwhile, FHWA and FTA signed a memorandum of agreement that created a single ONE DOT management team.
Colorado law provided another challenge. CDOT could legally pursue only a low-bid contract for T-REX. So Norton, working closely with Colorado Gov. Bill Owens, got the state legislature to enact a law permitting a design-build contract. The governor also worked with the legislature to place two bond measures on the November 1999 ballot: a local initiative to allow RTD to sell bonds for the light rail, and a statewide initiative to allow CDOT to sell bonds to help finance the highway portion of T-REX and several other state highway projects.
New Transportation Approach?
Many major metropolitan areas, Marsella pointed out, have grown to where their freeway systems, originally built 40 to 50 years ago, are in desperate need of expansion and reconstruction. The time is right, he said, to reconstruct freeways in conjunction with light rail to increase capacity and optimize existing, and often limited, rights of way.
"It's the way of the future," Dolby agreed. "How are you going to move people and goods through these corridors? To the extent possible, you've got to have highway-transit partnerships. There's got to be a balance."
The highway-transit solution certainly resonated with Colorado voters. In November 1999, voters gave their full support for the project by overwhelmingly approving the two bond measures.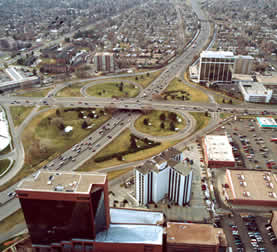 T-REX Gains Momentum
Over the next 11 months, an unprecedented sequence of events took place. First, in December 1999, less than a year after the first EIS public meetings were held, the final environmental impact statement (FEIS) was released, and it listed the preferred alternative as the 19-mile, 13-station light-rail extension with major improvements to I-25/I-225, including additional lanes, wider shoulders, upgraded ramps, and a complete redesign and reconstruction of the I-25/I-225 interchange. Some 18 existing bridges would also be either completely rebuilt or rehabilitated.
Several other project components, according to the FEIS, would be acquired or completed outside the design-build contract: a $40 million light-rail maintenance facility, which includes design, construction, and yard track work; a $17 million parking garage and other improvements at the new Nine-Mile (light-rail) Station; $20 million worth of early utility relocation; $107 million for acquisition of right of way; and about $100 million for 34 new light-rail vehicles and for transit fare machines.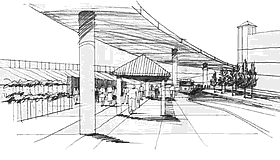 Three months later, on March 17, 2000, the project's record of decision was issued. To many people's amazement, the entire environmental review process took just 18 months to complete.
But this unheard of accomplishment didn't surprise Dolby.
"Other projects I've worked on haven't had this level of partnering. Everyone on T-REX agreed to bury the hatchet and set aside our differences. It's almost as if everyone agreed we weren't going to bring baggage to the table. We all work for T-REX," he said.
Help From the Feds
While all that was going on, T-REX officials, with bonding authority in hand and consensus on just about all aspects of the project, traveled to Washington, D.C., in early 2000 to seek federal funding. This is where FHWA and FTA played critical roles, Marsella said.
"Both agencies did all of our downfield blocking for us in Washington. We were all on the same page; we were all moving in the same direction," he said.
By November 2000, FHWA had committed nearly $400 million to the highway portion of the project, and FTA approved a $525 million full-funding agreement for the light rail. Several municipalities within the corridor also committed about $30 million in matching funds. That month, T-REX also released draft requests for proposals to three "short-listed" bidders. T-REX was now indeed on an unstoppable roll.
Moving Into Construction
As T-REX officials prepared to select the design-build contractor and move into construction, the project's name was changed from the Southeast Corridor Project to T-REX. The previous name, according to research, held little meaning to the public, and most Denver area residents didn't even know where the Southeast Corridor was located.
"This is a big project. It deserves a big name," Marsella said in a May 17, 2001, press release announcing the name change. "What better way to overhaul the metro area's transportation landscape than with the force of T-REX, the king of all transportation projects."
Highway Elements of T-REX Project
• One additional lane in each direction on most sections; two additional lanes in most congested areas.
• Eight interchange reconstructions.
• Complete reconstruction of the I-25/I-225 interchange.
• Complete reconstruction of "Narrows" (Broadway to Steele streets).
• Replacement or rehabilitation of 18 bridges.
• Acceleration and deceleration lanes throughout.
• Shoulders widened where feasible.
• Traffic demand management (TDM) and intelligent transportation systems (ITS).
• Major drainage upgrades.
After a fiercely competitive bidding process, T-REX selected its final team member on May 22, 2001. Southeast Corridor Constructors, a group led by Kiewit Construction Co. and Parsons Transportation Group, was chosen as the project's design-build contractor through a best-value process in which CDOT and RTD equally evaluated and weighed technical and price aspects.
The contractor impressed project officials with its success in similar projects. For example, the Kiewit-Parsons team recently completed the 17-mile (27-kilometer), $1.3 billion I-15 reconstruction in Salt Lake City on budget and well in advance of the 2002 Winter Olympics. The group also worked on several other high-profile transportation projects, including Colorado's I-70 Glenwood Canyon project; San Joaquin Hills Transportation Corridor in Orange County, Calif.; the Charles River Crossing in Boston, Mass.; and light-rail projects in Salt Lake City, Denver, and Washington, D.C.
The team sugar-frosted its winning proposal by agreeing to finish the project by September 2006 — 22 months ahead of schedule — and $39 million under the $1.23 billion price. The competitors couldn't match this bid.
With many of the initial project hurdles cleared, T-REX has now shifted its focus to construction, which begins in October 2001, and to the implementation of an innovative and aggressive traffic management plan. To meet the goal to minimize public inconvenience, some $3 million has been committed to subsidize van and car pools, to educate the public, and to encourage employers to permit telecommuting and flexible work hours. A massive public information program, using the Internet, the news media, and public meetings, keeps commuters informed about traffic conditions, construction schedules, and ways to cope with the construction.
Light-Rail Elements of T-REX Project
• 19 miles (31 kilometers) of double-track line.
• 13 new stations.
• No at-grade crossings.
• 34 additional light-rail vehicles.
• New maintenance facility.
For its part, the contractor won't close any lanes throughout the corridor during rush hours. In fact, the contractor has taken matters a step further by proposing to increase the freeway's capacity during construction via a temporary 4th high-occupancy-vehicle (HOV) or general-purpose lane.
"This was a very attractive part of the contractor's winning proposal — to actually increase capacity during construction," said T-REX Project Manager Larry Warner.
As the project shifts gears over the next several months, the question arises: What does T-REX mean for the nation's transportation future?
"I think we're going to be looking at mobility from more than one perspective," Jones said. "T-REX has given us a greater appreciation of what can be done jointly. It has taught us that strong highway-transit relationships are entirely possible."
---
Steve Moler is the public affairs specialist at FHWA's Western Resource Center in San Francisco, Calif.
You can obtain additional information about the T-REX project on the Internet at www.trexproject.com.