Changing How Engineers Think About Bridge Maintenance
The United States has a problem with its bridges: More than 30 percent are reaching the end of their design lifespan and need repair or replacement. Meanwhile, travel demands and the costs of labor and materials are increasing, while many budgets stagnate or fall. Bridge owners have become more reactive than proactive in their approach to managing and addressing their bridge program needs, leading to a "worse first" management style. Unfortunately, this strategy leaves bridges in good condition neglected until they too become a public burden or safety hazard.
Two new courses from the National Highway Institute (NHI), Fundamentals of Bridge Maintenance (course number 130107A) and Bridge Maintenance (course number 130108), offer a more strategic approach. By adopting effective bridge maintenance, bridge owners can save money, decrease environmental impacts, increase sustainability, and minimize traffic disruptions caused by major reconstruction.
Bridge Maintenance Basics
In Fundamentals of Bridge Maintenance, participants learn the foundational aspects of an effective bridge maintenance program. The course is a free Web-based training that participants can complete at their convenience over the course of 7 hours. In the course, participants learn about the importance of a balanced bridge maintenance program; the organizational structure, roles, and responsibilities of a bridge maintenance unit; and basic information about bridge inspections. The course provides an overview of bridge anatomy, common bridge types, and the intended functions of various components.
The course reviews the general concept of maintenance management systems and bridge management systems, the various steps and activities involved in the proper planning and implementation of bridge maintenance programs, and commonly used contracting methods for bridge maintenance.
Participants also study the principles of quality assurance and quality control measures used in bridge maintenance. The course provides an overview of bridge mechanics; basic hydraulic, scour, and channel erosion concepts; redundancy; and fracture critical details.
Participants review the basics of concrete as a bridge material, including proper mixing and testing processes, placement, finishing and curing processes, and methods for locating and removing unsound concrete. Finally, the course content highlights general maintenance considerations and practices related to ancillary items often attached to bridges, such as utilities and sign and lighting structures.
This course offers 0.7 continuing education units, and serves as a prerequisite to Bridge Maintenance, NHI's 4-day instructor-led training.
Extensive Hands-on Learning
Bridge Maintenance is a new training designed to replace NHI's former Bridge Maintenance 134029 course. The course reviews common defects and deficiencies, preventive maintenance techniques, and protective systems intended to prevent deterioration. Participants leave the class ready to investigate proper bridge maintenance procedures with the right resources and apply these practices on the job.
The training is interactive, blending lecture with group discussion; more than 40 videos; 18 different exercises, activities, and classroom demonstrations; and 5 different case studies. The case studies are based on examples from real bridge inspection reports, a common initiator for maintenance activities. For example, if an inspection report documented cracking of the bridge deck, course participants would determine the proper repair procedure and discuss what could have prevented or mitigated such cracking.
"The course focuses directly on what needs to happen to properly maintain our bridges and is as hands-on as you can get without being on an actual bridge," says Eric Thorkildsen, vice president at Greenman-Pedersen, Inc., and project manager of the course development team. "It explains why certain maintenance is necessary and shows participants the consequences of ignoring that maintenance. Each day the class works on real-life case studies, and it culminates in a group presentation on the last day of class."
Applying the Reference Manual
The Bridge Maintenance course also familiarizes participants with the updated and enhanced Bridge Maintenance Reference Manual, a valuable resource for bridge engineers and maintenance personnel. The manual was updated in 2016 from the 2003 version. The new online format offers more than 1,000 searchable pages of quick-reference information. It also includes numerous decision-aid matrices to help bridge engineers and maintenance personnel diagnose common bridge issues, as well as job-aid checklists that can help users determine the proper equipment, tools, personnel, and safety gear needed to complete common bridge maintenance activities.
Many of the learning activities in the course are tied directly to the manual. For example, the manual includes a 17-step procedure for the repair of vertical surfaces on concrete abutments. During one course activity, the class breaks into groups and each group is given a card showing one procedural step. Without checking the manual, the class must determine the proper sequence of each activity and place the cards in order. Participants then assess their solution using the manual.
NHI recommends its bridge maintenance courses for personnel from State and local departments of transportation and contractors with intermediate to advanced knowledge of general maintenance and repair activities. NHI also encourages individuals involved in onsite bridge maintenance and preservation, as well as supervisors and managers of these activities, to participate. Other individuals, such as designers and construction personnel, may also benefit.
An Award-Winning Combination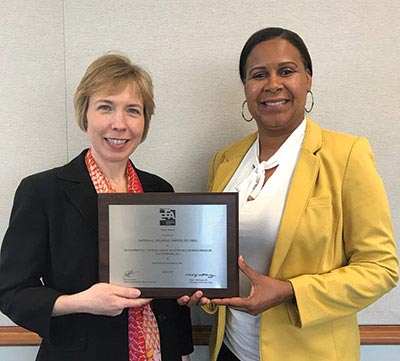 In spring 2017, NHI's bridge maintenance training received a Silver Award in the Engineering Excellence Awards competition in the category of studies, research, and consulting engineering services. The American Council of Engineering Companies (ACEC) of New York presents these awards to projects that encompass both the public and private sector. Each year, more than 60 member firms submit projects that are judged on a rigorous set of criteria, including complexity, innovation, and value to society. The panel of judges includes industry experts, such as military and government officials, ACEC national and international leadership, educators from college and university engineering departments, and leadership from other organizations dedicated to the built environment.
For more information, to register for a session, or to sign up to receive alerts when sessions are scheduled, visit www.nhi.fhwa.dot.gov and search by course number.
---
Judy Francis is a contracted marketing analyst for NHI.