Connecting The Employment Dots
FHWA has established five new regional centers to help develop, recruit, and retain a highly effective transportation workforce, especially crucial given so many baby boomer retirements.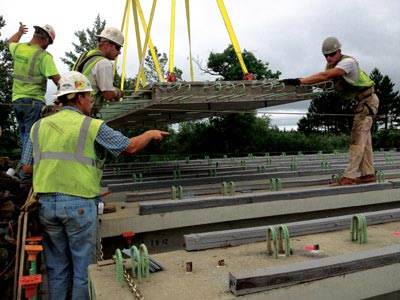 For the U.S. transportation community to deliver and manage an efficient, safe, and effective transportation system, it must have a highly capable workforce. Public and private transportation organizations are facing numerous workforce challenges, including an increasing number of workers preparing for retirement; new technology, procedures, and processes; competing demand for workers in other industries; aging transportation infrastructure in need of repair or modernization; increasing demand for transportation capacity; and constrained resources. To address critical issues in workforce recruitment, training, and retention, a number of key stakeholders must come together in a coordinated effort.
"The ability to modernize and improve the efficiency of the Nation's surface transportation network in today's global marketplace requires a skilled and innovative workforce," says Pete Ruane, president and CEO of the American Road & Transportation Builders Association. "We will rely on this workforce to properly build and manage long-overdue repairs and projects that add transportation capacity."
The solution in a nutshell?In 2014, the Federal Highway Administration established five new regional centers focused on workforce development.
Workforce Challenges
More than 50 percent of the transportation workforce will be eligible to retire in 10 years. This will create not only a significant loss of specialized knowledge and experience, but also a need to train a new generation of young workers and leaders. New professionals will have to enter transportation from other fields, and younger skilled workers already in the field will have to fill openings left by their experienced, retiring predecessors.
In addition to a high rate of retirement and vacancies in this field, emerging technologies are changing the knowledge base and skill requirements for future workers. More complex operating systems require skilled high-tech operators. New technological competencies are essential to foster the rapid increase in innovation in transportation planning, development, and system management.
Given these challenges, transportation, education, and labor organizations share common workforce concerns: Will the next generation of transportation workers be prepared to develop, design, construct, operate, and manage the Nation's transportation system in the face of increasing transportation demand? Does the current transportation workforce have the skills, knowledge, and ability to be efficient in their work, including understanding changing policies and programs and using new technology? Is the current and future workforce equipped to provide for a transportation system that will help ensure that the Nation can compete in increasingly competitive international markets?
"To address the workforce needs of a wide range of employees in the 21st century," says Acting Assistant Secretary Johan Uvin of the Office of Career, Technical, and Adult Education at the U.S. Department of Education, "we must ensure that they are well equipped in using changing technology and have the knowledge and skills to compete in a global economy."
To do so, transportation, education, and labor organizations must coordinate and leverage their workforce development resources effectively.
Workforce Development
"Transportation is a high-demand industry that provides excellent opportunities for good jobs with good wages," says EricSeleznow, deputy assistant secretary, Employment and Training Administration, U.S. Department of Labor.Workforce development programs must ensure that the public is awareof those opportunities.
Education and industry need to work together to support career pathways for current and future transportation workers. Pathways into the field vary. Some start when exposure to transportation studies in school piques a student's interest, or when an entry-level professional decides to take a transportation job, or when experienced workers realize that they can apply their current knowledge, skills, and abilities somewhat differently within the transportation sector and so transition into that branch of the field. Transportation workers--engineers, planners, traffic technicians, logistics professionals, commercial drivers, equipment operators, and others--who design, build, manage, and maintain the Nation's highways, ports, and intermodal facilities have specific skills and therefore require specific training and education.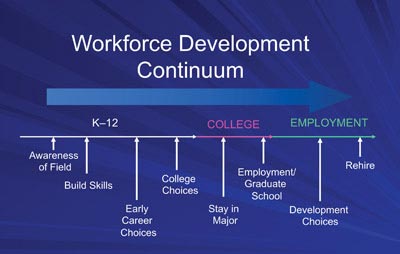 Thus far, public and private organizations have struggled to understand and address the needs of transportation workforce development in a structured manner that fits within existing programs. This issue is mostly due to the lack of an integrated, strategic plan and related tools among isolated transportation, education, and labor programs.
The first step in building a cohesive strategy is to consider the workforce development continuum, which starts with outreach to increase awareness of the transportation field and the development of skills during K–12 education. Next in the continuum is early career preparation and technical training at the college level, and then ongoing professional development maintained during employment. In addition, some workers retire from career positions and then are rehired in the transportation industry after retirement.
Building and raising career awareness. Building awareness and interest in transportation careers starts in school. Workforce programs can develop targeted outreach efforts in collaboration with K–12 schools, community colleges, and universities to encourage careers in transportation. Educational institutions can focus on building competencies to enable future workers to enter transportation careers better prepared, or to help current workers perform with greater effectiveness and efficiency.
For community college and university students transitioning from the classroom to the workforce, educators should collaborate with public and private stakeholders to match curricula with the needs of the transportation industry and to increase the portability of transportation degrees, skills, and experience. Educators and employers also should expand the transportation workforce's access to post-secondary education.
Retention and continuing education. Once workers are recruited into the field, employers can take several steps to increase retention, such as offering incentives and benefits programs, recognizing good performance, encouraging a healthy work-life balance, and providing opportunities for advancement. Employers also can help their workforce adapt to technological advances in the industry by providing training and opportunities for professional development. They can plan for succession in the workforce through leadership development programs and performance management practices, such as annual performance appraisals, individual development plans, cross-training, and continuous communication between supervisors and employees.
Regional Transportation Workforce Centers
Regional Transportation Workforce Centers
Northeast Transportation Workforce Center
University of Vermont
Glenn McRae, Director
glenn.mcrae@uvm.edu
www.netwc.net
Region: Connecticut, Delaware, District of Columbia, Maine, Maryland, Massachusetts, New Hampshire, New Jersey, New York, Pennsylvania, Rhode Island, and Vermont.
Focus areas: Disadvantaged youth, climate change, alternate fuels, and community colleges.
Southeast Transportation Workforce Center
University of Memphis
Stephanie Ivey, Director
ssalyers@memphis.edu
www.memphis.edu/setwc
Region: Alabama, Arkansas, Florida, Georgia, Kentucky, Louisiana, Mississippi, North Carolina, South Carolina, Tennessee, Virginia, West Virginia, and Puerto Rico.
Focus areas: Women in transportation, freight (including rail, truck, warehousing, and logistics), and military/veteran transition to the workforce.
Midwest Transportation Workforce Center
University of Wisconsin–Madison
Teresa Adams, Director
adams@engr.wisc.edu
http://mtwc.org
Region: Illinois, Indiana, Iowa, Kansas, Michigan, Minnesota, Missouri, Ohio, and Wisconsin.
Focus areas: Infrastructure, construction, planning, inland waterways, sustainability and environment, STEM (science, technology, engineering, and mathematics), and stackable credentials, which an individual accumulates over time to build his or her qualifications.
Southwest Transportation Workforce Center
California State University, Long Beach
Tom O'Brien, Director
thomas.obrien@csulb.edu
www.ccpe.csulb.edu/SWTWC
Region: Arizona, California, Colorado, Nevada, New Mexico, Oklahoma, Texas, and Utah.
Focus areas: Gateways and corridors, non-native English speakers, portability of skills, traffic management, and intelligent transportation systems.
West Transportation Workforce Center
Montana State University
Steve Albert, Director
stevea@coe.montana.edu
http://wrtwc.org
Region: Alaska, Hawaii, Idaho, Montana, Nebraska, North Dakota, Oregon, South Dakota, Washington, and Wyoming.
Focus areas: Rural transportation and safety, mobility and livability, tribes, and Federal lands.
In collaboration with the U.S. Departments of Labor and Education, FHWA has established five regional transportation workforce centers to enhance transportation workforce development more strategically and efficiently. These five regional centers collaborate to form a national network for sharing workforce strategies and promising practices.
The centers, which are managed at universities selected through a competitive award process, help connect jobs with transportation needs. They create, coordinate, and facilitate partnerships with State departments of transportation and education, industry, and other public and private stakeholders to enhance transportation workforce development throughout the education continuum. The centers facilitate activities in Grades 6 through 12, and training in technical schools and community colleges, universities, and post-graduate programs, as well as professional development services for incumbent transportation workers.
"FHWA has made strategic investments to advance transportation workforce development," says Glenn McRae, director of the Northeast Transportation Workforce Center, one of the five centers. "Those investments are working, but in isolated ways. I think we have an opportunity to pool resources across sectors and industries to create a one-stop shop for workforce development."
The centers serve employers in the transportation sector, as well as individuals who would like to either enter the field or advance an established career. They also serve supporting education and labor organizations that recruit and direct people to the right resources.
"If you're in the transportation industry and want to bemore involved in workforce development," says Teresa Adams, director of the Midwest Transportation Workforce Center, "or an educator who needs materials to help introduce transportation in your courses, or a student who wants to learn more about transportation careers, contact us."
The centers also will take inventory of existing transportation workforce development programs, stakeholders, educators, and employers in each region, and then form a supportive network of resources across the Nation. This inventory will involve identifying regional transportation job needs and priorities, cataloging existing workforce development and educational programs, and evaluating existing programs for scale and replication. The inventory also will involve pinpointing educational and training gaps, developing resources to bridge identified gaps, and fully engaging in the national network to showcase successful programs and practices, and to increase the impact in each region.
"The mission is really to act as a broker," says Steve Albert, director of the West Transportation Workforce Center. "We want to bring organizations together to add value to their workforce development programs through greater coordination and collaboration across the transportation, education, and labor communities."
Workforce Focus Areas
To understand and address the needs of a broad and varied transportation workforce, each center has chosen focus areas for which it will identify key organizations, issues, programs and activities, challenges, and best practices, and will serve as a resource for other centers and stakeholders. Each center selected its focus areas based on specific research concentrations at its host university, the particular interests and expertise of its director and staff, and priority workforce areas defined by FHWA.
For example, the Southeast Transportation Workforce Center is focusing on women in transportation, freight, and military veterans' transitions to the workforce. These subject areas are well suited for the center's director and staff. Director Stephanie Ivey is also director of the Center for Advancement of Female Transportation Professionals and program director for the University of Memphis, Herff College of Engineering's targeted outreach programs--Girls Experiencing Engineering and Transportation Engineering Careers. The center's research and data coordinator, Annie Wise Rapalo, also helps coordinate the Girls Experiencing Engineering program, and she is the organizational leader of the Society of Female Transportation Professionals in the Memphis, TN, area. The focus on freight is appropriate for both Private Sector Coordinator Dan Pallme and Public Sector Coordinator Sean Ellis, who serve as the current director and associate director, respectively, of the Intermodal Freight Transportation Instituteat the University of Memphis..
The focus on veterans' transition to the workforce is particularly important as soldiers conclude their military service and return to the civilian workforce. Some transportation jobs in the military, such as heavy vehicle operation, logistics, and distribution jobs, relate well to similar jobs in civilian transportation. The southeast center will provide resources to help facilitate these transitions.
Looking Ahead
The transportation workforce is as varied, diverse, and complex as the transportation system itself. Transportation workers include planners, engineers, environmental specialists, safety practitioners, traffic operations managers, heavy equipment operators, financial specialists, technicians, and others in hundreds of occupations, all with varied skills, abilities, and levels of training and education. These workers serve public and private organizations, large and small, at the national, State, and local levels. They abide by specific policies and regulations, using technology and processes that may vary from one organization to the next.
Each of the more than 12.5 million transportation workers entered the field due to a unique set of experiences. All contribute to the efficiency, effectiveness, and safety of the U.S. transportation system, which facilitates a strong economy through access to goods and services and builds healthy communities through access to jobs and recreation.
Developing and maintaining an effective transportation workforce requires a coordinated effort by the transportation, education, and labor communities. Members of these communities are encouraged to contact their regional workforce center to engage in efforts to help build a strong workforce now and in the years to come.
---
Clark Martin is team leader of affiliate programs in FHWA's Office of Technical Services and FHWA manager of the Regional Transportation Workforce Centers. Martin has a B.S. degree from the University of Maryland, where he studied government, politics, and business administration.
For more information, visit the Regional Transportation Workforce Center Web sites listed on page 24 or contact Clark Martin at 703–235–0547 or clark.martin@dot.gov.