Management and Administration
Along the Road is the place to look for information about current and upcoming activities, developments, trends, and items of general interest to the highway community. This information comes from U.S. Department of Transportation (USDOT) sources unless otherwise indicated. Your suggestions and input are welcome. Let's meet along the road.
Secretary Foxx Breaks Ground on San Juan Improvements Project
Secretary of Transportation Anthony Foxx recently joined Puerto Rico Governor Alejandro García Padilla and other territorial officials for the groundbreaking of the PR–18/21 Improvements project on the island's busiest north-south corridor. The $16.1 million project, which relies on $14.5 million in Federal funds, is expected to improve traffic flow on one of Puerto Rico's key economic arteries and improve safety along a route with a history of crashes.
In addition to improved safety and overall traffic flow, the PR–18/21 project will improve access to and from the Centro Médico complex, a key medical facility that serves thousands of residents of Puerto Rico and nearby Caribbean islands. It will also provide better access for drivers and pedestrians alike to the Centro Médico Tren Urbano mass transit station, which serves the new Comprehensive Cancer Center site and the planned "Science City" east of PR–18.
According to the Puerto Rico Highways and Transit Authority, this project will help support thousands of jobs. Also, by reinforcing the growth of Centro Médico and Science City, the project will help inject $560 million into Puerto Rico's economy.
When completed in 2016, the PR–18/21 project will support existing land uses and promote other modes of transportation, such as walking and cycling, and Tren Urbano ridership.
Deputy Secretary Mendez Celebrates Completion of Austin Expressway
U.S. Deputy Transportation Secretary Victor Mendez joined State and local officials at a ribbon-cutting ceremony to celebrate the completion of the Manor Expressway (U.S. 290 East) project to improve mobility in the Austin, TX, metropolitan area. The $426 million project, which relied on $122.5 million in Federal funds, has tripled capacity on a route that has seen traffic increase more than 78 percent since 1990. The project provides the Austin area with three new tolled expressway lanes in each direction, in addition to three existing nontolled arterial lanes in each direction.
The Manor Expressway project began in 2010 and spans 6.2 miles (10 kilometers) east of downtown Austin between U.S. 183 and SH–130. The first phase of the project included construction of direct connectors between U.S. 290 and U.S. 183, and 1.5 miles (2.4 kilometers) of a new toll road. The phase 1 projects opened to traffic in late 2012. Phase 2, which included construction of U.S. 290 from Chimney Hill Boulevard to east of SH–130, opened to traffic in May 2014.
The project restores mobility to fast-growing eastern Travis County, making it safer for drivers to travel in the corridor. It also provides key connections to other important roadways in the region, including U.S. 183 and the SH–130 toll road.
In addition, the project included a 10-foot (3-meter)-wide shared-use path for bicyclists and pedestrians. The shared-use path runs for 6 miles (9.6 kilometers) along the Manor Expressway from the U.S. 183 interchange to east of SH–130. The path is separate from the road and connects with other trails in the area.
Technical News
FHWA Demonstrates Highway Friction Tester
The Federal Highway Administration (FHWA) is offering demonstrations of its Highway Friction Tester (HFT) to State departments of transportation. The HFT is a self-contained testing vehicle that maps friction at 1-foot (0.3-meter) intervals continuously along a pavement section. Agencies can use the friction data for both network-level and project-level applications, such as a pavement friction management program or a crash investigation.
Continuous testing improves an agency's ability to measure friction through intersections and around curves, and provides a more comprehensive picture of how friction varies in a section of pavement. The HFT uses a fixed-slip test method, which limits the slip of the test wheel to approximately 15 percent rather than fully locked, to deliver a coefficient of friction that is more representative of conditions experienced by vehicles with modern antilock braking systems.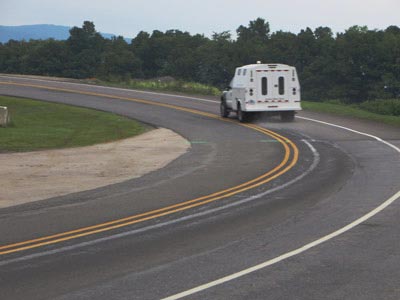 FHWA's onsite demonstrations offer States an overview of the HFT's testing and data reporting capabilities, enabling agencies to conduct friction testing on their local pavement surfaces. Demonstrations may range from a half day up to 5 days, depending on the testing location and the agency's goals for the demonstration. FHWA offers these demonstrations free of charge but may require participating agencies to provide traffic control.
For more information, contact FHWA's Bob Orthmeyer at robert.orthmeyer@dot.gov or 708–283–3533, or David Merritt at The Transtec Group at dmerritt@thetranstecgroup.com or 512–451–6233. To schedule a demonstration, contact The Transtec Group at 512–451–6233, or request a demonstration online at www.thetranstecgroup.com/highway-friction-tester-demonstration.
Public Information and Information Exchange
FHWA Releases Report Highlighting Sustainability Activities
FHWA is committed to improving the sustainability triple bottom line--social, economic, and environmental outcomes--of its activities. To this end, FHWA has spearheaded a number of efforts to address and advance sustainability. These initiatives range from projects to mitigate climate change impacts to initiatives that promote sustainable pavements and improve safety, and to tools to better assess the benefits and costs of transportation investments.
In a recent report, Advancing a Sustainable Highway System: Highlights of FHWA Sustainability Activities, FHWA describes how the agency has incorporated sustainability into a wide variety of its programs, projects, policies, processes, and partnerships. The report is intended for use by a diverse audience of transportation agency professionals at the Federal, State, and local levels, as well as by the public.
FHWA's goal is to encourage use of sustainable approaches in transportation planning, investments, operations, and other phases of project delivery. The aim is to help decisionmakers continue to enhance quality of life and serve the transportation needs of the present without compromising the ability of future generations to meet their needs.
For more information, visit www.sustainablehighways.dot.gov/FHWA_Sustainability_Activities_June2014.aspx.
NHTSA Launches TireWise Consumer Education Campaign 
USDOT's National Highway Traffic Safety Administration (NHTSA) recently launched its TireWise campaign to provide consumers and retailers with essential information about choosing and caring for their vehicles' tires. NHTSA estimates that each year almost 200 fatalities occur as a result of tire-related crashes, along with approximately 11,000 total tire-related crashes.
The TireWise campaign covers tire buying--how to select the right type, size, and rating of tire; tire pressure--how to check your tire pressure monthly; and treadwear--how to check tires for wear and other visual defects monthly. Other topics include tire aging--how tires break down over time; the effects of high temperatures--how to check tire pressure and conditions in hot climates; and replacing tires--how to learn when your tires were manufactured and follow the vehicle manufacturer's recommendation for replacement, regardless of actual miles on the tire.
To reach as many consumers as possible online and in stores, the TireWise campaign is featured on SaferCar.gov, and all of the content is also available to retailers and tire manufacturers across the United States.
Users also can sign up for tire recall alerts for their specific tires and submit tire complaints from their mobile devices via NHTSA's SaferCar mobile app for Apple® and Android™ products. In addition, tire recall information is available by following NHTSA on Twitter and Facebook or by signing up on SaferCar.gov for the RSS feed and email alerts.
For more information, visit NHTSA's TireWise Web site at www.safercar.gov/tires.
NHTSA
Massachusetts Releases Vehicle-Use Data for Competition
The Metropolitan Area Planning Council (MAPC), the Massachusetts Department of Transportation (MassDOT), and the Massachusetts Technology Collaborative (MassTech) recently announced the results of their 37 Billion Mile Data Challenge. The competition challenged the data community to delve into a vast new set of anonymous vehicle-use data and produce innovative visualizations, applications, and insights on the Massachusetts transportation system. The results are intended to inform policy and help the Commonwealth build a more efficient and sustainable transportation system.
The winning entries ranged from "MassEMIT," a tool that enables users to compare factors such as carbon dioxide emissions and fuel use by community, to a transportation infographic that informs the public on the true costs of driving. To view all of the entries, visit the event Web site at www.37billionmilechallenge.org.
The release of the new data set--the Vehicle Census of Massachusetts--represents a first-in-the-Nation release of State vehicle registry data. The vehicle census was created by MAPC, in partnership with MassDOT and with support from the Barr Foundation. The competition also was made possible through support by MassDOT's and MassTech's work under Governor Deval Patrick's Massachusetts Big Data Initiative, a program launched in 2012, and other sponsors.
The challenge builds upon previous efforts to analyze and increase access to State transportation data, including the launch of the MassDOT "Developers Pages" online data resource, MAPC's Hubway Data Visualization Challenge, and the December 2013 "Visualizing Transportation" Hackathon run by MassDOT, MassTech, and hack/reduce (a Boston-based nonprofit). These efforts showcase the growing potential of open government data and collaboration to drive innovative public benefits.
For more information, visit www.37billionmilechallenge.org.
MassDOT
Caltrans Project to Ease Congestion, Create Gateway to Modesto
The California Department of Transportation (Caltrans) and the city of Modesto recently broke ground on a $61 million interchange project to ease traffic congestion, improve operations, and increase safety on Pelandale Avenue at SR–99. The largest transportation project in Modesto history, the plans include creating a striking new gateway to showcase the city. Construction is expected to be completed in 2017.
The project includes doubling the number of lanes on the Pelandale overcrossing from three to six and building new ramps to connect SR–99 with Sisk Road and Salida Boulevard instead of busy Pelandale Avenue. Motorists will spend less time stuck in traffic burning up gasoline, which will save time and money and improve air quality. Additional auxiliary and merge lanes will be part of the interchange, giving motorists more time to safely merge and exit. The interchange also provides direct access to a nearby hospital. The improved traffic operations resulting from the project will enable emergency responders in the area to serve more efficiently.
Motorists entering the city from the north on the highway will view a sculptured and landscaped wall with a "Welcome to Modesto" greeting carved into the rock.
Project funding includes nearly $44 million from Proposition 1B, a 2006 voter-approved transportation bond, and $17 million from local and regional funds. Caltrans, the city of Modesto, the Stanislaus Council of Governments, and Stanislaus County worked together to secure funding for the project.
The existing interchange was built in 1970, and Modesto's population has more than tripled from 62,000 to 200,000 in the last 45 years. An average of 110,000 vehicles travel along SR–99 at Pelandale Avenue daily, a figure that is projected to top 180,000 vehicles by 2035.
For more information, visit www.sr99pelandale.org.
Caltrans
"One Less Spark" Campaign Targets Wildfires Caused by Vehicles
The Arizona Department of Transportation recently announced its participation in the "One Less Spark, One Less Wildfire" public awareness campaign, an interagency initiative to raise drivers' awareness of their role in preventing wildfires. The U.S. Forest Service and other land management agencies in California initially implemented the campaign in 2012. After success in California, the campaign is now expanding to other southwestern States.
"One Less Spark, One Less Wildfire" seeks to educate the traveling public in areas of high-frequency fires or areas that have the potential for catastrophic wildfire damage. The campaign provides information about the ways that vehicles can cause fires and the role the public plays in preventing them.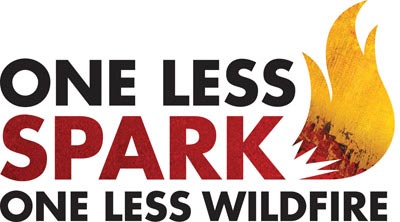 Vehicles can cause fires in several ways. Drivers should avoid parking in tall grass, because the heat from parts under the vehicle could start a fire. Anything that hangs underneath a vehicle and drags against asphalt, including chains used for towing, can cause sparks that lead to wildfires. In addition, exposed wheel rims can also cause sparks on asphalt; drivers should always check tire pressure before traveling.
The campaign features informational brochures and posters at rest area kiosks, bumper stickers, highway signs, electronic billboard messaging to increase awareness in high-risk areas, and public service announcements that provide safety information and fire prevention tips.
For more information, visit www.preventwildfireca.org/OneLessSpark.
Arizona Department of Transportation
Now Available: Transportation Planning For Healthy Communities
FHWA and the Volpe National Transportation Systems Center recently released a white paper titled "Statewide Transportation Planning for Healthy Communities." The second in a series of FHWA white papers on this topic, the document presents a flexible framework for State departments of transportation (DOTs) that choose to integrate public health considerations into their transportation planning and decisionmaking. The paper draws from five case studies of DOTs and their partners. (The previous white paper focused on metropolitan planning organizations and their transportation planning processes.)
The framework presented in the paper identifies key decision points--including motivations, early actions, and structural changes--for considering health both within the formal planning process itself and in related State programs. The analysis highlights common characteristics of DOTs that are including health considerations in their planning activities, such as support from leaders or legislators, active partnerships with other State agencies, and programs that facilitate the discussion of health and transportation (for example, Complete Streets and Safe Routes to School initiatives).
The project team concluded that there are several opportunities at various levels to support the consideration of health in transportation planning. In particular, metropolitan planning organizations and State DOTs may benefit from examining what each is doing and adapting techniques from each other's approaches. USDOT and its Federal partners could provide further information by conducting research on health data and performance measures and by continuing collaboration with the Centers for Disease Control and Prevention to develop an analytical resource for DOTs to consider health in their decisionmaking.
The white paper is available at www.planning.dot.gov/documents/VolpeFHWA_DOT_Health.pdf.