Training Millions of Responders
Preparing a huge and diverse cadre of TIM professionals to work together seamlessly is no small task. Here's how FHWA and its partners are doing it.
Many first responders are killed or suffer serious injuries while addressing traffic incidents on the Nation's roadways. In fact, more than 250 public safety professionals lost their lives in the line of duty in 2012, with an estimated 13 percent of those occurring during incident response. The longer incident responders remain at the scene, the greater the risk faced by them--and the traveling public. In addition, congestion from these incidents often generates secondary crashes, further increasing safety risks, traveler delays, and motorist frustration.
Traffic incident management (TIM) is a planned and coordinated multidisciplinary process to detect, respond to, and clear incidents, and restore traffic flow as safely and quickly as possible. Efficient TIM is critical to meeting the Federal Highway Administration's (FHWA) goals for improving motorist and responder safety, reducing traffic congestion, and enhancing the performance and reliability of the transportation system.
In the July/August 2013 issue of Public Roads, an article titled "Successfully Managing Traffic Incidents Is No Accident" described TIM as a public safety discipline and detailed FHWA's role in establishing and managing the national program.
More than two decades ago, FHWA assumed leadership of developing national guidelines, good practices, operating processes, lessons learned, tools, and training to enhance TIM programs. Although FHWA leads the effort, the agency relies on many other groups involved in managing TIM programs or responding to incidents on roadways. These include State police organizations; State and local departments of transportation (DOTs); local and regional fire, rescue, and emergency medical services departments; private sector towing companies; safety/service patrols; dispatch and reporting staff at traffic management centers; metropolitan planning organizations; and other public safety organizations.
How does FHWA give such a large and diverse group of incident responders the tools and knowledge they need to respond to traffic incidents promptly and safely? In 2007, FHWA partnered with the American Association of State Highway and Transportation Officials (AASHTO) and the Transportation Research Board (TRB) to develop a TIM training course under the second Strategic Highway Research Program (SHRP2). SHRP2 is an initiative created in 2005 and funded through March 2015 to study the challenges of moving people and goods efficiently and safely on the Nation's highways.
In 2012, FHWA again worked with AASHTO and TRB to launch a train-the-trainer pilot course and to test the SHRP2 TIM Responder Basic Training Course around the country. The train-the-trainer course covers the same material as the basic responder course, but includes an instructor's manual and added discussion of how to implement the units and lead the activities.
FHWA also accelerated deployment of the TIM responder training and the development of an instructor cadre as an Every Day Counts (EDC) initiative. EDC was established in 2009 to reduce project completion time, enhance safety and efficiency, and increase the quality of roads and bridges. Specific innovations, such as this training, are selected for nationwide deployment through a State-based strategy.
The partners are deploying additional SHRP2 training products for TIM responders, including an e-learning version of the basic course and an evaluation tool to determine the course's impacts on TIM programs nationwide.
"FHWA is honored to lead in building a robust program of traffic incident management by providing the tools and knowledge to help professionals improve the safety, timeliness, and effectiveness of their responses," says Jeffrey Lindley, associate administrator for FHWA's Office of Operations. "Ultimately, this coordinated work with all partners will open lanes more quickly, thereby reducing congestion, safeguarding motorists and responders, and saving lives."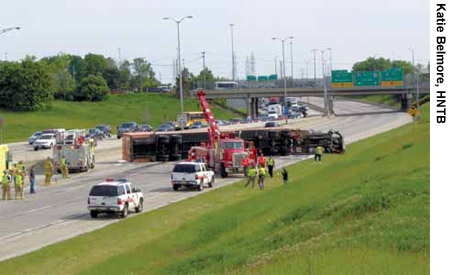 Bridging the Knowledge Gap
According to the U.S. Department of Labor, there are more than 2 million public safety responders in the United States, including law enforcement, firefighters, hazardous material removal specialists, and emergency medical technicians and paramedics. This number does not include volunteer firefighters, private sector health and medical workers, military personnel, DOT safety/service patrols, highway maintenance workers, or public works personnel, who also respond to incidents and would benefit from TIM training. Despite the life-threatening risks facing these responders, estimates by the SHRP2 TIM training partners indicate that many responders do not receive training in TIM operations. Recognizing this knowledge gap, FHWA is developing and deploying a standardized, credible, and cost-effective training.
The goal is to spur the widespread adoption of best practices and promote consistent application. Potential benefits include improving travel-time reliability for trips by reducing incident clearance time, and reducing congestion, collisions, and delays caused by secondary crashes.
The TIM responder training attempts to institutionalize good practices and develop sustainable TIM programs at the grassroots level. The course clearly defines responders' roles and responsibilities. The training also integrates language and protocols from the National Incident Management System into TIM operations, and encourages the use of unified command structures to integrate multiple disciplines into concerted responses.
Dispersing the basic training as widely as possible will enable responders to clear roads faster and safeguard themselves and motorists to the maximum extent possible. The multidisciplinary course is the only one of its kind designed to address on-scene operations and management, and to instill a shared understanding of the requirements for quicker, safer clearance.
Deployment Goals
By the end of December 2014, FHWA officials expect to have conducted at least 75 train-the-trainer sessions, with one or more occurring in each State, the District of Columbia, and Puerto Rico. Subsequently, the estimated 2,500 trainers who participate in the sessions are expected to train hundreds of thousands--or even millions--of TIM responders.
A Curriculum of Core Competencies
The TIM responder training equips participants with a common set of core competencies. The competencies are designed to achieve a national unified goal for TIM that encourages common, multidisciplinary policies, procedures, and practices to support responder safety; safe, quick clearance; and prompt, reliable, and interoperable communications. A cadre of well-trained responders is the key to a much quicker response time to clear incidents.
FHWA, AASHTO, and TRB assembled national experts in the fields of law enforcement, firefighting, transportation, emergency medical services, and towing to design the TIM basic course and the train-the-trainer sessions. Training participants enjoy access to the most up-to-date, multiagency standards and best practices culled from across the United States. The best practices were gathered through a series of workshops hosted by FHWA, followed by subsequent conference calls with mid-level TIM managers and awareness discussions with senior-level decisionmakers representing the various disciplines.
The final product includes nine units, each with clearly defined objectives. Among the topics covered in the curriculum are proper handling and identification of hazardous materials, debris clearance, tow truck protocols, guidelines for working with hybrid vehicles, and cleanup.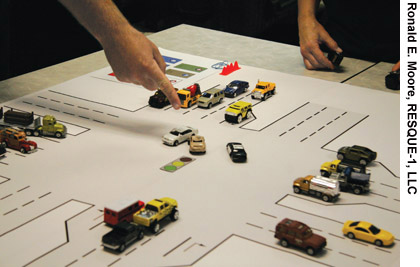 Over the past 5 years, FHWA has developed guidance for sustainable TIM programs. This guidance collects best practices and lessons learned that formulate safer and more efficient responses to roadway incidents, based on input from State and local TIM responders around the Nation. The information is published in policy guidance, concept of operations plans, operations plans, functional processes and tools, guidance on performance measurement, and tools for educating the public. Currently the SHRP2 TIM training course is the only nationally recognized venue where TIM practitioners can find the most current and comprehensive TIM guidance. However, FHWA and its partners are updating the national TIM guidance across all platforms to reflect the changes described in the training.
"The traffic incident management training series developed and delivered by FHWA provides a consistent national level of core competencies for all responders that improves communication, cooperation, and coordination, and increases public and responder safety," says Tom Martin, retired operations program coordinator with the I–95 Corridor Coalition.
Martin participated in the development and pilot testing of the responder course, and the I–95 Corridor Coalition is deploying the course in its training offerings.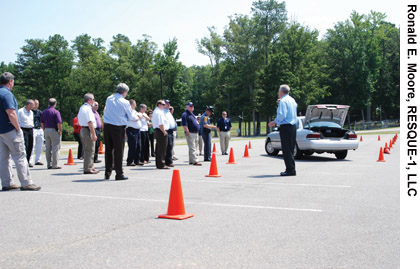 Targeting TIM Practitioners and Beyond
The target audience for the training includes all TIM practitioners and those supporting response operations. This includes law enforcement, fire and rescue, transportation agencies (including safety/service patrols and maintenance workers), towing, public works, emergency medical services, notification and dispatch services, coroners, and medical examiners.
A secondary audience includes elected officials and leaders of State police agencies, local fire chiefs, transportation leaders, staff from metropolitan planning organizations and insurance companies, and executives at the State, tribal, regional, and local levels of government. By championing full-scale deployment of the lessons learned in the TIM training courses, all participants will help their communities accrue tangible benefits such as saving money, time, and lives.
"All professionals [who] respond to incidents on roadways, bridges, and tunnels should take this course, regardless of experience or where they operate, whether in urban or rural settings," says Mark Kehrli, director of FHWA's Office of Transportation Operations. "This is the course that provides good practices, common terminology, tools, and guidance that are endorsed by FHWA, AASHTO, TRB, the International Association of Chiefs of Police, the International Association of Fire Chiefs, the National Volunteer Fire Council, the National Transportation Operations Coalition, the American Public Works Association, and the International Municipal Signal Association."
To reach even more potential trainees, FHWA works through associations representing stakeholder groups and other target audiences. For example, FHWA officials urge senior law enforcement and fire officials to encourage course participation among their colleagues. In August 2011, FHWA held a meeting with State patrol commanders to describe the upcoming training, and in December 2011 it held a similar meeting with metropolitan fire chiefs. FHWA also sponsored a senior executive summit in June 2012 to address key TIM challenges and to underscore the need for senior-level support for the new responder training.
FHWA continues to take steps to aid State, tribal, regional, and local jurisdictions with training as many practitioners as possible. FHWA has staff devoted specifically to TIM training deployment and has a contract in place with the Emergency Responder Safety Institute to bring the training to additional fire service facilities. FHWA also established interagency agreements with the International Association of Fire Chiefs and the International Association of Chiefs of Police to endorse and support the course among their members. In fact, the latter dedicated time during its 2013 meeting of regional senior leadership to discuss the training and the importance of supporting it.
In addition, FHWA is collaborating with the Towing and Recovery Association of America, the American Public Works Association, the International Municipal Signal Association, and the Institute of Transportation Engineers. These organizations support the training by promoting it among their members, offering a modified version of the training at their annual or regional meetings, encouraging members to serve as instructors, and having their leaders reach out to members and encourage attendance. The organizations also are adding the course to their lists of offerings that qualify for continuing education units. In addition, these organizations are working to obtain public safety designations, which will make highway Move Over laws applicable to them, helping protect their workers when responding to traffic incidents.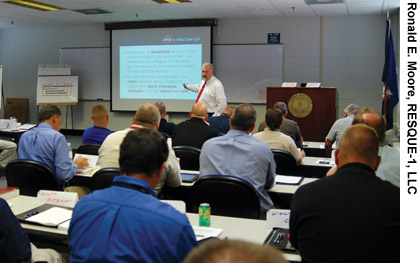 Course Structure and Delivery
FHWA officials recognize the difficulty in taking public safety officials off the streets for a prolonged period for training. That is why course developers produced training that is flexible and can be tailored locally.
Specifically, FHWA is deploying the TIM responder training through a twofold approach: (1) teams of TIM trainers consisting of one law enforcement expert and one fire service expert, who then conduct classroom courses in their home States; and (2) developing and deploying a Web-based course that will launch in early 2014.
The train-the-trainer classes are producing a cadre of qualified TIM trainers within each State and a common set of practices and advanced standards. The training includes interactive seminars, analysis of case studies, tabletop role play and scenario work, and a field practicum that will provide the future trainers with the knowledge and materials needed to conduct TIM trainings.
Participants undergoing training to become instructors receive 8 hours of classroom training and 2 hours of hand-on and outdoor activities. For the sessions they teach in their States, the newly trained trainers then may choose to deliver a 2-day intensive course, a 4-hour modified version, or several shorter, single-lesson modules.
As of October 2013, more than 1,925 firefighting, law enforcement, public works, and transportation experts received training on how to implement the TIM training course in a classroom setting. Already, these trainers have conducted sessions of the course in 25 States and reached more than 17,500 practitioners.
The Value of a Multidisciplinary Classroom
Bringing together responders across all relevant disciplines into a classroom setting improves overall team performance. At a highway incident, trained responders routinely work together in a coordinated manner from the moment the first emergency call is made. This includes deployment of appropriate response vehicles, placement of traffic cones, and use of advanced warning devices to ensure proper safety buffers and a secure work area--all the way through to on-scene operations, cleanup, and reopening of the roadway to traffic.
We recommend that those taking the course do so in a multidisciplinary classroom setting to the degree possible," says Paul Jodoin, TIM program manager for FHWA's Emergency Transportation Operations Team. "Participant comments indicate that they get a lot out of taking the course with those who they work with on-scene. The course offers an important intangible benefit--building relationships. Every day we hear how this course helped responders work together better."
The E-Learning Option
Although FHWA encourages responders to take the training in a classroom setting whenever possible, the SHRP2 partners recognize that it is cost-prohibitive and impractical to expect to train all practitioners in the classroom. Therefore, FHWA, AASHTO, and TRB, through a contract with the University of Maryland, are producing an e-learning version that will enable participants to take the training at their own pace through a Web-based platform.
Participants will explore the course curriculum using an array of audiovisual tools and innovative approaches to learning. FHWA's National Highway Institute (NHI) will host the e-learning course on its Web site once this version is market-ready in early 2014.
The Web-based training will give a larger number of responders the opportunity to take the training and also to use it as a refresher later in their careers. For example, this type of Web-based platform, combined with CDs, videos, and hard-copy materials for those without high-speed Internet, may benefit rural agencies and organizations that do not have access to classroom training conducted by FHWA-trained instructors. Moreover, partner organizations will be able to easily include the offering in their individual training catalogs.
Most important, the e-learning course will help accelerate deployment of the training. The increased flexibility will help maximize participation, enhance the visibility of the program, and lead to a faster and more complete deployment of the curriculum.
Accessing the Training
In November 2012, FHWA assumed responsibility for deploying the responder training in accordance with a detailed implementation plan. According to the plan, each State will produce its own implementation plan detailing how it will conduct training sessions that will offer the greatest possible opportunity for TIM responders to take the training in a classroom setting. The implementation plan must be developed before FHWA will provide contractor support and materials to conduct train-the-trainer courses in that State. FHWA aims to conduct at least one train-the-trainer session in each State, the District of Columbia, and Puerto Rico.
FHWA officials are creating a list of trainers in each State and dates of scheduled training sessions. This information, once available, will be posted on FHWA's Web site. State DOTs also maintain training schedules for their respective States.
In addition, once launched, the e-learning session will be accessible on the FHWA Traffic Incident and Events Management Web site at http://ops.fhwa.dot.gov/eto_tim_pse and on NHI's Web site at www.nhi.fhwa.dot.gov.
Other Training for TIM Professionals
As noted earlier, the framework for this training is rooted in a national unified goal of encouraging common, multidisciplinary policies, procedures, and practices to support responder safety; safe, quick clearance; and prompt, reliable, and interoperable communications. The framework therefore consists of three tiers that target various levels of TIM professionals. It is structured for relatively easy and cost-effective integration into existing curricula for first responders and other support organizations.
The first tier targets incident responders and on-scene activities. This tier includes the SHRP2 TIM responder training and videos produced by the Emergency Responder Safety Institute for FHWA titled "Move Over," "Move It," and "Blocking Procedures at Roadway Incidents." In the future, FHWA's Traffic Incident & Events Management team will produce individual training modules for topics, such as dispatching, incident reconstruction, and enforcing TIM laws, based on identified gaps.
The second tier of training focuses on developing and enhancing TIM programs. The training targets managers responsible for planning, resourcing, and leading the TIM programs. FHWA holds workshops for mid-level TIM managers to inform them of the importance of ongoing, sustained TIM programs. The workshops use national examples of best practices to prompt discussions on topics such as performance measurement, after-action reviews, training, responder safety, quick clearance, and communications. At the end of the workshop, TIM managers produce an action plan for improving TIM programs in their jurisdictions.
FHWA's Traffic Incident & Events Management team conducts followup calls with these managers approximately 1 year after the workshop to discuss progress and challenges faced in addressing the action plan. Information collected from these calls influences good practices, lessons learned, and tools that are then fed back into the national TIM program.
Third tier training sessions consist of awareness briefings for executive-level decisionmakers. These briefings raise awareness of the national TIM program; emphasize the importance of TIM to safe and efficient traffic operations; highlight the issues, needs, and action items discussed during the mid-level workshops; and request support for continued funding for these programs.
FHWA publishes a schedule of all levels of training in its Traffic Incident & Events Management Knowledge Management System at http://ops.fhwa.dot.gov/eto_tim_pse/preparedness/tim/knowledgebase/index.htm. FHWA does not endorse courses produced by other entities but does provide a compendium of that training and course contacts. Infrequently, FHWA officials may attend courses that are similar to the national trainings to determine if they could be a substitute for the TIM responder training. If a course meets the objectives, FHWA may designate an equivalency status to save jurisdictions time and resources.
Creating Effective, Sustainable Programs
As confirmed in recent TIM self-assessments, which transportation and public service agencies use to assess their programs, the TIM trainings already have helped to facilitate traffic incident recovery, resulting in streamlined, effective responses and a common platform of proven practices. FHWA's goal is for the training to eliminate unnecessary injuries and deaths, minimize time-consuming delays, and reduce congestion-related costs to the economy.
FHWA, AASHTO, and TRB are working to make the TIM responder training a success. To demonstrate the effect the training will have on direct operations on highways, the SHRP2 team is creating an assessment tool that will measure the impact of the training on traffic operations and incident responses. The software tool uses a process that will help communities evaluate how the course has affected their TIM planning and operations. FHWA officials expect to roll out the tool in 2015.
"In order to effectively strengthen TIM activities, we believe that the training courses must reach a majority of the Nation's TIM responders," says FHWA's Kehrli. "It will be most effective if responders continue to take it as a refresher every few years, and if agencies and companies require it as basic training for new employees. We firmly believe that we will see hundreds of thousands of responders trained and performance measures that improve and reflect better operations."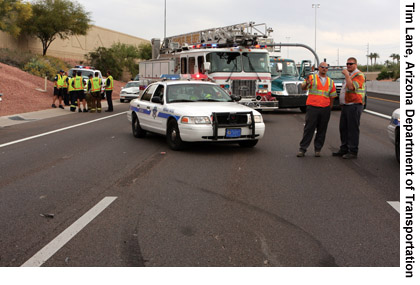 The Goals of TIM Training
Save Lives
Faster incident response and clearance times result in fewer secondary crashes.
Training results in less exposure of responder team to moving traffic during incident recovery.
Save Money
Less congestion leads to fewer freight and traveler delays in traffic backups.
Fewer secondary crashes save on insurance claims.
Faster cleanups lead to cost savings for incident personnel.
Save Time
Smarter response techniques cut congestion clearance time, decreasing travel delays.
Responder Training Course Overview
Introduction
Recognize the dangers emergency responders encounter while working in or near traffic.
Define TIM.
Describe the purpose of the SHRP2 National TIM Responder Training Program.
TIM Fundamentals and Terminology
Define safe, quick clearance.
List the principal laws that relate to responder safety and safe, quick clearance.
Describe how the Manual on Uniform Traffic Control Devices (MUTCD) relates to TIM.
Recall common response terminology, lane designations, and incident scene terminology.
Notification and Scene Sizeup
Recognize the important role public safety communications centers play in incident response.
Describe the notification and verification process.
List the key information that should be included in a scene sizeup report.
Recall the typical responsibilities of a traffic management center.
Arrival and Vehicle Positioning
Differentiate between "move it" (move the vehicles from the roadway) and "work it" (work the incident with the vehicles still on the roadway) incidents.
Recall the MUTCD definition of safe-positioned.
Describe safe practices for working around or avoiding a situation where traffic is moving without a buffer of space between it and the incident scene.
Define the affected lanes, plus one (additional lane) blocking technique and describe the need for it.
Scene Safety
Describe how emergency vehicle markings can improve scene safety.
Describe recommendations for on-scene emergency lighting as set forth in the MUTCD.
Describe high-visibility safety apparel requirements for incident responders.
Identify at least three safety considerations related to working in or near moving traffic.
Command Responsibilities
Recall the importance of establishing and participating in an incident command system, a standardized, on-scene, all-hazards incident management approach.
Describe when it is appropriate to implement a unified command.
Identify the need for and use of staging areas.
Traffic Management
Describe the four main components of a TIM area.
Identify conditions at an incident scene that would require extending the advance warning area.
Describe the need for, and how to set up, a taper to move traffic from its normal path.
Identify and describe the two types of buffers that may be established at an incident scene.
Special Circumstances
List multiple ways to identify any hazardous materials being transported.
Recount good practices for responding to an incident involving a vehicle fluid spill.
Identify the safety concerns related to responding to an incident involving a vehicle fire.
Describe the primary goal of a crash investigation and the importance of preserving short-lived evidence.
Describe the importance of performing response tasks concurrently as they relate to safe, quick clearance.
Clearance and Termination
Describe quick clearance strategies for incidents that involve tractor trailers and spilled cargo.
List the type of information that towing and recovery companies need to facilitate responses.
Describe the major activities that take place during termination and how scene breakdown results in changing conditions.
---
Kimberly C. Vásconez is team leader of traffic incident and events management in FHWA's Office of Operations. Her team develops national policy, guidance, and tools for TIM, traffic planning for special events, incident management for transportation officials, and disaster transportation planning. Vásconez has 28 years of disaster management experience with FHWA, the U.S. Department of Homeland Security, the Federal Emergency Management Agency, and the U.S. Agency for International Development. She holds a master's degree in public and international affairs from the University of Pittsburgh and a bachelor's degree in journalism from Indiana University of Pennsylvania.
The author would like to thank James Austrich, SHRP2 TIM responder training course program manager, and Paul Jodoin and Mark Kehrli of FHWA's Office of Transportation Operations for their contributions to the article.
For more information, visit the FHWA Traffic Incident & Events Management Web site for TIM at http://ops.fhwa.dot.gov/eto_tim_pse/about/tim.htm, or contact Paul Jodoin at 202–366–5465 or paul.jodoin@dot.gov, or James Austrich at 202–366–0731 or james.austrich@dot.gov.