Saving the Past
An FHWA program reports on its 12-year track record of developing technologies and methodologies to restore and preserve historic covered bridges. Continued preservation of this scenic heritage is up to DOTs.
FHWA's National Historic Covered Bridge Preservation Program worked to advance techniques to preserve bridges such as the one shown here, the Portland Mills Bridge in Parke County, IN. The bridge is an example of a Burr truss arch (see inset).
In the mid-19th century, covered bridges proliferated in the United States. Wooden trusses of many different types were developed and patented to carry the traffic of the period. The addition of a roof and siding protected the wood from rain and snow and helped prevent decay and deterioration. Today, 800 covered bridges remain in the United States, representing a significant segment of the Nation's heritage.
Preservation, restoration, and rehabilitation of these picturesque structures present a challenge because retaining the historic integrity is important in order to preserve a unique engineering heritage. However, the covered bridges of the past were not designed to carry today's traffic loadings. Although many have been restored so they can continue to carry vehicular traffic, others have been repurposed for use as pedestrian bridges or moved to park settings.
In June 1998, the Transportation Equity Act for the 21st Century (TEA-21), as amended by the July 1998 TEA 21 Restoration Act, established the National Historic Covered Bridge Preservation Program. Funding for the program became available in 2000.
Administered by the Federal Highway Administration (FHWA), the covered bridge program had two key components. One was the award of grants to States through annual solicitations for preservation, restoration, and rehabilitation work. The other was for research, development, and education. The research and development (R&D) component focused on the development of methodologies that use an appropriate blend of new and traditional techniques to restore and protect these historic structures.
The succeeding highway legislation--2005's Safe, Accountable, Flexible, Efficient Transportation Equity Act: A Legacy for Users, or SAFETEA-LU for short--continued the covered bridge program. But the latest transportation legislation, the Moving Ahead for Progress in the 21st Century Act (MAP-21) of 2012, did not renew the program. As a result, historic covered bridges now have to compete with other infrastructure priorities for preservation work, and any new R&D activities have to compete with other needs as well.
During the program's active period from 2000 to 2012, grants funded work on more than 200 bridges that were listed or eligible for listing on the National Register of Historic Places, in 24 States at a total cost of $85.4 million. During the same period, the program funded more than 50 research, development, and education projects, supported by an additional $5.9 million.
"The covered bridge preservation program provided an opportunity to save many of our Nation's covered bridges from deterioration or destruction," says Myint Lwin, director of FHWA's Office of Bridge Technology. "Through research, the program worked toward finding better means and methods of preserving these historic structures and providing detailed records of these bridges, so that we can learn from the past to build innovations for the future."
Research, Development, And Education
FHWA conducted the research, development, and education portion of the program through a partnership and close collaboration with the U.S. National Park Service–Historic American Engineering Record (HAER) and with the U.S. Department of Agriculture (USDA) Forest Service–Forest Products Laboratory. The studies described in this article are a result of this collaboration and partnership.
"From a research perspective, FHWA's covered bridge program has provided the opportunity to formulate practical solutions for rehabilitating, repairing, evaluating, and protecting historic covered bridges that are truly national treasures," says Michael Ritter, assistant director of the Forest Service–Forest Products Laboratory. "By leveraging resources, the three participating agencies have been able to achieve greater results together than could have been achieved individually."
The program conducted research on improved means of restoring and protecting covered bridges, developed educational programs, and created technology transfer initiatives to disseminate information as a way to preserve this aspect of the Nation's cultural heritage. The R&D program focused on finding means and methods for repairing, strengthening, and treating historic covered bridges. Other efforts included developing historical documentation, creating educational videos and manuals, and holding workshops and seminars.
Although the program made dedicated funding available for preservation, restoration, and rehabilitation of historic covered bridges, lacking was a practical "how-to" guide useful to engineers and preservationists alike. Because many owners preferred that the historic structures continue to carry modern traffic, they needed a manual that blends the new and the traditional by applying current standards to original materials and construction methods.
Toward that end, FHWA published the Covered Bridge Manual (FHWA-HRT-04-098) in 2005. The document is available in print and online at www.fhwa.dot.gov/publications/research/infrastructure/structures/04098.
The manual provides information on techniques for inspection, repair, rehabilitation, and restoration. It also includes developments in both theoretical and practical aspects of inspection, plus discussion of historic and traditional construction.
In addition, another effort is ongoing to develop a companion to the Secretary of the Interior's Standards for the Treatment of Historic Properties. Because the original standards are focused on historic buildings and other structures, the new document will emphasize covered bridges rather than buildings and provide do's and don'ts geared to bridge examples.
Shown here is the Eldean Covered Bridge in Miami County, OH, built in 1860 using Stephen Long's truss patent. At 224 feet (68 meters), it is the longest Long bridge in the United States.
Protecting Wood From Deterioration, Vandalism, and Arson
Wood, if unprotected from environmental elements, can deteriorate due to biological activity, especially in moist conditions. During the era when covered bridges were being built, no chemical treatments were available to prevent fungi and insects from attacking and colonizing the wood and thereby causing the structures to deteriorate.
To prevent these attacks, the method used was to cover a bridge with a roof and sides to reduce the exposure of wood trusses to moisture and the elements. Although covering keeps the wood relatively dry and helps delay deterioration, moisture can migrate over time and lead to suitable conditions for colonization by wood-destroying organisms. In many covered bridges, components have had to be replaced due to decay that has occurred over the years.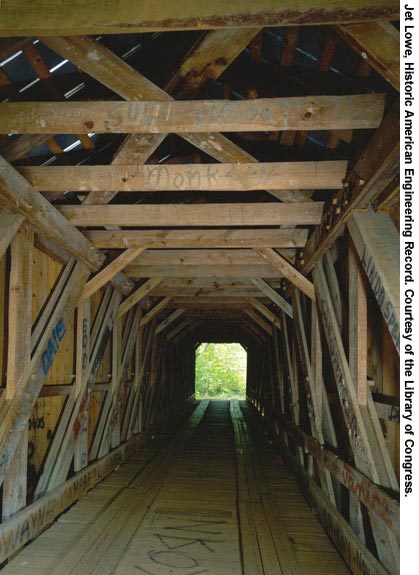 Shown is the interior of the Bunker Hill Covered Bridge, located in Catawba County, NC. Built in 1895, the bridge is the only surviving Haupt truss in the United States. The bridge suffered damage due to storms and vandalism, but a project is underway to repair it.
Today's chemical preservatives can prolong the life of wood components and increase service life. Many proven preservative treatments, however, have use restrictions that require a licensed applicator and handling precautions. In addition, some may not be acceptable for historic preservation, as they change the natural color of the wood or will not permit staining or painting after treatment. Some of the newer "environmentally friendly" chemical wood preservatives also are corrosive to metal fasteners used on wooden bridges. The covered bridge program's priority was to identify chemical treatments that can preserve wood members and also be noncorrosive to fasteners while still being acceptable to the historic preservation community.
Fire is another serious threat to historic covered wooden bridges, as many are lost through arson. In September 2002, the 119-year-old Cedar Bridge in Madison County, IA, was destroyed by fire, and similar stories have occurred in other States. The need to identify fire-retardant treatments, therefore, was another priority. Although large timbers have inherent fire-resistive characteristics that reduce the need for treatment, fire-retardants add an extra layer of protection and allow more response time for authorities.
This drawing shows a cutaway view of the Bunker Hill Covered Bridge.
Addressing These Concerns
In response to these issues, the program started two initial studies: one dealing with the identification of preservative treatments and fumigants for treating wooden bridges, and the other investigating the effects of fire-retardant treatments. The Guide for In-Place Treatment of Wood in Historic Covered and Modern Bridges (FPL–GTR–205), published in 2012, compiles results of the two studies and is available online at www.fpl.fs.fed.us/documnts/fplgtr/fpl_gtr205.pdf. The guide provides information on types of preservatives--including fire-retardant treatments--that can be used as field applications to arrest decay and the spread of flames. The treatments can be applied to existing structures in the form of rods, pastes, and fumigants.
To evaluate the performance of ferrous and nonferrous fasteners and the degradation of nonmetallic fasteners, the covered bridge program initiated a study of the corrosion of fasteners in wood treated with newer preservatives, specifically alkaline copper quaternary, copper azole, and micronized copper quaternary. This study also examined the feasibility of rapid testing to evaluate corrosion and the role played by moist environments.
Another study is evaluating naturally durable wood species that would not need to be treated. To replicate the covered bridge environment, the researchers are conducting outdoor tests on a number of wood species.
Also, to protect covered bridges from arson, a manual is nearing completion that owners can use to implement security measures.
System Performance and Condition Assessment
Because historic covered bridges were designed to carry much lighter loads than today's heavy vehicles, several studies are underway to improve understanding of these structures' load-carrying capacity. These studies also look to develop methods to strengthen bridge members, create more accurate rating procedures, and identify ways to decrease dead loads.
A study to strengthen historic covered bridges to carry modern traffic assessed the use of fiber-reinforced polymers to strengthen components. An FHWA TechBrief is available at www.fhwa.dot.gov/publications/research/infrastructure/bridge/07041/07041.pdf. A study to improve load ratings for covered bridges through load testing is developing rating procedures for reliably determining safe load-carrying capacities. Research to improve analytical techniques for historic covered bridges will recommend methods validated through data from field load tests to determine the behavior of various types of covered bridges. A study of lightweight floor replacements will assess commonly used systems that have been proven for applications on covered bridges. Another study aims to provide guidance on determining the residual capacity of structural wood members.
The timber trusses used in covered bridges set the stage for modern-day truss configurations. The historic covered bridge program is supporting projects to study several of these designs. The original design of William Howe, who patented the Howe truss, permitted tightening of the tension rods to induce compression in the wood diagonals. A study of the Howe truss design and performance will focus on the Moose Brook Bridge, a Howe boxed pony truss covered bridge in Gorham, NH, through both analytical and full-scale experimental tests.
The Cataract Covered Bridge in Owen County, IN, is a single span Smith truss bridge that received funding from the National Historic Covered Bridge Preservation Program.
Similarly, a study will focus on Burr Arch truss systems to improve understanding of the design and connection details of Theodore Burr's designs. To develop more precise calibrated models, the researchers will study the recovered Bartonsville covered bridge, damaged in the aftermath of Hurricane Irene in 2011, to determine the performance of a Town lattice truss in carrying and distributing loads.
Condition assessment of all bridges is essential to determine their safety. In accordance with the National Bridge Inspection Standards, all bridges longer than 20 feet (6.1 meters) on public roads are required by Federal regulation to be inspected every 24 months. Although visual inspection to determine condition is by far the most prevalent for all bridge types, more advanced technologies for inspections continue to be developed, primarily for steel and concrete structures.
The covered bridge program is supporting a study of the condition assessment of wood members to identify, adapt, and evaluate low-cost innovative technologies that bridge inspectors can use to examine wood members for decay more accurately and easily.
In addition to damages caused by age, environment, arson, and increasingly heavier loads, natural hazards such as floods also have played a role in destroying historic bridges. As Hurricane Irene moved up the northeastern United States, it brought major rainfall, and subsequent flooding washed away bridges in New Hampshire, New York, Pennsylvania, and Vermont, and damaged roadways in those States and Massachusetts. A study to evaluate and improve the hydraulic safety of covered bridges will develop retrofit strategies to help save these structures from future floodwaters.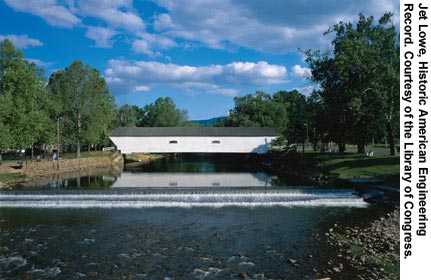 Painted white, the Doe River Bridge is located in Elizabethton, TN.
Historical Documentation
Under the R&D component of the program, more than 80 covered bridges have been documented to include a contextual history, large-format photographs, measured drawings, and engineering analysis. The target bridges are listed or are eligible for listing in the National Register of Historic Places. Completed works are available through the HAER collection of the Prints and Photographs Division at the Library of Congress at www.loc.gov/pictures/collection/hh.
Accurate documentation requires taking field measurements of the bridges and their various components in the detail necessary to develop interpretative drawings. Seeing the potential of using laser scanning technology and advanced cameras to generate as-built drawings that can produce the same level of detail as traditional approaches while being less labor intensive, the program has funded a study to determine the feasibility of this approach.
Using the detailed local and regional information generated through the documentation studies, as well as material contained in existing documentation by the Historic American Buildings Survey and the Historic American Engineering Record (HABS)/HAER) collection, a book on covered bridges and vernacular construction practices is being developed. The book will provide information on the extent to which local and regional practices used in barn and house construction influenced bridge construction techniques and materials. In addition, a collective biography of bridge builders will be undertaken.
National Historic Landmarks
The highest official recognition of historic properties is designation as a National Historic Landmark. The covered bridge program supports a study to assess the national significance of these structures to develop nominations. Through this effort, two bridges recently received the National Historic Landmark designation: the Knight's Ferry Bridge in Stanislaus County, CA, and the Humpback Covered Bridge in Covington, VA. More nominations of priority structures continue to be developed, but the process is long and the nominations have to compete with all other types of nominations for the National Historic Landmark status.
The Deer's Mill Covered Bridge in Montgomery County, IN, is a two-span Burr Arch truss bridge and received funding from the National Historic Covered Bridge Preservation Program.
Education and Technology Transfer
To enhance transportation education at all levels and build a bridge between youth and the transportation community, the program undertook the development of a comprehensive guide on covered bridges in the United States. The guide targets educators developing K–12 lesson plans for mathematics, science, and American history courses. The "Educational Guide to Covered Bridges in the United States" is available in hard copy and online at www.woodcenter.org/covered_bridges_education.
The guide has two components: printed lesson plans for educators and a companion disk with interactive and animated elements for students. The lesson plans include suggestions on adapting them to various grade levels, and include compilations of various types of covered bridges used in the United States and their history. The disk includes photos, descriptive drawings, and basic information including bridge type, year built, design loads, traffic, wood species used, information on the designer/builder, and much more.
The covered bridge program also funded a documentary titled "Spanning Time: America's Covered Bridges," developed by Indiana Public Television and aired on stations nationwide. In addition, a traveling Smithsonian exhibit on covered bridges was funded through the program and has traveled to a number of cities and towns across the United States.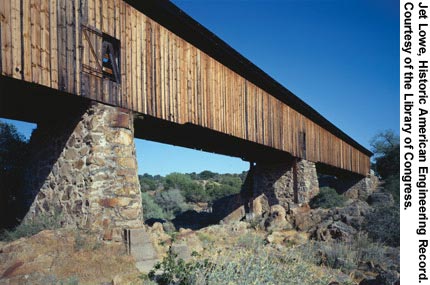 Knight's Ferry Bridge, shown here, is an 1864 Howe truss bridge in Stanislaus County, CA, and is the longest covered bridge west of the Mississippi. It is one of two recently named National Historic Landmarks.
The program also supported an interactive version of a database titled the World Guide to Covered Bridges. Available online at www.woodcenter.org/CoveredBridges, the database enables users to find information including the location, description, condition, and history of covered bridges. For enthusiasts planning a trip to see covered bridges in person, a visit to the Web site beforehand could be useful preparation.
To further knowledge transfer of structural behavior and the evolution of wooden truss designs among engineering and architecture students, the program is funding a study to develop designs for scale models of four significant truss designs: Burr, Town, Long, and Howe. The project will enable students to construct them and demonstrate the aspects of each design.
The program funded two covered bridge conferences as another means of knowledge sharing and technology transfer.
Bridging from the Past to the Future
"We've had a partnership with [FHWA's] covered bridge program since 2002 through three funding cycles," says Christopher H. Marston, architect and project leader with the National Park Service's Historic American Engineering Record. "We've documented more than 80 covered bridges, created a traveling exhibit, and held a conference 10 years ago, and we just did a second one."
Marston continues: "The second conference was held June 5–8, 2013, in Dayton, OH, to celebrate our accomplishments. We had speakers from around the country as well as international experts talking about various strategies for rehabilitation, including saving a variety of truss types in different regions of the country. We're also working on an engineering study, three more National Historic Landmark nominations, and two more books: a history of American wooden truss types and guidelines for best practices for rehabilitation in the future."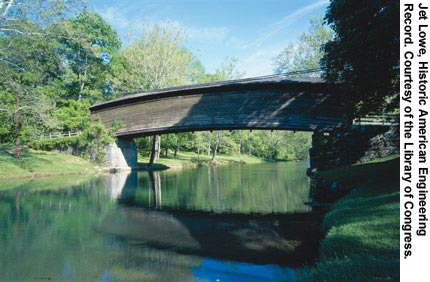 This unusual curved structure is the Humpback Covered Bridge, an 1857 multiple King Post truss. Located in Covington, VA, the bridge is the other recently named National Historic Landmark.
He concludes: "We're very proud of our partnership and what we've accomplished. The program has had a diversity of projects and a balance between safety, preservation, and engineering. It has gone a long way to saving more than 200 covered bridges. Our histories and guidelines will help future generations understand these bridges and their unique truss types."
Although the National Historic Covered Bridge Preservation Program is no longer part of the current highway legislation, many of the research studies are at different stages of completion, with some just getting started. As studies are completed, information resulting from the program will be available on the National Center for Wood Transportation Structures' Web site at www.woodcenter.org. Information on the grants program and covered bridge recipients can be found at www.fhwa.dot.gov/bridge/covered.cfm.
---
Sheila Rimal Duwadi, P.E., is team leader of FHWA's Hazard Mitigation Team in the Office of Infrastructure Research and Development (R&D) at the Turner-Fairbank Highway Research Center. She established the National Historic Covered Bridge Preservation Program and continues to manage the R&D component of the program. She is the FHWA liaison to the T-16 Timber Structures group within the American Association of State Highway and Transportation Officials' (AASHTO) Subcommittee on Bridges and Structures. Duwadi is also active within the engineering profession and currently is chair of the Structural Engineering Institute's Technical Administrative Division Executive Committee. Duwadi is a registered professional engineer in Virginia.
For more information, contact Sheila Rimal Duwadi at 202–493–3106 or sheila.duwadi@dot.gov.