Management and Administration
Along the Road is the place to look for information about current and upcoming activities, developments, trends, and items of general interest to the highway community. This information comes from U.S. Department of Transportation (USDOT) sources unless otherwise indicated. Your suggestions and input are welcome. Let's meet along the road.
Administrator Mendez Joins Washington Governor at Tunnel Groundbreaking
Federal Highway Administrator Victor Mendez recently joined Washington State Governor Chris Gregoire to kick off construction of the S.R. 99 tunnel in downtown Seattle. The tunnel will improve safety for hundreds of thousands of Seattle area drivers. It will be the world's largest tunnel, with a diameter of 57.5 feet (17.5 meters).
The 1.7-mile (2.7-kilometer) S.R. 99 tunnel will replace the Alaskan Way Viaduct, a double-decker bridge that handles more than 100,000 vehicles a day as a main north-south route through Seattle. Moving S.R. 99 traffic underground will improve safety in the corridor because the tunnel was designed to withstand a major earthquake. The change will avoid major disruption of traffic patterns due to loss of capacity on S.R. 99 in the case of viaduct damage or failure.
The viaduct that the tunnel replaces was built in 1953 and was severely damaged during the Nisqually earthquake in 2001. Engineers designed the four-lane underground tunnel as one of the safest places to be during a quake. A state-of-the-art control center will be installed to facilitate responding to emergencies, and the tunnel will be equipped with lighting, ventilation, and fire suppression systems. Wider lanes will ensure enough space for all vehicles, and long, gentle curves will provide safe sight distances for drivers in the tunnel. In addition, by moving the highway below ground, the city will be able to open more space above ground for promenades and parks, so communities can reconnect with the waterfront.
For more information, visit www.wsdot.wa.gov/Projects/Viaduct.
FHWA Signs Partnering Agreement with APWA
The Federal Highway Administration (FHWA) recently signed a partnering agreement with the American Public Works Association (APWA) to promote continued collaboration between the two organizations to provide high-quality, cost-effective, and safe transportation systems.
FHWA and APWA have maintained ongoing partnership agreements since 1997. Under the current agreement, activities will embrace innovation and new technologies and will center on continued education, outreach, information exchange, and proactive leadership. The partnership also will assist public works professionals in promoting safety, enhancing mobility, advancing communities' economic growth and development, and protecting the environment.
The agreement enables FHWA and APWA to capitalize on opportunities to improve service at the Federal, State, and local levels of government. To meet the partnership's goals, the two organizations will work cooperatively to understand the needs of public works officials and how they can best prepare for the future, educate the traveling public on the significance of infrastructure investment, and streamline the delivery of transportation projects. Further, the organizations will provide mutual assistance in educating and training transportation personnel to increase the effective use of technologies available to meet present and future transportation needs.
The two organizations also agree to collaborate on committees, in meetings and conferences, in research and training opportunities, and in other joint activities.
APWA
Technical News
Handheld Device Collects Data on Wildlife-Vehicle Collisions
Researchers at the Western Transportation Institute at Montana State University have created the Roadkill Observation Collection System (ROCS), a tool that enables road crews to collect accurate information about wildlife-vehicle collisions. ROCS integrates a handheld computer or PDA with GPS supported by customized software. Field personnel use the tool to document information such as the collision location and the species of wildlife.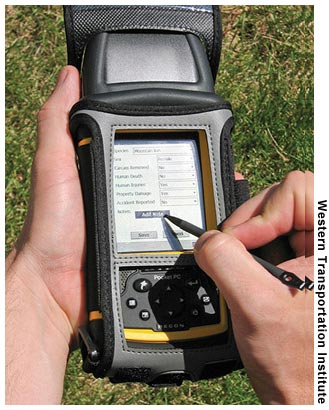 For transportation agencies, the immediate benefits of using ROCS include identification of high-risk road segments, access to information that supports mitigation efforts, and the availability of paperless reporting options. If widely deployed, the device has the potential to increase the collection and cross-jurisdictional sharing of standardized, accurate collision data throughout the United States. Additional broad benefits could include enhanced safety for travelers, preservation of wildlife and habitats, and targeted initiatives to protect endangered species.
In the initial project phase, researchers created and field-tested a successful proof-of-concept system, including an easy-to-use interface that facilitated rapid data entry. In the second phase, they developed practical modifications and customization of the software and hardware. The institute recently completed a third phase, which achieved goals related to managing, sharing, visualizing, and analyzing the data. New components include an Internet-based means of storing and retrieving data, and software to place the information on maps or to download it for analysis.
Up next, the researchers are pursuing efforts to facilitate broader deployment, including development of a smartphone application. For field crews with smartphones, a ROCS application would reduce the necessity and costs of obtaining additional PDA-GPS units.
For more information, visit http://utc.dot.gov/publications/spotlight/2012_03/html/spotlight_1203.html.
USDOT Research Shows Drivers Support Connected Vehicle Technology
An overwhelming majority of drivers who are given the opportunity to experience technology that enables vehicles to communicate with each other have a highly favorable opinion of its safety benefits, according to data released by USDOT. The National Highway Traffic Safety Administration (NHTSA) and the Research and Innovative Technology Administration (RITA) have been working with the auto industry, as well as State and Federal partners, to research the effectiveness and feasibility of connected vehicle technology that enables cars and trucks to "talk" to one another wirelessly. This technology could help prevent crashes and save lives.
USDOT held six driver acceptance clinics across the country between August 2011 and January 2012 to gather feedback from 688 drivers who participated in tests of vehicle-to-vehicle communications. The driver clinics, the first phase of USDOT's Connected Vehicle Safety Pilot Program, gathered information on how drivers interact with the technology. Four out of five participants, or 82 percent, strongly agreed that they would like to have vehicle-to-vehicle safety features in their personal vehicles. In addition, more than 90 percent of the participants believed that a number of specific features of the connected vehicle technology would improve driving in the real world, including features alerting drivers about cars approaching an intersection, warning of possible forward collisions, and notifying drivers of cars changing lanes or moving into the driver's blind spot.
In August 2012, USDOT launched the year-long second phase of the pilot program, which will test the performance of approximately 3,000 vehicles equipped with crash-avoidance technologies that include in-vehicle forward-collision warnings, "do not pass" alerts, and warnings that a vehicle ahead has stopped suddenly. The program will take place on roads in Ann Arbor, MI, and will also involve testing of technologies enabling vehicles to communicate with devices installed along the roadway.
Eight major automotive manufacturers are working with USDOT on this research through partnering agreements. NHTSA will use the information collected from the pilot program to determine whether to proceed with additional vehicle-to-vehicle communication activities, including possible future rulemakings, by 2013.
For more information on the Connected Vehicle Safety Pilot Program, visit www.its.dot.gov/safety_pilot/index.htm.
FHWA Geotechnical Expo Goes Virtual
In early 2012, FHWA held its first-ever virtual conference, offering free online attendance to approximately 150 participants from 22 State departments of transportation (DOTs). Attendees of the Virtual Foundation Expo could view and listen to presentations on drilled deep foundation technology, talk to presenters, and interact with other participants, all without leaving their offices.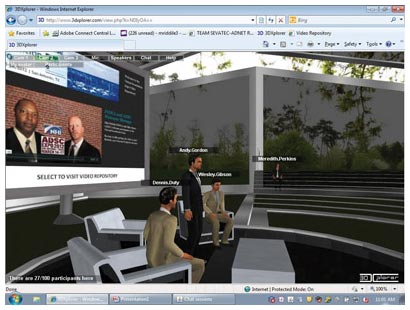 Held in conjunction with the 2012 International Association of Foundation Drilling conference in San Antonio, TX, and organized by the FHWA Office of Bridge Technology and National Highway Institute (NHI), the 2-day expo featured panel discussions on topics including quality in deep foundations, use of slurry in drilled foundations, and techniques for large-diameter and small-diameter hole excavation.
The second day of the expo featured live presentations streamed from the conference. Topics included load and resistance factor design (LRFD), anchored earth retention systems, and micropile systems. Videos showed demonstrations of geotechnical equipment, as well as interviews with equipment vendors.
For many agencies, several staff members were able to participate, increasing the value and knowledge gained. Based on the enthusiastic response from participants, NHI is exploring additional uses for the virtual technology.
For more information and to view videos and recordings from the expo, visit http://vimeopro.com/adsc/virtualfoundationexpo.
Manual on Orthotropic Steel Deck Bridges Released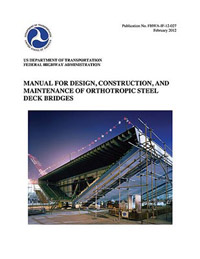 FHWA's recently released Manual for Design, Construction, and Maintenance of Orthotropic Steel Deck Bridges (FHWA-IF-12-027) presents a comprehensive guide to this technology for bridge design. First developed in Germany in the 1930s, the orthotropic steel deck system continues to offer tremendous potential for building efficient and cost-effective modern structures with extended service lives.
The defining characteristic of the orthotropic steel deck bridge is that its nearly all-steel superstructure has the potential to provide extended service life, standardized modular design, and rapid assembly compared to more conventional bridge construction. These bridges can have lower life-cycle costs because they include watertight, continuous riding surfaces with minimal joints, preventing leakage and protecting other structure components. Since most components are prefabricated, free of cast-in-place concrete, and lightweight, an orthotropic steel deck bridge can be built quickly.
Based on worldwide practice and modern analytical techniques, the manual describes many aspects of orthotropic bridge engineering, including analysis, design, fabrication, testing, inspection, and repair. This publication supplements and expands the 1963 Design Manual for Orthotropic Steel Plate Deck Bridges published by the American Institute of Steel Construction and is based on the AASHTO [American Association of State Highway and Transportation Officials] LRFD Bridge Design Specifications, Sixth Edition.
The manual examines orthotropic steel deck applications, as well as structural behavior and analysis. Sections of the manual cover design and construction, as well as techniques for inspection, evaluation, repair, and testing.
For more information and to download the manual, visit www.fhwa.dot.gov/bridge/pubs/if12027/if12027.pdf.
Public Information and Information Exchange
NCHRP Celebrates 50 Years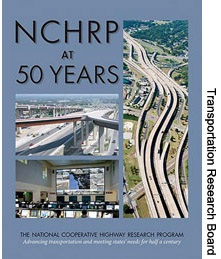 The National Cooperative Highway Research Program (NCHRP) recently released a brochure to commemorate its first 50 years and to highlight some of the program's milestones. Over the past 5 decades, the program has produced significant research that has had a lasting impact on how State highway agencies build, manage, and maintain the Nation's highway system.
At the time of NCHRP's founding in 1962, construction of the interstate highway system was already underway, and traditional highway problems were becoming much more complex. Responsibility for U.S. highways was still highly decentralized, and there was no vehicle through which State highway departments could pool resources to address common research problems.
Born of discussions between the predecessor of AASHTO and the Bureau of Public Roads (now FHWA), NCHRP was envisioned as a research body to advance the state of highway technology for all States and provide technical guidance across the highway transportation sector.
During its first year, the program initiated 34 projects valued at $3.5 million. Over the 50 years that followed, NCHRP has worked to help USDOT solve critical problems, deliver transportation research over a wide range of issues, and establish standards for how the Nation's highways are designed, built, operated, and maintained.
NCHRP has produced numerous publications, guidelines, and synthesis reports on topics of interest to the transportation community, including safety, highway capacity and design, asset management, security planning, and materials and construction.
To access the 50th anniversary brochure, visit http://onlinepubs.trb.org/onlinepubs/nchrp/docs/NCHRP_50thAnniversary.pdf.
Transportation Research Board
First National Bike to School Day Spurs Nearly 1,000 Events
On May 9, 2012, communities across the country celebrated the inaugural National Bike to School Day. Schools, cities, bicycle groups, public health organizations, and parents organized bike rides and pelotons to highlight the benefits of choosing foot-powered transportation to school. Almost 1,000 Bike to School Day events in 49 States and the District of Columbia registered through the official event Web site at www.walkbiketoschool.org.
"We knew there was support for a spring Bike to School Day, as many local bike-focused events have been held in the past," says Lauren Marchetti, director of the National Center for Safe Routes to School, which coordinates National Bike to School Day. "But the turnout for this first-time event was spectacular! We couldn't be more pleased with how many communities and families came together to promote biking to school on this 1 day."
Bike to School Day encourages a bike-focused celebration and builds on the popularity and success of International Walk to School Day, also coordinated by the National Center for Safe Routes to School and celebrated around the world each October. Both events encourage more physical activity for children and adults, and help to reduce vehicle emissions.
At an event in Washington, DC's Lincoln Park, NHTSA Administrator David Strickland joined students from several area schools to officially launch National Bike to School Day. The event was organized by the District Department of Transportation and the Capitol Hill Public Schools Parent Organization.
In total, more than 900 Bike to School events have been held nationwide in 2012, most of which occurred in May to support National Bike Month. The next National Bike to School Day will be held May 8, 2013.
For more information, visit www.walkbiketoschool.org.
National Center for Safe Routes to School
ODOT Works to Establish Public-Private Partnerships
The Ohio Department of Transportation (ODOT) recently followed the example of many other States entering into public-private partnerships for delivery of public projects and services. These partnerships can provide numerous benefits in the finance, design, construction, and operation of transportation facilities.
To develop and implement its partnerships-related policies and programs, ODOT launched the Division of Innovative Delivery. The division's mission is to identify innovative and alternative funding sources and advance ODOT's goal of developing long-term, sustainable solutions to fund future transportation construction projects. By reducing agency costs, commercializing noninterstate rest areas, and seeking sponsorship and naming rights for certain infrastructure projects, ODOT could save nearly $200 million annually.
The Division of Innovative Delivery is researching and developing alternative funding solutions for financing the construction of several transportation projects in Ohio, including a bridge spanning the Ohio River, a bypass, and an intermodal connector. The division also will seek to identify and generate potential alternative funding sources from State assets, such as the Ohio Turnpike; in addition, it is considering a sponsorship program for rest areas, bridges, interchanges, and sections of highways.
Currently, ODOT is reviewing all transportation projects in the State to identify those that could be potential candidates for public-private partnerships, as well as additional sources of revenue to aid in the funding of major transportation projects across Ohio.
For more information, contact Steve Faulkner at 614-644-7101 or steve.faulkner@dot.state.oh.us. See also the Web site for FHWA's Office of Innovative Program Delivery at www.fhwa.dot.gov/ipd.
ODOT
Scan Team Investigates Innovations For Roadway Tunnels
A domestic scan team sponsored by FHWA, NCHRP, and AASHTO recently traveled the country investigating innovations and best practices for roadway tunnel design, construction, maintenance, inspection, and operations. The project focused on the need for national standards and an inventory of all tunnels in the United States.
Team members included representatives from FHWA, State DOTs, and academia. The team visited California, Colorado, Maryland, Massachusetts, New Jersey, New York, Virginia, and Washington State and conducted Web conferences with representatives from other DOTs. Tunnels visited during the tour include the Central Artery/Tunnel in Massachusetts, the Eisenhower/Johnson Memorial Tunnel and the Hanging Lake Tunnel in Colorado, as well as the Chesapeake Bay Bridge-Tunnel and Hampton Roads Bridge-Tunnel in Virginia.
The scan team considered the issues of fire suppression, traffic management, incident detection and management, and repairs of existing tunnels, and reviewed innovations in construction and operations. Team members also looked at use of prefabricated elements like submersed tubes, ceiling panels, and concrete floors to accelerate tunnel construction.
"We had the opportunity to learn about best practices and innovations that States are using, so that these can be shared with other States," says scan cochair Jesús Rohena of FHWA. "We also observed the challenges that tunnel owners are facing throughout the country as tunnels get older. The scan proved to be an effective way to learn about the existing condition of the U.S. tunnels. We will use the information collected to provide input into future FHWA guidelines, policies, and regulations to make U.S. tunnels safer and more secure."
Based on the information gathered during the tour, the team made a number of recommendations, which include developing an emergency response plan specific to each facility, considering inspection and maintenance operations during the design stage, and developing site-specific plans for safe and efficient operation of tunnels.
For more information and to download the report, Best Practices for Roadway Tunnel Design, Construction, Maintenance, Inspection, and Operations, visit http://bridges.transportation.org/Documents/NCHRP20-68A_09-05%20(1).pdf.