Communication Product Updates
Communication Product Updates
Below are brief descriptions of communications products recently developed by the Federal Highway Administration's (FHWA) Office of Research, Development, and Technology. All of the reports are or will soon be available from the National Technical Information Service (NTIS). In some cases, limited copies of the communications products are available from FHWA's Research and Technology (R&T) Product Distribution Center (PDC).
When ordering from NTIS, include the NTIS publication number (PB number) and the publication title. You also may visit the NTIS Web site at www.ntis.gov to order publications online. Call NTIS for current prices. For customers outside the United States, Canada, and Mexico, the cost is usually double the listed price. Address requests to:
National Technical Information Service
5301 Shawnee Road
Alexandria, VA 22312
Telephone: 703–605–6000
Toll-free number: 800–553–NTIS (6847)
Web site: www.ntis.gov
Email: customerservice@ntis.gov
Requests for items available from the R&T Product Distribution Center should be addressed to:
R&T Product Distribution Center
Szanca Solutions/FHWA PDC
13710 Dunnings Highway
Claysburg, PA 16625
Telephone: 814–239–1160
Fax: 814–239–2156
Email: report.center@dot.gov
For more information on R&T communications products available from FHWA, visit FHWA's Web site at www.fhwa.dot.gov/research/library (or email fhwalibrary@dot.gov), or the National Transportation Library at ntl.bts.gov (or email library@dot.gov).
Jointed Full-Depth Repair of Continuously Reinforced Concrete Pavements (TechBrief)
Publication No. FHWA-HIF-12-007
This TechBrief describes an alternative method for making full-depth repairs in continuously reinforced concrete (CRC) pavements -- those with continuous longitudinal steel reinforcement and no regularly spaced contraction or expansion joints. The alternative method does not use continuous longitudinal reinforcement in the repair area. This method is suitable for repairing a single lane (or two of three adjacent lanes), and results in repairs that have continued to perform well after several years.
The continuous joint-free length of CRC pavement can extend to several miles, with breaks provided only at structures. These pavements can develop a transverse cracking pattern with cracks generally spaced at about 2 to 6 feet (0.6 to 1.8 meters). The cracking pattern is affected by the ambient weather condition at the time of construction, the amount of steel reinforcement, and concrete strength.
The South Carolina Department of Transportation developed a simple and innovative method for restoring CRC pavements using a jointed full-depth repair technique. For repairs in the outside lane of a two-lane roadway or in two adjacent lanes of a three-lane roadway, this technique has resulted in more than 10 years of good performance. It has not been applied to the repair of all lanes of a CRC pavement at a given location, which would leave the CRC pavement unrestrained at the transverse faces of the full-depth repair and subject to damage from daily and seasonal movements caused by fluctuations in ambient temperature.
This report presents some fundamental information about CRC pavement design, describes the methods that typically have been used for repair of CRC pavements, and discusses South Carolina's experience using a jointed full-depth repair technique.
The document is available to download at www.fhwa.dot.gov/pavement/pub_details.cfm?id=736. Printed copies are available from the PDC.
Pier Scour in Clear-Water Conditions with Non-Uniform Bed Materials (Report)
Publication No. FHWA-HRT-12-022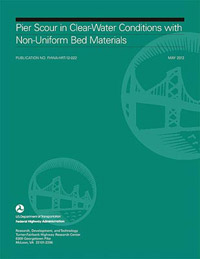 Scour hazards -- the water-induced erosion of the soil surrounding bridge foundations -- and flooding are the most common causes of bridge failures in the United States. State bridge authorities have identified flooding and scour among the top issues in bridge design and maintenance. A recent evaluation of research on bridge scour indicated a need to change the current design method because substantial advances have been made in understanding pier scour processes. The evaluation compared several design methods and determined which effectively included the variables now believed to determine pier scour characteristics.
This report describes a new method for estimating pier scour based on the latest knowledge regarding flow, structure, and sediment interactions and to address weaknesses in earlier methods. The research focuses on clear-water scour at singular piers in noncohesive sediment mixtures. Researchers undertook a critical review of selected studies and proposed a simplified scour mechanism in terms of a pressure gradient resulting from the flow-structure, flow-sediment, and sediment-structure interactions. Based on this simplified mechanism, researchers then proposed an equilibrium scour depth equation, and then validated and refined the equation using a combination of laboratory and field data. The proposed equation is primarily applicable to clear-water scour conditions with non-uniform coarse bed materials.
This report is intended for hydraulic and bridge engineers involved in bridge foundation design. The document is available to download at www.fhwa.dot.gov/publications/research/infrastructure/structures/12022. Printed copies are available from the PDC.
Evaluation of State Quality Assurance Program Effectiveness (Report)
Publication No. FHWA-HRT-12-027
Transportation agencies' construction quality assurance programs help ensure low-cost, high-quality construction, but how should these programs be evaluated? This report documents a study to develop, apply, and make recommendations for a procedure that can quantify and improve the effectiveness of existing quality assurance programs by analyzing the statistical risk inherent in complying with construction specifications.
Three State highway agencies provided quality assurance data from their construction projects for analysis. FHWA researchers selected four construction specifications for analysis from the three State highway agencies, two for asphalt pavements and two for portland cement concrete pavements. This report includes analysis of the specifications, particularly the risks involved, and recommendations for improving areas that are considered unclear or statistically invalid.
The study shows that software programs like SpecRisk or computer simulations can be used to analyze the statistical risks of most, if not all, specifications. The researchers found that both asphalt specifications and one of the portland cement specifications could be analyzed using SpecRisk because they are based on the statistical quality measure of percent within limits. This measure uses the sample mean and sample standard deviation to estimate percentage of a population that is within a specified range. The remaining portland cement pavement specification was based on averages of the quality characteristics and had to be analyzed by computer simulation.
The document is available to download at www.fhwa.dot.gov/publications/research/infrastructure/12027. Printed copies are available from the PDC.
Ultra-High Performance Concrete Composite Connections for Precast Concrete Bridge Decks (TechBrief)
Publication No. FHWA-HRT-12-042
Ultra-high performance concrete (UHPC), a durable and resilient construction material, can help highway agencies complete bridge construction and reconstruction projects rapidly onsite. FHWA researchers recently used UHPC to develop a novel composite connection detail for joining precast concrete bridge decks to supporting superstructure elements. This TechBrief discusses a research project to redesign a composite connection offering the following benefits: simple details, an absence of interference or field setup issues, increased long-term durability, and reduced concerns about aesthetics and rideability.
Researchers demonstrated that the field-cast UHPC composite connections are capable of meeting critical design, construction, and response requirements. The connections withstood loads greater than those required by the American Association of State Highway and Transportation Officials' bridge design specifications and exhibited performance surpassing that of a conventional test specimen. Based on the findings of the study, the report provides conceptual guidance to practitioners and researchers interested in using the UHPC composite connection detail. The TechBrief includes information on field-cast UHPC connections, mechanical and durability properties, composite connection details, and the physical testing program.
The document is available to download at www.fhwa.dot.gov/publications/research/infrastructure/structures/hpc/12042. Printed copies are available from the PDC.