Policy and Legislation
Along the Road is the place to look for information about current and upcoming activities, developments, trends, and items of general interest to the highway community. This information comes from U.S. Department of Transportation (USDOT) sources unless otherwise indicated. Your suggestions and input are welcome. Let's meet along the road.
Policy and Legislation
FHWA and FEHRL Sign Memorandum Of Cooperation
The Forum of European National Highway Research Laboratories (FEHRL) recently signed a memorandum of cooperation with the Federal Highway Administration (FHWA) to establish a business protocol to optimize international collaboration on highway research. A registered international association based in Brussels, Belgium, FEHRL is engaged in road engineering research and other activities. The association provides a coordinated structure for the interests of more than 30 European national research and technical centers, and other associated institutes around the world.
The memorandum sets forth a strategy to address transportation challenges that are common to both organizations by capitalizing on points of synergy and to facilitate knowledge sharing between member and associate highway research laboratories. A highlight of the business protocol is to establish a platform to pool funds from FHWA and FEHRL, leveraging funding as well as knowledge to improve the conduct of research and enable faster development and implementation of technology and innovation.
Each organization already has identified projects where its counterpart's research is further along. The organizations will select research topics based on FHWA's program plans and roadmaps and FEHRL's Strategic European Road Research Programme.
For more information, contact Debra Elston at 202–493–3181 or debra.elston@dot.gov.
Technical News
FHWA Helps Develop Product To Analyze Aggregates
An FHWA Technology Partnerships grant enabled Pine Instrument Company of Grove City, PA, to develop a tool to improve the analysis of aggregates used in paving. The Aggregate Image Measurement System (AIMS2) uses digital imaging technology to conduct accurate and rapid analyses of the characteristics of aggregates.
For use by aggregate suppliers, highway agencies, academic institutions, and pavement engineers, AIMS2 combines proprietary software with hardware that captures real-time digital images of paving material samples. The software analyzes aggregate characteristics that affect pavement quality, structural integrity, durability, skid resistance, and, consequently, road safety. Comparing digital images of samples to a reference database helps remove the subjectivity typically associated with aggregate classification, which can lead to inconsistencies in measurement, quality assurance, and mix design.
Growing use of innovative paving technologies has focused the highway industry's attention on the need for accurate aggregate characterization. As a result of industry trends and exposure that AIMS2 received during the Technology Partnerships evaluation, the device is developing a user base at highway agencies and among aggregate producers in the United States and abroad.
Through the Technology Partnerships Program, which funded projects to refine eight prototypes under real-world conditions, FHWA offered technical expertise and acted as a broker to help the private sector and State and local governments demonstrate and promote the technologies.
For more information, visit www.fhwa.dot.gov/hfl/partnerships/aims.cfm.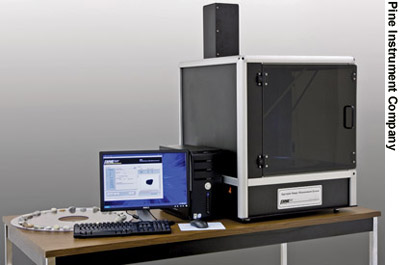 Public Information and Information Exchange
Winners of Connected Vehicle Technology Challenge Announced
USDOT's Research and Innovative Technology Administration recently announced six winners of a competition seeking ideas for using wireless technology to enable vehicles to communicate with each other. The winning ideas from the Connected Vehicle Technology Challenge may be incorporated into research on using technology to improve vehicle safety and transportation operations.
Entries had to use dedicated short range communications, a wireless technology similar to Wi-Fi. A USDOT panel selected five entries, while the sixth winning entry received the most votes from registrants on the competition Web site at http://connectedvehicle.challenge.gov. Winning entries featured the following innovations:
A real-time crash awareness system to accelerate emergency response and assist with traffic management.
A guidance system that helps drivers choose safer routes and avoid locations with frequent crashes.
Enhancements to the accuracy and security of GPS by autocorrecting illegally jammed signals.
An automated system for trading pollution credits among high- and low-emissions vehicles in which the level of pollution allowed is capped and credits are given to less-polluting vehicles.
A system that enables improved location measurements to within 3.2 feet (1 meter).
An intelligent transportation platform that can assist drivers with a range of tasks from choosing a route to reserving a parking space.
The Connected Vehicle Technology Challenge is based on the belief that innovative thinking and advanced technology are keys to improving safety and efficiency on roads and highways. The challenge aims to produce ideas that will help to propel the U.S. transportation system into the future.
Peer-to-Peer Program Assists With Road Safety Audits
FHWA has identified road safety audits (RSA) as one of nine proven safety countermeasures effective at reducing injuries and fatalities on the Nation's roadways. An RSA is a safety-focused field inspection of a particular roadway or intersection conducted by a multidisciplinary team of experts in road safety, traffic operations, and highway design. FHWA's Office of Safety has established a peer-to-peer (P2P) program to assist road owners with technical or procedural questions regarding RSAs.
The P2P program is available to public agencies at no charge. The program provides convenient access to experienced RSA professionals to help agencies understand the process and offers onsite assistance to ensure successful completion of the first RSA. Further, the program supplies guidance on RSA team composition, information that should be collected in advance of the RSA, and funding options available for performing RSAs.
In addition to this program, FHWA offers other P2P programs for agencies looking for assistance in areas such as roundabouts and local and rural road safety. To request peer assistance, call the P2P Help Line at 866–727–3492 or email safetyp2p@dot.gov.
For more information or to submit a request online, visit http://safety.fhwa.dot.gov/p2p.