Crisis Response
Federal aid helps States repair roads damaged by hurricanes and other natural disasters.
Responding mainly to hurricane damage in the Southeast and winter storms in the West, the Federal Highway Administration (FHWA) is disbursing $686 million to help cover the cost of road repairs in 31 States and territories.
"Our priority after a natural disaster or emergency is repairing the transportation network so local communities can rebuild, businesses can reopen, and people can resume their lives," said Federal Highway Administrator J. Richard Capka when he announced the Federal aid on July 31, 2006.
The aid is being channeled through FHWA's emergency relief (ER) program and was allocated through the Emergency Supplemental Appropriations Act for Defense, the Global War on Terror, and Hurricane Recovery, 2006. President George W. Bush signed the bill June 15, 2006.
The ER Program
The ER program reimburses States for 100 percent of costs incurred during the first 180 days after a natural disaster to restore essential transportation services, protect lives and property, or prevent further damage. It also applies to temporary repairs and removal of debris on Federal-aid highways. For permanent repairs, Federal funds reimburse States at 80 percent for the National Highway System and 90 percent for the Eisenhower Interstate System.
Congress authorized the ER program in 1958 to help repair or rebuild Federal-aid highways and roads on Federal lands damaged by natural disasters or catastrophic failures from external causes. To be eligible under the disaster provision, highway damage must be severe, occur over a wide area, and result in unusually high expenses to the highway agency, such as those caused by floods, hurricanes, earthquakes, tornadoes, tidal waves, severe storms, and landslides.
Also, each reimbursable event must be declared a disaster by the State's Governor. The damaged roadway must be a Federal-aid highway, defined by functional classification as highways other than rural minor collectors and local roads. (Non-Federal-aid highways may be eligible for assistance from the Federal Emergency Management Agency.)
Generally, elements of the damaged highway eligible for ER funds include pavement, shoulders, slopes and embankments, guardrails, signs and traffic control devices, bridges, culverts, bike and pedestrian paths, fencing, and retaining walls. Other eligible items include engineering and right-of-way costs, debris removal, transportation system management strategies, administrative expenses, and equipment rental expenses. The following States received aid from recent disasters.
West Coast Winter Storms
California received nearly half—$309.1 million—of FHWA's total disbursement, most of it ($296.2 million) reflecting winter storms. In December 2002, heavy rain and flooding washed out portions of 9 highways in 15 counties. In December 2004, a series of powerful storms dropped record rainfall on southern California, causing flooding, mudslides, debris accumulation, and roadway washouts in 8 counties. (The remainder of California's allotment was related to summer flash flooding near Death Valley National Park and the San Simeon Earthquake in San Luis Obispo County.)
Oregon was affected by heavy rains in December 2005, resulting in flooding and landslides that seriously damaged Federal-aid highways in 24 counties. FHWA awarded the State $38 million for eligible highway repairs associated with the disaster.
To the north, Washington State also was pummeled by winter storms. Beginning December 19, 2005, and lasting 6 weeks, a series of fronts brought heavy rain, high winds, and flooding, damaging roads statewide. The Governor declared a state of emergency for 39 counties. In December 2004, 4 days of rain and wind had damaged roads in Jefferson County; in October 2003, a week of rain and wind flooded highways and bridges in 12 counties; and in September 2005, a rain-induced rockslide damaged I-90 in King County. The State was reimbursed $19.4 million for the disasters.
In addition to the West Coast, Hawaii received $11.5 million for floods experienced in March 2006. Rain fell throughout the State all month, most dramatically triggering failure of the Ka Loko Reservoir, which substantially damaged the Kuhio Highway.
Hurricanes
Nearly $130 million of the emergency spending bill covered damages from five hurricanes and three similar storms. Most expensive by far was Hurricane Dennis, which struck the Florida Panhandle on July 10, 2005. Dennis was the first hurricane of the 2005 Atlantic season, reaching the Saffir-Simpson Hurricane Scale Category 4 status at its peak. It arrived in Florida with sustained winds of 159 kilometers per hour (kph) (99 miles per hour [mph]) and gusts up to 195 kph (121 mph). Dennis damaged areas between Tallahassee and Pensacola, including U.S. 98, which runs along the coast for more than 322 kilometers (200 miles). Florida received $118.5 million from FHWA as reimbursement.
"It's great for the State of Florida that we received this help," says James Rodgers, District 3 director of transportation operations for the Florida Department of Transportation. Fast-growing Florida already is $50 billion to $70 billion behind in infrastructure construction and can scarcely afford expensive setbacks, he says.
"Every hurricane is unique, and Dennis was different in that it did most of its damage 150 miles [242 kilometers] away from its direct-hit site, off in Franklin County," Rodgers explains. In Franklin County, the State will oversee about $90 million in recovery work compared to $75 million of construction work in the remainder of Florida.
Alabama was damaged by Hurricane Ivan, which came ashore at Gulf Shores early on September 16, 2004. A Category 3 storm, Ivan's peak winds topped 201 kph (125 mph) and produced a 4.9-meter (16-foot) storm surge. Most of the highway damage came in the form of downed trees, landslides from heavy rainfall, and trees drifting into bridges. The storm surge caused roadway washouts in coastal Baldwin County and Mobile County. Alabama had already received ER funds from FHWA for Hurricane Ivan, but the emergency spending bill provided another $5.2 million for additional needs.
Hurricane Isabel struck the beaches of North Carolina on September 18, 2003, causing widespread flooding and damage to Federal-aid highways. It brought winds up to 161 kph (100 mph) and overwash to the Outer Banks that destroyed homes and parts of the main highway, NC-12. The $5.0 million provided by FHWA responded to a supplemental request to cover repairs of the Herbert C. Bonner Bridge.
Hurricane Ophelia also primarily affected North Carolina, making landfall on September 14, 2005, but heading back out to sea the following day. Transportation-related damage came from large-scale timber debris on Federal-aid roads, countywide sign and signal destruction, drainage pipe and pavement washouts, and damage to ferry routes and ports. The State received $1.2 million in reimbursement.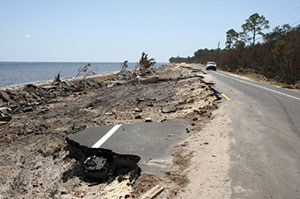 The fifth hurricane was Floyd, now 7 years past. New York State received $245,000 to supplement earlier aid. In September 1999, Floyd brought heavy rain and high winds, leaving debris and otherwise damaging roads and bridges in much of the State. Federal-aid highways were affected in 16 counties. (New York received $11.8 million, mostly for flood damage not related to hurricanes.)
The emergency appropriations also covered damage in South Carolina from Tropical Storm Gaston in August 2004, in American Samoa from Tropical Cyclone Olaf in February 2005, and in the Northern Mariana Islands from Typhoon Chaba in August 2004. The combined aid for these three storms was about $2.7 million.
Of course, the worst hurricane in recent memory was Katrina, and FHWA addressed it following passage of another spending bill, the Department of Defense, Emergency Supplemental Appropriations to Address Hurricanes in the Gulf of Mexico, and Pandemic Influenza Act, 2006, signed by President George W. Bush on December 30, 2005. In total, nearly $2.8 billion in ER funds were provided to the gulf coast region to address Federal-aid highway damage related to Katrina (and to lesser extents to Hurricanes Rita and Wilma). Louisiana received $1.2 billion, Mississippi $1.0 billion, and Alabama, Florida, and Texas divided the remainder.
New England Flooding
The appropriations also included about $24.2 million to help cover damage suffered in New England from unprecedented autumn rainfall. The downpours began October 7, 2005, and continued for 11 days. By the time the rains ended, Federal-aid roadways were damaged throughout the States of Connecticut, Massachusetts, New Hampshire, and Rhode Island.
Worst hit was New Hampshire, where severe rain and flooding occurred in every county. The Governor declared a State of Emergency on October 9, 2005, after 28 centimeters (11 inches) of rain had fallen in 24 hours in portions of the State. New Hampshire received $17.9 million in aid from FHWA. Least affected was Connecticut, which received $735,000.
Massachusetts received $3.9 million for Federal-aid roadways damaged in six counties. Rhode Island received $1.7 million to assist with flood damage recovery after a week of rain, and the Governor on October 17, 2005, declared a disaster. Road damage encompassed both multilane principal arterials and other facilities. I-95 sustained heavy damage, with severe erosion of embankment slopes and undermining of pavement and guardrails.
Other Items
About $22 million was provided to cover flood damage in the interior West. In normally arid Nevada, a series of storms beginning December 24, 2004, and not ending until January 14, 2005, brought heavy rainfall to higher elevations. This followed early winter snows, and extreme runoff and flooding occurred. Nevada received $16.9 million in reimbursement from FHWA. Southwestern Utah suffered severe storms and flooding that destroyed or damaged eight bridges and 16.1 kilometers (10 miles) of roadway. The State received $5.1 million in aid.
Montana received $15 million to compensate it for two rockslides. In May 2005, heavy rain and snowmelt caused flooding and slides along the Beartooth Highway, which provides access to Yellowstone National Park in Wyoming. In February 2004, a rockslide damaged U.S. 93 along the Montana-Idaho border.
And in the Midwest, Ohio was reimbursed $51.5 million for winter storm damage beginning in December 2004. After 1 week of rain, the Governor's Office declared a disaster that included 20 counties. On January 13, the Governor amended the declaration to include 39 more counties, and in April he declared another 3 counties as disaster areas.
---
Greg Wolf is the ER program engineer with the FHWA Office of Program Administration in Washington, DC, a post he has held since October 2003. He provides technical assistance and guidance on ER program issues to FHWA division office personnel as well as State and local partners nationwide. He holds a bachelor's degree in civil engineering from the University of Maryland.
For more information, contact Greg Wolf at 202-366-4655 or greg.wolf@dot.gov.