CAD and ITS Working in Concert
Field tests are integrating advanced traffic management systems with computer-aided dispatch systems to provide real-time information that can improve public safety.
The computer-aided dispatch (CAD) systems used by law enforcement and other emergency response agencies provide dispatchers and response units with real-time information on road incidents. These public safety systems typically track data on assignments to response units, locations of crashes, equipment locations and statuses, utility locations, and special hazards. If CAD systems and Intelligent Transportation Systems (ITS) could work together, public safety agencies would have instant access to real-time information on traffic and road conditions. Emergency responders would reach incident scenes more quickly and manage the responses more efficiently. By the same token, transportation agencies could use real-time information from CAD systems to manage the traffic-related effects of emergencies more efficiently.
Most existing CAD systems are proprietary, however, and are not designed to exchange information with CAD systems offered by other vendors, let alone with ITS technologies. Variations in formats and protocols for data exchange and messaging pose additional challenges, as do different system standards in the transportation and public safety communities.
To address these challenges, the U.S. Department of Transportation (USDOT) recently launched two projects to demonstrate that the technical and institutional barriers to integration of public safety and transportation systems can be overcome. The USDOT ITS Public Safety Program funded the two new field operational tests—one in Salt Lake City, UT, and one in Seattle, WA—to establish the feasibility and benefits of integrating public safety CAD systems with the advanced traffic management systems (ATMS) already used by transportation agencies as part of their ITS deployments.
The timing could not be better, since many State and local public safety agencies are planning long-needed upgrades for their CAD systems in anticipation of funding for homeland security.
"We are delighted to have the opportunity to work on a project of such national significance," says Richard Manser, interim ITS director with the Utah Department of Transportation (UDOT). "These technologies have the potential to improve public safety and security significantly through real-time sharing of incident-related information between public safety and transportation agencies."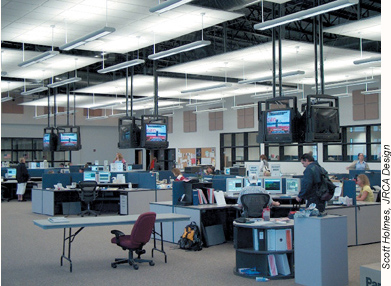 Utah's Advanced Traffic Management System
In Utah, the State transportation agency already had integrated its CommuterLink advanced traffic management system with the Utah Department of Public Safety's CAD system in a test mode. The State will use USDOT funding to expand this integration to include several other CAD systems in the Salt Lake Valley. The major aim of the Utah project is to define and develop a common message set that can be easily integrated by CAD vendors without affecting their proprietary products or other sensitive information.
This level of integration will require an unprecedented degree of collaboration among several independent CAD vendors. The project also will mark the first time that integration and electronic transfer of data have linked such a wide variety of emergency management centers with a statewide traffic management center.
"UDOT and the Utah Department of Public Safety have been working across organizational boundaries for years and are setting a great example of partnering," says John Njord, UDOT's executive director. "This contract will allow us to take our past experience, build upon it, and share the results with the rest of the country."
Utah Integrates Four CAD Platforms
Utah will build on the solid, existing institutional relationships among public safety and transportation agencies in the Salt Lake City region to share a wide range of technologies for emergency response and traffic management. In addition to UDOT and the Utah Department of Public Safety, partners in the Utah project include the Valley Emergency Communications Center in Salt Lake County, the Salt Lake City Fire Department, the Salt Lake City Police Department, the Utah Transit Authority, four CAD vendors that provided the legacy systems used by the project partners, and TransCore—the UDOT contractor for systems management and integration.
Utah's CAD/ITS system includes four major components. The first is enhanced message/data set functionality. The originating agency will be able to select which agencies receive shared data messages. Agencies will be able to update or create incident records automatically using the shared data. Development of the message sets will be based on the most recent Institute of Electrical and Electronics Engineers' (IEEE) 1512 standards. Other transportation and public safety agencies around the country may want to use these systems at some point.ÊFor this reason, the message sets will be designed with open architecture that will allow for easy interface with other proprietaryÊsystems.
The second major component is automated vehicle location integration. The integrated CAD/ITS system will provide several tools to help the partners improve their daily operation. Automated vehicle location enables transportation and public safety agencies to track the locations of their response units. Integrating and sharing automated vehicle location data will provide benefits to dispatch agencies, such as being able to convey the locations of snowplows to all field units concerned with roadway conditions.
Coupled closely with automatic vehicle location, geographic information system capability will provide dispatching agencies with real-time information for route guidance, estimation of arrivals, and identification of the response units closest to the location in need. Transportation operations managers can use the same information for incident tracking and managing incident severities.
The final major component is CAD-to-CAD and CAD-to-ATMS infrastructure. Upon completion of the Utah field operational tests, dispatchers and UDOT operations personnel will be able to send messages and incident status updates to one another with a simple click of the mouse. This automatic and seamless operation will eliminate the need to reenter data. All users will have access to more incident information and will be able to retrieve it more quickly. In the emergency management world, this access translates to saved lives, time, and money, and reduced traffic delay.
Washington Explores CAD Integration
The Washington State Patrol's upgraded CAD system, scheduled for initial installation in July 2003, will be integrated with the Washington State Department of Transportation's (WSDOT) Internet-based secure data network. The WSDOT network enables State, regional, and local agencies to share information about road incidents, weather conditions, traffic delays, and other situations. A key goal is to demonstrate how open communication between the law enforcement and transportation agencies can improve emergency response and dissemination of traveler information without placing additional burdens on the already-busy emergency response and radio dispatch staffs.
"This is a great opportunity for the [State] Department of Transportation and Washington State Patrol to work together to improve roadway condition reports for the traveling public," says Washington State Transportation Secretary Doug MacDonald. "Consistent and timely information delivered through our traveler information systems will help save lives and make the most efficient use of our highways."
USDOT and DOJ Joint Initiative
USDOT is coordinating with the U.S. Department of Justice (DOJ), which has several programs related to cross-agency and cross-jurisdictional integration of CAD and records management systems (RMS). The goal is to facilitate the cross-agency and cross-jurisdictional integration of ITS, CAD, and RMS systems.
DOJ Office of Justice Programs Justice Extensible Markup Language Initiative. This data-sharing initiative explores information sharing and technology integration in the justice and public safety communities. USDOT is working with the Department of Justice to coordinate with ongoing extensible markup language activities in the transportation community. For more information on this initiative, go to http://it.ojp.gov.
Interoperability Strategies for Public Safety (AGILE). Sponsored by DOJ's National Institute of Justice, AGILE's mission is "to assist State and local law enforcement agencies to effectively and efficiently communicate with one another across agency and jurisdictional boundaries." For more information, visit www.agileprogram.org.
National Institute of Justice Communications Interoperability and Information Sharing Publications. The National Institute of Justice publishes and identifies research reports, research summaries, guides, and other documents for practitioners, policymakers, and researchers interested in communications interoperability and information sharing. For more information, visit http://www.ojp.usdoj.gov/nij/sciencetech/ciis_pub.htm.
Washington System Is Internet-Based
State patrol dispatchers throughout Washington State will share a common platform for the first time when the Washington State Patrol's upgraded CAD system goes online. The newly procured CAD system, which will output information using a universal data transfer capability, will be pilot-tested in one region before going statewide.
The Condition Acquisition and Reporting System (CARS) is an Internet-based system that enables State, local, and regional agencies to collect and share information on road incidents, weather conditions, traffic delays, and other situations. The acquisition and reporting system is based on ITS standards and exchanges data using Extensible Markup Language (or XML). Data from the acquisition and reporting system are used to coordinate roadway response; they also supply a portion of the traveler information content in WSDOT's 511 travel information system and Internet pages. Created by CastleRock Consultants, a partner in the USDOT project, the acquisition and reporting system is used as the basis for reporting 511 travel information by eight States in addition to Washington.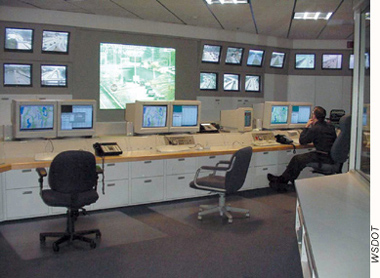 WSDOT plans to integrate CARS with the State patrol's CAD system by creating new systems-integration software with three components. The first component, Primary Alert, is a computer-based interface from the Washington State Patrol to WSDOT. The direct line ensures that a filtered report will appear in the WSDOT CARS within a minute of a transfer from the CAD system. The report will include onscreen map displays of the incident. The filters will ensure that the law enforcement agency releases only necessary and appropriate information to the transportation agency to address privacy and security concerns.
Response Support is the second component of the software. The information provided will help Washington State Patrol dispatchers ensure the most efficient response to the incident location. On a separate Web page that is linked to the State patrol's CAD system, troopers can find information about traffic, construction, or adverse weather conditions that could affect their response.
The final component, Secondary Alert, is a direct computer-based interface to secondary responders. Secondary Alert will reach, among others, emergency medical services, towing and recovery service providers, and utility companies. Secondary Alert will transfer incident information to responders about events in the State patrol CAD system and the WSDOT CARS. The Skagit County emergency medical service is partnering with WSDOT and the Washington State Patrol in the USDOT project. Towing and recovery services already are integrated into incident-response operations through a three-party agreement with WSDOT and the Washington State Patrol.
USDOT Supports Other Integration Efforts
In addition to the CAD/ITS field operational tests, the USDOT ITS Public Safety Program is supporting several other activities to promote the integration of ITS with public safety CAD systems.
IEEE Standard 1512, Standard for Common Incident Management Message Sets for Use by Emergency Management Centers, provides a common set of automated messaging standards for exchanging vital data concisely, unambiguously, and rapidly. The standard addresses messages related to an emergency incident that are shared among the communications centers of various agencies. The standard is carefully tailored to allow a wide range of local variation in implementation, consistent with the National Intelligent Transportation System Architecture. For more information, visit www.its-standards.net/Documents/FSP1512_r2.pdf.
National Transportation Communications for ITS Protocol (NTCIPª). NTCIP is a standardization project funded by FHWA and involving several standards-setting organizations. The project enables electronic traffic-control equipment developed by different manufacturers to operate with one another as a system to reduce the need for reliance on specific equipment vendors and customized one-of-a-kind software. For more information, visit www.ntcip.org.
National Fire Protection Agency (NFPA) 1221 Standard for the Installation, Maintenance, and Use of Emergency Services Communications Systems (NFPA 1221). As a result of USDOT involvement in the ongoing development of this standard, a requirement has been added to the 2002 edition of NFPA 1221 to support automated information exchange between public safety and transportation information systems. The 2002 edition also provides updated information on call-taking and processing, and outlines requirements for portable and mobile radio capabilities. For more information, visit www.nfpa.org/catalog/product.asp?pid=122102&scr=nfpa&cookie%5Ftest=1.
Society of Automotive Engineers (SAE) Advanced Traveler Information System (ATIS) Standard J2354. Completed activities include developing XML versions of the standards; building a demonstration model of a multistate, multimodal traveler information system that gathers information from several sources and then provides the information to the public and other agencies in a common, consistent format; and providing information about Federal travel information standards to State and local agencies. For more information, visit www.sae.org.
The more that Federal, State, and local agencies can learn from these projects—even those with older systems—the more quickly barriers to integration will fall. As integration becomes more widespread, the public's health and safety will have one more vital safeguard.
---
K. Craig Allred is the ITS public safety program coordinator in the USDOT ITS Joint Program Office of the Federal Highway Administration (FHWA) in Washington, DC.
For more information on the integration of CAD and ITS, visit
www.itspublicsafety.net.