Rehabbing Maine's I-295 Southbound
Full road closure, robust public outreach, and diverse safety measures helped MaineDOT complete the job on time and on budget.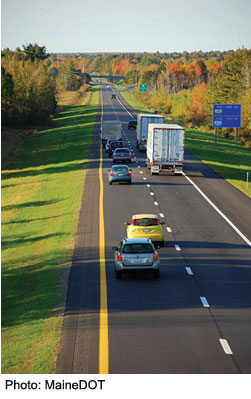 Maine's I-295 between Gardiner and Topsham is a critical section of highway in the southern part of the State. I-295 serves as an offshoot from Maine's only north-south interstate, I-95 (Maine Turnpike), and provides closer access to tourist destinations such as Freeport and coastal communities between Portland and Augusta. According to the Maine Department of Transportation (MaineDOT), the road carries approximately 13,500 cars per day during the peak summer travel season, when residents and tourists alike flock to the State's lakes, mountains, and coastal communities.
Constructed in the early 1970s using concrete slabs, I-295, like many roads from that era, was beginning to show signs of accelerated deterioration. The culprit: alkali silica reactivity (ASR), which is a chemical reaction between the alkali in the cement and silica in certain aggregates. The reaction creates a gel that attracts water in the concrete, leading to premature deterioration in structures such as pavements and bridges. Infrastructure affected with ASR exhibits cracking and, in heavily distressed structures, movement due to excessive expansion.
"The concrete was literally breaking up in place, causing pieces to come loose in the roadway," says Brad Foley, who was then MaineDOT's safety office director. "This posed a significant maintenance and safety issue."
Maine's harsh winters, with low temperatures and heavy snowfall, offer no favors to the highway industry, virtually requiring paving and other construction activities be performed between May and October. In January 2008, the MaineDOT design team proposed a bold plan: Shut down the 18-mile (29-kilometer) stretch of I-295 southbound from Gardiner to Topsham — during the peak of the State's $10 billion summer tourism season — to reconstruct the pavement.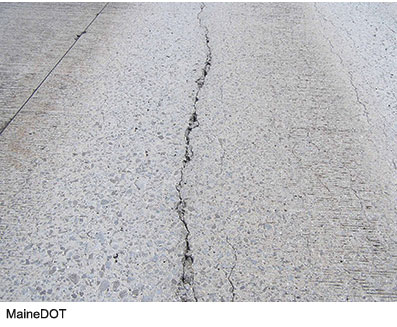 At a press conference to announce the general contractor selected to execute the project, MaineDOT Commissioner David Cole acknowledged the seeming incongruity of the proposed schedule. "Summer is clearly an important time in Maine for both local and national tourists to visit our beautiful State," he said. "Unfortunately, due to our weather conditions, this is the only time paving of this nature can be completed. We are confident that the alternative routes and the plans we have put in place will help to get motorists safely and efficiently to their destinations."
Sensitive to the potential impact on Mainers, visitors, and the economy, MaineDOT set firm dates for start (June 16, 2008) and completion (August 30, 2008) and offered its contractor a $2 million incentive for early completion, promising penalties for delays. The ambitious plan worked. It worked so well, in fact, that the department used the same approach in summer 2009 to reconstruct the northbound lanes of I-295. The I-295 southbound project came in on time and on budget and was a safety and public relations success. Here's how.
Project Nuts and Bolts
The $28 million project, 90 percent funded by the Federal Highway Administration, included laying down 181,000 tons of asphalt, rehabilitating five bridges, and installing 7 miles (11 kilometers) of guardrail.
MaineDOT chose full road closure instead of partial closure or having I-295 northbound serve as both northbound and southbound lanes for several reasons. Due to Maine's short construction season, the department estimated that the project would take three construction seasons to complete with partial closure, versus just 3 months with full closure. Detouring all traffic to I-295 northbound was deemed cost and time prohibitive ($37 million to $43 million versus $28 million for full closure), considering the additional time and money that would have been required to improve guardrails, reconstruct shoulders, and build crossovers and new on and off ramps. Most important, safety issues such as lack of shoulder width, inability for first responders to reach crash sites, and the increased volume of vehicles took that option out of contention.
At midnight on June 15, 2008, MaineDOT closed the project section and diverted southbound traffic to alternate roads: the Maine Turnpike (I-95), ideal for trucks and other traffic headed to Portland and points south, and Route 201, a rural highway running through small towns and the recommended route for travelers heading to the Brunswick/Freeport area. In addition to signage on the highway, motorists learned about the alternate routes through print ads in local newspapers; posters at rest areas, tollbooths, and tourist destinations; and radio spots aired during prime drive times.
Construction kicked off with a subcontractor removing the old concrete by milling the top 3 inches (7.6 centimeters) off the concrete slabs. The material was then either placed on the shoulder or delivered to an onsite staging area. At the staging area, a portable crusher processed the material for reuse as shoulder aggregate. The millings from the surface of the existing concrete pavement served not only to provide shoulder aggregate but also reduced the extent of inslope regrading needed.
The next step was "rubblizing" the remaining concrete pavement. Rubblization is the process of applying high-frequency vibration to break up concrete slabs in place into pieces 6 inches (15.2 centimeters) or smaller. This material was left in place to provide a frost-resistant aggregate base for the new hot mix asphalt (HMA) roadway to be placed later. The contractor completed this process in less than 2 weeks.
Cold planers previously had removed the remaining asphalt shoulder pavement. Over the next 5 weeks, the workers rehabilitated three bridge decks, replacing approach slabs and end caps, as well as upgrading decks and expansion joints.
By June 23, the contractor began trailing the rubblization process with paving. The plan called for 8 inches (20.3 centimeters) of HMA pavement over the rubblized concrete. For this effort, the contractor employed up to five paving crews at one time to meet the schedule. In some cases, crews used a technique known as echelon paving, where pavers are positioned side by side but slightly offset and lay down multiple lanes of HMA. Upon completion of paving, the contractor installed the guardrail and rumble strips for safety.
"Thanks to 16-hour workdays and a 7-day-a-week schedule, and despite a rainy summer, MaineDOT opened I-295 southbound to traffic on August 10, approximately 20 days ahead of schedule," says Jim Hanley, government affairs manager with Pike Industries, Inc., which was the project's general contractor.
MaineDOT offered 5 percent quality incentive pay for smoothness and another 5 percent for HMA factors including density, voids in mineral aggregate, and asphalt content. In the end, the contractor earned a 2.8 percent quality incentive for smoothness and achieved a 2.2 percent quality incentive for the HMA properties.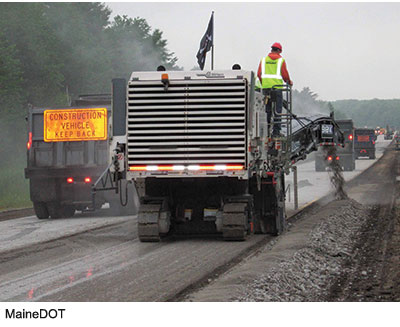 Keeping It Green
"MaineDOT conserves, recycles, and reuses whenever it's practicable and when doing so does not significantly affect the quality of the final product," says Joyce Taylor, assistant director of the MaineDOT Bureau of Project Development.
According to the general contractor, the I-295 southbound project generated 55,000 tons (49,895 metric tons) of waste concrete that typically would have been hauled offsite to a fill site. Instead, 100 percent of that concrete waste was recycled onsite to rehabilitate the paved shoulders, and 30,000 tons (27,216 metric tons) of old asphalt pavement from the shoulders was recycled into new HMA. Hanley says these measures reduced fuel use, preserved natural resources, and kept heavy trucks off the highways adjacent to the project.
Another innovative practice was the creation of a staging area adjacent to I-295, which the contractor used to process the old concrete and then return it to the shoulders without trucks leaving the closed worksite. The contractor also used the staging area to store waste pavement, which was later moved to the company's Augusta location for processing and 100 percent recycling back into new HMA.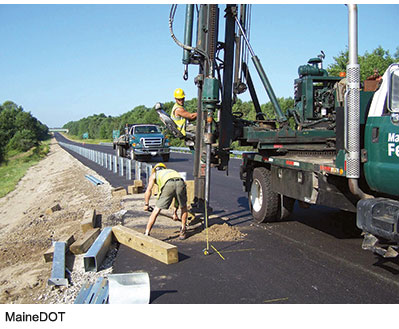 Open Communication
"Based on initial reactions from the public, as well as from tourism and business professionals, the road closure had the potential to discourage visitors during the peak travel season," says Herb Thomson, director of MaineDOT's Office of Communications.
To address these concerns, the department partnered with a local marketing and communications agency to help with the design and implementation of a multifaceted communications campaign that would raise awareness, encourage safety, and maintain public support before, during, and after the project. First, the department formed an advisory committee consisting of business and community leaders to gain their insights and share communications goals, tactics, and resources. In addition to offering counsel, these leaders served as project ambassadors. Members included representatives from the communities along the corridor, the Maine Office of Tourism, Maine Merchants Association, Maine Motor Transport Association, chambers of commerce, Maine Turnpike Authority, Maine Restaurant Association, and AAA Northern New England. This committee met regularly to review communications strategies and address issues raised by their constituents.
To assist businesses that rely on I-295 traffic, MaineDOT increased informational signage along Route 201 regarding gas, food, and lodging. The Maine Turnpike Authority distributed traveler information at tollbooths and posted additional signage along the turnpike to remind drivers where to exit in order to reach Freeport and other tourist destinations.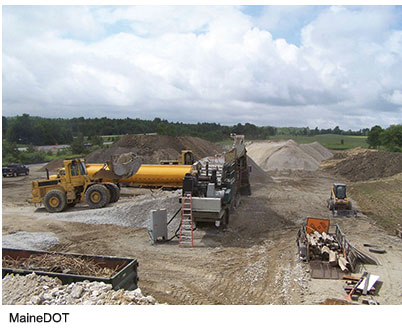 Ensuring a solid and positive partnership was important to the department. "MaineDOT worked swiftly to address the initial resistance that was reflected in and encouraged by the early negative media coverage," Thomson says, "which focused on the use of Route 201 as an alternate route and the decision to do a full closure during the peak of the tourist season."
At the press conference to announce the project contractor, the department clearly outlined the project's necessity and the strategies that would be used to maintain safety and convenience during construction. "We did everything we could to address issues directly, and to give a clear explanation for the full closure," Thomson says.
The outreach campaign included sending letters to residents living along the Route 201 detour reminding them to use extra care when walking along the road and when parking. Posters distributed at major employers, hospitals, and local businesses provided project information, including start and end dates, and a map showing the construction area and alternate routes. The department also issued fliers with safety tips for students and their families to local schools, and provided a phone number that the public could call for information on the project or to express concerns.
MaineDOT also maintained a Web site with a live webcam of the alternate routes, photos, and regular project updates. Throughout the project, MaineDOT sent email alerts and media advisories regarding changes in traffic patterns, significant traffic impacts, and project milestones. Communications materials encouraged trucks and Portland-bound traffic to use the turnpike instead of Route 201. As a result, 50 percent of the traffic ended up using the turnpike, well above the 35 percent targeted by the department.
The marketing and communications agency helped MaineDOT design a targeted advertising plan that would reach both residents and visitors in conjunction with extensive press outreach. Print ads in daily newspapers and radio spots targeting tourists ran throughout the summer. News crews attended two media tours hosted by MaineDOT officials to provide insider access to the project as work progressed. Weekly media updates included project status and information related to traffic impacts. Media interviews with businesses along Route 201 reported that the increase in traffic actually resulted in increased sales throughout the closure period.
As a precaution, the team also developed a detailed crisis communications plan to ensure clear directives and messaging, but, says Thomson, "Thankfully, the crisis plan did not need to be used."
Safety and Traffic Flow
"MaineDOT's highest priority was to ensure the safety of motorists, residents along the Route 201 detour, and work crews," says Foley, the former MaineDOT safety office director. "The decision to close the highway completely enabled multiple crews to work safely without traffic at multiple locations along the project corridor." Full closure also offered a safer option for motorists, as they would not be distracted by extensive work zones along a major highway.
According to Thomson, MaineDOT's communications director, residents along Route 201 had "serious reservations about the safety of putting all this additional traffic on a sleepy, rural road," he says. But MaineDOT took several steps to maximize safety for residents and motorists alike. Engineers redesigned the traffic plan for Route 201, including making improvements to the Route 197 intersection and installing flashing lights at the intersection of Route 125 and Route 138. Route 201 was treated almost like a work zone with heavy signage, reduced speed limits, and increased law enforcement, which encouraged motorists to drive more cautiously. MaineDOT also stationed a patrol truck on Route 201 to assist motorists with questions or items like gas, water, or calls for assistance.
In addition, the department deployed a number of safety devices, including optical speed bars and camera/radar sites. The use of optical speed bars (chevron stripes painted on the roadway) along the detour helped motorists feel the need to slow down. Camera and radar sites regularly recorded pictures of traffic flow, enabling MaineDOT to monitor and respond quickly to any congestion issues. These devices also continually recorded radar data, so the department and its partners in law enforcement could target where and when enforcement would be most effective. The camera/radar installations triggered alerts for traffic managers whenever travel speeds dropped below 35 miles per hour (56 kilometers per hour) so personnel could address problems and change variable message signs as needed.
Along the detour route, the radar captured motorists' approach speeds, triggering a display of notices on variable message signs. At low to normal speeds, the signs posted general messages about the road ahead, such as "Turning and Entering Traffic Ahead" and "Watch for Walkers." For drivers traveling at high speeds, the signs displayed a speed warning, encouraging motorists to slow down. Standard, static signage, such as road, regulatory, warning, and directional signs, also were used, in addition to pavement markings. Regular inspection of the devices helped ensure that all traffic control devices were being used to their maximum effectiveness.
With these measures in place, Foley says, traffic flowed smoothly on the detour throughout the summer. According to MaineDOT officials, each alternate route added no more than 15 minutes to drive times. Plus, although Route 201 historically sees an average of five reportable crashes during this part of the summer, there were no reported crashes during the course of the project.
The safety benefits of the full closure provided a clear lesson for MaineDOT as it moves forward with future road construction projects. "Based on the success of the full closure on southbound I-295, MaineDOT decided to implement a similar strategy in summer 2009 when it rehabilitated the northbound lanes," Foley says.
---
Meg Lane is communications project manager at MaineDOT. With a degree in marketing communications, she is responsible for multifaceted public information campaigns for the department. The communications efforts on the I-295 southbound project have been recognized with awards from the Maine Public Relations Council and the national Mercury Award sponsored by MerComm, Inc.
For more information, contact Meg Lane at 207-624-3197 or Meg.E.Lane@maine.gov.