Senior Mobility Series: Article 8 New Vehicle Technologies May Help Older Drivers
Night vision enhancement, adaptive cruise control, lane departure warnings, and other innovative systems enhance transportation safety for senior motorists.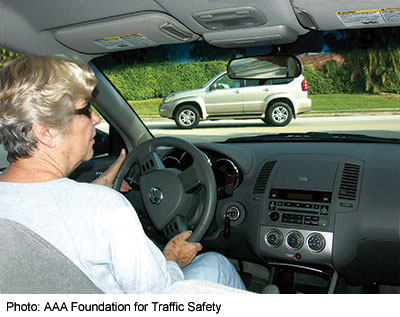 According to the Federal Highway Administration's (FHWA) Highway Statistics 2005, the United States had more than 29 million older drivers in 2005, accounting for 15 percent of the U.S. driving population. These older road users value the independence associated with the ability to drive. When that ability is lost, they can become more isolated from the friends and activities they enjoy. Driving cessation also has been linked to declines in health and mental well-being.
Although increased mobility has a number of benefits for older citizens, it also can increase safety risks due to age-related declines. A National Highway Traffic Safety Administration (NHTSA) report, Model Driver Screening and Evaluation Program, Volume 1: Project Summary and Model Program Recommendations, notes declines such as decreased visual performance, more restricted head and neck movement, and slower reaction times. Older drivers' fragility also makes them more prone to serious injuries from vehicle crashes.
An earlier article in this Public Roads series on senior mobility described some of the efforts by the Federal Government, industry, associations, and academia to address the challenges of providing safe mobility to older Americans. (See January/February 2006, "The Older Driver Comes of Age," by Thomas Granda and Shirley Thompson.) These activities include FHWA efforts to define and promote roadway improvements for older drivers and pedestrians, and NHTSA programs to help States, licensing authorities, and health professionals assess the driving capabilities of older drivers.
"Another essential NHTSA activity is making vehicles safer," says NHTSA Associate Administrator for Vehicle Safety Research Joseph Kanianthra. "NHTSA understands that making the design of vehicle subsystems compatible with the capabilities of the full spectrum of the driving population is a key to helping improve driver performance and, ultimately, safety. In the case of older drivers, their capabilities related to vision, response time, and dexterity often decrease in addition to their susceptibility to serious injuries, even in less severe crashes compared to younger drivers. NHTSA considers these performance limitations in its studies of advanced vehicle technologies to help drivers avoid and survive crashes. The research challenge is to determine how the systems can be engineered to be compatible with older drivers' capabilities so that the safety benefits can be realized and accepted by the driving population at large."
Advanced Vehicle Technologies
Older drivers make up a large segment of new car buyers. In 2006, 21 percent of the principal purchasers of new passenger cars in the United States were 65 years old and over. The vehicles they purchased in their younger days were very different from those they drive today, but even back then, many of them benefited from technologies such as seatbelts, power brakes, and power steering.
Today, a number of advanced technologies that were only in the research stage several years ago have made their way into vehicles that are on the road now. Among these technologies are infrared night vision, advanced headlighting systems, adaptive cruise control, lane departure warning systems, lane change crash warning systems, and parking aids. Each of these technologies can help older drivers avoid crashes.
Others that can help reduce severe injuries include sensor-based intersection warning systems and advanced restraint systems, such as improved front and side air bags, and improved vehicle structures. In addition, navigation systems and advanced communication systems offer conveniences to older drivers and, in fact, all motorists.
For advanced technologies to provide a benefit without creating new safety problems, their design and operation have to be compatible with the needs and capabilities of older drivers. If older motorists cannot hear warning sounds, have difficulty focusing on displays, or become distracted or overwhelmed by complicated technologies, they might not gain overall safety benefits. In addition, some of these technologies might encourage older adults to continue driving well beyond when they would ordinarily cease operating vehicles, introducing other age-associated driving challenges. Such problems could make the technologies "bitter pills" that may afford some benefits but also could create some adverse side effects.
Night Vision Enhancement
One of the most common complaints of older drivers is the difficulty of driving at night. Starting around age 40, people lose some of their ability to see low-contrast objects. They also recover more slowly from exposure to glare. These difficulties can shorten the distance at which drivers can detect and recognize objects. One type of technology that promises to extend the range of driver vision and improve safety is the infrared night vision system.
Current night vision systems increase the visibility of objects by presenting a high-contrast image of the forward scene on an interior visual display. The images are acquired either from a far-infrared (FIR) camera that is sensitive to the heat radiated from objects on the roadway or from a near-infrared (NIR) camera that detects reflected infrared radiation (IR) from an IR source on the vehicle. The NIR system can show roadway objects that are not detected in an FIR system, such as road signs and lane markings.
A recent review indicates at least seven vehicle models in the United States offer night vision systems. Whether these systems will benefit older motorists depends on the system's ease of use and acceptance by drivers.
An FHWA study summarized in volume 1 of the Enhanced Night Visibility series showed that informed drivers on a test track using an FIR night vision system in clear weather had longer pedestrian detection distances than when using low-beam headlamps. Surprisingly, although older drivers did benefit from the night vision system, they did not benefit as much as younger drivers. Similarly, a study conducted by the University of Michigan Transportation Research Institute (UMTRI), reported in Driver Performance and Workload Using a Night Vision System, found that night vision systems provide greater improvement for younger drivers than for older motorists.
To better understand driver acceptance of night vision systems and potential safety issues, NHTSA has been obtaining information from drivers who have purchased such systems. "As the public begins to purchase vehicles with new technologies, studying their reactions can provide valuable insights about the benefits and reveal potential problems earlier," says John Hinch, director of NHTSA's Office of Human-Vehicle Performance Research.
In one such study, Exploratory Study of Early Adopters, Safety-Related Driving with Advanced Technologies, most participants were over 60. Of the 15 drivers responding in this exploratory study, about half thought the system improved their comfort and ability to recognize objects. Several commented, however, that the display was distracting and hard to use.
These results suggest that a number of questions need to be answered before the potential value of these night vision systems is known: Whether older drivers can shift their attention between the interior display and the roadway, how the field of view of the scene on the display affects object detection, and whether the system will encourage more night driving, which may increase older drivers' mobility but also their exposure to risk.
Recently, automobile makers and the research community have worked on integrating enhancements into night vision systems that will warn drivers when pedestrians are in the driver's path. The aim is to reduce the workload involved in scanning the display, improve detection distances, and improve the actions taken by the driver when an object is detected. Work conducted by UMTRI, summarized in Improving Pedestrian Detection with a Simple Display for Night Vision Systems, has shown that night vision systems that include warnings may have advantages in object detection. NHTSA and other research organizations are continuing to investigate whether this refinement will help older drivers.
Age-Associated Driving Statistics
Due in part to age-associated changes, many older drivers tend to self-regulate their driving behavior by avoiding freeways, high-traffic roads, and peak hours. These self-imposed restrictions are one reason that older drivers travel fewer miles per day and accumulate lower annual miles traveled than younger drivers. As a result of their reduced driving, combined with their lower risk taking and greater experience, older drivers have a lower fatality rate per capita than drivers under 65. However, when comparing fatal crash rates per mile traveled across age groups, drivers over 70 are at greater risk than other age groups.
Advanced Headlighting
Until night vision systems are improved, older drivers will have to rely primarily on headlamp illumination to guide them at night. Although brighter headlamps could benefit older motorists (and younger drivers, too), more intense lights can increase the problem of glare. This tradeoff cannot be fully resolved with conventional designs. Almost any attempt to increase the light to improve seeing distance will increase glare to other drivers.
According to Mark Rea, director of the Rensselaer Polytechnic Institute Lighting Research Center, "This tradeoff presents a greater challenge for older drivers due to their changing eyesight. With increasing age, the lens of the eye transmits less light and scatters incoming light more than with younger drivers. This combination of factors makes it more difficult for older drivers to see at night."
NHTSA is investigating the potential of adaptive front lighting systems (AFS) to help resolve the tradeoff between visibility and glare. These systems can adjust the amount of forward lighting automatically to increase illumination when and where necessary for improved vision. An ongoing NHTSA program is assessing this technology, determining how it can help drivers see better at night, and developing methods to evaluate its safety-related benefits.
One type of AFS currently available on high-end cars is a curve lighting system that adds light in the direction the steering wheel is turned. Other AFS features may be possible as new technologies are developed for controlling the direction and intensity of the light and for sensing the location of oncoming vehicles.
One such technology includes a video system to analyze the road and the position of other road users, plus an optical system that can control the shape of the light beam distribution. The intensity can be reduced selectively for the area around the eyes of oncoming drivers.
"In anticipation of this type of technology, we are undertaking research to evaluate the visual needs of drivers as a basis for developing requirements for an AFS that can automatically lower the intensity to reduce glare when other drivers are nearby," says Hinch.
Such a system would provide a double bonus for older drivers: giving them more illumination for seeing without causing a significant degradation of visibility and discomfort to other drivers.
Adaptive Cruise Control
Adaptive Cruise Control (ACC) is a system that can maintain a set distance to the vehicle ahead ("lead vehicle") automatically within a given speed range. ACC systems first entered the U.S. market in 2000. Since then, the number of ACC-equipped vehicles has been increasing steadily. According to an NHTSA inventory of available systems, ACC was available in 26 vehicle models in 2005 and 2006.
To better understand driver behavior when using ACC as well as Forward Collision Warning (FCW), NHTSA sponsored an Automotive Collision Avoidance System Field Operational Test. This field test involved 96 drivers with vehicles equipped with ACC as well as FCW. Drivers using ACC systems were found to have longer following distances to the vehicle ahead (headway) and fewer lane changes than when using conventional cruise control or no cruise control. In addition to these safer behaviors, drivers who have slower reaction times may benefit from the quick braking of ACC in response to an unexpected deceleration of the lead vehicle.
Even more promising is the finding that older drivers (defined in this study as drivers in their 60s) used the systems more often than younger and middle-aged drivers. This increased use may explain why the older drivers rated ACC more favorably than their younger counterparts.
If drivers do not clearly understand how ACC works, however, they might lull themselves into a false sense of security and increase crash risks in some situations. To assess the potential for this problem, NHTSA is obtaining information from drivers who purchased cars with ACC. One of the findings of Exploratory Study of Early Adopters, Safety-Related Driving with Advanced Technologies was that only 1 percent of users knew that their ACC does not detect stopped vehicles in the lane ahead. This misunderstanding has the potential to increase crash risk if drivers do not brake because they expect the ACC to stop for them.
To determine where any unintended consequences might occur from this type of automated system, NHTSA will explore driver reaction to ACC in a simulator study on the National Advanced Driving Simulator at the University of Iowa. That study will measure the extent to which older and younger drivers using ACC react safely in emergency situations, such as sudden braking by a lead vehicle. If problems are found, driver education and improvements to ACC design and operation may be needed to assure that the positive benefits are not compromised.
Lane Departure Warning Systems
When drivers unintentionally leave their lanes, they are at much greater crash risk. If an inattentive driver is warned prior to unintentionally leaving a lane, some crashes can be avoided. For drivers with slower reaction times, such warnings may give them the extra seconds needed to avoid a crash.
Current lane departure warning (LDW) systems use a camera to analyze roadway markings and provide a warning to alert a driver who has moved out of the lane. LDW systems were introduced first in 2005 by one automaker and currently are offered on two of that manufacturer's model lines. Additional automakers plan to make similar systems available in the near term.
NHTSA recently completed a study, Road Departure Crash Warning System Field Operational Test, to evaluate drivers' reactions to a vehicle system that provides an auditory and seat vibration warning when it detects that the vehicle is drifting out of the lane. The test included younger (20-30), middle-aged (40-50), and older (60-70) drivers. Across all age groups, the system increased the use of turn signals, influenced drivers to remain more centered in their lanes (lower standard deviation of lane position), and decreased the time spent returning to the original lane after a lane departure. These measures do not provide a direct link to a decrease in crash risk but are indicators of safer driving behaviors. Older drivers rated the system high in terms of comfort, convenience, and willingness to purchase.
Under many conditions LDW systems are expected to have an effect similar to roadway rumble strips, which also alert drivers when they unintentionally leave their lanes. An indication of benefits can be found in a study conducted by FHWA, The Effectiveness and Use of Continuous Shoulder Rumble Strips, which found that rumble strips reduced run-off-road crashes in New York State by up to 65 percent.
Current LDW systems only provide a warning to the driver when the system detects a lane departure. The next generation of these systems will take a more active role by increasing steering resistance or taking over steering control. Active systems could reduce even more of these crashes, but older driver reaction to automation of this type needs to be better understood.
Lane Change Collision Avoidance Systems
Lane change crashes account for about 10 percent of the all crashes reported in NHTSA's General Estimates System. The common scenario in these types of crashes is that the driver is unaware of the other vehicle when he or she performs a lane change or merge. All vehicles have blind spots that cannot be seen in the sideview or rearview mirrors. This blind zone presents a risk for drivers of all ages but can be a particular concern for those older drivers with decreased neck flexibility and decreased ability to turn and look directly into blind zones.
To help prevent lane change crashes, technologies have been developed to detect and warn drivers of vehicles in their blind spots. If the warning systems enable older drivers to spend less time looking to the side when changing lanes, the drivers can focus more on the forward scene and reduce the risk of a rear-end crash due to the unexpected deceleration of a leading vehicle.
The first lane change collision avoidance system (LCCAS) entered the U.S. market in 2007. This system interprets images from cameras mounted in the sideview mirrors and activates a warning light when an object is detected in the blind zone.
To understand how drivers respond to LCCAS variants, NHTSA is conducting research that was summarized in a 2007 Enhanced Safety of Vehicles paper, "Performance of Drivers in Two Age Ranges Using Lane Change Collision Avoidance Systems in the National Advanced Driving Simulator." Driver lane change performance when using conventional mirrors was compared to performance when using LCCAS. The results suggest that drivers in both age groups (16-21 and 65+) made safer judgments when using LCCAS because they maintained longer distances from an approaching vehicle in the passing lane.
Whether these systems actually will help prevent lane change crashes and be accepted by older drivers will depend on factors such as the ease of seeing the warning light, the rate of false alarms, and nondetected vehicles if the sensors are not 100 percent reliable.
Parking Aids
According to NHTSA's Vehicle Backover Avoidance Technology Study, an estimated 183 fatalities and at least 6,700 injuries annually are caused by vehicles backing into pedestrians and bicyclists. Drivers over age 70 have the highest rates of involvement in fatal backover crashes per licensed driver.
"Currently, no car company offers a safety feature that is designed specifically to address this crash problem," says Michael Monk, director of NHTSA's Vehicle Research & Test Center. However, "parking aids" marketed as convenience features are increasingly prevalent in the U.S. passenger vehicle fleet. They include sensor-based systems that indicate to the driver the distance between the rear bumper and an object by means of an audio or visual display. Parking aids also include camera-based systems that present a rearview image on an interior display. An inventory of model year 2005/2006 vehicles found that 100 models offered parking aid systems. These devices may help older drivers in slow speed parking situations when they have difficulty turning to the rear to check how close they are to other vehicles. However, due to the limitations of this technology, improved designs and interfaces are needed to provide more reliable safety benefits.
NHTSA identified some of these limitations in Experimental Evaluation of the Performance of Available Backover Prevention Technologies, which found that in some locations behind vehicles, children are not reliably detected by sensor-based technologies. Also, when an object is detected while a vehicle is already in motion, most systems do not provide warning in enough time for the driver to avoid the object. According to NHTSA's Exploratory Study of Early Adopters, Safety-Related Driving with Advanced Technologies, many drivers do not understand the limitations of their systems. Sixty-seven percent of motorists surveyed thought their system operated over 9.7 kilometers per hour (6 miles per hour), yet nearly all systems do not operate above this speed.
The Llaneras et al. study, reported in the article "Design and Evaluation of a Prototype Rear Obstacle Detection and Driver Warning System," published by the Human Factors and Ergonomics Society, and the McLaughlin et al. article, "Driver Performance Evaluation of Two Rear Parking Aids," published in the Proceedings of the 18th International Technical Conference on the Enhanced Safety of Vehicles and cited in an NHTSA 2006 Report to Congress, described other limitations that indicate that even when the system detects an object and warns the driver, most study participants still backed into the object when it appeared unexpectedly.
Rearview camera systems have a wider detection range than sensor- based systems. They also can improve driver responses because they provide visual confirmation of objects in a vehicle's path. However, camera systems also have their limitations. Conditions such as direct sunlight, snow, rain, and sharp inclines degrade the view. There also is evidence that drivers do not always observe the display when backing up.
To transform these technologies from convenience systems to true "backover" prevention systems, NHTSA is engaged in an Advanced Collision Avoidance Technology project in partnership with General Motors and the Virginia Tech Transportation Institute. This project will produce a tool for the objective evaluation of backover prevention technologies. Such a tool could be used to evaluate how effective the technologies are with the visual search patterns and slower reaction times of older drivers, which have implications for the timing of warnings and the location of visual displays.
Navigation Systems
Older drivers often report that they refrain from traveling on unfamiliar roads. This might be due to increased trouble in making navigation decisions or a fear of getting lost. Invehicle navigation systems can extend older drivers' mobility by giving them more confidence when traveling in unfamiliar locations. For older drivers who have difficulty searching for street signs, the voice directions can help lower their visual workload.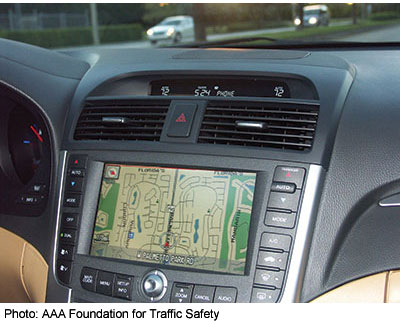 Support for these benefits is evident in an NHTSA-sponsored report, Exploratory Study of Early Adopters, Safety-Related Driving with Advanced Technologies. Of the older drivers (age 60+) who had a navigation system in their vehicles, approximately 73 percent felt that it increased their willingness to drive in an unfamiliar area. Ninety-eight percent of drivers (all ages) felt that using a navigation system is better than using a paper map.
Since the introduction of navigation systems in the 1990s, they have become increasingly popular. An inventory of 2005/2006 model year vehicles found at least 144 vehicle models in the United States that offered navigation systems. Aftermarket systems also are increasing in numbers and popularity, perhaps due in part to lower prices.
Because of the complexity associated with using navigation systems, they have the potential to cause distraction problems. Operating the touch screen features can require drivers to look at the display. Navigation systems constantly display visual information that can attract driver attention away from the roadway. This problem is amplified for older drivers, who typically take longer to read and interpret information.
In general, however, older motorists are more conscious of the safety implications of looking away from the road. This behavior was evident from the NHTSA early adopters study mentioned earlier, which found that only about 22 percent of older drivers looked away from the road more frequently and for longer periods of time when using their navigation systems. In contrast, about 47 percent of drivers aged 20 to 39 admitted that the navigation system led them to look away from the road more often.
Distraction problems can be minimized through application of human factors principles and methods to the design of the interface. For example, a paper by Dr. A. Pauzié of the French National Institute for Transport and Safety Research, Laboratoire Ergonomie et Sciences Cognitives pour les Transports, "In-vehicle Communication Systems: The Safety Aspect," published in Injury Prevention, has shown that increasing text size helps older drivers reduce glance times at the display to times similar to those of younger drivers. Another approach to reduce distraction is to lock out features selectively when the vehicle is in motion. For instance, many navigation systems prevent drivers from entering a destination address while the vehicle is in motion. However, such lock-out controls often are not available in the growing aftermarket segment of navigation systems.
Many navigation systems present directions with speech prompts that may enable drivers to keep their eyes on the road. Experimental work, such as T.A. Ranney et al.'s article, "Effects of Voice Technology on Test Track Driving Performance: Implications for Driver Distraction," and T.A. Dingus et al.'s paper, "Effects of Age, System Experience, and Navigation Technique on Driving with an Advanced Traveler Information System," both published by the Human Factors and Ergonomics Society, has found that speech systems can reduce visual distraction.
Drivers also appear to use the voice instruction feature. According to the early adopters study, 52 percent of navigation users surveyed (all ages) rely on the voice instructions as opposed to the visual display. The older group used the voice instructions more than the younger drivers. However, about 38 percent of the older drivers still relied on the visual display. Perhaps improvements to the speech-based systems would lessen the need to look at the display while driving. Some systems may impose high cognitive demands on drivers that could affect their attentiveness to the driving task. Many human factors questions still remain about how the design of speech systems can minimize the visual and mental workload on older drivers and how to make the devices simple enough that more drivers will use them.
Intersection Warning Systems
That older drivers are involved disproportionately in intersection crashes was confirmed in a 2007 NHTSA report, Analysis of Fatal Motor Vehicle Traffic Crashes and Fatalities at Intersections, 1997 to 2004. Although older drivers are overinvolved in crashes where they fail to yield to other vehicles, the study also found that they are frequently in crashes involving running a red light or stop sign.
For older drivers, these crashes probably are more often a result of failing to notice the traffic control than willful disregard of the sign or traffic signal. Thus, a system that alerts drivers when they are in danger of violating a stop sign or red light could reduce the occurrence of these crashes. The U.S. Department of Transportation's (USDOT) Intelligent Transportation Systems (ITS) program is working on a project, Cooperative Intersection Collision Avoidance Systems-Violation (CICAS-V), that will create and fieldtest this type of countermeasure. One goal is to identify and develop an effective warning for drivers of all ages. If these systems match the performance capabilities of older drivers, they will have the potential to reduce a significant safety problem.
The Need for Integration of Multiple Warning Systems
As the state of technology advances, multiple warning systems may be installed in vehicles in the future. Vehicles may be equipped with combinations of ACC and forward collision, side collision, and intersection warnings. If so, then older drivers could become confused or distracted by the different sources of information. These problems can be minimized through application of human factors principles to interface design. Message priority schemes and standardized auditory warnings are examples of the requirements needed to help older drivers sort out the information in a timely manner.
NHTSA and the ITS program are exploring the issues associated with integrating collision warnings through an Integrated Vehicle-Based Safety Systems field operational test. The program is developing vehicles with integrated road departure, lane change, and forward collision warning systems and will evaluate driver performance using those integrated systems. The study is expected to lead to recommendations for effective and acceptable integration of multiple warning systems.
Improved Crash Injury Protection
As indicated by the crash statistics and evidence from actual crash investigations, many fatalities of older drivers and passengers are due to their fragility, especially in cases of thoracic trauma. An older person's lesser ability to tolerate crash forces results in a higher risk of rib fracture and a poorer long-term outcome compared to younger occupants.
Stephen Ridella, chief of NHTSA's Human Injury Research Division, says, "Strategies for making the vehicle more protective for elderly occupants are underway. These efforts include revising seatbelt design guidelines to improve the ease of use and prevent misuse and examining the potential for advanced restraint systems that could mitigate thoracic injuries. These systems could include adjustable-force seatbelt retractors, four-point seatbelts, and adaptive airbag technology. These advanced systems also may need to be included in rear seat systems where the elderly often sit."
Advanced restraint systems for the elderly can be effective only if the systems are given information regarding occupants' ages and health status. With this added information, the appropriate belt load limit, airbag inflator output, and even airbag deployment pattern can be adjusted. Efforts have been made to install vehicle sensors to measure bone density, occupant stature, and seating position to enable the restraint system to be tuned for the appropriate response based on sensed occupant status and crash severity.
Next Steps
The technologies mentioned here cover only a portion of the growing number of advanced invehicle technologies. New innovations are making their way into the market constantly. Some have the potential to help both older and younger drivers but may not be as effective as possible unless they are designed to be compatible with the capabilities and limitations of older drivers. Quite often, however, what is a good design for older drivers is beneficial for younger ones as well.
NHTSA recently hosted a forum for government representatives, research organizations, automakers, and suppliers to discuss the human factors issues that affect many of these advanced technologies. One safety issue noted during the forum was the need to assure that these systems are effective and minimize potential adverse consequences for a wide range of the driving population.
Recommendations at the forum included greater efforts to share information among researchers, development of human factors guidelines for accommodating older drivers, and production of adaptive systems that can adjust system operation and interface characteristics to different drivers' characteristics.
Maintaining safe mobility for older drivers will require continued assessment of the use and acceptance of new vehicle technologies, analyses of the factors associated with crashes involving older road users, and a more detailed understanding of the range of the performance capabilities of vanguard technologies. NHTSA and other organizations will continue to address these needs with research to help provide guidance for vehicle safety regulations and for older drivers and vehicle manufacturers.
---
David Band is a psychologist (human factors) with NHTSA's Human Factors/Engineering Integration Division. He holds a B.S. in psychobiology from Binghamton University and an M.S. in applied psychology from Clemson University.
Mike Perel is the chief of NHTSA's Human Factors/Engineering Integration Division. He holds a B.S. in electrical engineering from Carnegie Mellon University and an M.S. in industrial engineering from Ohio State University.
For more information, contact David Band at 202-366-5677 or david.band@dot.gov, or Mike Perel at 202-366-5675 or mike.perel@dot.gov.