Riding Out The Storm
FHWA is partnering with transportation agencies to develop and implement effective traffic management strategies during adverse weather.
Every year, adverse road weather results in about 6,000 fatalities nationwide and costs more than 32 billion hours of delay among commercial vehicle operators. Improved traffic management strategies during weather events can reduce crashes and resulting delays, but limitations in data coverage and quality have constrained their effectiveness. Specifically, sparsely located road weather sensor stations have prevented agencies from gathering the site-specific information on road weather conditions needed to make informed decisions regarding traffic management and maintenance.
With support from the Federal Highway Administration's Road Weather Management Program, transportation agencies are adopting new technologies that enable road weather data to be easily and automatically collected from the field. The agencies are using this information for various applications in traffic management, including road weather alerts, setting of variable speed limits, and vehicle routing.
In addition to providing more frequent and timely data, technologies like mobile devices and connected vehicle instruments generate location-specific road weather information. Such information helps transportation agencies make more accurate assessments of conditions and leads to more effective decisionmaking during inclement weather.
To assist agencies in adopting and implementing these technologies, the Road Weather Management Program recently developed guidelines for deploying applications for connected vehicle-enabled weather responsive traffic management.
Impacts on Transportation and Traffic
The effects of weather on the performance of the highway system are well documented. Of the more than 5.7 million crashes that occur each year on U.S. roads, approximately 22 percent, or roughly 1.26 million, occur in inclement weather. Likewise, weather is the cause of an estimated 23 percent of nonrecurring delays on the highways.
Although roads and drivers are not exposed to bad weather every day, the staggering impacts compel transportation agencies to implement both maintenance and traffic management strategies to improve the safety and mobility of the travelers during these conditions. The benefits that result from these actions are significant, whether the responses to weather events are made proactively or reactively.
Weather Responsive Traffic Management Program
The Weather Responsive Traffic Management Program is one of the major focus areas of FHWA's Road Weather Management Program. It is involved in research, development, and deployment of strategies and tools for traffic management in inclement weather. The program brings together technologies, data and models, human factors, and system performance in a logical framework for identifying and evaluating appropriate traffic management strategies under various types of weather conditions. These strategies can lead to more informed decisionmaking by the agency and motorists; availability of real-time weather and traffic information; and improved mobility, safety, and reliability of the transportation system during inclement weather.
Since 2004, the Weather Responsive Traffic Management Program has worked with public agencies and the private sector (including weather service providers, researchers, and the academic community) to advance the knowledge, capabilities, and tools used for weather responsive traffic management. Program activities have included determining the state of the practice; identifying best practices; conducting research; providing guidance on integrating weather in traffic management centers; disseminating road weather messages; modeling traffic flow on the transportation system during various weather conditions; and evaluating system performance, including the costs and benefits of traffic management strategies.
The program partnered with a number of transportation agencies in developing, implementing, and evaluating reporting systems for road conditions; weather responsive variable speed limits; traffic signal timing; and advanced traveler information systems, including dynamic message signs, Web sites, weather alerts on mobile devices, and 511 traveler information services. More recently, the program has focused on utilizing mobile and connected vehicle technologies to support improved traffic management strategies in adverse weather.
Existing Strategies
Many transportation agencies in the United States already are incorporating road weather information, both current and predicted, into their traffic operations and management strategies. Current strategies for weather responsive traffic management range from advisory (alert and warning) systems to traffic signal control, all of which are used to facilitate travel in inclement weather.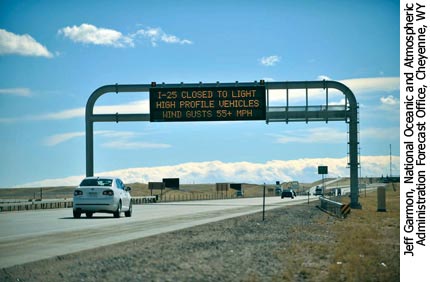 Advisory systems make drivers aware of current and impending weather and roadway conditions through passive and active warning systems, en route weather alerts, pretrip road condition information, and pavement condition information.
With control strategies, traffic control devices—including traffic lights and signals, ramp meters, and dynamic message signs—are modified during inclement weather by changing the interaction between detection systems and traffic control systems, implementing weather-specific traffic signal timing plans, or programming timing parameters for weather responsive ramp metering. Traffic operations and management strategies that incorporate models and tools for weather responsive traffic analyses provide greater operational benefits.
In 2011, FHWA prepared a comprehensive description of existing and potential strategies for weather responsive traffic management. The report, Developments in Weather Responsive Traffic Management Strategies, details the strategies, where they have been used, the benefits realized, and how to implement and evaluate them. For more information, download the report at https://ntl.bts.gov/lib/42000/42900/42965/wrtm_final_report_06302011.pdf.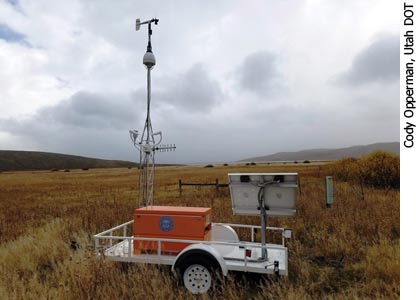 Mobile Data Collection
Recent advances in mobile sensing and data collection technologies for traffic and weather, including those coming from the Intelligent Transportation Systems (ITS) and the Connected Vehicles programs at the U.S. Department of Transportation, have helped researchers and practitioners use more accurate, real-time, and location-specific data.
Portable road weather information system (RWIS) sensors are now available to supplement fixed RWIS stations and are an attractive solution for many transportation agencies because of their mobility and ease of relocation. The portable systems are cost-effective and agencies can use them to monitor specific road weather conditions on the sites where deployed.
Electronic tablets and personal mobile devices have become more accessible, powerful, and affordable, and they enable the collection, processing, and dissemination of road weather information from road weather service providers (including transportation agencies) to the public and vice versa.
Many transportation agencies also equip their vehicles with automatic vehicle location (AVL) systems. The agency or owner can track vehicles' whereabouts by GPS in order to manage the deployment of their fleets during weather events.
Finally, transportation agencies are now using vehicles instrumented with mobile sensors—originally for collecting road weather information and transmitting this data to a traffic management center, a roadside unit, or directly to other vehicles on the road—to support road condition assessment, forecasting, traveler information systems, traffic control, and maintenance operations, among other applications.
Using Mobile Observations
Since 2011, the Road Weather Management Program, with support from the ITS Joint Program Office, has collaborated with the State departments of transportation in Michigan, Minnesota, and Nevada on the Integrated Mobile Observations project. Hundreds of plows and maintenance vehicles in these agencies' fleets are equipped with sensors and video cameras to acquire location, road weather information, and video images while they are out on the road.
The project demonstrates how weather, road condition, and other related connected vehicle data can be collected, transmitted, processed, and used to support decisionmaking applications and activities, including traffic management. These technologies are now being actively promoted by FHWA in the fourth round of Every Day Counts. For more information, visit www.fhwa.dot.gov/innovation/everydaycounts/edc_4.
In 2013, the Weather Responsive Traffic Management Program partnered with State DOTs in Michigan, South Dakota, and Wyoming to develop, implement, and evaluate strategies that utilize mobile road weather data (using field devices and vehicles) for traveler information, traffic control, and winter maintenance activities. The ITS Joint Program Office funded all three State projects.
The States shared the same goal: to improve the way they manage traffic conditions during weather events by using field observations from maintenance vehicles to inform and alert travelers through 511, dynamic message signs, Web sites, and mobile applications, as well as control traffic through variable speed limits. The States also share common adverse weather conditions and experience similar impacts on traffic flow from weather.
Through this partnership, each State developed and implemented a tool or strategy to help meet its goal. What follows are details of the projects and the demonstrated results.
Michigan's Use of Fixed And Mobile Observations
The Michigan Department of Transportation (MDOT) developed a weather responsive traveler information system called Wx-TINFO. The system integrates multiple sources of weather data into one program, enabling transportation operations center (TOC) staff to provide near real-time weather-related advisories and alerts for travelers.
MDOT designed the system to provide more accurate, timely, and effective messaging, enabling the traveling public to make informed travel decisions. In addition, Wx-TINFO provides information on road weather conditions that MDOT maintenance staff can use for weather maintenance operations.
The information for the travel alerts is generated by Wx-TINFO, linked to dynamic message signs in the coverage area, and delivered to the advanced traffic management system automatically. TOC operators retain the ability to approve or override messages from the system if deemed necessary.
The initial Wx-TINFO system has proven to be successful in fulfilling MDOT's project objectives: integrating disparate fixed and mobile datasets and devising operations plans from those data. The evaluation of the system showed that the Wx-TINFO system improved the traffic management capabilities of TOC staff during winter weather events and provided benefits to travelers.
"DOT operators are critical in providing motorists with valuable information during winter weather events," says Steve Cook, engineer of operations and maintenance with MDOT. "Mobile information can provide better roadway coverage and localized messaging for TOCs/[transportation management centers], thereby assisting motorists [with making] decisions on the safest trip alternative."
South Dakota's Traveler Information System
The South Dakota Department of Transportation (SDDOT) developed and implemented a weather responsive traffic management strategy that involves mobile data collection and traveler information dissemination during weather events. The project simplifies data collection by plow drivers and provides new traveler information to motorists, including 24-hour road condition forecasts.
The SDDOT mobile software application enables plow drivers to directly enter road conditions into the Integrated Roadway Information System using mobile data collectors already in the trucks. This improvement provides drivers with immediate and direct access to the system. Traditionally, drivers had to use radio communication to inform a supervisor, who would then enter the road conditions into the system, or maintenance staff, who would enter it into the system at the end of a run or shift.
The SafeTravelUSA Web site, 511 phone system, and a mobile phone app provide motorists with the enhanced information on road conditions. In addition, forecasts for 24-hour road conditions transfer directly from South Dakota's Maintenance Decision Support System to its traveler information systems when road conditions might deteriorate to an unsafe situation in the future.
The results show that the enhanced and expanded information provided to travelers is not only easy to find and understand, but also is useful to motorists for making prudent travel decisions.
"More than half of the travelers we surveyed said they changed the timing or routing of their travel based on the road condition threat forecast," says Dave Huft, research program manager with SDDOT, "while three quarters said they felt more prepared for their trips."
Wyoming's Mobile Reporting App
The Wyoming Department of Transportation (WYDOT) designed, developed, and implemented a new software application to improve the way maintenance personnel report road and weather conditions to their statewide transportation management center (TMC), recommend variable speed limit changes, and report a number of different types of traffic incidents.
The Road Condition Reporting Application runs on a tablet computer that uses Wyoming's extensive statewide communication system backbone called WyoLink. The agency installed the app on 20 tablets, mostly in WYDOT plow trucks on I–80 and portions of I–25, for the initial deployment during the 2014–2015 winter season.
App users report road conditions and other information to the TMC, and also share information with maintenance employees, including the road conditions as they are reported to the public, variable speed limit information, weather information, messages posted on dynamic message signs, and map-based asset location information. It is also used to send and receive messages similar to email.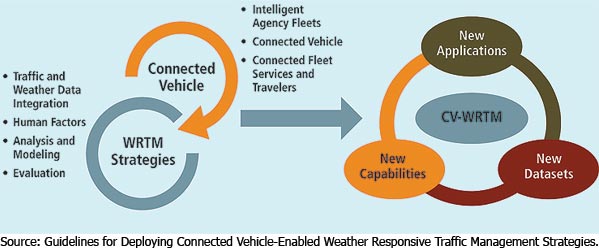 Use of the app improved the effectiveness and efficiency of road condition reporting and TMC activities during weather events. The accuracy of field information substantially improved for road condition reports, variable speed limit and dynamic message sign change requests, and reports on the location of incidents.
"The road condition reporting application not only doubled the road weather condition reports from the field but also tripled the number of variable speed limit recommendations we normally get on the radio," says Vince Garcia, geographic information systems/ITS program manager with WYDOT. "Variable speed limits have reduced crashes and road closures in Wyoming."
A survey of TMC and field maintenance personnel indicated that everyone who responded agreed that the agency is better off with the app than without it.
Observations from Implementations
The implementation projects in Michigan, South Dakota, and Wyoming showed that DOTs can improve traffic management capabilities during weather events by using data from vehicles that provide onsite road weather conditions. It also showed the importance of field conditions observed and transmitted by maintenance vehicle drivers, including plow truck drivers.
The benefits include more accurate and timely condition assessment and forecasting that agencies can disseminate to travelers at home or on the road. Agencies may also use this information for traffic control purposes (such as setting variable speed limits). Other benefits include reduction in data entry and processing time by DOT staff in the TMC or office because data is automatically transferred from the field.
Guidelines for Deployment
FHWA recently developed guidelines to help accelerate deployment of weather responsive traffic management strategies and decision-support capabilities that use weather and traffic data from connected vehicles. Guidelines for Deploying Connected Vehicle-Enabled Weather Responsive Traffic Management Strategies (FHWA-JP0-17-478) includes a framework, explains the use of fixed and mobile data for new and existing applications, identifies the core capabilities needed to successfully implement those applications, and describes three pathways that agencies can take in deploying the strategies. The pathways are as follows:
Pathway 1: Intelligent Agency Fleets. This pathway connects the fleets that an agency owns, or has access to, to support weather responsive traffic management. The fleets may include plows, highway patrol vehicles, and other maintenance vehicles. Many of these fleets have existing remote communication capabilities through either cellular links or agency-owned radio systems, and can transmit both voice and data.
Pathway 2: Connected Vehicles. A connected vehicle can transmit and receive basic safety messages. This pathway relies on the possibility that regulation might require light vehicles to have dedicated short-range communications (DSRC) capabilities. DSRC is a networking technology that enables fast, secure, and reliable communication for various connected vehicle applications. The vehicles communicate not only with each other but also with DSRC-enabled roadside units, which then communicate with data collection and management systems.
Pathway 3: Connected Third-Party Fleet Services and Connected Travelers. In parallel with State DOT fleet efforts, several private fleets have high levels of connectivity and may send and receive information that is valuable to weather responsive traffic management. There are many private sector services and organizations that are looking to equip fleets with data integration and communications.
In addition to the pathways, the guidelines also describe and provide guiding principles for three applications of connected vehicle-enabled weather responsive traffic management (connected vehicle-enabled variable speed limits, infrastructure-to-vehicle situational awareness, and vehicle-to-vehicle situational awareness). Each application is dependent upon vehicle connectivity, regardless of the pathway.
"Advanced mobile data collection and connected vehicle technologies are significantly improving agencies' ability to respond quickly and appropriately to adverse weather," says Mark Kehrli, director of the Office of Transportation Operations at FHWA. "These technologies will continue to improve safety and operations during weather events as more and more agencies implement and expand their capabilities."
---
Roemer M. Alfelor manages the Weather Responsive Traffic Management Program at FHWA. He holds M.S. and Ph.D. degrees in civil engineering from MIT and Carnegie Mellon University.
For more information, contact Roemer Alfelor at 202–366–9242 or roemer.alfelor@dot.gov. The guidelines are available at http://ntl.bts.gov/lib/61000/61000/61004/FHWA-JPO-17-478.pdf.