Let's Ride!
FHWA has just published a guidebook on planning and designing separated bike lanes—innovative bicycle facilities that are being implemented in communities throughout the country.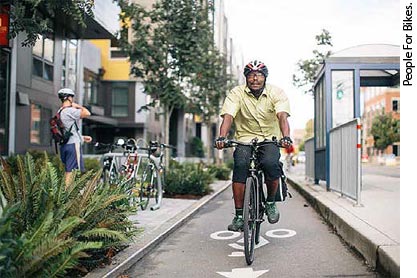 In 2013, the number of deaths on the Nation's roads decreased by 3.1 percent compared with the prior year, falling to 32,719 fatalities. Despite this reduction in overall deaths, the number of bicyclists killed increased by 1.2 percent, according to the National Highway Traffic Safety Administration's Fatality Analysis Reporting System. The increase in bicyclist fatalities clearly demonstrates that more needs to be done. To that end, the U.S. Department of Transportation's Federal Highway Administration is focused on improving pedestrian and bicyclist safety and at the same time encouraging people to walk and bike for transportation by providing more comfortable, appealing, and safer bicycling infrastructure.
An increase in bicycling will contribute to a range of policy goals, including improved public health through regular physical activity, improved mobility, transportation equity, and increased economic activity. Planning and designing the U.S. transportation system to better accommodate bicycling can enhance access to jobs and schools, while also contributing to economic development, for example, by increasing retail visibility, delivering customers to local businesses, and helping communities attract and retain talented workers.
One way to persuade more people to bike is to provide an experience that feels safer for people of all skill levels, especially the segment of the population that is interested in bicycling but concerned about riding alongside cars. Bicycle infrastructure that increases the lateral separation between bicycles and automobiles and enhances the distinction between car and bike spaces makes many cyclists and many drivers feel safer and more comfortable.
Well-designed separated bike lanes can serve as a high-quality link within a network of bicycle facilities that connect important destinations. These lanes are designed specifically to be appealing and attractive to a broad range of bicyclists, characteristics that enable the infrastructure to serve larger policy goals--improved health, the economy, mobility, transportation equity, and safety--effectively.
FHWA's Guide to Separated Bike Lanes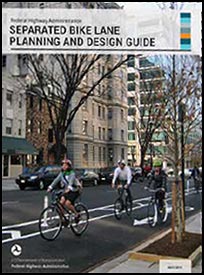 In May 2015, FHWA released a new publication, Separated Bike Lane Planning and Design Guide, to support development of these transportation facilities. The guide outlines planning considerations for separated bike lanes and provides a menu of design options covering typical one- and two-way scenarios. The guide highlights various alternatives for providing separation, while also documenting midblock design considerations for driveways, transit stops, accessible parking, and loading zones. It provides detailed information on intersection designs, covering such topics as turning movements, signalization, signage, and onroad markings.
Throughout the document, case studies highlight best practices and lessons learned from practitioners who are designing and implementing separated bike lanes around the United States. The case studies cover a range of topics--from Boulder's use of pilot projects to test designs and gather public input to Philadelphia's business support for separated bike lanes. In New York City, an approach for holistically evaluating the performance of their separated bike lanes is also highlighted as a case study.
The FHWA publication attempts to capture the current state of the practice; however, it also recognizes that understanding of this type of facility is still evolving and that there is a need for design flexibility. As such, the guide builds on a memorandum released in August 2013, "Bicycle and Pedestrian Facility Design Flexibility," that expresses FHWA's support for taking a flexible approach to designing bicycle and pedestrian facilities.
To encourage continued development and refinement of techniques, the guide identifies specific data elements to collect before and after implementation of separated bike lanes in order to facilitate future analysis. The publication identifies potential future research, highlights the importance of ongoing peer exchanges and capacity building, and emphasizes the need to create comprehensive ways to evaluate the performance of separated bike lanes.
A technical workgroup provided input and feedback during the development of the guide. The workgroup included representatives from cities, a metropolitan planning organization, State departments of transportation, the National Association of City Transportation Officials, the American Association of State Highway and Transportation Officials, the Institute of Transportation Engineers, and the League of American Bicyclists.
What Is a Separated Bike Lane?
A separated bike lane is a facility designed exclusively for bicyclists, in contrast to side paths or multiuse trails that are intended to accommodate pedestrians and other users as well as bicyclists. Vertical design elements, such as flexible delineator posts, placed between the bike and car travelways, distinguish a separated bike lane from standard or buffered bike lanes, which use paint to differentiate the automobile and bicycle spaces. Separated bike lanes are also sometimes called cycle tracks or protected bike lanes.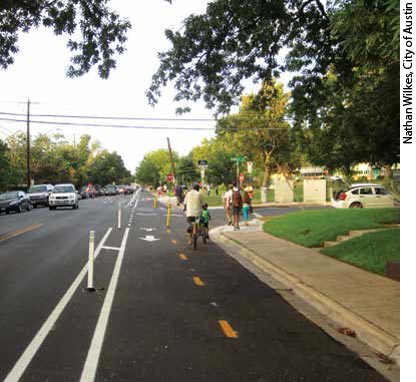 Although all separated bike lanes enhance physical and modal separation, wide variability exists in the design and operational characteristics of these facilities. For one thing, separated bike lanes can be one- or two-way facilities. They can be placed on the left or right side of the roadway, and the vertical separation can be provided by flexible posts, planters, raised medians, or even parked cars. The separated nature of the facility increases the complexity of intersection design and operations, especially for two-way separated bike lanes because of the number of turning movements that need to be accommodated safely.
Separated bicycle-only facilities are common in many countries; however, they are relatively new in the United States. Through practical project-based experience and with the assistance of design resources such as the National Association of City Transportation Officials' Urban Bikeway Design Guide, communities in the United States have constructed almost 200 separated bike lanes. Although commonly associated with urban locations in cities like New York and San Francisco, separated bike lanes now exist or are planned in small and midsized communities and also in suburban, rural, and campus settings.
For example, Austin, TX, is implementing separated bike lanes "as part of a broader strategy to build low-stress bicycle networks," according to Nathan Wilkes, a planner and designer with the city's Active Transportation Program. Wilkes notes that "if built, Austin's proposed $150 million all-ages-and-abilities bicycle network (both on- and offstreet) is estimated to capture 7 percent of downtown vehicular trips, reduce direct driving costs to citizens by $170 million per year, and result in the equivalent of 15 percent of Austinites meeting their daily recommended physical activity."
Investing in Infrastructure
Investments in transportation infrastructure need to result in improved mobility for everyone, including people who cannot afford to buy or lease a car, are unable to drive, or who need to be able to access transit safely. According to the U.S. Department of Transportation's Bureau of Transportation Statistics, approximately 10 million people, or about 9 percent of U.S. households, do not own or have access to a vehicle.
Infrastructure investments also need to foster economic development. Many communities are finding that economic growth can occur, in part, by creating appealing physical environments that facilitate transportation choice and prioritize quality of life. As a result, separated bike lanes and other pedestrian and bicycle infrastructure are being integrated into broader economic development strategies to attract talented workers and innovative companies.
For example, according to Mike Amsden, Chicago's assistant director of transportation planning, "Chicago is investing in bike and pedestrian infrastructure in order to foster vibrant commercial spaces, attract employers to the city, and provide safe and accessible transportation options for residents, employees, and visitors alike."​
Given the high rate of obesity in the United States and the increasing social costs of health conditions associated with inactivity, such as diabetes, investments in infrastructure also need to consider public health. Separated bike lanes have shown particular promise in encouraging a broader cross section of people to pedal to meet their transportation needs. Over time, this increase in bicycling activity could lead to improved public health outcomes.
USDOT's Safer People, Safer Streets Initiative
U.S. Secretary of Transportation Anthony Foxx has made pedestrian and bicycle safety one of the top priorities of his administration. Secretary Foxx announced the Safer People, Safer Streets initiative on September 10, 2014, at the Pro Walk/Pro Bike/Pro Place conference in Pittsburgh, PA. In his remarks, the Secretary noted that the initiative "is aimed at reversing the recent rise in deaths and injuries among the growing number of Americans who bicycle or walk to work, to reach public transportation, and to other important destinations."
As part of the initiative, USDOT division and field office staff members are convening and leading pedestrian and bicycle safety assessments in every State. The initiative includes a Mayors' Challenge for Safer People, Safer Streets, which challenges local elected officials to take significant action over the next year to improve safety for bicyclists and pedestrians of all ages and abilities. USDOT is also working with University Transportation Centers and other stakeholders to identify and remove barriers to improving nonmotorized safety. To learn more about the Mayors' Challenge, visit www.dot.gov/mayors-challenge. To learn more about the broader initiative and to view the Secretary's Action Plan on Bike and Pedestrian Safety, see www.dot.gov/policy-initiatives/ped-bike-safety/safer-people-safer-streets-pedestrian-and-bicycle-safety.
A newly formed Pedestrian and Bicycle Safety Action Team of the USDOT Safety Council is implementing the initiative. The team includes representatives from throughout USDOT, including the Office of the Secretary, FHWA, the Federal Transit Administration, the National Highway Traffic Safety Administration, the Federal Motor Carrier Safety Administration, and the Federal Railroad Administration.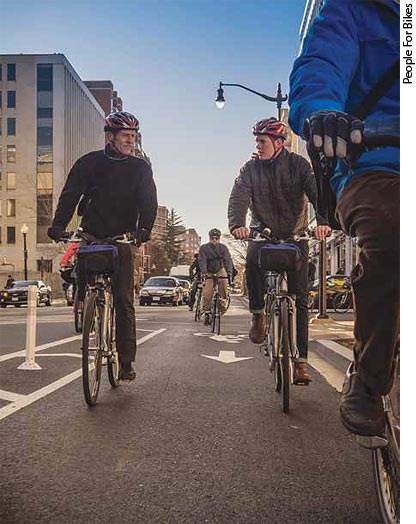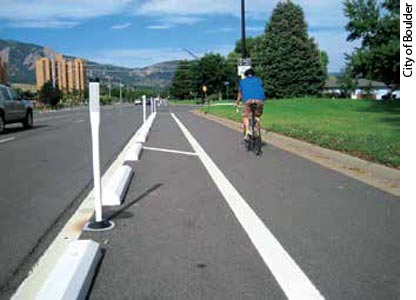 Investments in pedestrian and bicycle infrastructure address all of these public policy goals--mobility, economic development, transportation equity, and public health--in addition to the top public policy goal of improving safety. Comparing the costs of separated bike lanes with traditional facilities is difficult because the costs depend on the specific design features.
Examples of the FHWA Office of Planning, Environment, & Realty's Pedestrian and Bicycle Projects
As part of an aggressive research agenda, in partnership with the FHWA Office of Infrastructure, the Office of Planning, Environment, & Realty has initiated the following projects, all of which are currently underway:
The Global Benchmarking Program Desktop Review, in conjunction with the Office of Safety and Office of International Programs, will identify and evaluate international best practices for establishing pedestrian and bicycle transportation networks and improving safety.
Multimodal Conflict Points focuses on planning and design improvements needed in locations where various transportation modes come together, such as near transit stations, bus stops, street crossings, schools, and essential services.
The Guidebook for Evaluating, Establishing, and Tracking Pedestrian and Bicycle Performance Measures will present the full range of potential measures, organized in categories useful to practitioners at the local, regional, State, and national levels.
An FHWA team is developing the Workbook for Building On-Road Bike Networks Through Routine Resurfacing Programs to assist communities in jump-starting the creation of onroad bike networks by better capturing opportunities that arise as part of routine resurfacing.
The Flexibility in Pedestrian and Bicycle Facility Design project will highlight specific examples of design flexibility as a followup to FHWA's "Bicycle and Pedestrian Facility Design Flexibility" memorandum.
The Strategic Agenda for Pedestrian and Bicycle Transportation will provide an action-oriented framework for issues such as data collection and management, network implementation and documentation, research, training, and national design guidance.
The Transportation Alternatives Program Performance Management Guidebook will provide sample performance objectives and measures that States, metropolitan planning organizations, and project sponsors may consider.
Separated Bike Lanes: Volume and Safety Impacts
As part of the planning process for FHWA's Separated Bike Lane Planning and Design Guide, the project team completed an assessment of available volume and crash data for existing separated bike lanes throughout the country. This assessment included facilities in cities ranging from Chicago, IL; New York, NY; and San Francisco, CA, to Austin, TX; Missoula, MT; and St. Petersburg, FL. From this analysis, the team found that the quantity and consistency of available data are insufficient, at this point in time, to draw specific conclusions about separated bike lanes, especially regarding particular design elements.
For future investigations, FHWA's guide identifies minimum recommendations for the collection of volume and crash data for all separated bike lanes. A clearer story, especially regarding specific design elements, will likely emerge over time.
That being said, of the 17 facilities included in the analysis, the study found increases in bike volumes after implementation and a general reduction in crashes for all modes. In some cases, bike crashes went up after implementation, and in other cases the number went down. When crashes did go up, the upsurge was generally correlated with increases in bike volumes, which could suggest that exposure to risk did not increase.
By encouraging more people to cycle, separated bike lanes might contribute to a safety-in-numbers effect. As the number of people biking in a community increases, drivers become more aware of their presence and more accustomed to interacting with them on a routine basis. Over time, safety improves for everyone.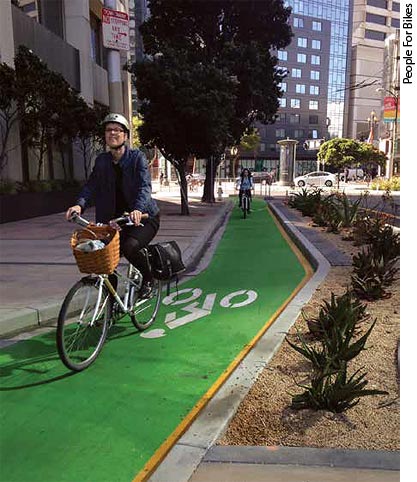 In addition, separated bike lanes have been shown to decrease sidewalk riding and thus opportunities for potential bicyclist-pedestrian conflicts, according to a 2012 study by the New York City Department of Transportation. When separated bike lanes are implemented as part of a road diet, they can be one component of a set of improvements that clearly contribute to increased safety for all roadway users.
In sum, separated bike lanes can provide premier linkages within an increasingly connected network of bicycle facilities in communities. They are designed to be comfortable and appealing and to encourage more people to view bicycling as a viable transportation choice. FHWA's Separated Bike Lane Planning and Design Guide is meant to contribute to the state of the practice for planning and designing such facilities so that they can continue to serve public policy goals in communities throughout the United States.
---
Dan Goodman is a transportation specialist in the Office of Human Environment at FHWA. He is a member of the Transportation Research Board's Pedestrian Committee and chair of the subcommittee on pedestrian research. Goodman also is FHWA's representative to the American Association of State Highway and Transportation Officials' Joint Technical Committee on Non-Motorized Transportation.
For more information, see www.fhwa.dot.gov/environment/bicycle_pedestrian or contact Dan Goodman at 202–366–9064 or daniel.goodman@dot.gov. To see the status of various bike-related traffic control devices in the Manual on Uniform Traffic Control Devices, which takes priority over the National Association of City Transportation Officials' Urban Bikeway Design Guide, visit www.fhwa.dot.gov/environment/bicycle_pedestrian/guidance/design_guidance/mutcd.