How Does Transportation Affect Public Health?
Organizations across the country increasingly are looking at the important relationship between the two disciplines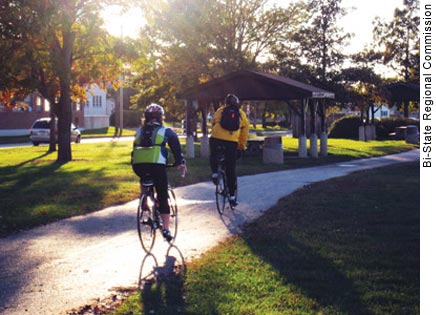 According to the Centers for Disease Control and Prevention (CDC), an estimated one in three adults and almost 17 percent of young people in this country are obese. Because the transportation system helps shape how communities are designed and operate, it can have a profound influence -- both positive and negative -- on public health.
The benefits of physical activity are well known: Exercise, including "active transportation" activities like walking and bicycling, can help prevent weight gain and lower the risks of obesity, diabetes, and heart disease. According to the U.S. Department of Health and Human Services' 2008 Physical Activity Guidelines for Americans, "although some health benefits seem to begin with as little as 60 minutes (1 hour) a week, research shows that a total amount of 150 minutes (2 hours and 30 minutes) a week of moderate-intensity aerobic activity, such as brisk walking, consistently reduces the risk of many chronic diseases and other adverse health outcomes."
Where transportation infrastructure is designed to accommodate or even encourage nonmotorized transportation, such as through complete streets policies, it can have a positive effect on public health. In its research report, Planning Complete Streets for an Aging America, AARP notes that "the ability to live closer to daily destinations is an important factor in maintaining mobility among older people who cannot drive or whose driving is limited. People 65 and over living in areas where houses are built closer to shops and services are less likely to stay home on a given day, and are more likely to use public transportation and walk to get around."
The connections between public health and transportation are varied and well documented in peer-reviewed journals in both the public health and transportation arenas. A 2010 CDC study, for example, calculated that the costs of medical care and lost productivity associated with motor vehicle crashes exceeded $99 billion in 2005.
Another study, out of the University of California, Berkeley's Safe Transportation Research & Education Center, found significant health disparities in the area of transportation safety, with African-American, Native American, and Latino drivers facing higher traffic-related risks related to seatbelt use, impaired driving, and pedestrian safety. Further, research has shown that limited access to transportation creates health inequities, as well as decreased access to education, employment, and opportunities for recreational activities for older adults and people with disabilities.
Transportation also is a source of pollution, generating air, soil, water, and noise pollutants, including particulate matter, carbon monoxide, nitrogen oxide, and carcinogens. Reports by the American Public Health Association and others have linked air pollution to negative health outcomes, including asthma, respiratory illness, heart disease, poor birth outcomes, cancer, and premature death.
To overcome these challenges, many in the transportation field are collaborating with colleagues in public health to research topics such as air pollution, safety, physical activity, and access to goods and services that support healthful living. This spotlight on public health and transportation complements other trends across the country, such as greater interest in alternative modes of transportation, livable communities, and resource conservation.
Complete streets and land use strategies that consider health can help increase physical activity, improve accessibility and safety, and ease congestion and air pollution. "As the use of these strategies increases," says Andrew Dannenberg, an affiliate professor at the University of Washington's School of Public Health, "there is tremendous potential for studying how health outcomes may be improved via transportation."
The case studies below, culled from across the country, help illustrate how metropolitan planning organizations (MPOs) and States are collaborating at the crossroads of public health and transportation.
Public Health on The MPO Front
MPOs are federally mandated bodies for urban areas larger than 50,000 people and are responsible for the transportation planning for their areas. By law, MPOs serving urbanized areas with more than 200,000 people must have policy boards composed of local elected officials, State department of transportation (DOT) representatives, and the providers of major modes of transportation, including transit services and airports. All MPOs must have policy boards that include local elected officials. MPOs decide how Federal transportation funds for their areas will be spent, thus playing a major role in setting transportation policy and approving different types of transportation facilities.
Many MPOs are becoming concerned about the effects of their plans and programs on public health. Regional plans like the one published in 2010 by the Chicago Metropolitan Agency for Planning now call for "pursuing opportunities for more compact, walkable, and mixed-use development," and making "significant, criteria-based investments in parks and open space" as a means to achieve "major benefits . . . including enhanced quality of life" and "improved public health through the promotion of active lifestyles."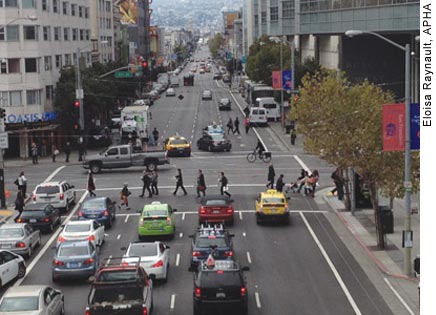 Around the country there are countless examples of MPOs explicitly incorporating public health into their plan-ning, policy, and project selection processes. In a December 2012 report, Metropolitan Area Transportation Planning for Healthy Communities, the Federal Highway Administration (FHWA) documented the efforts of four MPOs -- those in Nashville, TN; Seattle, WA; Sacramento, CA; and San Diego, CA -- that are successfully considering aspects of health during the transportation planning process. What follows are highlights from that report, as well as a summary of similar efforts in San Francisco, CA, and in a Midwestern region known as the Quad Cities, which includes cities in Illinois and Iowa along the Mississippi River.
Nashville Area
As described in the FHWA report, in December 2010, the Nashville Area MPO adopted its 2035 regional transportation plan, which made a significant shift from prior plans to implement active transportation projects. Of the 100 points of evaluation criteria used to rank transportation projects, 60 deal with issues such as improving air quality, providing walking and bicycling facilities, reducing injuries for all modes, improving personal health, and ensuring equity of access to transportation facilities in underserved areas.
Five hundred transportation projects were submitted for the plan, and the MPO ranked them using the new criteria. Officials also reviewed the projects for proximity to community destinations such as schools, parks, community centers, and grocery stores. Seventy-five percent of the roadway projects submitted included an active transportation element such as a bikeway, sidewalk, or greenway. In the final plan, 70 percent of the adopted roadway projects included infrastructure for active transportation, up significantly from the estimated 2 percent in the 2030 plan adopted in 2005.
In 2012, the Nashville Area MPO launched a regional household travel survey asking representatives from 6,000 households to report their travel behavior and its subsequent impacts on their health. A subset of 600 participants wore devices that collected information on physical activity as part of daily travel. Transportation planners will use the data from this landmark study to shape additional tools and policies on health outcomes in the next update of the regional transportation plan.
"Planners and local decisionmakers are beginning to have a more holistic understanding of transportation facilities," says Leslie Meehan, director of healthy communities for the Nashville Area MPO. "On the health front, multi-modal transportation facilities can supply opportunities for routine physical activity as part of the daily commute, [as well as] better air quality, improved social connections, fewer collisions, and access to fresh food. The profession of transport planning has an obligation to work in concert with the profession of public health, measuring and enabling positive health impacts, while mitigating the negative through more strategic decisionmaking."
Seattle Area
In the Seattle area, the Puget Sound Regional Council is forging a strong connection between transportation, public health, and the environment through programs focused on active transportation, climate change, and access to healthy food. The council's work in the health area has evolved in coordination with efforts at a variety of local and State agencies.
According to Charlie Howard, the council's director of integrated planning, "Some of our early work in the health arena centered on air quality, congestion management, safety, and greenhouse gas emissions, which all have health implications. Most recently, we are working with our various county health departments, as we share many cobenefits. For example, improving air quality reduces rates of heart disease, asthma, and stroke, while increasing physical activity reduces obesity and heart disease."
The council has begun to refine its approach to bicycle and pedestrian planning with a focus on promoting active living. And, for the next long-range transportation plan, the council's board has asked staff to incorporate health into the measures used to prioritize projects.
Sacramento Area
In general, MPOs and cities in California tend to be hotbeds of health activities, especially those that involve transportation initiatives. FHWA's report highlights ongoing efforts in two California metropolitan areas: Sacramento and San Diego.
The Sacramento Area Council of Governments (SACOG) reports facing two major public health issues related to transportation: surface ozone and obesity. In some of its earlier work, SACOG's air quality initiatives focused on adopting clean engines. However, in recent years, the council has expanded its focus to include active transportation, transit-oriented development, and transit services to help disadvantaged populations reach essential destinations like medical facilities and food services.
SACOG is working to make public health front and center in its long-range transportation plan by putting it in context with equity, housing, safety, air quality, public transportation, and bicycling and walking. The draft plan also identifies a number of strategies that aim to incorporate public health into project selection, with measures that focus on transit access, active transportation, and reducing vehicle miles traveled as a means to improve air quality and public health.
Further, the council is the recipient of a 2010 Sustainable Communities Regional Planning Grant from the U.S. Department of Housing and Urban Development. SACOG is using the grant for projects to increase transit-oriented development and improve the quality of life in the region. One of the working groups under the grant is focused on equity, housing, and health, with a subfocus on access to health care.
San Diego Area
In southern California, the San Diego Association of Governments (SANDAG) represents 18 cities and more than 3 million people. The MPO promotes physical activity and access to healthy foods by supporting compact, mixed-use, and transit-oriented communities with walkable streets and access to schools, parks, and grocery stores. Through a variety of policy documents, SANDAG offers a range of transportation options to meet the diverse needs of residents and businesses in the region.
For example, the 2050 Regional Transportation Plan and Sustainable Communities Strategy describes the link between public health and land use and transportation; promotes walkable, bikeable, and transit-oriented communities; and allocates resources to implement projects that will improve health outcomes in the region. The plan approves $6.5 million to fund early implementation of high-priority projects from the 2010 Regional Bicycle Plan. These projects aim to increase the number of people who bicycle in the region, as well as encourage the development of complete streets.
The MPO has received Federal and State grants to further its health-related activities, which include a program that provides incentives to local jurisdictions for Safe Routes to School initiatives and other efforts to promote public health. Recently, SANDAG awarded grants totaling $650,000 for activities related to pedestrian paths, sidewalks, connections to transit, food access, and urban agriculture.
In addition, partnering with the California Department of Public Health and the San Diego County Air Pollution Control District, SANDAG worked to develop a health assessment module for its activity-based travel demand model, used to analyze the region's transportation needs.
Another noteworthy activity is SANDAG's Healthy Communities Atlas. Published in March 2012, the atlas consists of a series of maps showing a spatial analysis of social and built-environment conditions known to affect health outcomes. The atlas uses existing data to develop health indicators at the U.S. Census block level. Various indicators plotted on the maps include access to sidewalks, parks, social support amenities, healthy food, and transit stations. SANDAG uses the atlas to identify areas that could benefit from policy initiatives and future investments.
SANDAG also has been one of the leaders in conducting health impact assessments, a process that helps evaluate the potential health effects of a plan, project, or policy before it is built or implemented. The association has provided training on conducting the assessments to more than 50 community members and professionals in the region.
According to Stephan Vance, senior regional planner at SANDAG, "Looking at regional planning issues through the public health lens has helped us focus on active transportation, community design, and land use and transportation policies that can bring a broad range of benefits to the region, extending beyond improved access and mobility."
San Francisco Area
In the San Francisco Bay area, the Metropolitan Transportation Commission, with input from public health stake-holders, devised quantitative performance measures for health and equity that regional transportation planners can use. For example, the commission identified three performance targets for healthy and safe communities for its regional transportation plan -- premature deaths from exposure to particulate emissions, injuries and fatalities from collisions, and average daily time per person spent walking or biking for transportation. The commission also analyzed impacts with respect to socioeconomic and geographic equity, with performance measures including vehicle miles traveled, travel time (commuting and noncommuting), and housing-transportation affordability.
At the county level, the San Francisco Department of Public Health has developed quantitative models for noise annoyance, vehicle-pedestrian collisions, and mortality attributable to air pollution, using inputs such as traffic volumes and population changes, which are routinely generated in the transportation planning process. The Department of Public Health coordinates with city and county transportation and planning agencies to provide information to support the inclusion of health impacts and health-promoting measures in planning and policymaking. These measures might include ventilation systems to protect air quality in residential developments near heavily trafficked roads or traffic calming on busy arterials that experience high numbers of pedestrian fatalities.
According to Dr. Rajiv Bhatia, director of environmental health for the San Francisco Department of Public Health, "We are at the beginning of a sea change in which transportation, planning, and public health professionals are collaborating on integrated performance measures to protect and promote health."
Quad Cities
Health-related transportation activities also are taking hold in smaller metropolitan areas, such as the Quad Cities region, which includes Bettendorf and Davenport in Iowa and East Moline, Moline, and Rock Island in Illinois. (Bettendorf, the fifth of the Quad Cities, grew large enough for inclusion during the 1970s, but the name "Quad Cities" was already well known and remained in use.) The Bi-State Regional Commission, which is the MPO for the Quad Cities area, serves a population of just over 400,000 and is involved with a variety of health activities.
Staff members from the MPO participate in a program called the Quad City Health Initiative, an organization-based effort that aims to create a healthy community through outreach, awareness, advocacy, and program funding for a variety of health-related activities. For example, the MPO helps coordinate QC in Motion Week, promoting use of alternative transportation and bike-to-work events.
Like many MPOs, the agency has complete streets initiatives underway, which stem from a complete streets policy adopted in 2008. Projects that have grown out of this policy include a bicycle plan for Rock Island, formation of a team focused on alternative transportation in the city of Moline, and efforts in Bettendorf to review city codes and ordinances related to multipurpose trails and sidewalks.
Another area where the MPO is active is in facilitating greater access to local food systems. For example, in cooperation with its transit agencies, the Bi-State Regional Commission produced a system guide feature called "What ROUTE is it on?" that lists the services and vendors within walking distance of local transit stops.
Public Health At the State Level
In addition to health-related activities at the MPO level, many States are taking steps to consider the health effects of transportation in the planning process. Some notable efforts are underway in Massachusetts, Minnesota, and North Carolina.
In June 2009, State legislators signed into law the Massachusetts Healthy Transportation Compact, which put in place an interagency initiative to facilitate transportation decisions that balance the needs of all transportation users, expand mobility, improve public health, support a cleaner environment, and create stronger communities. The State's secretaries of transportation and health and human services cochair the compact, which also includes the secretary of energy and environmental affairs, the Massachusetts Department of Transportation's (MassDOT) high-way administrator, the MassDOT transit administrator, and the commissioner of public health. To achieve the com-pact's goals, the department is forming partnerships with the public and private sectors, advocacy groups, and transportation, land use, and public health stakeholders.
"What is key is that these partnerships are breaking down traditional policy silos and inspiring innovation at all levels to advance healthy transportation outcomes," says Catherine Cagle, MassDOT's manager of sustainable transportation.
In October 2012, MassDOT Secretary Richard Davey announced a statewide goal of tripling the share of travel in Massachusetts by bicycling, transit, and walking, further affirming the State's interest in promoting active transportation.
Minnesota GO, A Visioning Process
Over the past few years, the Minnesota Department of Transportation (MnDOT) has been shifting gears to acknowledge how the transportation system affects chronic diseases. In November 2011, MnDOT launched the Minnesota GO visioning process to better align the transportation system with what Minnesotans expect for their quality of life, economy, and natural environment.
According to Tim Henkel, assistant commissioner for modal planning and program management at MnDOT, "The effort is based on an understanding that transportation is a means to other ends, not an end in itself. It also recognizes that infrastructure is only one of many elements necessary to achieve a high quality of life, a competitive economy, and a healthy environment."
As part of the Minnesota GO process, the department established a collection of guiding principles, one of which was the need to "leverage public investments to achieve multiple purposes." This principle recognizes that "the transportation system should support other public purposes, such as environmental stewardship, economic competitiveness, public health, and energy independence."
The vision statement goes on to address public health explicitly, as a challenge that will affect transportation in the State over the coming decades: "The increased frequency of several chronic diseases related to obesity -- heart disease, diabetes, and cancer -- coupled with an aging population, places enormous strains on the ability to pay for health care. Unless significant measures are taken, the deaths, diseases, and health care expenditures attributable to physically inactive lifestyles will only increase. Regular and sustained physical activity can help Minnesotans lead healthier lives. Health advocates will continue to push and recommend more active lifestyles and higher levels of daily physical activity, including through transportation choices such as biking and walking."
North Carolina's Mission Statement
The North Carolina Department of Transportation (NCDOT) has gone so far as to incorporate the word "health" into its mission statement. In April 2012, NCDOT expanded its mission to integrate public health considerations into its initiatives, plans, and policies, as well as to explore the use of health impact assessments. The revised mission statement reads: "Connecting people and places safely and efficiently, with accountability and environmental sensitivity to enhance the economy, health and well-being of North Carolina."
This expanded emphasis on public health culminated in October 2012, when the North Carolina Board of Transportation adopted a public health policy for the agency. Noting "a strong connection between the built environment and public health outcomes, including rates of chronic disease, obesity, levels of physical activity, safety, and general well-being," the policy statement declares that "the North Carolina Department of Transportation may have opportunities to support positive health outcomes by considering public health implications in our decisionmaking across all transportation modes, programs, [and] policies . . . and through all stages of the life of a transportation project." Specifically, the agency will consider a "multimodal transportation system to provide access to and options for customers of all abilities and capabilities; safety for all users and all modes of transportation; and the potential for the transportation system to support human health."
Programmatically, NCDOT will explore accounting for health impacts and their costs and benefits throughout the processes of transportation planning, programming, and project decisionmaking.
FHWA Working Group
To complement efforts at the local and State levels, FHWA established an in-house working group in January 2012 consisting of staff representing 11 offices. The group's purpose is to explore how the agency addresses health-related issues and requests for information. Although FHWA has no formal policy on health, agency officials recognize that public health is an integral part of transportation planning and program delivery and should be considered as part of decisionmaking in the public interest.
During its first year, the working group's accomplishments included defining health in transportation, identifying FHWA programs related to health, and developing an annotated bibliography of health-related resources. The group also created a health response team charged with responding to inquiries from State and local agencies.
An informal survey of planners at FHWA division offices in 2012 indicated that the agency is handling a number of questions on health-related topics:
Considering public health in the long-range transportation planning process
 
Reducing the severity and number of obesity cases through more walkable communities, complete streets, and livability goals
 
Understanding health impact assessments
 
Identifying infrastructure that supports or hinders transportation to human services
 
Addressing urban food "deserts"
 
Measuring response times for emergency medical services in congested corridors
 
Assessing crash survivability in smaller electric or energy-efficient cars
In addition, FHWA's Office of Planning, Environment, and Real Estate recently launched a "Health in Transportation" section on its Web site and will soon offer answers to frequently asked questions, as well as links to related publications and training opportunities.
In its second year, the working group will coordinate its activities with the Office of the Secretary of Transportation, the Federal Transit Administration, and the National Highway Traffic Safety Administration, all of which hold a stake and interest in protecting public health.
"The working group has done an effective job compiling health in transportation information and improving their competency to provide technical assistance to the field," says Associate Administrator Gloria Shepherd, of FHWA's Office of Planning, Environment, and Real Estate. "We hope to advance the state of the practice by compiling and sharing this type of information with the MPOs and State DOTs as they consider it in the planning process."
---
Eloisa Raynault is the transportation, health, and equity program manager at the American Public Health Association, where she examines and tracks the impacts of transportation systems and policies on health and equity and shares resources on these topics with the association's 50,000-plus members and affiliates. She serves as cochair of the Transportation Research Board's (TRB) Health and Transportation Subcommittee. Raynault has a bachelor's degree in civil engineering from The George Washington University and a master's degree in natural resources with a focus on sustainable transportation from Virginia Tech.
Ed Christopher is a community planner with the FHWA Resource Center's Planning Team. He holds a bachelor's degree in political science and a master's degree in transportation planning from the University of Illinois at Chicago. Christopher also is active in TRB, where he cochairs the Health and Transportation Subcommittee, is an emeritus member of the Urban Transportation Data and Information Systems Committee, and has served on various other committees. Christopher recently has begun working to bring the worlds of transportation and public health closer together.
For more information, visit www.fhwa.dot.gov/planning/health_in_transportation or www.trbhealth.org, or contact Ed Christopher at 708–283–3534 or ed.christopher@dot.gov.
References
Allman, R. M., Baker, P., Maisiak, R. M., Sims, R. V., & Roseman, J. M. (2004). Racial similarities and differences in predictors of mobility change over eighteen months. Journal of General Internal Medicine, 19(11), 1118–1126.
American Public Health Association. (2009).
Bell, J., & Cohen, L. (2010).
Bhatia, R. (2012). Environmental justice and transport infrastructure: A synthesis of disproportionate impacts and recommendations for federal policy and regulation. San Francisco, CA: San Francisco Department of Public Health.
Blumenberg, E., & Schweitzer, L. (2006). Devolution and transport policy for the working poor: The case of the U.S. Job Access and Reverse Commute Program. Planning Theory & Practice, 7(1), 7–25.
Centers for Disease Control and Prevention. (2011). Physical activity for everyone: The benefits of physical activity. Retrieved from www.cdc.gov/physicalactivity/everyone/health/index.html.
Chicago Metropolitan Agency for Planning, GO to 2040, A Regional Plan, www.cmap.illinois.gov/2040/a-pivotal-moment (accessed December 6, 2012).
Conti, E. A., Morris, P. F., & Hunkins, J. A. (2012). The North Carolina Department of Transportation's Vision for Healthy Communities through Sustainable Transportation. North Carolina Medical Journal, 73(4), 274–277. Retrieved from www.ncmedicaljournal.com/wp-content/uploads/2012/05/NCMJ_73-4_whites5-3.pdf.
Dumbaugh, E. (2008). Designing communities to enhance the safety and mobility of older adults. Journal of Planning Literature, 23(1), 17–36.
Gantz, T. (2003). Traffic safety in communities of color. Berkeley, CA: University of California, Berkeley Traffic Safety Center.
Marx, J., Davis, C., Miftari, C., Salamone, A., & Weise, W. (2010). Developing brokered community transportation for seniors and people with disabilities. Journal of Gerontological Social Work, 53(5), 449–466.
Massachusetts Department of Transportation, Healthy Transportation Compact Web page, www.massdot.state.ma.us/GreenDOT/HealthyTransportationCompact.aspx
Metropolitan Area Transportation Planning for Healthy Communities, Volpe, U.S. Department of Transportation, December 2012. Retrieved from www.planning.dot.gov/documents/Volpe_FHWA_MPOHealth_12122012.pdf.
Minnesota Department of Transportation, Minnesota GO Web page, www.dot.state.mn.us/minnesotago/ (accessed December 5, 2012).
Naumann, R. B., Dellinger, A. M., Zaloshnja, E., Lawrence, B. A., Miller, T. R. (2010). Incidence and total lifetime costs of motor vehicle-related fatal and nonfatal injury by road user type, United States, 2005. Traffic and Injury Prevention, 11(4), 353–360.
Partnership for Prevention. (2011).
PolicyLink, Prevention Institute, Convergence Partnership. (2009).
U.S. Department of Health and Human Services. (2008). 2008 physical activity guidelines for Americans. Retrieved from www.health.gov/paguidelines/guidelines/default.aspx.
White, D. K., Jette, A. M., Felson, D. T., Lavalley, M. P., Lewis, C. E., Torner, J. C., Keysor, J. J. (2010). Are features of the neighborhood environment associated with disability in older adults? Disability & Rehabilitation, 32(8), 639–645.