RITA's New Web Site Aids Transportation Research
Even in an engaged community like transportation, managing research can be a challenging task. Researchers and managers may find themselves stymied by the need for additional sources of information, avenues of inquiry, or funding opportunities.
To address this challenge, members of the American Association of State Highway and Transportation Officials' (AASHTO) Research Advisory Committee and the Transportation Research Board's (TRB) Conduct of Research Committee formulated the idea for a centralized repository and collaborative space for transportation research management. At the same time, the U.S. Department of Transportation's (USDOT) Research and Innovative Technology Administration (RITA) was creating the Transportation Research Collaboration Microsoft® SharePoint® site, including RITA's topic-based Research Clusters, for a similar audience. Combining the two complementary efforts made sense.
The TRB and AASHTO committees asked USDOT to host the proposed Web site and transferred the planning work to RITA, including initial site designs and content. The result -- RITA's "Research Program and Project Management" Web site -- launched in December 2011 at www.transportationresearch.gov/rppm.
"Teaming with RITA was a good fit," says Sue Sillick, research manager for the Montana Department of Transportation and co-chair of TRB's Conduct of Research Committee's Coordination and Collaboration Task Force. "Especially given RITA's Research Clusters focusing on topical areas and our focus on the research process, it seemed to be a logical combination."
Facilitating Research Collaboration
The "Research Program and Project Management" Web site is designed for transportation researchers and managers and focuses on providing information, tools, and a discussion forum to facilitate coordination and collaboration.
"The real focus is the entire research development cycle process -- how to write a good problem statement, the mechanics of doing the research, delivering results and communicating value, and how to communicate those results to others," says Sillick.
The site is organized into five main areas that mirror the research development cycle.
Setting the research agenda. Users can share information about research needs, priorities, selection processes, and timelines, and learn about those of other organizations.
Carrying out research. Participants can share resources they use to manage their projects and programs to maximize the value of their research investment.
Delivering results/communicating value. Users can share ways in which they ensure that their research lives beyond the project and makes a difference in transportation practice.
Collaborating in research activities. Researchers share and learn about tools for partnering and connecting with others who share their research goals.
Team collaboration. Research committees and teams collaborate in real time and share products for the broader research community to use.
Each topic area contains announcements, documents, links to related sites, and recent discussion topics. The designers envisioned the site as a repository for documents, links, and work products defining a collective set of best practices for planning, conducting, implementing, managing, sharing the results of, and evaluating transportation research.
A Clearinghouse for Best Practices
According to Linda Preisen, director of research administration at the University of Minnesota's Center for Transportation Studies and secretary of TRB's Conduct of Research Committee, the site offers a venue for researchers to find information about funding cycles, such as an overview of annually funded Federal transportation programs. It enables research managers to share and find information about management practices including strategic research plans, project selection processes, and contract examples. Site managers can create pages for individual teams, providing a personalized, centralized, collaborative space. Because it's a public SharePoint site, "in a way all registered users are administrators, adding content and expanding the resources," Preisen says.
Anyone can view the information on the site, but users must register and create a user name and password in order to add documents, discussion topics, announcements, or links. From the registration site, users also can request full access to RITA's Research Clusters and National Transportation Library's collaborative Web sites.
"Long-term, the true value of the site will be its role as a clearinghouse for best practices related to the research development cycle," Sillick says, "and its value in collaboration, in the sharing of ideas and best practices, and making sure that we are not duplicating each others' research efforts."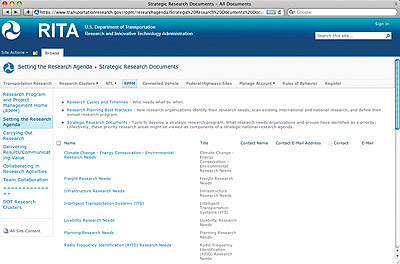 ---
Kate Sullivan is a contributing editor for Public Roads.