The Man Who Loved Roads
One of the little-known quirks of history is that Harry Truman could have been the Father of the Interstate System.
President Dwight D. Eisenhower deserves that title as much as anyone. He participated in the U.S. Army convoy that crossed the United States in 1919. He saw the German autobahn in operation during and after World War II. He made the Interstate System one of his Administration's top priorities and continued to promote the idea even after he had signed the Federal-Aid Highway Act of 1956. (See Public Roads, Summer 1996, for a discussion of President Eisenhower's role.)
But what about President Truman? He loved cars and roads his whole life. While he was Vice President, the Federal-Aid Highway Act of 1944 called for designation of a "National System of Interstate Highways." The government designated most of the Interstate System (37,700 miles) on August 2, 1947, while he was President. And yet, little progress was made on the Interstate System during his Administration.
To understand why, a look at the life and times of Harry S. Truman will provide some insight.
Truman and Eisenhower, 1945
On July 20, 1945, President Harry Truman was racing along the autobahn from Berlin to Potsdam, where he was meeting with England's Winston Churchill and the Soviet Union's Joseph Stalin to discuss the shape of post-war Europe. Truman had delivered a speech in Berlin to commemorate the raising of the flag that had flown over the Capitol in Washington on December 7, 1941, the day Pearl Harbor was attacked. In part, he said: "If we can put this tremendous machine of ours, which has made the victory possible, to work for peace, we can look forward to the greatest age in the history of mankind. That is what we propose to do."
The President was in an expansive mood on the ride back to Potsdam as he chatted with General Dwight D. Eisenhower, the U.S. supreme commander, and General Omar Bradley. "General," Truman said to Eisenhower, "there is nothing you may want that I won't try to help you get. That definitely and specifically includes the presidency in 1948."
Flabbergasted by the unexpected comment, Eisenhower replied, "Mr. President, I don't know who will be your opponent for the presidency, but it will not be I."
Truman's Love Affair with Roads
If a fortune teller in the back seat during that ride had gazed into a crystal ball and attempted to predict whether President Truman or General Eisenhower was more likely to be known to history as "The Father of the Interstate System," Truman would have been the clear favorite. He had been closely associated with roads as a user, builder, and promoter all his life.
In 1913 his father, John Truman, had been appointed road overseer for the southern half of Washington Township, MO, with responsibility for upkeep and repair of county roads. While trying to remove a boulder from one of the roads in 1914, he experienced a severe hernia that caused an intestinal blockage. John Truman died soon after, and his 30year old son, Harry, took over as road overseer for the next 6 months until losing the job when a new political faction took over the county.
Harry Truman loved cars and driving. As a young man, he longed for an automobile when he was courting his future wife, Bess, who lived in Independence, MO. "Just imagine how often I'd burn the pike from here to Independence," he wrote to her from his family's farm on Blue Ridge Boulevard in Grandview (now part of Kansas City, just off U.S. 71 in the southern part of the urban area).
In 1914, his mother agreed to pay for an auto—but Truman didn't want a Model T that would brand him a farmer. For $650, he bought a used handmade 1911 Stafford that could do 60 miles per hour. As biographer David McCullough observed, Truman wanted all the power his car could give: "With a little work on the engine, Harry found, he could go up Dodson Hill—considered the great test locally—so fast he had to shut off the power before reaching the crest."
Soon, he was visiting Bess regularly and taking her for a "spin" in his "machine." This love of driving never left him.
One of the defining periods of Truman's life was his service in the military during World War I. In France, he discovered his ability to lead men and to earn not only their respect but also their loyalty. But that wasn't all he learned. As he wrote to Bess on May 19, 1918, from France: "The French know how to build roads and also how to keep them up. They are just like a billiard table. ..."
Later that year, on November 10, he revealed his homesickness to Bess: "This has been a beautiful Sunday—the sun shining and as warm as summer. It sure made me wish for Lizzie and five gallons of gas with her nose pointed down Blue Ridge Boulevard and me stepping on the throttle to get there quickly. I wonder how long it will be before we do any riding down that road."
Road Builder
In 1922, Truman ran for election as a Jackson County Judge, an administrative post. He campaigned for better roads and sound management. At one campaign stop, he told the crowd: "The time has arrived for some definite policy to be pursued in regard to our highways and our finances. They are so closely connected with our tax problem that if they are properly cared for, the tax problem will care for itself."
He wanted to select road overseers like his father, who "will do a day's work for a day's pay."
Following his election, he fulfilled his promise. McCullough summarized how: "Harry Truman, as he later boasted, made himself completely familiar with every road and bridge. ... Years of mismanagement and crooked contracts had produced roads so poorly constructed that they caved in like pie crusts. Bridges were inadequate or in sad repair. ...`When a road project or a bridge application is brought before the county court, here is what happens,' wrote one Republican. `Judge McElroy turns to Judge Truman and asks him what about it. Nine times out of ten Judge Truman already has been on the ground and knows all about the proposition. He explains it to the court. Judge McElroy then says, `All right, if you say so I move the work be done,' and it is ordered."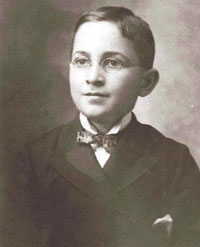 Despite an excellent record, Truman lost his reelection bid in 1924 against Republican candidates aligned with the Ku Klux Klan, which was in the ascendancy at the time and having an impact on races in several States.
President Harry S. Truman's Highway Message, 1948
(Excerpt)
The roads of this country have been improved tremendously in the past thirty years. Over the years we have developed an increasingly efficient highway network. This has been made possible by active cooperation between the states and the Federal government.
In this partnership the Federal government has contributed part of the funds, extensive technical assistance, and the means for unifying the state systems into a national network. The states and local subdivisions also have contributed funds, and have been primarily responsible for planning and actual construction. Working together, the Federal, State and local governments have developed the most efficient and extensive road systems in the world. ...
In recent years, our highway construction has not kept pace with the growth in traffic. ... By any reasonable standard our highways are inadequate for today's demands. ... To build highways that will meet these needs will require continuous effort over a long period of time and on an extensive scale. For the immediate future, we must limit expenditures to avoid excessive costs resulting from overtaxing the capacity of the construction industry and to avoid inflationary pressure on the national economy. But we can and must continue to rebuild and modernize our highways where their present obsolescence results in excessive safety hazards and wasteful maintenance costs, and where present traffic capacity is most seriously inadequate.
A Life on the Roads
To earn a living, Truman took a job selling memberships in the Kansas City Automobile Club on commission. He became a top salesman, clearing $5,000 a year. "Roads, highways, the new age of the automobile," McCullough wrote, "had become his specialty."
In 1926, Truman was named president of the National Old Trails Road Association. This association, which predated even the powerful Lincoln Highway Association, had been formed in Kansas City in April 1912 to promote improvement of a transcontinental trail from Baltimore, MD, to Los Angeles, with branches to New York City and San Francisco. The name of the road signified that it followed several of the Nation's historic trails, including the National Road and the Santa Fe Trail (much of the road, from Colorado east, became U.S. 40 in 1926).
Former Jackson County Judge J. M. Lowe, who died on April 16, 1926, had headed the association since its inception. Judge Lowe had been a tireless speaker on behalf of good roads—despite the fact that, as he once told the Senate Committee on Post Offices and Post Roads, "I do not even own an automobile, and would not know what the dickens to do with it if I had one." Under Judge Lowe, the association had become well respected among the groups aligned in the Good Roads Movement that had agitated since the 1890s for government involvement in improvement of the Nation's roads.
Truman, as the new president of the association, periodically drove the National Old Trails Road from coast to coast and met with members of the association in each State to discuss improvement of their segments. He enjoyed the travels, but he missed Bess and their young daughter Margaret, as reflected in the many letters he wrote to his wife while on the road. At one point, he told Bess, "This is almost like campaigning for President, except that the people are making promises to me instead of the other way around."
Truman's name would remain on the letterhead of the National Old Trails Road Association well into the late 1940s, listed as "president."
"When Franklin Roosevelt died, I felt there must be a million men better qualified than I to take up the Presidential task. But the work was mine to do, and I had to do it. And I have tried to give it everything that was in me."
President Harry S. Truman's Farewell Address
January 15, 1953
Madonna of the Trail
One of Truman's accomplishments as president of the National Old Trails Road Association was the placement of Madonna of the Trail statues in the 12 States along the National Old Trails Road. Conceived by Mrs. John Trigg Moss of the Daughters of the American Revolution (DAR), the statues are dedicated to the pioneer mothers of covered wagon days. Each statue is 18 feet high, consisting of a 10foot high pioneer mother mounted on a base. The DAR describes the statue: "The `Madonna of the Trail' is a pioneer clad in homespun, clasping her babe to her breast, with her young son clinging to her skirts. The face of the mother, strong in character, beauty and gentleness, is the face of a mother who realizes her responsibilities and trusts in God."
Competition among the towns for the Madonna of the Trail was stiff, and Truman had to choose the sites carefully. Here, for example, is an excerpt from his letter to Bess about the review in Springerville, AZ: "Arizona put up its claim and I want to tell you it was some job to decide. L. S. Williams from Williams, Arizona, made the best plea I ever listened to, but Williams was like Independence—they never had done anything for the National Old Trails [N.O.T.]. Springerville, which happens to be the residence of J. W. Becker, national vice president of the N.O.T., has never missed an opportunity to boost the road and pay its money [i.e., dues to the association]. Davis [Frank A. Davis of Rosedale, KS, secretary manager of the N.O.T.] and I voted for Springerville and Mrs. Moss voted for Williams. Kingman had a little old maid here who was a member of the committee and who was supposed to have an unprejudiced mind but who put forward an argument for Kingman every time a point was made for another town. The man from Williams named her incompetent. She was. She lost her town every opportunity to win."
The last of the statues was dedicated in Bethesda, MD, on April 19, 1929. The decision to place Maryland's statue in Bethesda, which was connected to the National Old Trails Road by a spur, instead of Cumberland, which was the starting point of the National Road authorized in 1806, was a tough one. While staying at the Fort Cumberland Hotel in Cumberland, Truman wrote to Bess on April 17, 1928, to describe the difficulties of placing the statue in Pennsylvania and Maryland. Backers of placement in Washington and Uniontown, PA, were "at swords' points because the former got the monument." He added, "They're worse than Kentucky mountaineers." As for Maryland, he said: "Same here in Maryland. But Davis and I are going to straighten them out I believe if we can get the feminine part of the row satisfied. The local D.A.R.'s in both states are at outs with Mrs. Moss and with each other."
The Bethesda monument, placed on a post office site at the corner of Montgomery and Wisconsin Avenues, was dedicated before a crowd of 5,000, with Vice President Charles Curtis among the dignitaries. Truman attended, as was the case with most of the dedications, and delivered an address that was noted, but not quoted, in The Washington Post the next day. The inscription on the north side of the base reads:
THIS, THE FIRST MILITARY ROAD
IN AMERICA
BEGINNING AT ROCK CREEK AND
POTOMAC RIVER,
GEORGETOWN, MARYLAND
LEADING OUR PIONEERS
ACROSS THIS CONTINENT
TO THE PACIFIC.
The inscription on the south side reads:
OVER THIS HIGHWAY
MARCHED THE ARMY
OF MAJOR GENERAL
EDWARD BRADDOCK
APRIL 14, 1755
ON ITS WAY TO FORT DUQUESNE
Mrs. Moss, in a tribute to the National Olds Trails Road, once said, "Those trails are the autograph of a nation written across the continent." The Madonna of the Trail statues placed by Association President Harry Truman were seen as a fitting memorial to the pioneering spirit and the roads that helped move a Nation west.
The Good Roads Judge
Back in Jackson County, MO, Truman was elected Presiding Judge in 1926 and took office the following January for a 4year term. Roads would again be his top priority. McCullough summed up Truman's history with roads and bridges: "It was as though all he had absorbed in his readings in the history of the Romans, the model of Caesar's bridge [that he and a friend had made as a school project], the experience of countless misadventures by automobile since the days of the old Stafford, the memory of the roads he had seen in France, not to say his own experience with the farm roads in and about Grandview and the father who had literally died as a result of his determination to maintain them properly, converged now in one grand constructive vision. He would build the best roads in the state, if not the country, he vowed, and see they were built honestly."
The roads were built on schedule and under budget, but Truman also planted trees along the sides to create the sort of roadsides he had seen and admired in France. The farmers who lived along the roads mowed the seedlings down, so his vision, in this regard anyway, was not achieved.
Truman as Road Traveler
Another of his accomplishments was construction of the Kansas City Courthouse. Here, too, roads played a part. Judge Truman was unsure what he wanted in the new building, so he educated himself by setting off in his automobile—his own car, at his own expense—on a cross-country tour to look at public buildings. He traveled thousands of miles, as far west as Denver, as far east as Brooklyn, and as far south as Baton Rouge, LA. In Shreveport, Truman found what he was looking for, the Caddo Parish Courthouse. He hired the architect, Edward F. Neild, as a consultant on the Kansas City Courthouse.
Truman wanted an equestrian statue of Andrew Jackson, the county's namesake, to stand in front of the courthouse. He liked the statue of General Stonewall Jackson, the Civil War hero, in Charlottesville, VA, so Truman hired the sculptor, Charles L. Keck, for the Jackson County statue. Truman wanted the statue to be life-size, neither smaller nor larger than life. "I wanted a real man on a real horse." To ensure historical accuracy (and because he admired the former President), Truman drove to the Hermitage, Jackson's home in Tennessee, to measure his clothing.
Senator Truman Takes to the Roads
In 1934, Truman ran successfully for election to the U.S. Senate. He campaigned by car, traveling Missouri's back roads. He told reporters he felt as if he were on a vacation. "Fact is, I like roads. I like to move. ... " As a Senator, he spent many hours in his car driving between Independence and Washington on U.S. 40, the former National Old Trails Road.
Originally regarded as a lightweight sent to Washington by Kansas City's "Boss" Pendergast, Truman made his reputation as a determined investigator of financial finagling by the railroads. After the United States entered World War II in December 1941, he applied his dogged, common sense investigative skills to military procurement. The investigation began unofficially when he left Washington in his Dodge and drove to Florida, then to the Midwest, and finally to Michigan, stopping at Army installations and defense plants along the way. Based on the abuses he found during his tour, the Senate established the Special Committee to Investigate the National Defense Program, commonly called the Truman Committee after its chairman.
In this new and highly visible position, Truman gained national stature. Although many still thought of him as the lightweight political hack he had appeared to be when he arrived in Washington in 1935, his success gave him the opportunity to be considered for the position of Vice President in 1944.
President Harry S. Truman
For Democrats approaching the 1944 presidential election, the critical decision was who would be the nominee for Vice President. Everyone knew President Roosevelt would be the Democratic nominee and that he would not survive a fourth term as President. Sooner or later, whoever was chosen to be Vice President would become President.
At the July convention in Chicago, Truman quickly became an improbable, if acceptable, alternative to the other candidates, including Vice President Henry A. Wallace, whom McCullough described as "pathetically out of place and painfully lacking in political talent, or even a serious interest in politics." When the nomination was close but it looked like it was going his way, Truman told a friend, "Feel sorry for me. I'm in a terrible fix."
No candidate won on the first ballot. But on the second, the break came when Alabama's Favorite Son candidate, Senator John Bankhead—the son of the Senator who introduced the Federal Aid Road Act of 1916 that established the Federal-aid highway program — withdrew his name and cast 22 Alabama votes for Truman. South Carolina then switched its 18 votes from Bankhead to Truman and, as McCullough wrote, "the stampede was on." Truman was nominated, soon becoming known as "the Missouri Compromise" because he had been everybody's second choice for Vice President.
Thus, it was a 10,000mile auto journey to military installations around the country that propelled Truman into a position to become President of the United States on April 12, 1945, following the death of President Roosevelt earlier that day in Warm Springs, GA.
Little good was expected of Truman. As McCullough put it: "[The] news of Franklin Roosevelt's death, followed by the realization that Harry Truman was President, struck like massive earth tremors in quick succession, the thought of Truman in the White House coming with the force of a shock wave. ... `Good god, Truman will be President' ... was being said everywhere. `If Harry Truman can be President, so could my next door neighbor.' "
"He was a certifiable member of the human race, direct, fallible, and unexpectedly wise when it counted. ... He said he lived by the Bible and history. So armed, he proved that the ordinary American is capable of grandeur. And that a President can be a human being."
Mary McGrory
The Washington Star
Following the funeral of Harry S. Truman on December 27, 1972
Despite the skeptical reception to his presidency, the man who once told reporters, "I like to move," was in a position to do something about it. He loved roads and bridges. He knew how to build them. The Federal-Aid Highway Act of 1944 had authorized designation of a 40,000-mile National System of Interstate Highways. President Roosevelt had seen the highway program as a jobs generator for the post-war era. The war was soon over and the country—and the economy— needed work.
President with a Full Plate
Immediately after the war, Truman had to deal with the political aftermath in Europe and economic disruption in the United States. That's what he was doing in Potsdam on July 20, 1945, when he talked with General Eisenhower about the 1948 presidential race. Then there were internal problems. The Pentagon canceled billions of dollars in war contracts. Layoffs from wartime jobs were common. Strikes broke out across the country. The Nation faced the biggest housing shortage in history.
Newspaper Clipping
Truman and Former FHWA Administrator Rex Whitton
One side of a wall in Whitton's large office is covered by awards and photographs of highway ceremonies. He is especially proud of the centerpiece, a picture of former President Harry S. Truman, former Gov. John M. Dalton of Missouri, Mrs. Whitton and himself at a ribbon-cutting to mark the opening of the Southeast Trafficway in Kansas City. The photograph is inscribed: "Kindest regards to Rex Whitton, who refused me the only request I ever made of him. Harry S. Truman."
The inscription relates to a highway [U.S. 71] that ran through a Jackson county farm owned at the time by Truman. The former President insisted that he granted the right-of-way under terms entitling him to an underpass joining two plots of the land. Whitton rejected this. The two men have made up their differences. Whitton says he believes Truman will rank with the great Presidents.
Raymond P. Brandt
"Whitton's Views on Road Issues"
St. Louis Post-Dispatch
December 18, 1966
As Truman wrote in a letter to his mother, "The Congress are balking, labor has gone crazy and management isn't far from insane in selfishness."
After a period of disruption, however, the Nation entered what is typically known as the "post-war boom." By the time of Truman's State of the Union address on January 6, 1947, he could accurately say the Nation was prospering as never before. A year later, Fortune magazine would refer to "the greatest productive record in the peacetime history of this or any other nation."
Automobile sales did more than keep pace with the boom—the sales spurred the economy. The auto industry could hardly keep up with demand as vehicle registrations rose from 32 million motor vehicles in 1940 to 49 million in 1950. Vehicles crowded the roads to the new housing developments on the fringes of the cities.
All things considered, the highway industry expected a boom. In particular, there was the Truman factor. He had been paying dues to the American Road Builders Association (ARBA) for years as a member of the Jackson County group. On May 7, 1946, James J. Skelly, president of ARBA, and Charles M. Upham, its engineer-director, presented Truman with an honorary life membership in the association. The President received a gold membership card in a pigskin case and an engrossed parchment bound in blue leather in appreciation of his activity and interest in local and national highways.
Instead of experiencing a boom supported by the President who loved roads, the industry floundered. Inflation ate away at the value of a dollar while highway agencies had trouble luring contractors from housing projects. Funding for highways was up, but because of inflation, the added dollars resulted in fewer miles of finished highways. Truman and his advisors, like their predecessors, saw the highway program as a tool for managing the economy. While giving priority to housing programs, the Truman Administration fought the inflationary trends by reducing other public works projects.
In 1948, with the Federal-aid highway program up for reauthorization, Truman sided with his economic advisors who considered the program inflationary and wanted to constrain it. The surplus in Federal-aid highway accounts—accumulated because the State highway agencies had been unable to build roads as fast as the funding came in—prompted Truman to ask for only $300 million a year. As he explained: "The program I am recommending now is a conservative one, necessary to maintain prudently our investment in highways. When conditions permit in the future, we should plan to accelerate our progress toward a highway system adequate to carry our expanding agricultural and business traffic, to accommodate with safety and speed the personal travel of our people, and to meet the needs of our national security."
In the Federal-Aid Highway Act of 1948, Congress authorized no new funding for fiscal year (FY) 1949, but authorized $450 million per year for FY 1950 and the same for FY 1951, compared with the $500 million per year authorized by the Federal-Aid Highway Act of 1944.
For the Interstates, One Step Forward, One Step Back
While the highway community marked time, the Public Roads Administration (PRA) worked with the State highway agencies to identify routes for the Interstate System. On August 2, 1947, Commissioner of Public Roads Thomas H. MacDonald and General Philip B. Fleming, administrator of the Federal Works Agency (a New Deal agency that housed the PRA during the 1940s), announced designation of 37,681 miles of future interstate highways, including 2,882 miles of urban thoroughfares. They reserved 2,319 miles for additional urban circumferential and distributing routes to be designated later.
Congress had not authorized funds specifically for interstate construction. Because many States thought of the Interstate System as a Federal program, they used much of their Federal-aid for State priorities. The 1949 PRA annual report indicated that $270 million, or 22 percent of the funds authorized in the Federal-Aid Highway Acts of 1944 and 1948, had been used to improve 2,917 miles of interstate highway and 981 interstate bridges, while eliminating 120 railroad grade crossings. Generally, however, the improvements involved upgrading the existing U.S. numbered highway in the Interstate corridor rather than construction of an interstate freeway on a new parallel location, as would become common after 1956. In bureaucratic understatement, the report noted: "However, any feeling of satisfaction with the present rate of progress or thought that traffic troubles on main highways will be solved within a few years disappears when one compares what needs to be done on the interstate system with the rate at which work is being done."
With the Administration focused on the Nation's post-war housing problems, Commissioner MacDonald and General Fleming tried to advance their plans for urban expressways as part of a broader program of urban redesign. On December 21, 1948, General Fleming wrote to the President to propose a coordinated approach under which MacDonald would use his urban road-building program to remove thousands of substandard houses as "the framework of the redeveloped city." (See "A Genie in the Bottle," Public Roads, September/October 2000, for a discussion of this proposal.) President Truman dashed the plan on April 20, 1949, when he turned down Fleming's request and supported instead the housing bill under consideration in Congress.
Highway Boom on the Horizon
By 1950, the highway community finally appeared ready to address the deficiencies of the Nation's highway network. Demand was certainly there, as it always had been. The material shortages had lessened. Labor was available. And in May, the House of Representatives passed a Federal-aid highway bill that expanded the Federal-aid program and, for the first time, authorized $70 million for the Interstate System, to be used on a 75-25 Federal-State matching ratio instead of the traditional 50-50 ratio.
The Senate was considering the legislation and President Truman was spending a weekend at home in Independence, when he received word on June 24, 1950, that North Korea had invaded South Korea. Within a month, the northern Communists occupied most of the Korean peninsula. The President ordered American troops to join with forces that the United Nations Security Council had sent to the Korean Peninsula. An advance battalion under Major General William F. Dean landed in Pusan on July 1.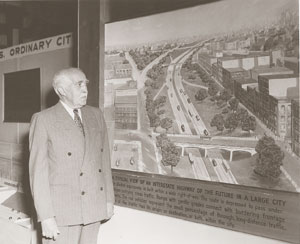 In reaction to the emergency, President Truman asked Congress on August 17 to restrain nondefense expenditures. He asked that Federal-aid be held to $500 million at most. The Federal-Aid Highway Act of 1950 authorized $500 million a year, with no special funding or enhanced matching ratio for the Interstate System. The system remained in limbo where it depended on the priority each State assigned to it.
The mood of the highway community, which had thought its turn had finally arrived, was perhaps best summed up in an editorial in the October 1950 issue of American Highways, the magazine of the American Association of State Highway Officials: "Our peacetime economy is built around highway transportation; in war, our very survival depends upon it. And yet, the people have not been made to understand these facts. Why? Where have we failed?"
Through the remainder of the Truman Administration, the Korean War dominated the President's activities, including his decision to retain Commissioner MacDonald. Under a variety of titles, MacDonald had headed the Nation's road agency since 1919, but he had now reached the mandatory retirement age of 70. Because of the war emergency, President Truman waived the requirement and persuaded MacDonald to stay on as head of the renamed Bureau of Public Roads. The President felt that in an emergency, he could ensure stability in an important sector by retaining MacDonald, the most respected man in his field, nationally and internationally.
When consideration of the Federal-Aid Highway Act of 1952 began, Truman asked for a $400 million ceiling on annual highway spending. MacDonald testified, loyally, in support of the President's request, prompting Representative George Fallon (D-MD), chairman of the Subcommittee on Roads, to tell him, "I can only say that we feel sorry for you when you have to defend and support a measure we all know falls short of the minimum needs."
As Representative Fallon put it, "We are a nation on wheels," and Congress knew more money was needed. In the end, Congress authorized $550 million a year for the primary and secondary systems in FY 1954 and FY 1955, plus funding for an assortment of other activities, including the Inter-American Highway and a token $25 million for the Interstate System in each year. This was the first Federal funding specifically for the Interstate System. The matching share remained 50-50. President Truman signed the bill on June 25, 1952.
By then, Truman had announced he would not be a candidate for reelection. The Interstate System, in short, would have to await the arrival of the other fellow in that vehicle racing along the autobahn to Potsdam on July 20, 1945.
When Harry S. Truman boarded the train at Union Station for Independence, MO, on January 20, 1953, the verdict of contemporary pundits, politicians, and the public was in. He had been the failure they expected he would be when he became President following the death of Franklin D. Roosevelt.
The verdict of history has been different. In rankings of America's Presidents, Harry S. Truman is among the top 10, one of the near-great Presidents (the universally acclaimed great Presidents are George Washington, Abraham Lincoln, and Franklin Roosevelt, with historians divided over the proper sequence of the three). Over nearly 8 years in office, President Truman's record earned the approval of history, if not his contemporaries. As biographer David McCullough has pointed out, "He was not without flaw. He could be intemperate, profane, touchy, too quick with simplistic answers." McCullough added, however, that for Truman, "Principle mattered more than his own political hide. His courage was the courage of his convictions."
A Love That Never Dies
In the years since Potsdam, relations between General Eisenhower and President Truman had become embittered by political and other differences. By Inauguration Day, January 20, 1953, President-elect Eisenhower had lost his normally sunny disposition when the subject of President Truman came up. Contemplating the traditional drive the two would make on Pennsylvania Avenue from the White House to the Capitol, Eisenhower wondered aloud "if I can stand sitting next to that guy." Even the subject of hats could divide the two men. Without consulting Truman, Eisenhower decided to wear a homburg instead of a top hat. Truman, not wanting to quarrel over a hat, decided to wear a homburg as well.
Shortly after Eisenhower took office in January 1953, citizen Harry S. Truman went to Union Station for the train ride home to Independence. Truman shook hands with his Secret Service escort and said goodbye—once he left Washington, he would have no government protection.
Back home, he bought a four-door black Chrysler for Bess. For himself, he bought a two-tone green Dodge coupe. In June, he decided to give the Chrysler "a real workout" by driving with Bess to Washington on U.S. 40, the National Old Trails Road the former President knew so well. To convince her to go, Truman had to promise he would obey the speed limits and convince her they could travel without being recognized. Margaret Truman, in her biography of her father, described the start of the trip: "They weren't on the road more than an hour, when Mother asked, `What does the speedometer say?' `Fifty-Five.' `Do you think I'm losing my eyesight? Slow down.' As they slowed down, other motorists passed them and quickly began recognizing the ex-President. Soon they heard people shouting, `Hi, Harry—Hey, wasn't that Harry Truman? Where are you going, Harry?' `Well,' Dad said, `there goes our incognito —and I don't mean a part of the car.' Everywhere they stopped along their route, Dad was instantly recognized by motel owners or filling station attendants. Local reporters were notified, and police chiefs rushed to escort or guard them. The trip became almost as well publicized as a whistle-stop campaign."
After a pleasant visit with friends in Washington, Truman and Bess drove to New York City for the weekend, then turned west to go home. McCullough, who described the trip in his biography of Truman, concluded his account with the following incident: "Heading home for Missouri, `perking along' on the Pennsylvania Turnpike, Truman was signaled to pull over by the police. According to what State Trooper Manly Stampler told reporters, `Mr. Truman' had twice cut in front of vehicles trying to pass him. `He was very nice about it and promised to be more careful.'
"But according to Truman, who had never had a traffic violation, the young man had only wanted to shake hands.
"It was his last venture with Bess on their own by automobile. Thereafter, they would go by train, plane, or ship."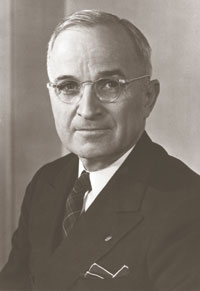 The Special Guest
On August 17, 1962, a 5.2-mile long section of the Southeast Freeway opened in Kansas City. The principal speaker was Federal Highway Administrator Rex Whitton, a native Missourian who had worked for the Missouri highway agency since 1920, becoming commissioner in 1951. Reminding his listeners that the Southeast Freeway is part of I-70 and that I-35 passes through Kansas City, Whitton said: "So the Interstate System will bring all of the United States to Kansas City's doorstep. And it will take Kansas Citians coast to coast and border to border, swiftly, comfortably, and safely. ... Transportation has strongly helped to produce this vibrant nation whose prosperity and well-being today serve as a model and goal for the entire world.
When all the speeches were done, Whitton and his wife, Callie Maude, grasped the red ribbon, along with State and local dignitaries and a special guest. As Mrs. Whitton snipped the ribbon and the Air Force provided a carefully orchestrated sonic boom high above them, standing next to her was Harry S. Truman. The former President told reporters that he had attempted to arrange for construction of such a traffic connection while he was presiding Judge of the Jackson County Court. "I know something of this project," he stated. "I wanted it built 30 years ago."
Once the barrier was down, a steady stream of traffic began to move over the route.
---
Richard F. Weingroff, the information liaison specialist for FHWA's Office of Infrastructure, is the only reader in America who underlined every single reference to roads in David McCullough's Pulitzer Prize winning biography Truman (Simon and Schuster, 1992). The biography was a major source of information for this article.