NHI Celebrates 45 Years of Excellence
Since opening its doors in 1970, the National Highway Institute has equipped thousands of transportation professionals with the skills to keep the Nation's highway system moving forward.
The need for a national transportation college existed almost as long as the transportation system itself. Federal, State, and local highway professionals rely on up-to-date, accurate, and timely training on the latest skills and techniques to do their jobs effectively and efficiently. Without such training, highway professionals could face ineffective project planning, mistakes in construction, and the risk of spending more time and money on projects than necessary. To address these potential issues, section 115 of the Federal-aid Highway Act of 1970 called for the creation of a transportation college. This legislation is responsible for the formation of NHI.
NHI offers opportunities for continuing education to the transportation workforce. Since its inception, Federal, State, and local highway professionals have relied on NHI's training and expertise to provide new information and skills. Like the industry it serves, NHI has become larger, more diverse, and more innovative over the past 45 years.
A History of Partnership
Today's transportation workforce operates in a rapidly changing environment. The need for fast, reliable training is intensified by the swift growth of technology. NHI's partnerships with Federal program offices, State departments of transportation, and local agencies are essential to staying ahead of transportation training needs.
When NHI realizes a training need, it works with individual program offices at FHWA to analyze the gap and formulate a solution. "Agencies are looking for training solutions that are within budget but also that will equip their employees with applicable skills to improve their job performance," says Thomas Elliott, training program manager at NHI. "For today's transportation agencies, the answer isn't always traditional classroom training. Sometimes it's a job aide or Web-based solution that works best."
NHI's hosts are vital to its success as well. Any organization with a transportation training need can ask to host an NHI session, either in a classroom or via Web conference. These training requests help NHI keep a pulse on program area needs across the country. By tracking the popularity and demand of its offerings, NHI can provide opportunities for continuing education in programs of interest.
Evolution of Training
When NHI was first formed, a small number of employees registered students by hand for instructor-led trainings in local classrooms. The introduction of the Internet and large increase of personal computers in the 1990s changed everything. Paper forms moved online, certificates became downloadable, and eventually focus shifted to distance learning.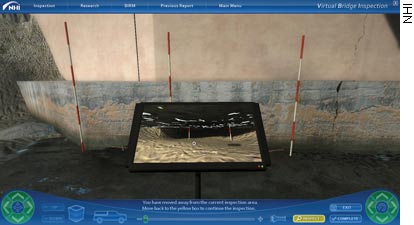 NHI's course offerings expanded beyond instructor-led trainings to include Web-based trainings in 2007. Moving some training online enabled practitioners working in rural areas, and others unable to travel to a classroom, to earn continuing education units from any location with online access. In 2010, NHI introduced Web-conference trainings, placing qualified classroom instructors within virtual classrooms for live training sessions.
NHI's instructor-led trainings are evolving too. In September 2015, the Federal Highway Administration received the International Association for Continuing Education and Training's (IACET) 2015 Innovation of the Year Award – Technology Integration for the development of a virtual bridge technology used in the Safety Inspection of In-Service Bridges (130055) course. IACET presented the award to recognize the "best of the best" in technology integration and innovation. For more information on the course, see the Training Update article "Bridge Inspection Goes Virtual" in the May/June 2013 issue of Public Roads.
Future of NHI
NHI is striving to think differently about learning. But while training techniques and technical platforms may vary over time, NHI remains committed to quality.
"We're constantly looking for ways to make training more accessible and engaging for the participants," says Valerie Briggs, NHI's director of training. "NHI has a rich history of success and innovation spanning 45 years. We're excited to continue working on solutions for the transportation workforce that will adapt with their needs."
The transportation community can continue to rely on NHI's partnerships, technical expertise, and outstanding customer service. By embracing data and technology to extend its services, NHI officials hope to reach an even broader audience with more innovative training solutions.
---
Judy Francis is a contracted marketing analyst for NHI.