Where The Water Meets The Road
In many parts of the country, ferry boats are an important transportation link connecting communities across rivers, bays, and other waterways.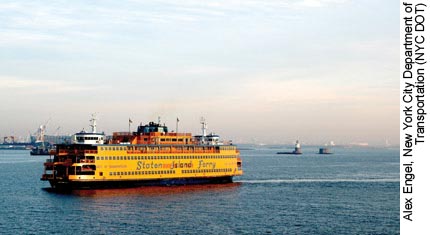 What does New York City, with its population of 8.3 million, have in common with the Ketchikan Gateway Borough in southeastern Alaska, home to just 13,800? They both rely on ferry service as a critical element in their transportation networks.
Every weekday the Staten Island Ferry shuttles about 70,000 passengers between St. George on Staten Island and Whitehall Street in lower Manhattan. The ferry provides Staten Island residents with a convenient alternative to battling rush hour traffic on the Verrazano-Narrows, Brooklyn, and Manhattan Bridges to get downtown. In Alaska, the Inter-Island Ferry provides daily, year-round passenger and vehicle service connecting Ketchikan with the small community of Hollis and the abundant recreational opportunities available on Prince of Wales Island, the third largest island under the U.S. flag. In both cases, ferry boats help fill a transportation gap and improve mobility for travelers in the region.
"Ferry service represents a key transportation link for certain communities--much like highways and bridges do in other areas," says Acting Deputy Secretary of Transportation Victor Mendez.
Ferries serve as a major extension of current highway systems. For example, the Cross Sound Ferry and the Bridgeport-Port Jefferson ferry between New York and Connecticut remove about 900,000 vehicles and 2.4 million passengers annually from the congested I–95 corridor.
The investment required for a ferry's infrastructure is generally lower than that of a major bridge. Therefore, ferries tend to operate where expansion of the existing highway and bridge networks is cost prohibitive or where building a bridge is not feasible. For example, bridging a wide body of water might not be a reasonable option where the traffic levels would not warrant the expense.
Since 1991 Congress has set aside money from the Highway Trust Fund for ferry boat projects. To date, the Federal Highway Administration (FHWA) has made available more than $500 million through its Ferry Boat Program for various projects, including constructing new boats and terminals and rehabilitating existing facilities. States use these funds to preserve and improve those links.
Here's a look at how the Ferry Boat Program works and how it is helping communities across the country build and maintain these important links in their transportation networks.
The Lay of the Water
Before there were bridges, there were ferries. The United States is home to more than 29,000 nautical miles (53,708 kilometers) of navigable waterways, including rivers, bays, channels, the Great Lakes, the Saint Lawrence Seaway, and coastal routes. As such, ferry service has been an important component of the Nation's transportation system since the beginning.
Some of the earliest ferries are still in operation today. Connecticut's Rocky Hill–Glastonbury Ferry, which provides service across the Connecticut River, is among the oldest continuously operating in the United States. Dating back to 1655, the original ferry was a small raft pushed across the river using long poles.
Today, a wide variety of ferry services operate across the country. According to FHWA, ferries in 37 States, Puerto Rico, and the U.S. Virgin Islands carried an estimated 106 million passengers in 2007.
Passenger ferries carry pedestrians and bicyclists from point to point in large urban areas like New York City and San Francisco. Elsewhere, vehicle-carrying ferries constitute an important part of the highway network in an array of settings, from large urban areas, such as New Orleans and Seattle, to rural river crossings serving small communities, largely in the Midwest from Wisconsin to Alabama.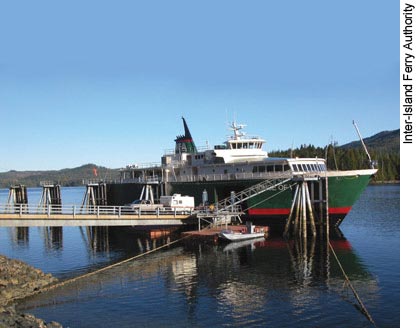 States including Alaska, Maine, New Jersey, North Carolina, Texas, and Washington rely on vehicle ferry operations to support their coastal communities. One ferry carries cars and passengers nearly 600 nautical miles (1,111 kilometers) from Bellingham, WA, to Ketchikan, AK. A number of ferry routes also connect Canada to the United States on both coasts and across the Great Lakes. Federal-aid highway funds and other Federal funding sources help build and improve these ferry operations.
A Snapshot of U.S. Ferry Operations
A total of 190 operators across the country provide service with scheduled routes.
Passengers log 106 million trips annually.
There are nearly 500 terminals in 37 States and 3 U.S. territories.
The country's fleet consists of almost 700 active vessels, ranging in capacity from carrying as many as 6,000 passengers to as few as 2.
Services are available on nearly 350 route segments, covering 7,877 nautical route miles (14,588 kilometers).
The largest concentration of routes is in major metropolitan areas on both coasts, where ferries provide an alternative means of accessing the central city from outlying areas.
Alaska's ferries operate across the longest distances, connecting that State's coastal cities and towns with each other and with those in the lower 48 States.
More ferries, 75, are based in New York than in any other State.
Source: U.S. Department of Transportation, Research and Innovative Technology Administration, Bureau of Transportation Statistics. Special Report: Highlights of the 2008 National Census of Ferry Operators. December 2010. (SR-022).
"Federal funding has been critical to Washington State Ferries' ability to preserve its vessels and terminals, as well as aid in the construction of new vessels," says Jean Baker, deputy chief of finance and administration at Washington State Ferries. "Since 2010, we have received nearly $70 million in grant funds for vessel preservation, diesel engine retrofits, new vessel-propulsion systems, and terminal projects. We've also received over $5 million from [the Federal Emergency Management Agency] for necessary security infrastructure. Without these grants, we would not have been able to continue to operate our system."
Funding for Ferry Services
Congress acknowledged the value of ferry services to the national highway network when it passed the Federal-Aid Highway Act of 1960. The law modified the U.S. Code to allow use of funds from the Highway Trust Fund, administered by FHWA, to improve approaches to ferries on certain public roads. In 1970, Congress expanded the allowance to include construction of ferry boats that carry cars and passengers. Use of funding to construct terminals was permitted in 1991, and Congress again modified the U.S. Code in 1992 to allow funding to be used for passenger-only ferries and ferry services that support all types of public roads.
Other transportation modes also fund ferry systems in the United States. The Federal Transit Administration (FTA), for example, provided funding for capital investments in ferry projects in Alaska and Hawaii under the Section 5309 "New Starts" programs in the Transportation Equity Act for the 21st Century and the Safe, Accountable, Flexible, Efficient Transportation Equity Act: A Legacy for Users. In the same laws, the Section 5309 Bus and Bus Facilities program provided grants for specific capital ferry projects. FTA's Fixed Guideway Modernization program also provided for capital needs by formula.
With the Moving Ahead for Progress in the 21st Century Act (MAP-21), passed in July 2012, capital and operating needs are eligible for funding under Section 5307 Urbanized Area Formula Program. Unlike FHWA funds, which can be used only for construction and rehabilitation of existing infrastructure, FTA's Section 5307 grants may be used for operations. In addition, MAP-21 created the discretionary Passenger Ferry Grant Program, also administered by FTA, as a subsection of the Urbanized Area Formula Program.
Moreover, FTA administers grants through Section 5337, the State of Good Repair Program, which allocates funding for capital needs. Specifically, FTA's ferry program offers financial assistance for capital projects related to public ferry systems in urbanized areas. Eligible projects include ferry vessels, terminals, and related infrastructure. The program allows funding for new-start projects, with the exception of planning, operating expenses, and preventive maintenance activities, which are not eligible under this program. Ferry systems that accommodate vehicles also must accommodate walk-on passengers. Vehicle-only ferries are not eligible for FTA grants.
Finally, America's Marine Highway Program, overseen by the U.S. Department of Transportation's Maritime Administration, aims to expand the use of waterborne transportation while relieving landside congestion and reducing carbon emissions. Established by the Energy Independence and Security Act of 2007, the program is designed to integrate marine highways into the Nation's surface transportation system and provide seamless transitions across all modes. The Marine Highway Program specifically supports freight-carrying ferries and their corridors and ports.
The Ferry Boat Program
Congress authorized FHWA's Ferry Boat Program to provide funding through State departments of transportation (DOTs) to ferry systems and public entities responsible for developing ferries. The funds can support designing and constructing vessels and planning, acquiring rights-of-way, and constructing ferry terminal facilities.
To be eligible for funding, vehicular ferries must serve a public road other than the interstate system. Passenger-only ferries must operate on a fixed route as a transit service providing an alternative to a highway route. The ferry facility must not operate in international waters, except for services in Alaska, Hawaii, Puerto Rico, and any U.S. territory, and for services between any State and Canada or between Alaska and Washington. A final eligibility criterion is that it must not be feasible--whether due to cost, logistical challenges, or environmental matters--to build a bridge, tunnel, or other highway structure in lieu of the ferry.
From 1991 to 2012, the program was discretionary. The Secretary of Transportation selected the projects, or they were otherwise designated by Congress through legislation. However, the most recent highway funding law, signed by President Barack Obama on July 6, 2012, changed the way these funds are made available to ferry services. According to Section 1121 of MAP-21, FHWA now distributes these grants to eligible entities through their State DOTs according to a formula. Specifically, the agency allocates funding for projects based on the number of passengers carried (20 percent), vehicles carried (45 percent), and total route miles (35 percent). Grant recipients, whether ferry operators or local agencies, may use the funds at their discretion to support their programs.
What follows is a snapshot of various ferry services in operation today in the United States.
Staten Island Ferry, NY
The Staten Island Ferry, mentioned earlier, provides passenger service over a 5.2-nautical-mile (9.6-kilometer) route between the St. George Ferry Terminal on Staten Island and the Whitehall Ferry Terminal in Manhattan. Each year this free service carries more than 22 million passengers who otherwise would have to travel by automobile or bus on the already congested arterials. No subway option is available for this route.
FHWA's Ferry Boat Program has funded a variety of projects for the Staten Island Ferry, including terminal and facility upgrades. Ongoing efforts include replacing diesel engines with liquefied natural gas models to reduce air emissions. According to New York City Deputy Commissioner for Ferries James C. DeSimone (no relation), the various FHWA-funded improvements to pier and terminal infrastructure, along with buildout of the city's private ferry landing network, are helping ensure a reliable and robust ferry system for the city. These improvements, he says, have helped enhance the efficiency of operations, reduce costs, and extend the life of these facilities.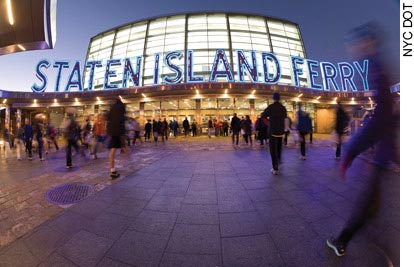 "The city of New York is an island city, and our ferry network provides vital transit service for millions of New Yorkers and tourists each and every year," DeSimone says. "Whether it's the 108-year-old Staten Island Ferry or our newly developed ferry routes serving Queens and Brooklyn, the funding we have received from FHWA has been essential to maintaining and operating our ferry system."
In addition, the National Park Service's Statue Cruises provides more than 7 million boardings per year, connecting Manhattan to Ellis and Liberty Islands.
San Francisco Bay Ferry, CA
Another major U.S. city that relies on ferries is San Francisco. It comes as no surprise that the City by the Bay would have a need for various options for reliable conveyance across the water. In addition to the Golden Gate and San Francisco–Oakland Bay Bridges, commuters in the bay area have the option of hopping a boat to make the trip. One local provider is the San Francisco Bay Ferry, which offers passengers-only service between San Francisco and Alameda, Oakland, South San Francisco, and Vallejo.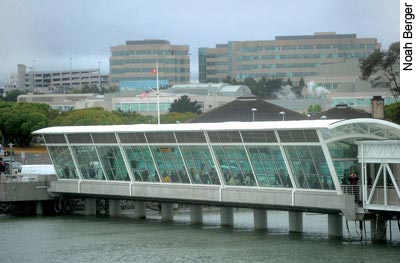 The Water Emergency Transportation Authority (WETA) operates this service, with a fleet of 11 vessels ranging from catamarans that carry up to 149 passengers to larger ferries that hold 355 passengers. WETA estimates the ridership in fiscal year 2013 at approximately 1.6 million.
Funds from FHWA's Ferry Boat Program have helped WETA expand its services, including a recent project to launch a new ferry route between the cities of Alameda, Oakland, and South San Francisco. FHWA provided $8.26 million toward the $43.4 million project, with $5.26 million going toward the purchase of two ferry boats and $3 million toward construction of the South San Francisco ferry terminal.
Outer Banks, NC
For years residents and visitors to North Carolina's eastern coast and Outer Banks have depended on the State's robust ferry service, the second largest State-run system in the country. The North Carolina Department of Transportation (NCDOT) operates 22 vessels on 7 regular routes spanning 5 bodies of water--the Cape Fear, Pamlico, and Neuse Rivers and Pamlico and Currituck Sounds. Every year, the ferry system serves more than 2.5 million passengers and 1.1 million vehicles.
According to Tim Hass, information officer with NCDOT's Ferry Division, the ferry system also plays a vital role in emergency response. When storms strike, ferries can become the only link between Hatteras Island and the mainland if NC Highway 12 is disrupted or damaged.
FHWA's Ferry Boat Program has helped fund new and improved elevators onboard the Motor Vessel Pamlico and Motor Vessel Silver Lake, a new platen to improve efficiency in operations at the State Shipyard in Manns Harbor, and a new visitor center for the ferry route between Currituck and Knotts Island.
Cumberland City Ferry, TN
Even rural ferries in America's heartland rely on FHWA funding to support their operations. In Tennessee, the State DOT used funds from the Ferry Boat Program to upgrade the Cumberland City Ferry, which shuttles motorists across the Cumberland River. The ferry carries just over 4,000 vehicles a month and connects residents to major employers in the area, including the Tennessee Valley Authority, which provides electricity for 9 million people in parts of 7 southeastern States. The ferry also serves the local farming community by enabling farmers to transport their cattle, hay, and grains to market and to haul supplies back.
Federal funding helped the State procure a new tug and barge, build new ramps and landings, and install a permanent mooring. A new floating terminal improves safety for the equipment because it can rise and fall with the river, minimizing the likelihood of damage during heavy rains and flash floods.
According to Captain H. Paul Ritchie of River Marine Service, Inc., the new ferry carries 8 vehicles and as many as 72 passengers. In addition, the new boat has twin engines, giving it twice the horsepower. The larger boat also enables farmers to shuttle their farm equipment and large trucks across the river, a task that was impossible with the previous, smaller ferry.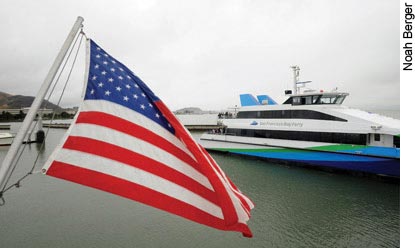 "The value of the ferry to local traffic is immeasurable," Ritchie says. "The ferry service provides a savings of more than 40 miles [64 kilometers] and 1 hour each way for local users. Without this service, the small town of Cumberland City would suffer economically. The stores, restaurants, gas stations, bank, and other small businesses would lose the customer base from the other side of the river."
Further, he adds, "Without the funding from FHWA, the ferry service might not have been able to expand. The larger ferry barge and boat have given this rural community a safer and more useful mode of transportation for all of its citizens and businesses."
Valley View Ferry, KY
In Kentucky, the Valley View Ferry transports vehicles and passengers across the Kentucky River at SR–169. The ferry was chartered to operate in 1785, that is, 7 years before Kentucky became a State. The free service operates with funding from the Kentucky Transportation Cabinet, Madison and Jessamine Counties, and the Lexington-Fayette Urban County Government. Operators maneuver the rudderless ferry across the river using cables. Among the smaller boats in use in the United States, this ferry carries a maximum of 3 cars at a time, hauling upwards of 8,000 vehicles a month across the river.
Operators used Federal-aid funds for a number of projects, including a renovation in 1995, replacement of cables and support towers in 1997, construction of the car barge in 2000, and ramp and landing improvements on the Madison County side in 2001. The latest project is aimed at replacing the towboat that powers the barge. The current towboat was built under emergency circumstances in 1996 after a blizzard destroyed the previous vessel. The barge is propelled by a rudderless paddlewheel towboat guided by an overhead cable system. The new towboat will be designed to have the look of a historic Kentucky River paddlewheel towboat but will be powered by two diesel engines.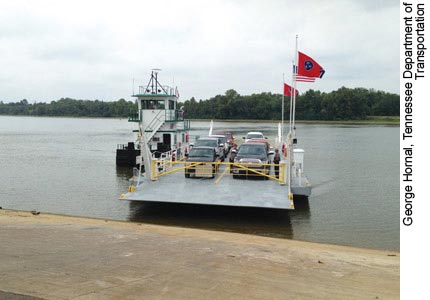 "The Valley View Ferry serves as a nostalgic and vital transportation resource for hundreds of residents living in Madison County and working in Jessamine and Fayette Counties, as well as tourists and visitors from all across the Nation," says Roger Barger, chairman of the Valley View Ferry Authority. "The dependability of a new towboat is important to the economy of all three counties. The Commonwealth of Kentucky has no plans to construct a bridge at the location of the crossing, so the ferry is the most economical way to maintain roadway connectivity in the area."
Tecopa Ferry Boat, Lake Havasu, AZ and CA
In addition to State and local governments, some Native American tribes also count ferries among their transportation assets. The Chemehuevi Indian Tribe, through its transit authority, maintains and operates a regularly scheduled ferry boat service between Lake Havasu City, AZ, and Havasu Lake, CA. This 3.1-mile (5.0-kilometer) route crosses Lake Havasu, a reservoir in the Colorado River created by the Parker Dam.
Although a waterborne transit service in the middle of the Mojave Desert might seem incongruous, the ferry provides several important benefits to both communities, which are separated by a minimum 1.5-hour drive over the nearest land route. The ferry cuts the journey to just 15 minutes.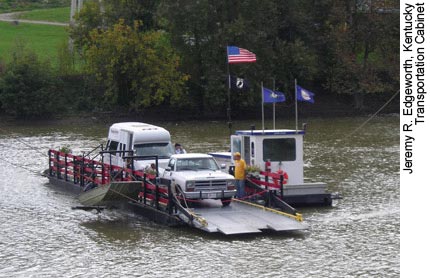 The Tecopa, which means "wildcat" in the Chemehuevi language, carries approximately 1,500 passengers daily, or nearly 400,000 per year. This includes employees of businesses on both sides of the lake, 60 school children traveling to and from Havasu Landing to attend classes in the Lake Havasu Unified School District, and travelers heading to regional medical centers, shopping centers, and recreational areas in both lakeside communities. In addition, the ferry service carries freight and courier mail from Lake Havasu City to the Chemehuevi Reservation. The service also links with the local bus system, Havasu Area Transit, as well as taxis and shuttles that provide access to points as far away as McCarran International Airport in Las Vegas, the nearest commercial aviation connection. The service operates 18 hours a day during the weekday and 22 hours daily on weekends and holidays.
After being trucked from Seattle to its launch site in Lake Havasu, the Tecopa entered into regular service in 2012. FHWA funding covered $2.95 million, the majority of the $3.45 million overall cost. In addition to the vessel, FHWA grant money helped cover the cost of purchasing land and the construction of a ferry terminal to serve Lake Havasu City.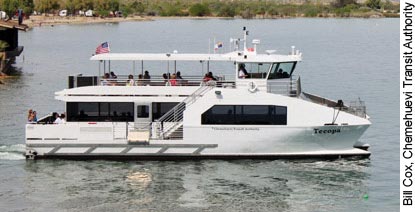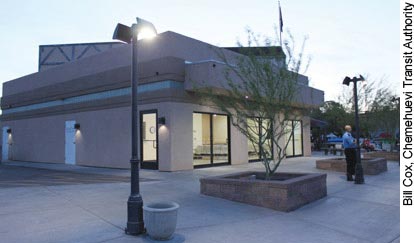 "In both cases, FHWA provided necessary capital to materially improve the quality of this public service," says Bill Cox, tribal planner with the Chemehuevi Transit Authority. "This is especially true in the case of the security, safety, and environmentally responsible use of improved engine and control technologies to greatly reduce emissions and noise pollution associated with Tecopa's operations on the lake."
An Essential Niche
The evolution of Federal support for ferry services from a discretionary program to an annual formula-based program enables State and local service providers to modernize their vessels and facilities with a more regular, budgeted cashflow. Also, operators will be able to plan system improvements more easily to replace outdated radar and other emergency and safety systems. For example, many operators are planning to convert their vessels to more environmentally friendly power sources such as liquefied natural gas.
Maintaining and improving mobility options, both on land and across bodies of water, is important to communities of all sizes across the country, as demonstrated by the examples described above. Whether providing a tailgating-free alternative for commuters in congested urban areas or offering the only reasonable water crossing for travelers in rural communities, ferry services fill an essential niche connecting Americans to schools, jobs, healthcare, and other essential services. As it has for decades, the Federal-aid highway program continues to deliver transportation agencies and service providers a flexible, economical program designed to help keep communities connected. Yes, even where bridges and tunnels are not feasible or reasonable.
---
Anthony DeSimone, P.E., is a senior financial policy analyst in FHWA's Office of the Chief Financial Officer. Before that, he served in the Office of Infrastructure, managing a number of programs including the Ferry Boat Program. He has a bachelor's degree in civil engineering from Carnegie Mellon University.
John J. Sullivan IV is managing editor of Public Roads magazine.
For more information, visit www.fhwa.dot.gov/specialfunding/fbp or contact Joe Taylor at 410–779–7146 or joseph.taylor@dot.gov.
---
*Correction (May 30, 2014)

The following correction was made in this online article, which differs from the article in the printed issue of the magazine. The photo caption: "A truck towing a camper is disembarking at the Inter-Island Ferry Authority's terminal in Hollis, AK. FHWA funding has played an important role in the success of this ferry service in rural Alaska." was replaced with this photo caption: "A truck towing a camper is disembarking from a ferry operated by the Inter-Island Ferry Authority at the Hollis Terminal owned by the Alaska Marine Highway System. FHWA funding has played an important role in the success of this ferry service in rural Alaska."