Traveling The Capital Beltway Is Now E-Zier
Yes, really! A public-private partnership for a massive project in Virginia to construct express lanes with electronic tolling helped unlock gridlock and offer more predictable trip times.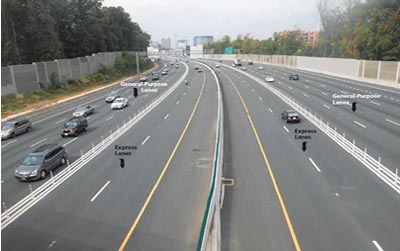 Formerly recognized as one of the most congested interstates in the Nation, northern Virginia's I–495 has undergone a transformation. After opening more than a year ago, I–495's new express lanes are improving travel with a new array of choices for drivers, buses, and carpoolers.
"The Virginia 495 Express Lanes are transforming travel times and emerging as a national model for how to make major transportation improvements a reality," says Sean T. Connaughton, former Virginia Secretary of Transportation.
Working with two private partners, the Virginia Department of Transportation (VDOT) broke ground in July 2008 on an expansion of I–495 (the Capital Beltway) in northern Virginia. The expansion included the addition of two high-occupancy toll (HOT) lanes in each direction, open-road electronic tolling, and congestion-based dynamic pricing. The lanes opened to traffic a month ahead of schedule in November 2012.
The road to unlocking gridlock on I–495 was made possible because of Virginia's use of a public-private partnership and innovation during all phases of the project. Other factors were a unique funding arrangement, a proactive design-build contracting approach, new technology ensuring faster and more predictable travel, and a common vision among all partners and disciplines within the project team.
Growing Congestion Pains
The outer loop of the Capital Beltway ranked 28th in delays per mile in the 2011 Texas Transportation Institute report on congested corridors. This heavily used interstate links the busiest commuter routes of Washington, DC, and serves some of the largest economic engines in the Commonwealth of Virginia. The Beltway area is home to major businesses that employ hundreds of thousands of people, as well as the Nation's tenth largest shopping destination, Tysons Corner. The Beltway--and how efficiently it operates--has a major impact on the economic vitality of the region, and the quality of life for drivers and residents alike.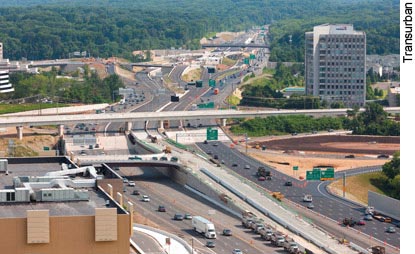 Anticipating growth in the region, in the 1980s Virginia began looking at solutions for the mounting congestion on I–495. According to the April 2006 final environmental impact statement for the project, transportation officials estimated that 1998's daily traffic volumes on the Beltway, in the range of 178,000 to 240,000, would grow to a range of 219,000 to 317,000 by 2020. The existing eight-lane alignment (four lanes in each direction) could not accommodate the increasing travel demand.
An initial Beltway expansion plan required taking more than 350 homes and businesses along the Beltway and met with significant community opposition. Another option surfaced, which included working with the private sector and allowing a more innovative transportation solution that added 50 percent more capacity to the Beltway, while requiring much less space (the proposal required the acquisition of 8 rather than 350 homes and businesses) and expanding the region's bus and carpool network to include the Beltway.
Relief Was on the Way
In 2002, two private firms, Transurban and Fluor Corporation, submitted an unsolicited proposal for a public-private partnership to expand I–495 in Virginia and create HOT lanes. They entered the proposal under Virginia's Public-Private Transportation Act of 1995, legislation that is intended to encourage private investment while enabling Virginia to set and meet its public policy goals. VDOT conducted a formal solicitation for competing proposals and an independent review process before moving the project forward.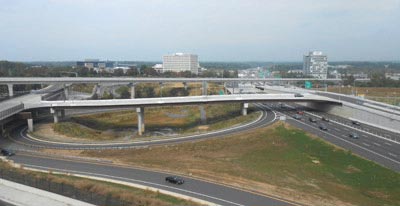 Effective risk sharing between VDOT and its private partners, new ideas, and a tightened scope, combined with an innovative financing arrangement, made the I–495 express lanes financially feasible and enabled the Commonwealth to address its congestion problems now rather than 20 years in the future. Following extensive negotiation, VDOT and the private partners signed a comprehensive agreement in December 2007 for an 80-year concession, 5 years for design-build and 75 years for operations and maintenance of the I–495 express lanes.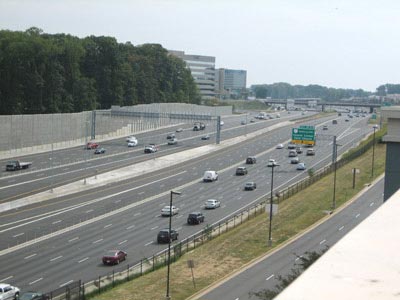 The nearly $1.5 billion project entailed building four new HOT lanes along a 14-mile (23-kilometer) stretch of I–495. The new lanes were constructed in the median of the existing Beltway alignment, separated from the general-purpose Beltway lanes by a 4-foot (1.2-meter) buffer and pylons. The project would be the first major improvement to this section of the Capital Beltway in a generation.
Special features included the following:
Open-road tolling with dynamic pricing to manage demand for the new lanes, providing faster, more predictable travel times. The speed limit in the express lanes is 65 miles (104 kilometers) per hour, which is 10 miles (16 kilometers) per hour faster than the speed limit in the general-purpose lanes.
 
HOT lanes with an option for drivers to pay a toll and use the lanes, while carpools with three or more persons and transit vehicles have free access.
 
First-time opportunity for effective and reliable ridesharing, carpooling, and use of mass transit on the Beltway in Virginia, as well as a seamless connection with existing high-occupancy vehicle (HOV) and transit networks on four major commuter routes.
 
Nine new dedicated access points for express lane drivers, including three direct ramps to busy employment and retail centers in Tysons Corner, as well as first-time direct access from the Beltway to another growing business community, Merrifield, VA, off Route 29.
 
Benefits for local drivers and residents, with the replacement of more than $260 million in aging infrastructure, including rebuilding most vehicle crossings over I–495 and adding new sidewalks for safe pedestrian access for a total of more than 50 new bridges and overpasses.
 
Significant increase in the amount of noise barriers adjacent to the Beltway, protecting neighboring communities.
Laying the Groundwork
By partnering with private firms, Virginia was able to advance the project more quickly than with traditional methods. The Common-wealth negotiated an agreement with the contractors that benefits Virginia while providing the private partners with an opportunity to earn a reasonable rate of return on their investment.
The partnership agreement essentially transfers nearly all key risks away from the public sector to the private partners. Key provisions such as revenue sharing, the requirement for a competitive bidding process for any future improvements on the corridor, full transparency, and long-term performance requirements are integrated into the agreement to protect the public interest.
The project's innovative funding arrangement was an approach that had never been used before in Virginia. The funding arrangement is an example of how revenue risks have been transferred away from taxpayers to the private sector. It includes a $409 million contribution from VDOT, nearly $350 million in equity from the private partners, and more than $1 billion in loans and private activity bonds backed by the private partners. FHWA provided a $589 million loan to the private partners from the Transportation Infrastructure Finance and Innovation Act (TIFIA) loan program.
Construction Facts
58 new bridges and overpasses

12 key interchanges rebuilt

1.4 million tons (1.3 million metric tons) of asphalt

21,400 tons (19,414 metric tons) of steel

220+ pieces of heavy equipment

80,000 linear feet (24,384 meters) of noise barriers

890,000 square feet (82,684 square meters) of retaining walls

More than 350 partial-lane or total overnight closures of I–495

3,000+ orange drums (barrels) used

200+ new highway signs
Source: Virginia Megaprojects Communication Team.
"The 495 Express Lanes project is a great example of how innovative financing, including FHWA's TIFIA loan program, is supposed to work, enabling very large projects to move forward much more quickly than those using traditional funding," says Tarsem Lal, senior major projects engineer with the FHWA Virginia Division. "This landmark public-private partnership project provides a tangible example of what can happen when the public and private sectors work together and use creative strategies and tools to get things done."
Who Did What
Innovation and partnership continued to define the project during its design and construction phases. The sheer magnitude of the project--building a major new highway within a highway--in a highly congested corridor that carries approximately 200,000 vehicles per day created a challenging working environment. In addition, the project was literally intertwined with a massive Metrorail expansion at Tysons Corner. Furthermore, HOV lanes exist in northern Virginia on I–66, I–395, I–95, and the Dulles Toll Road, and on nearby I–270 in Maryland, but the HOT lanes concept is new for the region.
The design-build approach and several key strategies implemented by all partners allowed for faster delivery of the complex and massive project. The strategies included proactive risk management in all disciplines from planning to engineering to construction; a common vision among all partners; and a partnering program involving all levels, including executive levels, to resolve issues. Other strategies included teams sharing the same level of commitment, a proactive public involvement program ensuring public and political support, and a dedicated team of engineering consultants reporting to VDOT and providing an expanded talent pool, including bringing in nationally recognized experts when needed.
Implementation of the project was the responsibility of the private partners and their design-build contractor. As the owner of the corridor, VDOT oversaw and coordinated all design and construction plans, activities, and teams. VDOT also provided oversight of the communications program and disadvantaged business enterprise (DBE) and small, women-owned, and minority-owned businesses (SWaM) programs. The agency approved and coordinated traffic control plans and conducted construction inspections. FHWA oversaw the implementation process by reviewing and approving interstate access changes, safety and bridge designs, design exceptions, cost estimates, and financial and project management plans.
Right on Time
The project required nearly 200 different design plans. The partners established numerous processes to expedite the design phase. Examples of fast-tracking were a "100 plans in 100 days" design challenge and meetings that brought together staff-level managers to work out issues before elevating them to senior management.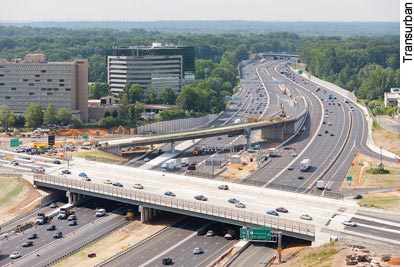 The design-build contractor's quality control and quality assurance program addressed questions about workmanship and quality. Assisting was a "gang of four" composed of one representative from the concessionaire, two from the design-builder, and one from VDOT, who led special efforts, including developing and reporting on quality metrics on a monthly basis.
Safety also was a top priority at all levels of the project. The design-build contractor's "zero accident" culture and aggressive safety program contributed to an exceptional safety record, with more than 9 million work hours with an overall Occupational Safety and Health Administration (OSHA) recordable incidence rate of 0.69, well below the national industry average of 2.6. In addition, VDOT deployed a variety of resources throughout the corridor to keep drivers and workers safe and keep traffic moving during construction. The resources included additional police presence and safety service patrols; new cameras that monitored the corridor 24 hours a day, 7 days a week; and portable variable message signs to provide drivers with realtime traffic information on road closures and alternative routes. VDOT staff also collaborated with communities and local officials to expedite solutions to address traffic conditions worsened during construction.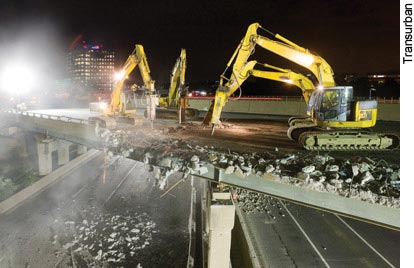 "VDOT and its partners shared a common vision of delivering the project in a safe and timely manner," says John Lynch, who was VDOT's regional transportation director during the construction. "The team's willingness to think and act outside the box allowed them to manage and move the project forward despite the challenges that come with building in one of our Nation's most congested areas."
Communicating New Travel Options
VDOT and its private partners collaborated to implement a multifaceted communications and stakeholder engagement program throughout all phases of the project. The team went beyond mandated, traditional public education processes to make the local community and the traveling public genuine partners through every stage of the development, design, and construction. This approach resulted in a project that was able to move forward without major disruptions, delays, or contractor claims.
The team selected a "Megaprojects" brand, launched with widespread media and stakeholder outreach. A dedicated Web site, www.vamegaprojects.com, focused on current construction information, and a proactive electronic media program enabled VDOT to reach key stakeholders such as media, elected officials, and community leaders in a time-sensitive and consistent manner. During the height of construction, VDOT's dedicated megaprojects Web site generated an average of 18,600 to 28,300 monthly page views.
To prepare drivers for using the express lanes, VDOT's partners launched a consumer-friendly Web site, www.495ExpressLanes.com. The site explains how to use the express lanes and provides details on the entrances and exits, sample signing, realtime video, and variable message pricing signs.
Outreach initiatives tailored to the communities most affected by the construction also played a significant role. Although major construction can be challenging for directly affected communities, engaging local residents as partners can be a win-win proposition for a project and a community.
For example, construction of one segment required the demolition and reconstruction of a two-lane bridge that served as a major artery for a large residential community. Closing the bridge and detouring traffic would enable crews to substantially accelerate delivery of the new bridge, but it would be very inconvenient for local residents. The project team knew that closing the bridge would be met with significant community opposition, so the team chose to engage the community in the decisionmaking process. They hosted informal sessions with community leaders in local homes, sought input from local officials, hosted communitywide workshops, and conducted a survey of residents. In the end, local residents embraced the closing of the bridge and were willing to put up with an inconvenient detour in exchange for a shorter construction period. As a result, the new Idylwood Road bridge was completed nearly 1.5 years ahead of schedule.
In another example, the project team faced the daunting task of demolishing and rebuilding an entire span of the Capital Beltway that stretched over Route 123, a four-lane, major commuter route in the center of Tysons Corner. A large-scale communications and outreach effort was successful in convincing major employers and retailers in the area to embrace an aggressive construction approach that would require full closure of the busy route for two consecutive weekends while construction crews demolished the Beltway bridges. As a result, the crews were able to condense what would have been more than 6 weeks of demolition activity to just two weekends.
Overall, the communications team participated in more than 900 community meetings and provided 265 traffic alerts and news releases to local media outlets, along with 215 weekly lane-closure bulletins. Throughout the course of the project, the team addressed 1,700 citizen inquiries and sent more than 300,000 emails providing project benefits and updates.
In addition, the private partners instituted a community grant program that provided dozens of groups from areas directly affected by construction with awards to be applied to community improvement projects. Examples of these projects include outreach for the Transportation Association of Greater Springfield, bicycle racks installed at an adjacent regional park, and environmental improvements such as community landscaping initiatives.
Ensuring Effective Operations
Construction was challenging, but setting the stage for the long-term operation of the express lanes also took planning and effective implementation. Consideration had to be given to the fact that the private partners were to operate and maintain the lanes, whereas VDOT maintained oversight while operating and maintaining the adjacent general-purpose lanes. At the same time, operation of the entire 14-mile (23-kilometer) stretch needed to be seamless to the public.
Virginia's existing E-ZPass tolling system was implemented with the inclusion of a new E-ZPass Flex that would be required for HOV3+ users who wanted to travel toll free. Those HOV users would have to set a switch on their toll transponders indicating that they were a high-occupancy vehicle. This concept had to be communicated to the public, plus toll transponders had to be developed and made available prior to the opening of the lanes.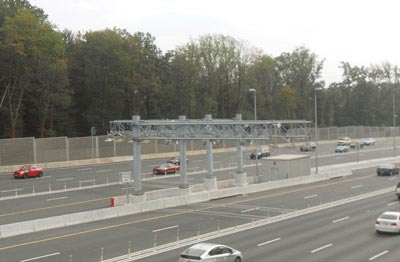 One of the private partners developed a separate operations center for both traffic management and monitoring of the realtime aspects of the express lanes, and back-office support and customer service for the tolling. The partner hired and trained personnel to address issues such as payment of missed tolls, disputes, and invoices. The private partner also worked with the Virginia State Police to develop an effective program for toll enforcement, including dedicated State troopers for the express lanes.
According to Jennifer Aument, Transurban's group general manager, North America, the 495 Express Lanes introduced the biggest change to northern Virginia's traffic system in about 30 years and, before opening, it was expected that travelers would need time to adjust to the major changes in the traffic pattern. During the early days of operations, a collective team worked swiftly to implement improvements to help drivers better transition to the new system. These improvements included extending the merge area and adding E-ZPass pavement markings and updated messages on dynamic message signs in advance of the entrance to the facility.
"In the first 72 hours of operations, we worked seamlessly with our partners at the Virginia Department of Transportation, law enforcement, and other operational partners to resolve issues and ensure the best outcome for the region's travelers," Aument says. "Since opening, the 495 Express Lanes facility has delivered on its promise of providing predictable travel with significant time savings. We've coupled active road management and dynamic tolling to deliver a faster and more predictable trip on the Capital Beltway. We regularly see rush hours where travel speeds in the express lanes are more than double those on the congested regular lanes."
The demand for the express lanes continues to grow, with an increase in average daily traffic of more than 63 percent noted in late 2013 compared to when the lanes opened in late 2012. "We also saw new bus service introduced on the Beltway, and existing operators report saving as much as 20 minutes a trip," Aument says.
"We have learned that it is taking time for travelers to adapt to new routes and signage, which is contributing to a slower ramp-up period than we expected," she adds. "Our team is focused on continuing to educate travelers and help them find their way to this new travel option."
The team continued an educational program throughout 2013 that focused on clearing up customer confusion about the express lanes, reminding the public about the benefits of using the lanes and the importance of obtaining an E-ZPass or E-ZPass Flex. Campaign elements ranged from radio, online, and print advertising to direct mail and a free weekend promotion.
Virginia Takes Center Stage
With the express lanes as a poster project, Virginia now has been recognized as a national leader in the development and implementation of public-private partnerships (P3). Inspiratia, a P3 industry publication, ranks Virginia second in the world, behind the Canadian province of Ontario. Currently, Virginia has more than $6 billion in transportation improvement projects either underway or completed. Each of Virginia's current P3 initiatives is leveraging private dollars to bolster State funding to build major transportation improvements.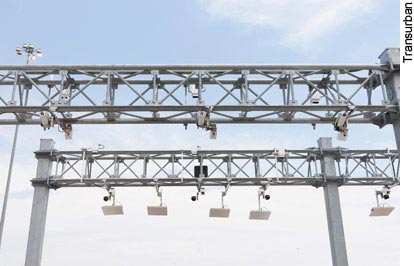 Equally important are the economic benefits. The Common-wealth's P3 projects are supporting thousands of jobs and pumping billions into Virginia's economy. The 495 Express Lanes project alone supported 31,000 jobs over a 5-year construction period and put $3.5 billion into the statewide economy.
The project also opened doors for DBE and SWaM businesses. During the course of the project, almost 300 DBE and SWaM businesses were awarded contracts totalling half a billion dollars. "The involvement of the partnership between the private sector and VDOT was truly outstanding to achieve the level of participation by the DBE and SWaM communities," says FHWA Virginia Division Administrator Irene Rico. "The activities and commitment are remarkable and can be used as a model on major projects elsewhere in Virginia, as well as other projects around the country."
Moving Forward
Virginia's next express lanes project, which is under construction in the I–395/I–95 corridor, is expected to support 8,000 construction and permanent jobs and benefit the economy by nearly $2 billion. Likewise, P3 transportation projects in Virginia's Hampton Roads area, including the Elizabeth River Tunnels Project and the Commonwealth Connector U.S. 460 Bypass Project, are estimated to support thousands of new jobs and spur billions of dollars in economic activity.
Overall, Virginia's partnership with the private sector is providing the public with the best possible scenario--transportation improvements that address major congestion problems now, new choices that encourage transit options, and a future network of express lanes that provide these same benefits to the greater region. Although started before FHWA's Every Day Counts initiative, the 495 Express Lanes project stands as a fine example of that program's philosophy to innovate, consider design-build contracting, and focus on delivering transportation improvements as soon as possible.
---
Thomas Jennings is director of project delivery for FHWA's Virginia Division Office. During the I–495 project, he served as its manager. Jennings holds a bachelor's degree in civil engineering from Bucknell University and an MBA from the University of Richmond.
Larry Cloyed served as VDOT's project manager for the I–495 express lanes and currently oversees VDOT's role in the project's operation and maintenance. Cloyed holds an associate's degree in civil engineering and a graduate certificate in contracting and procurement management from the University of Virginia, and a master's certificate in project management from The George Washington University. He is a certified Project Management Professional from the Project Management Institute.
Michelle Holland works for CH2M Hill and serves as the communications manager for VDOT's Virginia Megaprojects. Previously, she served as the public affairs manager for the 495 Express Lanes project. Holland holds a B.S. in education from Kent State University and a master of public administration from The George Washington University.
For more information, visit www.vamegaprojects.com or contact Thomas Jennings at 804–775–3355 or tom.jennings@dot.gov, Larry Cloyed at 703–259–1735 or larry.cloyed@vdot.virginia.gov, or Michelle Holland at 703–586–0487 or m.holland@vamegaprojects.com. For more information on operation of the I–495 express lanes, visit www.495ExpressLanes.com.