Hydraulic Design Is Critical to Improving Bridge Safety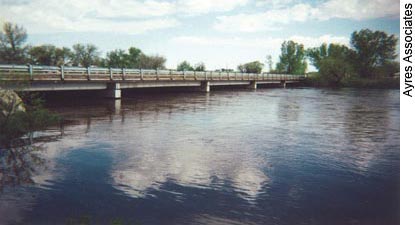 In 2011, 60 percent of flash and river flood fatalities in the United States were vehicle related. Public safety and property protection, therefore, are essential considerations in sound bridge design.
In 2010, Congress recommended that the Federal Highway Administration (FHWA) "use a more risk-based, data-driven approach to its bridge oversight" and directed the agency to identify new ways to enhance oversight and further improve safety. In response, in 2012, FHWA released Hydraulic Design of Safe Bridges (FHWA-HIF-12-018), an update to the technical manual the agency originally published in 1978. To support the rollout of the latest design manual, the National Highway Institute (NHI) launched a companion course, 135090 Hydraulic Design of Safe Bridges.
Finalized in 2013, the 3-day course is designed to provide participants with a comprehensive overview of hydraulic bridge design. This intensive training covers a variety of topics critical to safe bridge design, including a focus on optimizing cost-effectiveness and limiting the impacts on property and the environment. A customizable component enables instructors and hosts to incorporate regionally specific information that is directly transferrable to real-world hydraulic design scenarios. A recent course participant said, "This course was a great comprehensive look at bridge hydraulic design. It [raised] important design issues that I have not considered before."
An Interdisciplinary Approach
The data and inputs necessary for successful bridge design span several areas of expertise, including hydraulics, geotechnology, structures, environment, and roadway design. Each session of the course, therefore, provides an opportunity to bring to the table a diversity of transportation practitioners to learn, collaborate, and share their know-how.
The training also encourages the attendance of staff representing a range of industry experience and career levels. With something for everyone--from the veteran engineer to those new to the profession--the course provides the latest industry knowledge as well as a solid review of guiding principles in hydraulic design and bridge safety. For those who are new to transportation hydraulics, the course introduces a number of important design elements through scenarios that are applicable in the real world. "The course reinforced my skill sets and introduced me to topics I need to explore further," another recent course participant said.
Workshops during the course encourage attendees to interact with each other through discussions, case studies, and presentations. Instructors organize their breakout sessions to match up attendees with diverse backgrounds, considering both discipline and experience, to facilitate balanced discussions of the entire design process.
Regional Customization
The training includes 12 standard lessons, and each host agency can pick 1 of 3 optional lessons to customize the session to the State's or region's particular needs. Although the standard lessons present common issues that are relevant across the United States, the optional lessons provide an opportunity to address geographically distinct waterway features where the training is being delivered.
One optional lesson is intended for coastal States with bridges crossing tidal waterways. Another complements a standard lesson on unsteady flow modeling concepts and provides additional knowledge of the requirements for one-dimensional unsteady flow modeling. The third optional lesson complements a standard lesson on scour and stream instability, enabling participants to identify situations requiring sediment transport computations as part of the bridge hydraulics analysis.
NHI developed course 135090 Hydraulic Design of Safe Bridges to provide a forum for discussing information critical to the design, evaluation, and analysis of bridges. The course helps transportation professionals learn how hydraulic design and safety considerations should influence their design decisions, ultimately empowering them to build better bridges that improve safety for drivers and minimize property damage.
For the full course description and information regarding the recommended prerequisite, 135091 Basic Hydraulic Principles Review (a no-cost, Web-based training), visit www.nhi.fhwa.dot.gov.
---
Jackie Dolan is a contractor for NHI.