FHWA's R&T Agenda Addresses National Challenges
With transportation facing major hurdles, the agency seeks to improve coordination of the Nation's research and technology programs. You can help shape this research vision.
Travel most roads and highways across the Nation today, and you will find innovations designed to address important issues, such as safety risks, traffic congestion, poor air quality, and fatalities and injuries. For example, pavements with varied surface characteristics help increase durability and reduce maintenance, thus minimizing traffic congestion related to work zones. LED traffic lights are another innovation; they use less energy, so are more environmentally friendly. And many traditional intersections are being replaced by roundabouts that increase safety and improve traffic flow and air quality.
The transportation community relies on innovative research to keep the Nation's highway systems functioning and in a good state of repair, as departments of transportation (DOTs) stretch increasingly scarce resources to meet evolving challenges. The Federal Highway Administration's (FHWA) Research and Technology (R&T) Program is at the forefront of this effort, providing innovative and crosscutting programs organized under the FHWA R&T Agenda. The agenda focuses on research to address six major national R&T challenges: advancing safety, improving mobility, maintaining infrastructure integrity, enhancing performance, promoting sustainability, and preparing for the future.
A new FHWA Web site showcases this agenda, serves as a platform for national collaboration and coordination, and provides a forum for stakeholders to help shape the direction of the R&T Program. (See www.fhwa.dot.gov/research/fhwaresearch/agenda.) The Web site provides unprecedented access to FHWA's strategic vision and underlying activities that are meeting the Nation's major highway challenges.
The R&T Landscape
According to a Bureau of Transportation Statistics Web site, the transportation sector of the U.S. economy represented more than 10 percent--over $1 trillion--of the U.S. gross domestic product in 2002. With this much of the economy at stake, the need for a strategic approach to transportation innovation is more important than ever.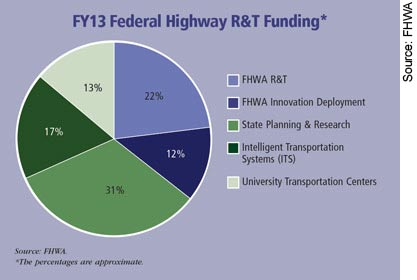 The FHWA R&T Program is one component of a diverse highway R&T industry that includes Federal, State, local, private sector, and academic organizations. Although the highway R&T industry in the United States is decentralized, the participating organizations address highway challenges relevant to their respective domains and collaborate on an array of research projects.
The State Planning and Research Program, for example, defines and conducts applied research to address problems of greatest interest to States and local communities. Appropriate to its Federal role, FHWA focuses its R&T efforts on highway problems of national scope and importance. The Transportation Pooled Fund Program, managed by FHWA, combines Federal and State funding to conduct R&T projects on topics that are of wider interest or that require more resources than individual States can afford.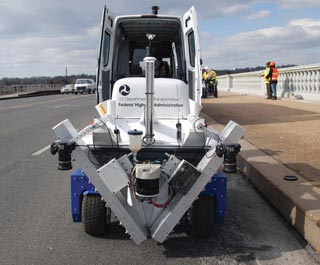 In addition, FHWA and State DOTs work collaboratively with universities and private industry on many specific projects. The National Cooperative Highway Research Program, managed by the Transportation Research Board, also provides a vehicle for States to fund research projects on topics of common interest.
Current Funding
In total, the R&T effort spends less than 2 percent of the Federal-Aid Highway Program's annual $40 billion funding. In fiscal year 2013, for example, Congress appropriated some $580 million for highway R&T. Of that sum, roughly $180 million is allocated to FHWA for the Highway Research and Development (R&D) Program and for technology deployment. With roughly $115 million, FHWA conducts applied research at the Turner-Fairbank Highway Research Center and other FHWA program offices and administers research projects performed by contractors or through cooperative agreements with partners. The other $63 million goes to deployment of new technologies and innovations.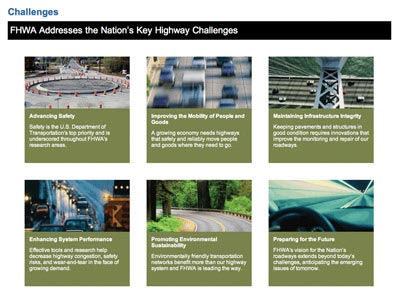 The U.S. Department of Transportation (USDOT) receives approximately $100 million to conduct the Intelligent Transportation System (ITS) program, which encompasses R&T on intelligent vehicles and infrastructure. University Transportation Centers (UTCs) receive $72.5 million, and State DOTs are required to set aside roughly $180 million for the State Planning and Research Program. Until recently, due to their multimodal nature, the ITS and UTC programs were administered by the USDOT Research and Innovative Technology Administration (RITA). Now, however, these programs are being administered by the newly formed Office of the Assistant Secretary for Research and Technology, which assumed responsibility for RITA's functions on January 21, 2014.
The FHWA R&T Agenda
An important step in the FHWA R&T Program is to identify highway challenges that rise to the level of national significance and to allocate resources appropriately to conduct the research needed to address those issues. In the past, congressional earmarks directed the agency's R&T dollars. Through the current legislation, the Moving Ahead for Progress in the 21st Century Act (MAP-21), FHWA now has the flexibility to structure a comprehensive R&T Program that better aligns with the Nation's highway transportation needs.
The agency has responded by developing a more flexible system for allocating resources to meet those needs. This approach provides the foundation for the FHWA R&T Agenda, which is organized around six major highway challenges that the agency identified based on MAP-21, USDOT, and FHWA goals. The agenda is designed specifically to enhance the industry's and the public's understanding of FHWA's R&T priorities, to illustrate a strategic approach to meeting national highway challenges, and to increase stakeholder input and collaboration.
The agenda's Web site is designed to assist R&T stakeholders, colleagues, and the public in better understanding FHWA's research program and how it serves the Nation.
FHWA Associate Administrator Michael Trentacoste, who heads the Office of Research, Development, and Technology, says, "We see the FHWA R&T Agenda and Web site as critical elements in our efforts to make the program more transparent and responsive to the needs of the States and other stakeholders."
The Agenda Web site also serves as a portal for information about the eight broad portfolios of research and technology development performed by FHWA: infrastructure; operations; safety; Federal lands (national parks, forests, wildlife refuges, tribal lands); planning, environment, and realty; policy; exploratory advanced research; and innovative program delivery (financing). This entire body of FHWA research projects, new technologies, and implementation efforts constitutes the FHWA R&T Agenda.
The offices that oversee FHWA's major disciplines or topic areas have defined the objectives and strategies represented in the agenda, which guide research activities on high-priority topics. The offices design and conduct research activities, or projects, to accomplish these objectives and strategies. Depending on the major highway challenge being addressed, multiple offices within FHWA might share the responsibility to meet the corresponding R&T objectives.
For example, the challenge of enhancing the performance of the highway system requires the combined efforts of the R&D and program offices responsible for operations, policy, safety, and innovative program delivery. One way to improve performance is to reduce traffic congestion and safety risks. To this end, FHWA's Office of Safety identified a strategy to help transportation professionals anticipate safety issues by designing tools for data analysis and improving design decisions earlier in the timeline of highway projects. Similarly, the Office of Operations R&D identified strategies, such as signing, to improve safety around work zones, which frequently slow traffic and create risks to motorists and workers.
By grounding the R&T Program in a system of comprehensive, coherent objectives, the FHWA R&T Agenda also serves as a basis for allocating FHWA resources. The FHWA R&T Agenda demonstrates the agency's priorities and therefore suggests where to concentrate funding. With the flexibility afforded by MAP-21, the agenda and component research portfolios can respond to new highway issues or stakeholder needs that rise to national importance.
The Web Site
FHWA's R&T Program responds to the demands of the highway environment by focusing on major, national-level challenges across organizations and program disciplines. The new Web site for the FHWA R&T Agenda describes what is happening within the R&T Program and why, providing a high-level overview of the program and its context.
The site describes how the FHWA research and program offices are working to address the six major, national-level R&T challenges mentioned earlier--advancing safety, improving the mobility of people and goods, maintaining infrastructure integrity, enhancing system performance, promoting environmental sustainability, and preparing for the future. It also describes how each program office's strategic objectives drive its R&T research portfolios. Just as important, the second perspective enables stakeholders to discover how the traditional highway disciplines (infrastructure, operations, safety, and so on) are responding to the national highway R&T needs.
Individual Sections
Visitors can begin their exploration of the Web site by turning to a section on the six major highway-related challenges facing the transportation community. By visiting individual challenge subpages such as the one on advancing safety, visitors can learn about the context and critical components of each challenge, which FHWA offices are responsible for meeting that challenge, and featured activities that illustrate how the offices are succeeding in addressing the challenge.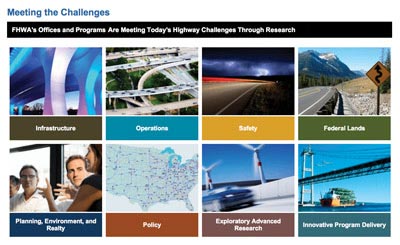 The "Meeting the Challenges" section of the Web site is a direct portal to information about FHWA's offices and programs that are meeting those highway challenges through research. The page features links to each of FHWA's eight broad research portfolios. For each research area, the site includes descriptions of the corresponding office's or program's specific R&T objectives, the strategies employed to pursue each objective, and an overview of the research projects underway to accomplish each objective.
For example, selecting "Operations" under "Meeting the Challenges" takes the visitor to a high-level overview of FHWA's operations-related research. This page highlights some of the innovative technologies and processes that FHWA is helping to develop, such as demand management strategies, work zone planning guidance, and improved traffic analysis techniques, to assist State and local partners in managing and increasing the reliability of the highway system.
The Web site's fluid design enables visitors to drill down quickly to specific showcase activities and projects that illustrate real-world accomplishments of FHWA research. These "Meeting the Challenges" pages describe actual R&T projects underway or planned, along with contact information for the project leaders. Showcase activities illustrate how the FHWA R&T Agenda stimulates new technologies, practices, and policies, resulting in safer, more efficient, and more sustainable roadways.
On the "Operations" page, for example, adaptive signal control technologies are listed among the showcase activities. By clicking on the link, visitors can read an overview of these technologies and learn about their benefits. Users also can navigate to learn more about particular activities by clicking on a link to the Office of Operations R&D Web site.
Shaping the Agenda For the Future
"FHWA is committed to keeping the FHWA R&T Agenda focused on evolving highway challenges, now and into the future," says FHWA's Trentacoste.
The addition of a "Feedback" page to the Web site encourages stakeholders to comment on the direction and content of the R&T Program. The site offers a variety of opportunities for stakeholders to provide input on highway challenges and the objectives and strategies FHWA is using to address them.
For example, interested individuals and organizations are invited to answer four questions: (1) What do you see as the key highway transportation problems facing the Nation? (2) Is FHWA addressing the right national, critical challenges? If not, what other national challenges should FHWA address? (3) Does FHWA's overall research strategy align with the most critical challenges? If not, what areas are missing? (4) Are you engaged in research that may contribute to FHWA's research strategies? If so, please explain.
The site automatically collects stakeholder responses and directs the feedback to the appropriate R&T staff, who will review and analyze the feedback to ensure that the FHWA R&T Agenda is responsive to current highway challenges. The information generated on the Web site will complement FHWA's ongoing effort of working with national organizations, academia, and State and local highway agencies to discuss highway research needs and create partnerships to address them.
Over time, FHWA will add new showcase activities to subsections for each of its R&T research portfolio subjects as offices complete ongoing projects. The home page also will feature new R&T results or products deserving special attention.
Responding to critical and evolving needs of the highway system requires the work of many organizations and individuals in the Federal Government, State and local agencies, universities, and industry. Using a strategic approach to solve major highway challenges, the FHWA R&T Agenda serves as a compass, helping guide the direction of the FHWA R&T Program. The Agenda and accompanying Web site are a critical component in FHWA's efforts to keep the Nation's roadways safe, reliable, and efficient.
---
John V. Moulden is the manager of FHWA's National Research and Technology Partnership Program. Prior to his current position, he was president of Transportation Safety Associates, a consulting firm; president of the National Commission Against Drunk Driving; special assistant to the chairman, National Transportation Safety Board; and research psychologist, National Highway Traffic Safety Administration. Moulden has a B.A. in psychology from Johns Hopkins University and an M.S. in psychology from Pennsylvania State University.
For further information, contact John V. Moulden at 202–493–3470 or john.moulden@dot.gov.