Communication Product Updates
Communication Product Updates
Below are brief descriptions of communications products recently developed by the Federal Highway Administration's (FHWA) Office of Research, Development, and Technology. All of the reports are or will soon be available from the National Technical Information Service (NTIS). In some cases, limited copies of the communications products are available from FHWA's Research and Technology (R&T) Product Distribution Center (PDC).
When ordering from NTIS, include the NTIS publication number (PB number) and the publication title. You also may visit the NTIS Web site at www.ntis.gov to order publications online. Call NTIS for current prices. For customers outside the United States, Canada, and Mexico, the cost is usually double the listed price. Address requests to:
National Technical Information Service
5301 Shawnee Road
Alexandria, VA 22312
Telephone: 703–605–6000
Toll-free number: 1–888–584–8332
Web site: www.ntis.gov
Email: customerservice@ntis.gov
Requests for items available from the R&T Product Distribution Center should be addressed to:
R&T Product Distribution Center
Szanca Solutions/FHWA PDC
13710 Dunnings Highway
Claysburg, PA 16625
Telephone: 814–239–1160
Fax: 814–239–2156
Email: report.center@dot.gov
For more information on R&T communications products available from FHWA, visit FHWA's Web site at www.fhwa.dot.gov, the FHWA Research Library at www.fhwa.dot.gov/research/library (or email fhwalibrary@dot.gov), or the National Transportation Library at ntl.bts.gov (or email library@dot.gov).
Synthesis of Traveler Choice Research: Improving Modeling Accuracy for Better Transportation Decisionmaking (Report)
Publication No. FHWA-HRT-13-022
The choices of travelers are central to the performance of a transportation system. During the last 50 years, advances in the fields of travel behavior research and travel demand forecasting have been immense. The field has changed from supply-oriented planning to incorporating and managing demand. Practitioners have borrowed or extended methods from a variety of disciplines to explain human behavior and interaction. This report provides an assessment of current research and practices in the study of traveler choice. It also establishes a foundation for the development of models that can be incorporated into existing tools for transportation analysis.
Many experts have called for better data collection and methods of analysis, such as integrated supply and demand models that capture travel behavior over time and space. This document highlights a conceptual framework that links methods of dynamic demand and traffic management programs (including information dissemination) to corresponding traveler choices and to factors affecting user response. It includes a literature review, a discussion of models to capture travel behavior, and an overview of available data sources.
The report discusses the strengths and limitations of a variety of travel behavior models, pointing to areas of potential improvement. Better integration is needed to understand feedback loops and ensure model consistency. The report also offers a review of sources of data on traveler behavior and examines conclusions about current knowledge and opportunities to develop and advance traveler choice models.
Researchers and organizations considering transportation management strategies that influence traveler choice may find this report useful. It is available to download at www.fhwa.dot.gov/publications/research/operations/13022/index.cfm. Printed copies are available from the PDC.
Guidelines for Sampling, Assessing, and Restoring Defective Grout in Prestressed Concrete Bridge Post-Tensioning Ducts (Report)
Publication No. FHWA-HRT-13-028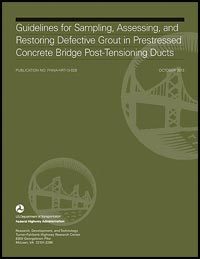 A significant proportion of the Nation's bridge inventory is based on bonded, post-tensioned concrete construction. Compared to bridges constructed with conventional reinforcement, post-tensioned bridges offer greater span length and structural efficiency, use less material, and have a more streamlined appearance. An important aspect of maintaining corrosion protection for these bridges is ensuring that tendon ducts are properly grouted with an acceptable material. This report provides bridge owners with practical guidelines for inspecting, sampling, analyzing, and evaluating grout and taking timely actions to address defective grout used on bridges.
Grout is a cementitious material typically used to provide corrosion protection to the strands that make up the tendons of post-tensioned concrete bridges. However, inspections have revealed fractured strands and, in some cases, failed tendons as a consequence of corrosion. Previous studies have attributed this corrosion to physical or chemical deficiencies in the grout.
Durability concerns associated with post-tensioned bridge tendons were raised as early as 1999 when tendon failures occurred in some bridges as a result of corrosion from water collected in anchorages and crest areas. Researchers developed a prepackaged thixotropic grout (a gel that becomes fluid when disturbed) to provide a solution to the problem and prevent segregation. However, relatively new post-tensioned bridges with the thixotropic grout have developed corrosion-caused tendon failures, and forensic studies have revealed grout damage and deficiencies. Consequently, it has become important to examine the overall quality of materials and construction practices for existing post-tensioned bridges.
Based on information collected and data analyses, State departments of transportation can evaluate if grout deficiencies are present in the tendons of their post-tensioned bridges and determine their significance. This report discusses a study that provides guidance for tendon inspection, grout sampling, data analysis, and interpretation. It is available to download at www.fhwa.dot.gov/publications/research/infrastructure/structures/bridge/13028/index.cfm. Printed copies are available from the PDC.
Cooperative Adaptive Cruise Control: Human Factors Analysis (Report)
Publication No. FHWA-HRT-13-045
Traffic congestion in many urban areas is growing at a faster rate than can be alleviated solely by additional road construction. Researchers therefore are exploring various intelligent transportation systems technologies with the goal of improving traffic throughput via nontraditional means. This report examines a technology called cooperative adaptive cruise control (CACC) that aims to increase traffic flow by safely permitting shorter following distances between vehicles.
Both vehicle-to-vehicle and vehicle-to-infrastructure communications advance CACC endeavors at the micro- and macrolevels of traffic management. This report identifies the various ways in which the CACC concept could be realized. It also highlights implementation issues related to human factors and includes suggestions for several research areas to address these issues.
Researchers found that CACC has the ability to greatly increase throughput on high-volume highways with significantly less cost than traditional lane expansion. In addition to time savings for drivers, CACC offers the environmental benefits of reduced emissions and fuel usage.
The success of CACC lies in understanding and managing the various human-factors issues that affect automation. Knowing how, when, and why a driver uses automation, what underlying processes and information are used when making decisions, and what secondary activities the use of automation may encourage is critical. The data presented in this report and the proposed research scenarios can help increase the likelihood of successful system implementation and aid the development of necessary policy and training.
This report is likely to be useful to researchers studying human factors, operations, and safety as a starting point to further define and execute critical CACC investigations. These studies are expected to help facilitate the safe implementation of this mobility-enhancing technology in future years.
The report is available to download at www.fhwa.dot.gov/publications/research/safety/13045/index.cfm. Printed copies are available from the PDC.
Designing a New National Household Travel Survey: Innovations in Collecting and Analyzing Long-Distance Travel Information (Fact Sheet)
Publication No. FHWA-HRT-13-081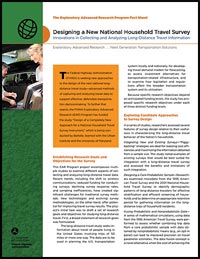 FHWA is seeking new approaches to design the next national long-distance travel study, which focuses on advanced methods of capturing and analyzing travel data to support effective, defensible transportation decisionmaking. This fact sheet discusses a recently completed study funded by FHWA's Exploratory Advanced Research (EAR) Program, titled "Design of a Completely New Approach for a National Household Travel Survey Instrument."
Conducted by a team from the Battelle Memorial Institute, University of Maryland, and Urban Institute in collaboration with other organizations, the research encompasses multiple studies to examine different aspects of collecting and analyzing long-distance travel data. Recent trends, including the shift to wireless communications, reduced funding for conducting surveys, declining survey response rates, and sampling inefficiencies, have created significant challenges for traditional survey methods. New technologies and evolving survey methodologies offer the potential to improve the quality of results from travel surveys.
In a series of studies, researchers assessed several features of survey design relative to their usefulness in characterizing the long-distance travel behavior of the Nation's households. These studies include integrating new and existing surveys; designing a core probabilistic sample; merging probabilistic and nonprobabilistic data; modeling methods for attributing trip information; and developing applications for trip detection and data capture.
The project culminated in a proof-of-concept pilot survey and the development of a set of recommendations for the design of FHWA's next long-distance travel survey. The small pilot has demonstrated the feasibility of various techniques and methods examined in this exploratory research. Project staff expects the research to lead to more efficient data collection, reduce the burden for respondents having to recall past events, and provide the ability to collect data of sufficient quality within a limited budget.
This report is available to download at www.fhwa.dot.gov/advancedresearch/pubs/13081/index.cfm. Printed copies are available from the PDC.
Accelerated Determination of ASR Susceptibility During Concrete Prism Testing Through Nonlinear Resonance Ultrasonic Spectroscopy (TechBrief)
Publication No. FHWA-HRT-13-086 
Alkali-silica reaction (ASR) is a form of deterioration that can significantly reduce the service life of concrete structures. Engineers most commonly assess the susceptibility of aggregate sources to ASR by evaluating changes in the length of concrete or mortar specimens over time while subjected to standardized conditions. This TechBrief discusses research aimed at developing a reliable measurement technique that can quickly quantify damage associated with ASR in concrete specimens while also providing an assessment of the accumulated damage.
American Society for Testing and Materials (ASTM) C1293 is the standard concrete prism test considered the most representative of field performance, but one significant drawback is its long duration. The test takes 1 year to assess aggregate reactivity and 2 years to assess mitigation measures. Standard accelerated mortar bar tests are considerably quicker to perform, but have not proven reliable in all cases, leading some agencies to implement alternate test durations.
For both the standard mortar and the concrete tests, another issue is the use of a final expansion measurement as the sole measure of aggregate reactivity, leading to difficulties in predicting field performance when final expansion results are ambiguous.
Researchers are developing a new technique, nonlinear impact resonance acoustic spectroscopy (NIRAS), based on measurements of the nonlinear acoustic or vibration responses of concrete specimens. The results have shown potential. Researchers have conducted tests on laboratory-cast concrete prism specimens containing both fine and coarse aggregates obtained from different sources to provide a spectrum of reactivity for assessment using the NIRAS technique. The researchers conducted the NIRAS measurements while the specimens were undergoing the ASTM C1293 concrete prism test and compared the results from NIRAS measurements with the expansion test results.
NIRAS measurements have shown a clear distinction between reactive and nonreactive aggregates and concrete mixtures. For more reactive cases, the research team found evidence that the NIRAS testing technique might detect ASR-related damage earlier than concrete prism expansion does. NIRAS also offers a powerful nondestructive testing method to rapidly detect microcrack-type damage in concrete in an early stage of material degradation. Based on the current body of research, this test should be used as a supplement to other standard testing.
Researchers found that NIRAS measurements do not appear to be affected by the reactive aggregate size and show potential to evaluate job-specific aggregates, while also eliminating the need for the time-consuming crushing and grading processes.
This TechBrief is available to download at www.fhwa.dot.gov/publications/research/infrastructure/pavements/13086/index.cfm. Printed copies are available from the PDC.