Best of The Best: America'S Transportation Awards!
Check out these extraordinary success stories: AASHTO announces its top 2011 honorees for design and delivery of highway innovations.
All across the country, State departments of transportation (DOTs) are hard at work repairing old bridges, widening and constructing new highways, improving sidewalks, and repaving roadways to keep America on the move. Tens of thousands of these projects, large and small, have a major impact on the lives of every American, whether they walk, drive, bicycle, or take public transportation to get around. And State DOTs now are doing it all with less money and more uncertainty in the face of a challenging economic climate.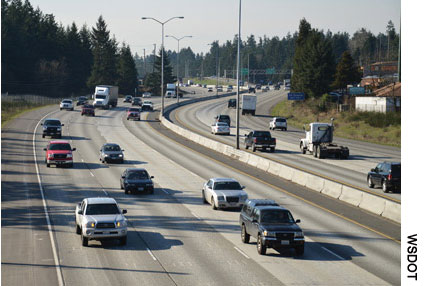 "States are adapting to their current economic situations," says Susan Martinovich, director of the Nevada Department of Transportation and outgoing president of the American Association of State Highway and Transportation Officials (AASHTO). "The innovation that is emerging and the efficiency with which projects are completed deserve recognition, especially now."
To showcase the excellent work State DOTs are doing every day, AASHTO, along with AAA and the U.S. Chamber of Commerce, created the America's Transportation Awards competition. Launched in 2008 to build support for transportation at the Federal, State, and local levels, the awards program has assessed the merits of more than 170 nominated projects from 47 States and the District of Columbia in its 4 years of existence.
The winning projects in 2011 reflect the extraordinary level of innovation, design, and delivery occurring at every step of the transportation process. Overall, AASHTO considered 10 finalists for the top awards, but 2 stood out above the rest: the Florida Department of Transportation's (FDOT) massive reconstruction of the I-10/I-95 interchange and the Washington State Department of Transportation's (WSDOT) partnership efforts to relieve congestion on I-5.
"These submitted projects represent just a fraction of the thousands of projects that States are delivering around the country, making our communities safer, making our communities better, and helping our economy continue to recover," Martinovich says.
About the Competition
The competition for America's Transportation Awards begins at the regional level, where winners are chosen by a panel of judges representing various facets of the transportation industry, including AAA, American Society of Civil Engineers, Associated General Contractors of America, U.S. Chamber of Commerce, and academia. Projects are divided by size (depending on project cost) and by three categories: "On Time," "Under Budget," and "Innovative Management."
From the regional winners, the 10 projects receiving the highest overall scores are named the America's Transportation Awards' national top 10. These winners vie for the two top awards: the grand prize, selected by that same panel of judges, and the people's choice award, selected by the public through online voting. Both winners receive a $10,000 prize, donated by AASHTO to the State DOTs, which the winners then donate to a charity, nonprofit, or scholarship fund of their choosing in the transportation field.
AASHTO announced the winners of both the grand prize and people's choice awards during the 2011 AASHTO annual meeting, held in Detroit, MI, in October 2011. The organization's then President Martinovich, joined by AAA's Michigan Director of Public Relations Nancy Cain, presented the awards to representatives from the two winning States.
Grand Prize Winner
The panel of transportation experts chose FDOT's I-10 to I-95 interchange, in Jacksonville, known locally as the Big I project, as the winner of the grand prize. The project involved reconstructing 17 bridges, 21 ramps, and 25 lane miles (40 kilometers) built over and around traffic moving through one of the busiest interchanges in the State. Originally constructed in the 1950s, the interchange desperately needed an upgrade. FDOT finished the project 6 months ahead of schedule, which saved taxpayer dollars and countless commuting headaches.
"For any project with 17 bridges and 25 lane miles of roadway to finish 6 months early is a huge feat," says Brian Blanchard, assistant secretary for engineering and operations at FDOT. "I think District 2 in Jacksonville deserves significant recognition for this, as well as the construction industry."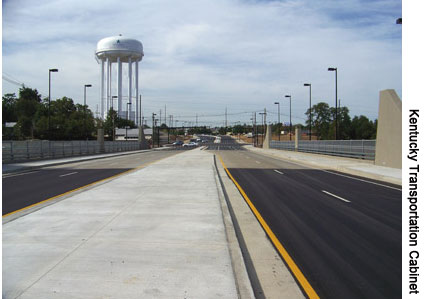 Jeff Sheffield, executive director of the North Florida Transportation Planning Organization, adds, "This massive project of asphalt, concrete, and steel and beautiful design has helped more than the traveling public. [They] have created hundreds of jobs and positively impacted a sagging construction industry in our region."
People's Choice Winner
The people's choice award went to WSDOT for its Operation I-5 Partnership to Relieve Congestion project. WSDOT claimed more than 62,000 votes -- better than 42 percent -- of the roughly 147,000 total cast in the competition.
For this project, WSDOT partnered with officials from the military installation Joint Base Lewis-McChord to solve a growing congestion problem that often led to 11-mile (18-kilometer) backups along the heavily traveled I-5 corridor between Tacoma and Olympia. WSDOT and base personnel upgraded the interchanges at military gates with improved alignments and optimized traffic signal timing. Unused gates were unlocked so military personnel could have improved access to the base, and the partners revamped incident response to deploy resources faster to alleviate congestion.
"This was a project where a problem developed seemingly overnight," says WSDOT Secretary Paula Hammond. "After Labor Day in 2010, many troops arrived back home from being deployed overseas, and travel on Interstate 5 bogged down. We rolled up our sleeves and thought through operational opportunities that we could do quickly to alleviate some of the problems. We put our ITS [intelligent transportation systems] brains to work and got the commander at Joint Base Lewis-McChord to cooperate on some demand management. Now, we have to get in and widen the freeway. But we've done some things through operations that are really critical to do first so that we can sustain the system a little while longer."
Adds U.S. Commanding Colonel Thomas H. Brittain, "This coordinated and cohesive effort is an excellent example of how agencies of all levels can work together and make a difference for the taxpayers and citizens we serve."
Eight Other Honorees
In addition to the grand prize and people's choice awards, AASHTO recognized eight other projects for outstanding work. "Each of these 10 projects truly exemplifies all that is right with our national transportation system," says AASHTO Executive Director John Horsley. "The America's Transportation Awards competition allows us to honor and recognize projects that save taxpayers money, offer new and innovative ideas to the industry..., and make our commutes easier and safer."
Kansas. The Kansas Department of Transportation (KDOT) used practical design strategies to complete a $7.8 million reconstruction project on 17 miles (27 kilometers) of Route 23, a two-lane rural roadway in Gove County, KS. The project involved removing deteriorated asphalt and rebuilding the road 7 inches (18 centimeters) lower than the previous grade (closer to its original grade), allowing the roadway to be widened. The road now has 12-foot (3.7-meter) driving lanes and 2-foot (0.6-meter)-wide paved shoulders with rumble strips that helped improve safety. Using practical design -- an approach that focuses on building good projects everywhere rather than perfect projects only in select locations, maximizing the value -- KDOT reduced construction time and saved more than $11 million in project costs.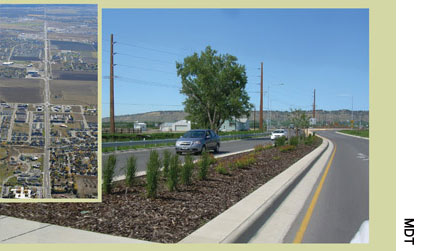 "KDOT customized a highway construction project to fit a specific need rather than applying generic standards across the board," says Jerry Younger, KDOT State transportation engineer.
Kentucky. To accommodate the influx of thousands of visitors for the 2010 World Equestrian Games, the Kentucky Transportation Cabinet had to complete the Newtown Pike extension in a very short period. An already tight construction timetable had to be amended to include unanticipated work. Even so, the agency finished the project 2 weeks before the event, allowing for smooth traffic flow to the games. Ultimately, the new road has led to a reduction in congestion and a more pedestrian- and bicycle-friendly area.
"The teams working on this project set a new standard for cooperation and coordination in our community that will serve as a model for future transportation projects," says Lexington Mayor Jim Gray.
Massachusetts. The $3.3 million Phillipston Heavy Lift Bridge Replacement project in Phillipston, MA, was the fastest bridge replacement in the Commonwealth's history and the Massachusetts Department of Transportation's (MassDOT) first use of self-propelled modular transporters for this kind of project. This particular replacement was part of Massachusetts' $3 billion accelerated bridge construction program. The department employed rapid construction, short detour routes, and effective communications to limit road user impacts, resulting in an estimated savings of $2.5 million in costs to road users.
"This is an innovative project," says Massachusetts Governor Deval Patrick. "We are putting people to work fixing a deficient bridge, creating economic value, and improving public safety along a busy corridor for years to come."
Michigan. The Michigan Department of Transportation's (MDOT) Fix on I-196 project near Grand Rapids used significant public partnership efforts (more than 100 community meetings) to develop consensus among stakeholders for this $40 million project. Because of the community input and support, the project, which rebuilt and rehabilitated 2 miles (3 kilometers) of freeway, was completed in a single construction season with the complete closure of the freeway to through traffic. The final project built an additional through lane in each direction, added a new weave/merge lane in each direction between three interchanges, and reconstructed five bridges.
"Historically, this freeway has been plagued with traffic congestion and operational issues due to growth and redevelopment in the downtown area," says Donald Stypula, executive director of the Grand Valley Metropolitan Council. "Reconstructing and adding lanes to I-196 was instrumental in addressing the traffic problems, reducing vehicle emissions, and reducing the public expenses related to wasted time, fuel usage, and vehicle crashes."
Montana. By 2002, a once sleepy Shiloh Road in Billings, MT, had turned into a heavily traveled arterial, serving subdivisions and commercial centers. The Montana Department of Transportation (MDT)worked with the community and developed a construction plan that kept the road open with minimal detours and delays in order to improve mobility and safety along the 4.5-mile (7-kilometer) stretch of this commuter corridor. The $25 million Shiloh Road project improved traffic flow and safety for drivers. (For more on this project, see "Montana's Roundabout Corridor" in the January/February 2012 issue of Public Roads.)
"This could be called the yellow brick road to Billings," says David Irion, president of the Billings Area Chamber of Commerce. "I get a real kick out of driving up this road. I think that's called pride."
New Hampshire. The New Hampshire Department of Transportation's (NHDOT) Hampton Open Road Tolling project converted the busiest toll plaza in the State's turnpike system into open-road tolling. Even with 16 lanes, the plaza could not handle the seasonal traffic demands, which resulted in excessive delays. NHDOT completed the $17 million project on a fast-tracked 16-month schedule and cost effectively increased traffic capacity and safety at the toll plaza.
"I'm sorry, New Hampshire," wrote Boston Globe columnist Brian McGrory in the June 11, 2010, edition of the paper. "I'm sorry that anyone from my paper, my city, my entire State has ever uttered a negative word about your wise and noble people. I feel this wave of contrition after having soared through the Hampton toll plaza on Interstate 95 over Memorial Day weekend without so much as touching my brakes."
South Carolina. The South Carolina Department of Transportation (SCDOT) made 1.9 million digitally scanned image files of roadway construction plans available online, replacing the cumbersome method of reviewing plans in person. For decades, the only way to access State highway plans was to use a card catalog system to order the plans and then wait days for the documents to be delivered to a central location. SCDOT began the Plans Online project in 1997 with the goals of increasing the efficiency of plan reviews and reducing delays. Now, the plans are available internally to SCDOT employees and externally to surveyors, engineers, and city, county, and local offices, greatly improving efficiency and reducing costs.
"The Web site provides an invaluable asset to citizens of the State. The program is already a winner for the State of South Carolina," says Dale Swygert, president of the South Carolina Society of Professional Land Surveyors.
Utah. The Utah Department of Transportation's (UDOT) $41 million State Route 171/3500 South Widening project in West Valley City rebuilt 1.2 miles (2 kilometers) of urban arterial, converting the road from five to eight lanes. The arterial serves as a vital east/west transportation corridor for the Salt Lake Valley and carries 38,000 to 48,000 vehicles per day. UDOT used innovative approaches, such as the Nation's first use of movable barriers on an urban arterial reconstruction, to maintain traffic flow during construction and delivered the project 7 months ahead of schedule and $6 million under budget.
"Coping with construction impacts was a challenge for affected businesses," says Alan Anderson, president of ChamberWest Regional Chamber of Commerce. "I was impressed to see a number of stable businesses weather the storm and still operating."
Last Word
"The [America's Transportation Awards] competition was created to raise the visibility of what we do for our communities and to show that State DOTs are delivering value for our transportation dollars," says AASHTO's Martinovich. "Our States are doing great work in challenging times. We are accountable. We are delivering projects on time and under budget. We are using innovation and ingenuity in delivering projects. We are making a difference."
---
Maggie Perrigo is the communications and publications coordinator at AASHTO and manages the America's Transportation Awards program. Prior to working at AASHTO, she was a legislative assistant for Representative Tom Reed (NY-29). Perrigo holds a B.S. in public relations from SUNY Fredonia and an M.S. in public relations and an M.A. in international relations from Syracuse University.
For more information on America's Transportation Awards, visit www.AmericasTransportationAward.org or contact Maggie Perrigo at 202-624-7757 or mperrigo@aashto.org.