Taking Stock: Climate Change and Transportation
An overview of current activities, mitigation technologies, and adaptation strategies, including a sample greenhouse gas inventory by a State DOT.
Certain facts about climate change are indisputable. During the 20th century, the Earth's surface warmed by about 1.4 degrees Fahrenheit, F (0.74 degrees Celsius, C). January 2000 to December 2009 was the warmest decade on record. Snow cover in the Northern Hemisphere and floating ice in the Arctic Ocean have decreased, while sea level has risen globally by 4-10 inches (10-25 centimeters) over the past century. Worldwide precipitation over land has increased by about 1 percent. The frequency of extreme rainfall has increased throughout much of the United States.
Scientists have linked these recent changes in climate to increased concentrations of greenhouse gases (GHGs) in the atmosphere. Further increases in carbon dioxide (CO2) and other GHGs are likely to accelerate the rate of climate change.
According to the U.S. Environmental Protection Agency (EPA), transportation activities in 2007 accounted for 28 percent of GHG emissions in the United States. Between 1990 and 2007, emissions from the transportation sector rose by 29 percent. This growth was due, in large part, to increased demand for travel and stagnation of fuel efficiency across the U.S. vehicle fleet. The U.S. Department of Energy (DOE) expects transportation energy consumption to grow by 10.8 percent between 2007 and 2030. The increase is expected to occur mainly due to rising energy consumption by freight trucks and commercial aircraft. According to DOE's Energy Information Administration, energy consumption by light-duty vehicles is expected to remain roughly constant over this timeframe, as continued growth in vehicle miles traveled (VMT) is offset by improvements in vehicle fuel economy.
In addition to being a source of GHGs, the transportation sector is affected by climate change in a variety of ways and differently in each region. Sea level rise due to climate change could inundate and damage coastal infrastructure in low-lying areas and make coastal highways and bridges more vulnerable to storm surges. Increases in storm intensity could have serious impacts on transportation operations and infrastructure. Predicting when and where these impacts might occur is essential for protecting the current infrastructure and planning for future transportation systems.
In December 2009, representatives from around the world convened in Copenhagen, Denmark, at the United Nations Climate Change Conference (COP15) to create a new global agreement to reduce GHG emissions. The Copenhagen Accord emerged as the primary achievement of the conference. The nonbinding agreement calls for deep cuts in global emissions of GHGs so as to hold the increase in global temperature below 2°C, and it calls for industrialized countries to determine their economywide emissions targets for 2020 and submit them to the United Nations by the end of January 2010.
As decisions are being made on the global scale, U.S. Federal, State, and local transportation, environmental, and energy agencies already are taking action to reduce emissions and prepare for the impacts of climate change. The following offers an overview of Federal transportation mitigation activities, technologies for reducing impacts, and State and local strategies for adaptation, plus a sample State inventory of GHG emissions.
USDOT's Center for Climate Change
In 1999, the U.S. Department of Transportation (USDOT) established the Center for Climate Change and Environmental Forecasting as the focal point for information, research, technical expertise, policies, actions, and partnerships on the transportation-climate issue. The center promotes comprehensive approaches to reduce GHG emissions and prepare for the impacts of climate change on the transportation system, while advancing USDOT's core goals of safety, economic competitiveness, livability, environmental sustainability, and state of good repair.
The center functions as a virtual USDOT-wide organization, with a membership of nine of the department's operating administrations, plus the Office of the Secretary of Transportation. The operating administrations contribute funds, staff, and technical expertise. In January 2009, the center launched the Transportation and Climate Change Clearinghouse, which serves as a one-stop source of climate information within USDOT. (See www.climate.dot.gov/index.html.) Beth Osborne, deputy assistant secretary for transportation policy and director of the Center for Climate Change says, "The center coordinates a multimodal response to this important issue."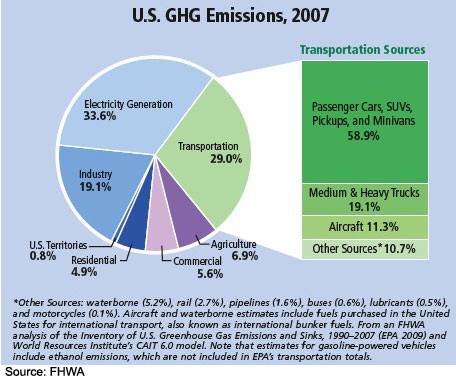 Federal Activity on Climate Change
To date, members of the U.S. Congress have drafted a number of bills to address climate change. Some of this legislation, if passed, would affect the transportation community. In June 2009, the House of Representatives passed the first comprehensive climate change bill, which included a proposal to establish a cap on GHG emissions and to create a market-based trading system to achieve that cap. The Senate currently is debating climate change and energy legislation, including alternatives to a cap-and-trade program.
In addition, Congress could address climate change in the next surface transportation reauthorization bill. For example, the draft bill released by Congressman Jim Oberstar, the Surface Transportation Authorization Act of 2009, includes provisions that encourage integrated planning by linking land use, transportation planning, and GHG reduction strategies.
On the executive side, the Obama Administration has set an aggressive target of an 83 percent reduction in GHG emissions below 2005 levels by 2050, and the climate change legislation under consideration by Congress proposes similar targets. To achieve reductions of this magnitude, all sectors of the economy — including transportation — would need to reduce their GHG emissions. A wide range of strategies are available to effect reductions in the transportation sector. Transportation agencies can implement some, while others involve action by industry (auto manufacturers, freight shippers, airlines, railroads) and the motoring public.
Transportation and Climate Change Clearinghouse
Cap-and-Trade Emissions Reductions
In the legislative cap-and-trade program proposed by the House of Representatives, the Federal Government would determine which GHG-emitting sources are covered by the program and would set an overall emissions target, or "cap," for each of those sources. Once the caps are set and the covered entities specified, EPA or another Federal agency would distribute tradable emissions allowances equal to the level of the emissions cap. Each allowance would authorize the release of 1 metric ton of GHG emissions. At the end of each compliance period, covered entities must submit allowances equivalent to their level of emissions.
One point of regulation for the transportation sector might be "upstream" where fuels enter the economy, such as with crude oil producers, refiners, suppliers, or distributors. A second point of regulation might be "downstream" where emissions are released into the atmosphere — the consumer level. GHGs also could be regulated at a "midstream" level, in other words, with vehicle manufacturers.
Recent analyses by EPA determined that refiners' obligations under the proposed cap would raise gasoline prices by $0.25 in 2030 and $0.69 in 2050 — increases smaller than the fluctuations in gasoline prices seen in recent years. This indirect price signal on transportation fuel from the cap alone, however, cannot achieve a long-term transformation in transportation emissions. Complementary policies, such as the proposed GHG emissions and Corporate Average Fuel Economy (CAFE) standards regulation for passenger vehicles, are needed to ensure ongoing technological innovations for vehicles, lower carbon fuels, improvements to the existing fleet, and reductions in VMT.
Integrating transportation into a broad cap-and-trade program allows for cost-effective reductions across sectors through allowance trading between transportation-related entities and other industries. However, the main concern with including the transportation sector in a cap-and-trade program is that reducing emissions from transportation is expected to be more costly, in the short term, than from other sectors. Initial reductions therefore are more likely to come from sectors other than transportation.
Because most legislation starts with a modest initial GHG cap, the price signal on transportation fuel is likely to be too small, at least in the short run, to drive a change in the types and amounts of fuel used. The success of an economywide cap-and-trade program to reduce transportation-related GHG emissions will depend on a number of factors, including where the cap is set or the proportion of GHG-emitting sources covered, the level of the cap and the resulting cost of allowances, and the point of regulation.
Improving Vehicle Efficiency and Technologies
The majority of transportation-related reductions in the long term will come from improving vehicle efficiency and technologies. Success is highly dependent on the rate of vehicle fleet turnover and the market penetration and cost competitiveness of more efficient vehicles on a large scale.
In reality, other strategies beyond vehicles will be needed for reducing emissions from the transportation sector. The most promising are reducing the carbon content of fuels, improving the efficiency and operations of the transportation system, reducing growth in VMT, and reducing GHG emissions and energy use in highway construction, maintenance, and operations.
In January 2009, the Obama Administration directed USDOT to establish higher fuel efficiency standards for the 2011 vehicle model year. USDOT's National Highway Traffic Safety Administration (NHTSA) is responsible for establishing CAFE standards. NHTSA estimates that the model year 2011 standards will raise the industrywide combined average to 27.3 miles per gallon (mpg), save 887 million gallons of fuel over the lifetime of 2011 cars and light trucks, and reduce CO2 emissions by 8.3 million metric tons during that lifetime.
In September 2009, EPA and NHTSA began the process of conducting a joint rulemaking to establish vehicle GHG emissions and CAFE standards. If finalized, these standards would apply to passenger cars, sport utility vehicles, minivans, and pickup trucks built in model years 2012 through 2016. Together, these vehicle categories are responsible for almost 60 percent of all U.S. transportation-related GHG emissions. According to the Federal Register, "If ultimately adopted, these standards would represent a harmonized and consistent national policy pursuant to the separate statutory frameworks under which EPA and [USDOT] operate."
Examples of vehicle technologies that could reduce GHG emissions include improvements to internal combustion engines, hybrid-electric and plug-in hybrid-electric vehicles, low-weight materials, and low rolling resistance tires. In the longer term, new propulsion systems and fuel cell technology for vehicles could be developed.
Improvements in vehicle technologies could play a significant role in reducing GHG emissions. However, emissions reductions are dependent on the rate at which these new technologies penetrate the current vehicle fleet, and the implementation timeframe is estimated to be long term — most likely two decades or more. Federal incentives such as subsidies or tax credits could accelerate the marketplace's adoption of new technologies and vehicles.
Carbon Content of Fuels
Another policy option is to introduce alternative fuels with lower carbon content per unit of energy than the current petroleum-based fuels (gasoline and diesel), which account for 97 percent of U.S. transportation energy use. Examples of alternative fuels for vehicles include biodiesel, ethanol, electricity, propane, compressed natural gas, and hydrogen.
The emissions impact and energy output provided by alternative fuels varies. The impact of emissions reductions from low-carbon fuels depends on a number of factors, including price and availability of infrastructure and vehicle technology. Many fuels require some degree of power train modification, while others such as electricity require completely different power trains.
System Efficiency And Operations
Examples of strategies to improve the efficiency of transportation operations include incident management, signalization improvements, traveler information, speed management, intelligent transportation systems, and congestion pricing. Compared to vehicle efficiency and technology strategies, system efficiency and operations improvements are expected to yield relatively modest GHG emissions reductions.
However, these strategies have co-benefits, such as congestion relief, that translate into time savings to travelers and reduced costs to shippers. In addition, for the most part, these strategies are directly under the control and jurisdiction of Federal, State, and local transportation agencies and therefore can be integrated into the planning, design, operations, and management of the transportation system. Transportation agencies have used most of these strategies to reduce congestion and provide bottleneck relief. The associated GHG emissions reductions and general air quality benefits, however, have not been thoroughly measured and documented, in part due to a lack of tools and models to quantify the reductions.
Reducing Growth in VMT
Strategies to reduce the growth in VMT seek to influence travelers' activity patterns and shift travel to more efficient modes, increase vehicle occupancy, and adopt actions that reduce the need for personal travel in single occupant vehicles. Pricing strategies such as pay-as-you-drive insurance and congestion and parking pricing provide incentives to drive less or at less congested times of day. Other travel demand strategies include carpooling and vanpooling, improvements that encourage nonmotorized travel such as walking and bicycling, teleworking, and improved integration of transportation and land use planning.
In 2008, the Urban Land Institute published Growing Cooler: The Evidence on Urban Development and Climate Change. The researchers concluded that urban development is both a key contributor to climate change and an essential factor in combating it. Meeting the growing demand for conveniently located homes in walkable neighborhoods could reduce growth in the number of miles Americans drive, shrinking the Nation's carbon footprint while providing more housing choices. The range in VMT reductions as a result of land use strategies will depend on the implementation of complementary strategies such as transit investments, pedestrian and bicycle infrastructure, and residential parking permits.
States such as California have taken a proactive role in the legislative arena to help curb sprawl and encourage more compact development. In 2008, the State passed a law that authorizes the California Environmental Protection Agency's Air Resources Board to establish targets for GHG emissions reductions for all 18 of the State's metropolitan planning organizations (MPOs). The MPOs then are required to develop sustainable communities strategies to demonstrate how they will meet the targets. The California law does not supersede local planning authority, but it encourages local governments to align their regional transportation, housing, and land use plans to reduce VMT. The law also provides incentives for creating attractive, walkable communities and revitalizing existing communities.
Federal action to integrate planning for transportation, land use, the environment, and housing includes the 2009 establishment of the Interagency Partnership for Sustainable Communities. The partnership, which includes USDOT, EPA, and the U.S. Department of Housing and Urban Development (HUD), is focused on developing policies that support livable communities. USDOT, EPA, and HUD agreed to align their resources to help improve access to affordable housing, transportation options, and lower transportation costs in rural, suburban, and urban communities. At the same time, the partnership aims to protect the environment in communities nationwide, promote equitable development, and help address the challenges of climate change.
Highway Construction, Maintenance, and Operations
A final strategy to reduce transportation-related GHG emissions involves activities that State departments of transportation (DOTs) can take to control energy use in construction, maintenance, and operations. Currently, methodologies and techniques for estimating GHG emissions from these activities are outdated. In January 2009 the National Cooperative Highway Research Program (NCHRP) initiated a project to help fill this information gap.
The NCHRP goal is to develop a spreadsheet tool that DOTs could use to quantify their GHG emissions as part of their day-to-day activities, while providing information to the public and other stakeholders. The project also will identify gaps in current research and produce studies on the cost-effectiveness of various strategies to reduce GHG emissions in construction, maintenance, and operations.
Opportunities to reduce GHG emissions and energy use include technological changes to existing maintenance vehicles and fuels, and the use of light-emitting diode (LED) traffic signals, lower carbon pavements, and reduced roadside mowing, plus alternative uses of interstate rights-of-way to sequester carbon and alternative energy sources for highway operations.
One example is Oregon's Solar Highway project, where 594 solar panels provide electricity to light an interchange at night, producing nearly 128,000 kilowatt-hours annually. Completed in December 2008, the prototype project cost $1.28 million, but because of an innovative public-private partnership with Oregon's largest utility, the Oregon Department of Transportation (ODOT) invested no capital and receives solar power at no greater cost than it would pay for power from the grid.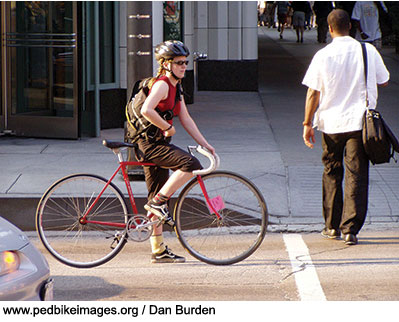 Allison Hamilton, project director of Oregon's Solar Highway program, says, "Through this partnership, the public gets multiple values out of its right-of-way asset. Using State and Federal tax credits, the renewable energy projects are developed at least possible cost, which benefits the utility rate payers including ODOT and the State of Oregon; ODOT gets green energy at grid rate instead of the higher green energy rate; the solar energy project is owned, operated, and maintained by the utility, which also assumes all the risk and is responsible for maintenance of the right-of-way for the term of the contract (25 years); and the utility gets to count the project toward its renewable energy portfolio requirements. It's a win-win-win business model."
In 2008, the Federal Highway Administration (FHWA) initiated pilot projects with New Mexico and Minnesota on carbon sequestration. The goals are to sequester carbon on interstate rights-of-way and other lands managed by State DOTs by planting native vegetation, while determining whether revenue can be generated from the sale of carbon credits from these projects and whether FHWA should pursue a national effort to support DOTs in these activities. Several analytical and decision support tools are in development, most of which will be available in spring 2010.
Adapting Transportation Infrastructure
Rebuilding existing infrastructure and planning and designing new projects are opportunities to include adaptations to the effects of climate change. The magnitude of the impact of climate change is difficult to predict with certainty, but the scientific consensus is that impacts are occurring now and will continue during the rest of this century and beyond. These impacts have potential implications for where the Nation locates and builds transportation infrastructure and how the system is operated.
Potential climate change effects that could impact highways and bridges include sea level rise, which could lead to permanent inundation of infrastructure in some locations or loss of land where development could otherwise occur; more extreme weather, including more severe precipitation, which could impact operations; more icing in some areas, which could also impact operations; more frequent freeze/thaw cycles, which could damage pavements, bridges, and other structures; and more intense hurricanes with potentially higher storm surges and wave heights, which could damage infrastructure, cause temporary flooding, and destroy natural and manmade protections.
Three major reports on adapting transportation infrastructure appeared in 2008. USDOT's Center for Climate Change and the U.S. Climate Change Science Program, which is sponsored by 13 Federal agencies, published the first report, The Impacts of Climate Variability and Change on Transportation Systems and Infrastructure: Gulf Coast Study, Phase I. This publication discusses how changes in climate over the next 50 to 100 years could affect transportation systems in the central Gulf Coast region and how to account for potential impacts in transportation planning. The report generated research methodologies that could be applied in other locations. It also found that 24 percent of interstate miles and 28 percent of arterial miles in the regions — roughly 2,400 miles (3,862 kilometers) of major highways — and three-quarters of port facilities could be impacted by a 4-foot (1.2-meter) increase in relative sea level rise in the region. For the Gulf Coast, this is a realistic number because sea level rise in this region is exacerbated by land subsidence due to declining groundwater and natural factors.
The Transportation Research Board (TRB) published the second report, Special Report 290: Potential Impacts of Climate Change on U.S. Transportation. The report provides an overview of climate change effects faced by the United States and identifies potential adaptation strategies, including actions by the transportation community.
And the Center for Climate Change published the third report, The Potential Impacts of Global Sea Level Rise on Transportation Infrastructure, which employed multiple data sources to identify potential impacts on land and transportation infrastructure from Florida to New York. Maps indicate land and transportation infrastructure that, without protection, could be inundated regularly or be at risk of periodic inundation due to storm surges under a range of sea level rise scenarios.
The Center for Climate Change's Phase II Study of the Gulf Coast, initiated in the fall of 2009, will focus on a detailed analysis of the Mobile, AL, area in that region. The second phase also will provide the knowledge and tools to better understand the risks, adaptation strategies, and tradeoffs involved in planning, investment, design, and operational decisions for all modes of transportation. The objective is to develop more definitive information about multimodal impacts at the local level and to serve as a template for other regions wishing to assess how climate change will affect their transportation systems.
Adaptation Actions By DOTs and MPOs
State DOTs and MPOs are begin—ning to look at adaptation activities within the context of their long-term transportation planning and investments. In 2008 and 2009, FHWA and the American Association of State Highway and Transportation Officials (AASHTO) convened two peer exchanges on current adaptation practices and strategic needs. Participants included senior officials from DOTs, AASHTO, and FHWA headquarters and division offices. Reports summarizing the results are posted at www.fhwa.dot.gov/planning/statewide/pwsacci.htm.
One State that has been proactive on the adaptation front is Alaska. Documented impacts in that State in-clude melting permafrost, increased storm frequency and intensity, coastal erosion due to sea level rise and a decrease in protective sea ice, riverbank erosion caused by increased precipitation, rising temperatures, and loss of the subsistence way of life for native populations.
Roads and bridges in many of Alaska's regions are underlain by ice-rich permafrost, a permanently frozen layer of soil. Increasingly, this soil is experiencing melting cycles that cause severe structural damage to roads and buildings. The Alaska Department of Transportation & Public Facilities (DOT&PF) spends about $10 million annually to repair and smooth out its highways and airports from permafrost degradation, yet this is only a fraction of the need, and costs are expected to increase as warming trends continue. In addition, increasing storm frequency is causing more severe and frequent avalanches, floods, erosion, and debris flows that all significantly increase highway maintenance and operations costs.
Alaska is adapting to these extreme impacts with shoreline protection programs, planned evacuation routes, relocation of infrastructure and communities at risk, drainage improvements, and placement of additional fill and insulation over ice-rich areas or relocation around those areas. Frank Richards, deputy commissioner, Alaska DOT&PF, says there is a need to increase the collection and density of data on stream flow and precipitation and to investigate alternative design, construction, and maintenance techniques to address the changing environment.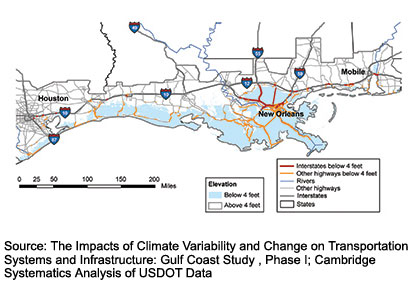 Proactive Strategies During Planning
The planning process should address climate change from both a mitigation and an adaptation perspective. Because climate change is an issue relevant to a broad geographic scope and time scale, the planning process is a more appropriate place to consider it than the project development process. GHG emissions are not a project-level issue since all emissions have similar effects on the global climate. At the least, they are a regional, if not a State or national issue. Addressing mitigation and adaptation upfront facilitates decisionmaking and improves efficiency at the program level, providing a sound basis for implementation strategies.
Many DOTs and MPOs already are exploring ways to integrate climate change and energy efficiency into their planning processes. To assist these efforts, FHWA funded a 2008 study, Integrating Climate Change into the Transportation Planning Process, which demonstrates how planning and regulations can support transportation decisions that reduce GHG emissions and adapt transportation systems to withstand the impacts of climate change.
In the 2009 report, Integration of Climate Change Considerations in Statewide and Regional Transportation Planning, the USDOT Center for Climate Change and FHWA provided analyses, observations, and lessons learned from three case studies and summarized the proceedings from two panels of State and regional experts. The case studies and panel summaries focus on how DOTs and MPOs are considering climate change in the following aspects of their transportation planning: visions and long-range planning; forecasts, data, and performance measures; public involvement; collaboration with partners; and project selection.
To help identify key themes and areas of concern, FHWA held three peer exchange workshops in 2008. Participants included representatives from MPOs and DOTs across the country. The objectives were to share information and experiences among DOT and MPO planning and executive staff, learn the state of the practice in the field, build peer networks, and advise FHWA and others about the challenges faced by DOTs and MPOs as they integrate climate change considerations into the planning process. The workshops also produced recommendations on how FHWA could help support this effort, including developing national guidelines to assist in reaching GHG reduction goals; promoting technology that will reduce GHG emissions and help transportation agencies better measure, assess, and mitigate GHG emissions; and providing resources for programming and planning activities related to climate change issues.
Several DOTs and MPOs have integrated climate change mitigation into their long-range transportation planning, and a few are beginning to consider adaptation strategies as well. Charlie Howard, transportation planning director with the Puget Sound Regional Council in Seattle, WA, says, "In our Transportation 2040, climate change figures prominently, with a four-part mitigation strategy and a discussion of the importance of adaptation, especially in our coastal region. It is clear that the transportation plans of the future will play a key role in addressing climate change."
Adaptation strategies for coastal areas might include rerouting to send traffic around the problem situation and damage repairs (low capital cost), relocation of the infrastructure away from the threat (potentially high capital cost), abandonment and disinvestment, and reconstruction using higher design standards to reinforce a structure such as a bridge.
Greg Stuart, executive director of the MPO in Broward County, FL, adds that mitigation strategies are important for his county "because of the threat that climate change represents for our densely urbanized land area, which is mostly at sea level. The strategies include the reduction of GHG emissions by increasing transit usage, improving transit service with an alternative fuel-powered fleet, enhancing land use density in areas that will not be immediately inundated, making regulatory changes to discourage higher density in potential inundated areas, and ultimately adopting a refocused long-range transportation plan [adopted in 2009] that can address these areas."
GHG reporting typically includes the six gases regulated under the Kyoto Protocol.
Carbon dioxide (CO2)
Nitrous oxide (N20), also known as laughing gas
Methane (CH4), the principal component of natural gas
Hydrofluorocarbons (HFCs), coolant, flame retardant, and extinguishant
Perfluorocarbons (PFCs), medical and industrial uses because of their nonreactive nature
Sulfur hexafluoride (SF6), used primarily as an insulator in electrical equipment
The WSDOT inventory reported the first three gases. In addition, the agency emits small quantities of hydrofluorocarbons, slated to be included in future inventories.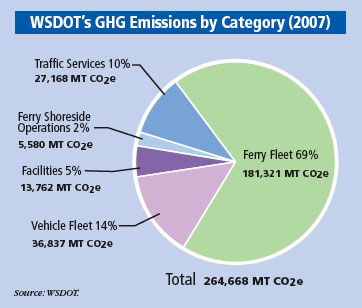 To clearly identify ownership of emissions and reduce complications from double counting, the protocol divides emissions into three scopes:
All direct emissions, such as those released from a tailpipe or smokestack.
The indirect emissions from purchased energy (primarily electricity).
All other indirect emissions — those released by someone else in the production of goods (such as paper used in offices or concrete used to build roads) or services (for example, airline flights or consultant services) used by the reporter. Emissions from employee commutes also can be considered under scope 3.
As required by the protocol, WSDOT reported on scopes 1 and 2.
Ferries. WSDOT based its estimates of CO2, CH4, and N20 emissions from ferry vessels on the quantity of fuel used. The ferry terminal collects this information.
Vehicle fleet fuel. WSDOT tracks vehicle use by data gathered at the fuel pump. For all vehicles and equipment, the agency calculated CO2 emissions based on the quantity of fuel used. It quantified CH4 and N20 emissions for passenger vehicles based on vehicle miles traveled (VMT), fuel type, and model year. For all other vehicles and equipment, the agency based CH4 and N20 emissions on the quantity of fuel used and emissions factors (provided in the protocol) for construction equipment.
Facilities and traffic services — electricity, natural gas, propane, and heating oil. Due to the large number of accounts and difficulty consolidating the data, WSDOT estimated utility use from payment information. Also, only utilities directly paid by WSDOT were included; utilities included in rent payments for leased space were not included in the inventory.
Utility data were the primary challenge encountered in preparing the inventory. In 2007, WSDOT made about 50,000 utility payments on more than 5,000 accounts. Although the utility providers bill WSDOT for its power consumption, the quantities consumed are not recorded in a comprehensive manner. To collect the needed data in the future, WSDOT plans to implement an electronic system to manage utility data.
Results. In 2007, WSDOT emitted approximately 265,000 metric tons of carbon dioxide equivalents (MTCO2e). WSDOT's emissions primarily came from the ferry fleet, vehicle fleet, highway system, and buildings. If emissions from the ferry system are excluded, WSDOT's estimated releases might more closely represent the emissions profiles of other State DOTs.
— Karin Landsberg, WSDOT
Next Steps
Many State and local governments already have developed individual GHG emissions reduction plans and programs, and a few State DOTs, such as Washington State, have developed inventories of their own GHG emissions. A key first step in developing strategies for reducing emissions is to develop an inventory of baseline emissions by identifying and quantifying the sources within a region.
The Delaware Valley Regional Planning Commission recently completed a regional GHG emissions inventory, using 2005 as a baseline. The inventory will help regional policymakers and citizens understand the sources of GHG emissions in order to make well-informed decisions for regional and local policies to reduce those emissions. In addition, the commission provides estimated emissions for each county and municipality in the region. The initiative also will evaluate options for reducing GHGs, develop a regional action plan through stakeholder engagement, and assist member governments with emissions inventories and forecasts.
The commission found that more than 91 percent of the region's emissions come from energy consumption, including stationary consumption by residential, commercial, and industrial sectors, and mobile consumption from the transportation sector. The commission also found that municipalities with higher density populations tend to produce lower per capita emissions.
EPA assists State and local governments by providing technical guidance on inventory preparation and is engaged with the Delaware commission in a pilot for developing a standard national protocol for carrying out GHG emissions inventories at the metropolitan level. For fact sheets and other resources for inventory development, see http://www.epa.gov/climatechange/ghgemissions/index.html.
Conclusion
Although emissions of traditional pollutants from mobile sources have declined steadily in the United States over the past 30 years, GHG emissions from surface transportation sources are increasing. "We, as transportation professionals, take this trend seriously and are in the process of reaching out to new stakeholders and partners to expand their knowledge on transportation and climate change issues," says Gloria Shepherd, associate administrator for FHWA's Office of Planning, Environment, and Realty (HEP). "We are working to develop both mitigation and adaptation strategies."
Various FHWA offices, including Operations, Infrastructure, Federal Lands Highway, and HEP, are coordinating their climate change policies, activities, and programs. In December 2008, Shepherd created a new Sustainable Transport and Climate Change Team, which is led by April Marchese, director of HEP's Office of Natural and Human Environment, and team leader Robert Ritter.
"The team is made up of a diverse group of individuals with expertise in various climate change-related areas," says Shepherd. "I created the team to coordinate climate change issues within HEP and FHWA because climate change issues will ultimately impact a variety of internal and external functions and programs."
The team is active in a number of new initiatives, including additional research on adaptation issues, development of an FHWA strategy to address adaptation to climate change effects, and creation of a framework for conducting assessments of transportation infrastructure vulnerable to climate change. The team also is involved in the ongoing assessment and analysis of transportation-related GHG mitigation strategies, scenario planning workshops focused on climate change, and research on how to better integrate sustainability practices into the transportation decisionmaking process. Results of these efforts will help to inform and educate USDOT, other Federal agencies, and transportation stakeholders.
GHG Inventory: Washington Shows the Way
The Washington State Department of Transportation (WSDOT) recently inventoried its 2007 greenhouse gas (GHG) emissions. The inventory included only emissions released by the agency, not those emitted by the public traveling on the State highways. Although WSDOT is working to reduce emissions from the transportation sector, it also is looking for strategies to reduce its own operational emissions.
A 2008 Washington State law mandated emissions reporting by State agencies and reductions to take effect in 2009. While preparing its inventory, WSDOT noted challenges and data gaps, and the agency now is working on solutions. By going through the emissions inventory process 2 years before reporting requirements take effect, the agency was able to identify challenges early and will be better able to meet the new requirements.
Similar to financial accounting, GHG reporting follows specific rules and guidelines. Washington's guidelines were based on the General Reporting Protocol developed by The Climate Registry. The registry's Web site describes it as "a nonprofit collaboration among North American States, provinces, territories, and Native Sovereign Nations that sets consistent and transparent standards to calculate, verify, and publicly report" GHG emissions.
---
Diane Turchetta is a transportation specialist in FHWA's Office of Planning, Environment, and Realty. She works primarily on transportation and climate change issues. Turchetta received her B.S. in public administration from The Pennsylvania State University and her master's in public administration from Virginia Polytechnic Institute and State University.
For more information, see www.fhwa.dot.gov/hep/climate/index.htm, or contact Diane Turchetta at 202-493-0158 or diane.turchetta@dot.gov.