Communication Product Updates
Communication Product Updates
Below are brief descriptions of communications products recently developed by the Federal Highway Administration's (FHWA) Office of Research, Development, and Technology. All of the reports are or will soon be available from the National Technical Information Service (NTIS). In some cases, limited copies of the communications products are available from FHWA's Research and Technology (R&T) Product Distribution Center.
When ordering from NTIS, include the NTIS publication number (PB number) and the publication title. You also may visit the NTIS Web site at www.ntis.gov to order publications online. Call NTIS for current prices. For customers outside the United States, Canada, and Mexico, the cost is usually double the listed price. Address requests to:
National Technical Information Service
5285 Port Royal Road
Springfield, VA 22161
Telephone: 703-605-6000
Toll-free number: 800-553-NTIS (6847)
Web site: www.ntis.gov
Requests for items available from the R&T Product Distribution Center should be addressed to:
R&T Product Distribution Center
Szanca Solutions/FHWA PDC
13710 Dunnings Highway
Claysburg, PA 16625
Telephone: 814-239-1160
Fax: 814-239-2156
E-mail: report.center@dot.gov
For more information on R&T communications products available from FHWA, visit FHWA's Web site at www.fhwa.dot.gov, the Turner-Fairbank Highway Research Center's Web site at www.tfhrc.gov, the National Transportation Library's Web site at http://ntl.bts.gov, or the OneDOT information network at http://dotlibrary.dot.gov.
Safety Evaluation of Improved Curve Delineation (TechBrief)
Publication No. FHWA-HRT-09-046
As part of an effort to support strategic highway safety plans, FHWA organized 26 States to participate in the Evaluations of Low Cost Safety Improvements Pooled Fund Study. The purpose of this pooled study is to estimate the safety effectiveness of several unproven, low cost safety strategies identified in the National Cooperative Highway Research Program Report 500 series.
This report, Safety Evaluation of Improved Curve Delineation, examines the safety effectiveness of improved delineation on horizontal curves through signing upgrades. This strategy is intended to reduce the frequency of curve-related crashes by providing more conspicuous signing and lane markings. The study examined the effects of this strategy on specific nonintersection crash types, including total crashes, injury and fatal crashes, lane departure crashes, total crashes at night, and lane departures at night. Because the safety effectiveness of this strategy has not been documented thoroughly, this study attempts to provide a crash-based evaluation through scientifically rigorous procedures, including evaluating 89 sites in Connecticut and 139 sites in Washington.
The researchers conclude that delineation improvements for curves have the potential to reduce crashes and crash severity on two-lane rural roads. Based on the installations in Connecticut and Washington, the combined results indicate substantial and highly significant crash reductions: injury and fatal (18 percent), dark conditions (27.5 percent), and dark condition lane departure (25.4 percent). Given the potential to reduce crashes, the researchers justify curve delineation improvements as a cost-effective safety improvement, particularly at curves with hazardous roadsides, high traffic volumes, and low curve radii.
The document is available at www.fhwa.dot.gov/publications/research/safety/09046/index.cfm. Printed copies are available from the PDC.
Improved Corrosion-Resistant Steel for Highway Bridge Construction Knowledge-Based Design (TechBrief)
Publication No. FHWA-HRT-09-053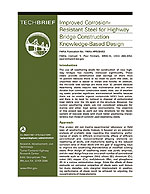 Increasingly, the transportation community is using weathering steels for construction of new highway bridges. Weathering steels provide significant construction and maintenance cost savings because there is no need to paint the steel, and these steels are more durable than common construction steels. However, the current weathering steels still have shortcomings; for example, they cannot be used in marine and other high-saline environments. This report details research to identify ways to develop low-cost steels with improved weathering characteristics.
Research for this project focused on an extensive analysis of available data regarding the weathering performance of steels in different environments, the effects of various conventional and nonconventional alloying elements on weathering of steels, and the mechanisms leading to reduced corrosion rates for those steels. The report describes earlier designs for weathering steels as purely empirical and as focused on a small number of conventional elements such as manganese, silicon, chromium, nickel, copper, molybdenum, and phosphorus in a narrow concentration range. Rather than adjusting concentrations of these elements for only marginal improvements, the report suggests using less common alloying elements such as tungsten, titanium, aluminum, and rare earths to achieve more significant increases in weathering performance.
Researchers conclude that these less frequently used elements could improve the weatherability of steel significantly. The researchers also conclude that weathering steel should not be designed solely on its weathering characteristics. Instead, the composition should be optimized with respect to weathering characteristics, strength, ductility and fracture properties, ease of processing and fabrication, cost, and minimization of adverse health effects.
The document is available at www.fhwa.dot.gov/publications/research/infrastructure/structures/09053/index.cfm.
The Value of Research: Telling the R&T Story
Publication No. FHWA-HRT-09-050
FHWA plays a leadership role in shaping and executing a national research and technology program. The agency collaborates with State, industry, and academic partners to provide the foundation for researching and developing innovations to improve the Nation's transportation system. This document highlights examples of valuable FHWA research, translated into applications of ground-breaking technology that improve the transportation system's performance in terms of safety, reliability, effectiveness, and sustainability.
The report covers FHWA's mission-driven research in the following areas: enhancing system performance, reducing traffic congestion, improving safety, working in partnership to address climate change and quality of life, and maintaining infrastructure integrity. The report also looks at the future of new research initiatives.
The document is available at www.fhwa.dot.gov/publications/research/general/09050/. Printed copies are available from the PDC.
Building Freight Professional Capacity In the 21st Century
Publication No. FHWA-HOP-09-020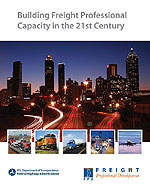 FHWA's Freight Professional Development (FPD) Program aims to enable transportation professionals to improve their skills and knowledge so they can help integrate freight movement into the development and operation of the Nation's transportation system. This brochure describes many of the resources available through the FPD Program.
As detailed in the brochure, the FPD Program offers a broad range of professional capacity building opportunities, including training courses, workshops, seminars, and peer-to-peer exchanges. It also provides access to information, resources, and tools that improve understanding of how freight moves across the transportation network and how best to facilitate that movement while minimizing its impacts.
The document is available at www.ops.fhwa.dot.gov/publications/fhwahop09020/capacity.htm.