Recognizing Excellence in Transportation Planning
Award-winning projects illustrate creative approaches to address the challenges of envisioning land use, mobility, and safety.
This illustration shows an artist's vision for a mixed-use residential and commercial community in the growing metropolitan Atlanta area. One the award winners generated this design.
In San Francisco, CA, a flexible transportation program funds buses, vanpools, car sharing, and children's shuttles to help low-income residents access employment, training, childcare centers, and other essential services. In Atlanta, GA, the Livable Centers Initiative is tackling rapid population growth by encouraging the development of diverse, multimodal neighborhoods. And in southeast Michigan, officials are improving safety on roadways by providing technical assistance, crash data, and analytical tools to help communities perform their own studies to identify high-crash areas.
These projects and many others are among the winners of a new biennial awards program that recognizes outstanding transportation planning initiatives. Created in a partnership of the Federal Highway Administration (FHWA), the Federal Transit Administration (FTA), and the American Planning Association (APA), the Transportation Planning Excellence Awards Program honors individuals, partnerships, communities, metropolitan planning organizations, and State and local agencies for developing and implementing innovative transportation planning programs.
"Our Nation's ability to deliver a quality transportation system that meets the mobility needs of all of our users requires increased focus on innovation and creative partnerships in order to leverage limited financial and human resources," says Associate Administrator Cynthia J. Burbank of the Office of Planning, Environment, and Realty at FHWA. "The Transportation Planning Excellence Awards Program is a small but powerful way to acknowledge innovative practices that are being undertaken across the country and demonstrate what is possible when we work together to plan for the Nation's transportation future."
In the first year of the awards program, FHWA, FTA, and APA recognized 11 outstanding projects among 10 categories. Five additional projects were recognized with honorable mentions. (See Honorable Mentions.)
"Although each of the projects highlighted excellent planning work in many communities, the judges wanted to recognize projects that went beyond the standard practices and incorporated truly innovative and extraordinary efforts," says Gloria M. Shepherd, director of the FHWA Office of Planning.
The 2004 winners set the bar high. Here's how they did it.
LIFTing Up Bay Area Residents
The Low Income Flexible Transportation (LIFT) Program in the San Francisco Bay Area funds transportation projects that improve access to employment, training, childcare centers, and other essential services for low-income residents. To date, the program has provided $11 million to 32 creative transportation projects in nine counties. For its efforts, the LIFT Program earned an award in the Transportation Planning and Environment category.
"The LIFT Program was created in part because of welfare reform and the need to provide transportation for individuals to get to and from the workplace as well as childcare facilities," says Connie Soper, senior planner at the Metropolitan Transportation Commission.
The LIFT Program demonstrates that an intermodal approach is necessary to meet the diverse transportation needs of its customers. Fixed bus routes, vanpools, car sharing and children's shuttles are among the modes used in LIFT projects.
City CarShare, for example, enables members to use a car when they need it without incurring the fixed costs of ownership. The program provides a network of vehicles parked in neighborhoods throughout the region. Members pay $4 an hour plus $0.44 a mile to use a car for everything from traveling to a job interview to shopping for groceries. LIFT funding enabled City CarShare to expand its fleet into low-income areas and subsidize the initial costs for participants in The Welfare to Work Partnership.
LIFT services also include programs to transport children to childcare facilities or school, rideshare activities, guaranteed ride home programs, and expanded public transit services.
Transforming Houston's Main Street
Although partnerships are often critical to a project's success, serving many different interests can be challenging. The Main Street Coalition in Houston, TX, overcame hurdles when it successfully brought together 70 stakeholders to revitalize the city's deteriorating Main Street. The partnership earned the award for Planning Leadership by transforming Houston's Main Street into a lively urban center.
Houston's downtown suffered from an economic slump in the 1980s and early 1990s, but visionary community leaders saw how a revitalized Main Street could rejuvenate the city. In 1999, the mayor asked a group of concerned individuals to develop a planned approach to rejuvenate the area. "We saw a need to try to get a consensus on how to make a better connection between the community, businesses, and transportation," says Jennifer Ostlind, administration manager for long-range planning with the city of Houston.
Houston's Main Street Coalition worked with the city to transform Main Street into a transit-oriented, pedestrian-friendly environment. This block-long fountain and plaza in the newly created Main Street Square is in the heart of Houston's downtown and highlights the city's new light-rail system.
An early effort to understand existing conditions throughout the corridor educated stakeholders about what was going on around them and identified common issues and concerns. The next step was arriving at a consensus on the master plan for the Main Street corridor, which focused on urban design concepts rather than specific land uses or designs. Therefore, each district could retain its identity while implementing the plan. Also, details of projects identified in the master plan can be modified as conditions and priorities change, allowing stakeholders to adhere to the guiding principles described in the plan.
"Public-private partnerships take time," Ostlind says. "Since many of the improvements we are making require private sector funding for maintenance and long-term operations, stakeholders must be involved from the start in order to ensure support for implementation."
Recent successes include participating in the design and placement of stations for the planned light-rail system. In addition, the coalition worked with the Texas Department of Transportation (DOT) on redesigning an important highway exit ramp near downtown and ensured that all Houstonians have access to Main Street by creating a better plan to connect it with the city's third ward, which is predominantly low-income and made up of minority populations.
The Main Street Coalition and the city of Houston have created a transit-oriented, pedestrian-friendly environment and in doing so transformed Main Street into a premier destination with well-designed light-rail stations, fountains, pedestrian walkways, and open spaces.
Transit and Community Development in Phoenix
A new light-rail system will open in Phoenix, AZ, in 2008. To prepare the new system, planners are taking steps now to ensure that development along the rail line supports it. "Rail transit encourages the 'right kind' of development, such as mixed use development, affordable housing, and retail," says Richard Simonetta, chief executive officer of Valley Metro Rail. "This kind of development becomes both the origin and destination, which is easier to serve by transit."
The city of Phoenix and Valley Metro Rail worked together on a comprehensive program to encourage transit-supportive land uses to ensure that the new light-rail system will integrate into the communities it serves. Through incentives and by managing pedestrian access, the program is connecting jobs to affordable housing with convenient access to transit. The innovative partnership earned the award for Transportation and Land Use Integration by helping create vibrant neighborhoods that support transit and are safe and comfortable for pedestrians and bicyclists as well.
One innovation, effective within 0.8 kilometer (0.5 mile) of transit stops, is a creative overlay zone that specifies requirements for parking, maximum setbacks, and onstreet retail to encourage development of a walkable and transit-oriented environment. For example, because buildings are more accessible to pedestrians when sidewalks lead directly into entrances, parking must be tucked behind buildings rather than in front.
The program required extensive public involvement, with thousands of community residents participating in Web-based voting and attending meetings to ensure that the plan for the rail line and its surrounding land use would meet the needs and desires of residents.
About the Awards
The Transportation Planning Excellence Awards Program provides a unique opportunity to recognize and celebrate the outstanding work undertaken by transportation planners, decisionmakers, and communities across the country.
"We're proud of our partnerships with the FTA and APA," says FHWA Associate Administrator Cynthia J. Burbank. "By joining together to implement this awards program, we're better able to promote transportation planning innovations."
The awards focus on transportation planning initiatives in the following 10 categories:
Academic/Student Projects—Recognizes efforts by universities and public schools to incorporate the subject of transportation planning into the academic curriculum. Students can apply and demonstrate transportation planning principles through projects, design competitions, and documentaries.
Homeland and Personal Security—Recognizes excellence in mainstreaming the consideration of security in the metropolitan and statewide transportation planning processes. Consideration is given to the extent that activities are coordinated across jurisdictions, modes, and State/local planning agencies; involve outreach and systems analysis; and are reflected in the content of transportation plans and programs.
"Planning It Safe" Safety Conscious Planning—Recognizes and brings to the forefront successful safety planning projects, innovative methods and delivery mechanisms, and collaborative efforts and partnerships that increase the effectiveness of safety conscious planning.
Planning Leadership—Recognizes an individual or team who increases the knowledge base for transportation planning and demonstrates effective practices for developing and implementing transportation plans and initiatives. Nominees may include professional staff, elected or appointed officials, community leaders, and issue advocates.
Public Involvement, Education, and Outreach—Recognizes innovative efforts to broaden the level and scope of community participation in the transportation planning process through use of tactics such as electronic voting, visual preference surveys, public design forums, charrettes, and handbooks. Successful candidates will have demonstrated how feedback from public education and outreach helped enhance the planning process.
Technology Applications—Recognizes the successful application of technology (such as global positioning systems or incident management systems) to strengthen transportation planning processes and operations and minimize the need for costly investments in the future. Award recipients will have demonstrated how technology has improved a particular transportation planning process or operation.
Transportation and Land Use Integration—Recognizes the development of comprehensive plans, ordinances, and other policy initiatives and tools to promote integration of transportation and land use planning and implementation processes.
Transportation Planning and Environment—Highlights activities that link the transportation planning process to the natural and human environment by protecting or improving the natural environment, air quality, and wildlife habitat; linking planning with the National Environmental Policy Act and air quality conformity processes; addressing Title VI/Environmental Justice requirements; or creating context-sensitive solutions.
Transportation Planning Integration with Other Planning and Engineering Activities—Recognizes innovative efforts to incorporate other planning and engineering activities such as freight, operations, asset management, performance measurement, and transportation demand management into the transportation planning process.
Tribal Transportation Planning—Recognizes exemplary practice by tribal governments in developing transportation plans and programs, and by States and other planning organizations in coordinating planning practices with tribal governments.
An independent, expert panel of judges reviews each nomination to select winners and honorable mentions. The judges review the nominations for a range of criteria, including innovation, intermodalism, partnerships, sustainability, equity, demonstrated results, replicability, and funding.
"We were pleasantly surprised and initially overwhelmed by the number of responses that we received for the inaugural awards program," says Gloria M. Shepherd, director of the FHWA Office of Planning. "The panel of judges had an awesome task of reviewing nominations and selecting the best from more than 220 submittals."
Communities who missed the 2004 award competition will have a chance to participate in 2006. For additional information about the awards program and the 2006 competition, visit www.fhwa.dot.gov/planning/tpea04.
Smart Growth in Atlanta
The Atlanta area is one of the fastest growing regions in the United States, with 4 of its counties among the 10 leading the Nation in population growth between 2000 and 2003. As a result, Atlanta's transportation system has become increasingly strained. "We were in a time of crisis in Atlanta," says Tom Weyandt, director of comprehensive planning for the Atlanta Regional Commission. "We could not build our way out of our problems, so we had to find a way to encourage better interaction between land use and transportation."
Another award winner in the Transportation and Land Use Integration category, the Livable Centers Initiative (LCI) is one of the commission's answers to begin tackling the challenge of rapid growth. The LCI encourages the development of diverse, multimodal neighborhoods through grants to local governments and nonprofit organizations to conduct studies and design and implement plans that link transportation improvements with land use development strategies in order to create sustainable, livable communities consistent with regional development policies.
A recent LCI grant recipient, the city of Holly Springs, is a small, community-oriented town experiencing growth and increased development. With its grant, Holly Springs is studying how to create a pedestrian-friendly downtown with compact mixed-use development that can support diverse activities and provide a stronger employment base.
An innovative aspect of the Livable Centers Initiative is its ability to connect study funds and local land use initiatives with other significant funds for related transportation projects. Communities that independently implement portions of their completed plans receive priority funding to implement their transportation projects. As a testament to the success of the program, Weyandt adds that prior to LCI, only a handful of communities in the region were discussing the principles of smart growth. Now, he says, a majority of the region's 63 local governments and unincorporated communities are considering and actively pursuing smart growth concepts.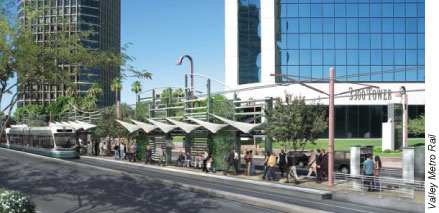 When Phoenix opens its light-rail system in 2008, a system of transit-supportive land uses will already be in place. This artist's rendering shows transit riders awaiting a train at an outdoor station in a business park.
A Blueprint for Growth in Sacramento
Sacramento is another area that is growing quickly: experts expect its population to double over the next 50 years. "We live in a fast-growing region with enormous growth pressures," says Martin Tuttle, executive director of the Sacramento Area Council of Governments (SACOG). "All of our model growth data indicate increased congestion, unless we better link land use to transportation planning."
As a first step, SACOG initiated the Sacramento Region Blueprint, a study that is providing a wealth of information on growth and travel patterns and will serve as the basis for Sacramento's next transportation plan. The blueprint's innovative and massive public involvement campaign earned it an award for Public Involvement, Education, and Outreach.
The blueprint examines current land use patterns and develops alternative scenarios to shape growth. The project developed four possible growth scenarios and asked members of the public to indicate which they preferred. At public workshops, facilitators used wireless Internet networking to enable participants to compare the scenarios and evaluate how each influenced factors such as vehicle miles traveled, transportation mode availability, and housing density.
The project team conducted 30 neighborhood workshops, 7 county workshops, and 2 regional forums. Overall attendance at the workshops exceeded 5,000 and included low-income residents, business representatives, and government officials. The results of these planning exercises are being applied to SACOG's 2005 update to the metropolitan transportation plan.
"Blueprint is only the beginning," Tuttle says. "It's a long-term, multiyear effort, and we must continue to be aggressive and innovative."
As shown in this photo from a public meeting, the Sacramento Blueprint project used Web tools to help the public visualize land use choices.
Reaching Out in San Francisco
The Metropolitan Transportation Commission (MTC) established a new standard for outreach and community participation with its public involvement campaign during the first phase of developing the Transportation 2030 Plan, a regional transportation plan for the nine-county San Francisco Bay Area. Thousands of residents contributed to the plan through telephone interviews, workshops, and the Internet.
"We're always trying to do a better job at involving more people in our transportation decisions," says Ellen Griffin, senior analyst for legislation and public affairs at MTC. "We looked at areas where we had been criticized in previous efforts and then centered the discussion around those issues. We also reached out to community-based groups who helped us tailor our meetings to attract and interest more people."
FHWA honored the commission's efforts with an award in the Public Involvement, Education, and Outreach category. The public involvement campaign included a telephone poll of 3,600 area residents, 30 public workshops, and 6 focus groups that facilitated more indepth discussion of the major choices and tradeoffs. The program also included an interactive "Budget Challenge" taken by more than 530 visitors to the MTC Web site, as well as an invitation for members of the public to propose new transportation projects and programs directly to MTC.
The Metropolitan Transportation Commission in San Francisco, CA, partnered with local community groups, as shown in this photo from a public meeting, to reach out to a broad audience during the first phase of developing the Transportation 2030 Plan.
To foster participation among low-income and minority residents, MTC provided grants to eight community-based organizations to cosponsor workshops in targeted areas around the region. Workshop materials were printed in several languages, and translators were on hand at most meetings to facilitate participation by non-English-speaking residents.
At the conclusion of the first phase in December 2003, the commission adopted six new goals for the Transportation 2030 Plan, a five-point platform for integrating transportation and land use, and a breakthrough investment strategy for an estimated $8.8 billion of discretionary funds from Federal, State, and local sources.
A New Main Street in Coastal Oregon
Lincoln City is a group of villages along a 13-kilometer (8-mile) stretch of the Oregon coast. Although tourism was always an important element of the local economy, it became crucial when Lincoln City's fishing, dairy, and timber industries declined. Lincoln City residents realized that public and transportation facilities required improvement to increase tourism, and the Lincoln City Urban Renewal Agency's facility led the effort to revitalize the city.
A third award in the Public Involvement, Education, and Outreach category recognized the community outreach that helped Lincoln City Urban Renewal Agency transform State Highway 101 into a small-town Main Street in the village of Taft, OR.
The agency chose the villages of Taft and Oceanlake as the first to participate in the urban renewal plan and program. One of the priorities was to focus on Highway 101, which bisects each community and creates a variety of problems related to traffic and pedestrian safety.
The public involvement process included design charrettes and a survey of residents' preferences for signage. An effective partnership with the media ensured consistent coverage of the project. In the end, 1,500 of the city's 7,000 residents—totaling more than 20 percent—participated in the process. The communities embraced the resulting plan, which included a facelift for Highway 101, adding a green median, pedestrian crosswalks, and traffic-calming elements.
Community members in Lincoln City, OR, gather beneath an archway marking the entrance to the historic district to celebrate improvements to Highway 101.
The Urban Renewal Agency also offered financial incentives to property and business owners to rehabilitate their properties. "In addition to major, complex urban renewal projects that renew, update, and beautify the streetscape, we offer a 0-percent property rehabilitation loan," says Jean Celia, assistant director of the Urban Renewal Agency in Lincoln City.
Since implementation, the plan has brought $15 million to $20 million in reinvestment, as well as many new businesses and jobs, to Lincoln City. "The urban renewal efforts have drawn the city together, increased pride in the area, encouraged economic development, and fostered a feeling that people and their dreams do count," Celia says.
Incorporating Safety into Planning in Southeast Michigan
Southeast Michigan is undergoing many changes that directly influence safety. The 2000 census, for example, indicates that the elderly are the fastest growing segment of the population, and their numbers will more than double over the next 25 years. In addition, many communities' budgets are stretched thin, leaving them with inadequate resources to evaluate and implement safety-related improvements.
In response, the Southeast Michigan Council of Governments (SEMCOG) is promoting safety conscious planning to help Detroit and other communities reduce the number and severity of crashes. For its efforts to encourage safety analyses for proposed projects, educate local officials and the public, and provide engineering and other assistance to local governments, SEMCOG earned an award in the "Planning It Safe" Safety Conscious Planning category.
SEMCOG's efforts include providing crash data and analytic tools to all local communities in Southeast Michigan, enabling them to perform their own studies; supporting the Michigan DOT's Freeway Courtesy Patrol, which assisted more than 17,000 stranded motorists in 2003 alone; and providing engineering assistance to local communities lacking a staff traffic engineer.
Since SEMCOG began promoting safety conscious planning, crashes in Detroit have dropped by 25 percent, and crashes involving injuries are down by 35 percent. "It just made sense to integrate safety," says J. Thomas Bruff, transportation engineering coordinator at SEMCOG. "The transportation planning process is supposed to address the region's most important transportation issues, and the fact that people are being killed on the roads is an important issue ...Traffic safety should be an MPO priority."
Before and after photos of Marmion Way in the greater Los Angeles, CA, area show the dramatic improvements, including new crosswalks and fences, to pedestrian facilities to promote safety.
New York Surveys Pedestrian Safety
In New York State, Route 9 passes through the town of Poughkeepsie, home to Marist College. In recent years, as the college expanded, pedestrian traffic in the corridor has increased. At the same time, traffic volumes also increased due to growth and development. To improve safety in the corridor, in 2003, the New York State Department of Transportation (NYSDOT) partnered with the town of Poughkeepsie, Marist College, and Dutchess County to analyze the complex transportation challenges.
The partners initiated a study focused on pedestrian safety along a 1.2-kilometer (0.75-mile) segment of Route 9 near the college. NYSDOT surveyed and interviewed more than 2,600 pedestrians, used automated equipment to count vehicles, performed crash analyses, built a traffic simulation model to analyze various traffic operation scenarios, and performed a speed study. Marist College helped increase participation in NYSDOT's pedestrian survey by donating monetary prizes to students who participated.
The Route 9 Pedestrian Safety Study, the first of its kind in New York, recognized that pedestrian safety and the long-term sustainability of the corridor are directly linked to the impacts of land use development on the transportation system. The project earned an award in the "Planning It Safe" Safety Conscious Planning category.
NYSDOT's Region 8 office recognizes the widespread benefits that its approach offers. "We took a nontraditional approach to analyzing the pedestrian safety issues in the corridor," says Sandra Jobson, A.I.C.P., project manager at NYSDOT. "We decided to collect quantitative pedestrian and vehicle data that helped us analyze the situation and develop long- and short-term recommendations for improved safety. Our goal was to study the situation objectively and develop recommendations that improved safety, while not favoring one mode over the other."
In a region that is highly automobile-dependent, the study helped develop recommendations that recognize that pedestrians, cyclists, and transit users deserve the same quality of service and safety as motorists. NYSDOT now will use the study to guide the team through project development and implementation.
Community Helps Design Los Angeles Rail System
Plans to bring light-rail transit through northeastern Los Angeles in the mid-1990s raised concern among residents in the ethnically diverse Highland Park community. The original design would have physically divided the community with a walled transitway. With the community's input, however, the Los Angeles Metropolitan Transportation Authority (MTA) redesigned the system so the trains run at street level through the neighborhood. MTA also worked with the neighborhood to provide high-quality and safe pedestrian and bicycle facilities along the corridor.
"We initiated this project in the Highland Park community…because we were at a design impasse for several years," says Steven Brye, transportation planning manager at Los Angeles MTA. "The community drove the urban design." In the end, he says, "The corridor was designed around the community rather than the other way around."
The corridor's final design was feasible only after MTA, the California Public Utility Commission, and the city of Los Angeles agreed to reduce the light-rail vehicle's operating speed from a maximum of 64 kilometers per hour to 32 km/h (40 miles per hour to 20 mi/h). The original operating speed would have required street closures, railroad crossing gates with at-grade crossings, increased noise, and a completely walled-off transitway. The reduced operating speed allowed for system features that were more compatible with the safety requirements of the neighborhood's residents, including easy-to-use pedestrian crossings and traffic lights using signal preemption at all existing at-grade crossings.
The public involvement process MTA used on the Gold Line/Marmion Way project demonstrates how a transit agency can work with residents to improve the urban environment without compromising safety. The new transitway has been in operation since July 2003 and has become an integral part of the local historic district and residential neighborhood. For its efforts, MTA received an award in the "Planning It Safe" Safety Conscious Planning category.
Partnerships Improve Safety in Kansas City
The Mid-America Regional Council (MARC) is the metropolitan planning organization for the bistate Kansas City region. In response to alarming crash statistics, MARC developed a three-phase plan to integrate transportation safety into its regional transportation planning and programming processes.
The first phase highlighted the need to incorporate safety issues throughout the entire transportation life cycle. MARC hosted a "Planning It Safe" workshop, which brought together local and regional leaders and planners to discuss safety issues in transportation planning, design, and operations. MARC also hosted a "Safe Routes to School" workshop for planners, health care professionals, and law enforcement officers to collaborate on bicycle and pedestrian safety for school-age children.
Providing technical support to decisionmakers is a key role of the organization. For example, MARC fostered an innovative partnership with the Kansas City chapter of the American Public Works Association (APWA) to develop guidelines and standards for community bicycle facilities in the region. For 2 years, public works officials and bicycle advocates collaborated to develop the guidelines and ensure that they were consistent with those set forth by the American Association of State Highway and Transportation Officials, FHWA, and the Missouri and Kansas DOTs. APWA later adopted the guidelines, setting standards for the bistate metropolitan region and making them available for replication in other communities across the United States.
In the second phase, the council focused on building partnerships with additional stakeholders in transportation safety. During the third phase, MARC will map crash data throughout the region to develop more targeted safety solutions that will be integrated into the metropolitan transportation planning and programming processes. In recognition of its leadership and innovative approaches, MARC also received an award in the "Planning It Safe" Safety Conscious Planning category.
Honorable Mentions
In addition to the award winners, FHWA, FTA, and APA also recognized five additional projects for their noteworthy innovations in transportation planning in the following categories:
Transportation Planning and Environment—The Hawaii DOT (HDOT) worked with the local community and State Historic Preservation Division to preserve the historic one-lane Hanalei Bridge, while adding a modern, multilane bridge that will meet current design standards.
Public Involvement, Education, and Outreach—The Michigan DOT sponsored a 2-day transportation summit in December 2003, as the first gathering of stakeholders from across the State to come together to create a statewide long-range transportation vision.
Transportation Planning Integration with Other Planning and Engineering Activities—After a national report cited St. Petersburg, FL, as one of the most dangerous areas for pedestrians in the country, the city developed a plan to encourage safe bicycle and pedestrian travel by adding 160 kilometers (100 miles) of sidewalks, 81 enhanced crosswalks, and 224 kilometers (139 miles) of bicycle lanes.
Technology Applications—The city of Houston, TX, is using a GIS-based model to track land use and development for the revitalization of the Main Street corridor in Houston. The model not only records changes in land use and development but also features a performance report card that enables users to evaluate the changes in relation to community goals.
Tribal Transportation Planning—In 2003, the Navajo Nation completed a long-range plan for its transit system that identified and prioritized capital and service improvements based on extensive outreach across three States and more than 100 tribal chapters.
For more information on these projects, visit www.fhwa.dot.gov/planning/tpea04/list.htm.
HDOT worked with the local community to develop a context-sensitive design solution to maintain the historic one-lane Hanalei Bridge (shown here).
Looking Ahead
The public is the primary beneficiary of the Nation's intermodal transportation system. For that reason, transportation planners at the Federal, State, and local levels undertake comprehensive analyses to evaluate the potential impact of their plans on the communities they serve. As illustrated by the work of the 2004 award winners, planners and decisionmakers increasingly are called to make important transportation decisions in environmentally sensitive ways, using comprehensive planning processes that include the public and consider land use, development, intermodalism, safety, and security.
"All of the 2004 award winners demonstrate that out-of-the-box thinking can lead to true innovations in transportation planning that can positively shape communities," says Shepherd, from the FHWA Office of Planning. "The bar was set very high. We look forward to building on the successes highlighted in the 2004 awards program to enhance the future of transportation planning."
---
Truphelia M. Parker is a financial management analyst with Data Solutions & Technology, Incorporated. Under contract with the FHWA Office of Planning, Parker is responsible for providing financial and program analysis support for the Transportation and Community and System Preservation (TCSP) Pilot Program. Parker is credited for her role in managing the 2004 Transportation Planning Excellence Awards program. She has been with FHWA for more than 3 years and also has worked in the Office of Interstate and Border Planning. She received a master's of public administration from Southern University and a bachelor of science degree in political science from Tuskegee University.
For more information, visit www.fhwa.dot.gov/planning/tpea04 or contact Robert Ritter in the FHWA Office of Planning at 202–493–2139 or robert.ritter@fhwa.dot.gov.