Measuring the Accuracy of Travel Times
On any given morning, millions of people rush out the door and into their cars to drive to work. In the evening, most people are anxious to get home quickly to spend time with their families or relax after a long day at work.
Whether at the beginning or the end of the day, many people are turning to Web sites that report estimated travel times as a means to identify the fastest routes to and from work. Because so many people rely on these
estimates to make travel decisions, the accuracy of the data is critical. Recently, the Federal Highway Administration (FHWA) and the University of Central Florida (UCF) released two reports that explore the accuracy of online travel estimates.
Hands-On Approaches to Improving Accuracy
In June 2003, FHWA published Travel Time Data Collection for Measurement of Advanced Traveler Information Systems (ATIS) Accuracy (Contract No.: DTFH61-00-C-00001). The report recommends approaches tomeasuring travel time accuracy for planners who specialize in intelligent transportation systems.
According to the report, transportation agencies can use several technologies and techniques for collecting data to measure the accuracy of travel time estimates. Inductive loop sensors that measure vehicle speeds at various points along a roadway are the most common technique. Loop sensors, however, can be unreliable for measuring low speeds. In addition, loop sensors measure vehicle speed, rather than actual travel time.
License plate matching is another technique, in which observers or computers match vehicle license plates at two points and measure the travel time between the points. Sometimes transportation agencies use geographic positioning systems (GPS) to capture information and data collection vehicles with an observer recording travel times at predefined points.
The report recommends that transportation agencies use both data collection vehicles and license plate matching in a two-step approach. First, transportation agencies should use probe vehicles to collect 100 data points to measure ground-truth travel times. Data collection vehicles are most appropriate because researchers can use them to take many samples over an entire traffic network. Next, agencies should measure the day-to-day variability of traffic patterns using license plate matching, which is the most accurate and reliable measurement technique for this purpose. By combining the two techniques and comparing them to the data presented in online estimates, transportation agencies will gain a better understanding of the accuracy of their information.
Researchers estimate that using probe vehicles equipped with GPS to collect 100 observations would cost approximately $21,000, which includes using two vehicles, GPS equipment, and staff to perform the collection. Collecting 20 days of data using license plate matching would cost approximately $48,100, including staff, equipment rental, and data transcription.
Statistical Analysis to Measure Estimate Accuracy
For UCF's report, The Impact of Real-Time and Predictive Traffic Information on Travelers' Behavior in the I–4 Corridor, researchers performed statistical analyses to evaluate the short-term prediction system used to estimate the travel times posted at www.trafficinfo.org. The travel times were exclusively for trips along a 64-kilometer (40-mile) corridor of Interstate 4 in Orlando, FL.
Travel time estimates for the Florida Web site are based on data from 70 loop detector stations and closedcircuit television cameras. The estimates are calculated using two prediction models. The short-term model, which UCF analyzed in this report, uses real-time estimates to make predictions. The long-term model also provides estimates but uses travel time nformation
based on historical data.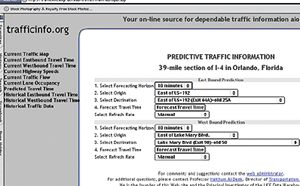 Analysis of the short-term model showed that the travel times posted on the Web were less accurate during heavy congestion and more accurate during lighter congestion— most likely due to random fluctuations in travel speed during heavy congestion. The analysis also showed that when predicting travel times in the near future (within 15 minutes), the system became increasingly inaccurate as the estimates moved further into the future. In addition, the analysis revealed that the prediction system had a slight tendency to underestimate travel times.
Rigorous analysis and real-world data are the keys to evaluating travel time estimates and ensuring the accuracy of traveler information. For more information about FHWA's study, visit www.itsdocs.fhwa.dot.gov/JPODOCS/REPTS_TE/13867.html. To download UCF's report, go to www.dot.state.fl.us/research-center/Completed_Proj/Summary_TE/FDOT_BC355_03.pdf.
---
Keri A. Funderburg is a contributing editor for Public Roads.