Glenwood Canyon 12 Years Later
More than a decade after its completion, has this marvel of highway engineering in western Colorado attained its original goals?
Nearly 12 years have passed since the Colorado Department of Transportation (CDOT) completed one of the most extraordinary highway projects ever constructed in the United States. Opened to traffic on October 14, 1992, the Glenwood Canyon project, a 20-kilometer (12.5-mile)-long network of viaducts, bridges, and tunnels constructed through an extraordinarily narrow, environmentally sensitive gorge in western Colorado, marked a milestone in the Nation's transportation history. The project not only connected the final leg of Interstate 70 (I–70), but also it symbolized the completion of the original U.S. interstate highway system.
Upon completion, the Glenwood Canyon project was revered for accomplishments in planning, context-sensitive design, work zone traffic safety and management, and constructionachieved despite numerous physical, operational, and administrative obstacles faced during construction. The project won more than 30 awards, including the 1993 Outstanding Civil Engineering Achievement Award from the American Society of Civil Engineers.
But the true measurement of a project's success comes with reevaluation of its impact over time. Now that the highway has been in service for more than a decade, has it lived up to its original goals of preserving the environment, improving safety, and enhancing mobility?
Analyses of traffic and crash data collected by CDOT and interviews with a variety of individuals and experts who have direct knowledge of the canyon or experience with the project reveal that the highway is in fact a great success. The overall consensus is that the project, with some exceptions, has attainedand in some cases exceededits original goals.
"This accomplishment is remarkable, considering the project's scope and magnitude," says Sam Caudill, a longtime local environmentalist who once opposed the project and later chaired the project's citizens advisory committee. "The Glenwood Canyon project continues today to serve as a model for what can be accomplished in the areas of environmental stewardship, safety improvements, and congestion mitigation despite difficult challenges."
Saving the Best for Last
Even as early as 1887 when a railroad track was constructed through the region, the Glenwood Canyon corridor served as a vital link in the Nation's surface transportation network. A primitive dirt road was built next in the early 1900s, and this canyon road was upgraded to a two-lane paved highway, designated U.S. 6, in the 1930s. U.S. 6 became the primary highway link between Denver and States to the west for the next six decades.
But as automobile traffic increased in the 1960s and 1970s, U.S. 6 through Glenwood Canyon became one of the most dangerous stretches of highway in Colorado, accumulating crash and fatality rates higher than those of similar highways. The 915-meter (3,000-foot)-deep canyon, carved by the powerful currents of the Colorado River more than 70 million years ago, stood as a natural barrier that delayed upgrading this final section of I–70 (U.S. 6) to a wider, safer interstate highway.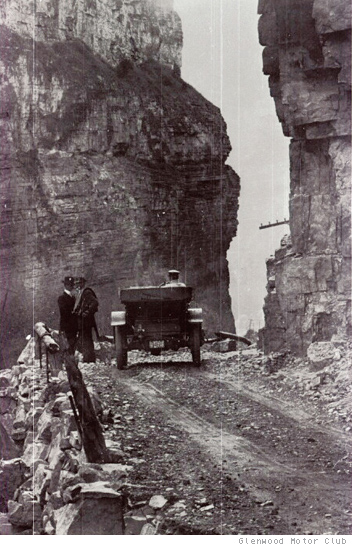 The challenge was how to squeeze a modern, four-lane freeway into a gorge barely wide enough to accommodate the existing two-lane highway without significantly damaging the environment. CDOT's answer was to construct two roadways, one nearly on top of the other. The final design consisted of a predominately elevated roadway including 40 bridges and viaducts stretching more than 9.5 kilometers (6 miles) between sections of roadway. The highway also has 24 kilometers (15 miles) of retaining walls and a 1,200-meter (4,000-foot)-long tunnel with bores for traffic in both directions. The retaining walls are secured with ground-anchored tiebacks and soil anchors, and the highway is paved with cast-in-place, post-tensioned pavement slabs cantilevered 1.8 meters (6 feet) beyond the retaining walls.
In addition to a facility for traffic management and maintenance inside the tunnel, the corridor also houses four full-service rest areas, a bicycle path running the canyon's entire length, and special facilities for launching rafts, boats, and kayaks.
Today, the Glenwood Canyon project is a model of environmental preservation, safety, and mobility, thanks in large part to good planning. Direct public involvement during the early stages of planning and design in the 1970s by a citizen's advisory committee and a technical review group led to many sound decisions that have enabled the canyon to flourish.
Enhancing Recreation
The old two-lane highway, though it served the public well for more than 60 years, had many drawbacks. The absence of recreational infrastructure like formal rest areas, picnic grounds, and trailheads created an almost chaotic situation. Motorists turned off the highway at the many informal pullouts to fish, picnic, or camp, leaving garbage, ash-filled fire rings, and other debris within just a few feet of the river. The highway's extremely narrow or nonexistent shoulders made walking or cycling along the roadway unsafe. Anglers, rafters, and kayakers had to climb down steep rock embankments to reach the water.
During the planning and public involvement process in the 1970s, local residents and members of the citizen advisory committee strongly urged CDOT to incorporate recreational facilities into the project's overall design. The four rest areas, bike path, and launch facilities all conceived during the public involvement period contributed immensely to improving the canyon's overall environmental integrity. In fact, many local residents and frequent visitors say the canyon is actually safer, cleaner, and more accessible than it was before the highway was upgraded to an interstate.
"I do think the project has minimized environmental impacts," says Steve Smith, a local environmentalist. "I actually think the canyon is better than it was before because the new project repaired environmental damage caused by road construction in earlier eras."
Jeanne Golay, a former Olympic and professional cyclist who lives in Glenwood Springs, says the canyon prior to construction was a "forbidden zone" for cyclists because of the old highway's narrow shoulders. Cyclists who wanted to go west from Vail Pass had to be picked up and driven by automobile through the canyon.
"The Glenwood Canyon project is really huge from a cycling standpoint," Golay says. "The bike trail has opened up a whole new world to cyclists. Cyclists going west now have an option. I think overall the project has been nothing but positive."
The four full-service rest areas, which replaced the old highway's numerous informal pullouts, have proven invaluable from an environmental and recreational standpoint. All of the rest areas have formal parking areas, restrooms, interpretive displays, picnic grounds, water fountains, trash receptacles, and access to hiking trails. To accommodate increased demand, the restrooms at the Grizzly Creek Rest Area were upgraded recently from a composting system to a new, more environmentally friendly textile-packed bed filter system that uses an ultraviolet disinfection process to treat restroom sewage. The new system has considerably higher capacity and is more adaptable to steep terrain. Similar upgrades are planned for two of the canyon's other rest areas in anticipation of a 50 percent increase in corridor traffic by 2015.
Rafters and kayakers are delighted with the Glenwood Canyon project because CDOT constructed safe and convenient launch and pickup facilities along the river at popular whitewater sections. "We used to have to climb down 30 feet [9 meters] of rocks with our rafts to get to the river," says Ken Larson of Whitewater Rafting in Glenwood Springs. "Now we have ramps and designated access, which are a whole lot better than what we had before."
Another reason for improved whitewater activities is that roadway construction in several areas slightly narrowed the river. "I think the highway construction may have helped us," Larson says. "In several places the rapids are faster than before. The kayakers and rafters actually like the river even more now."
Fishing also has improved since the days of the two-lane highway, according to Drew Reid, a longtime local fishing guide with Roaring Fork Anglers of Glenwood Springs. Though the overall fish population appears to have stayed about the same, rock embankments constructed along these narrower sections have provided new and enhanced trout habitat.
"I have to say, they kept the river in good shape during construction," Reid says, "and it remains a nice place to fish today."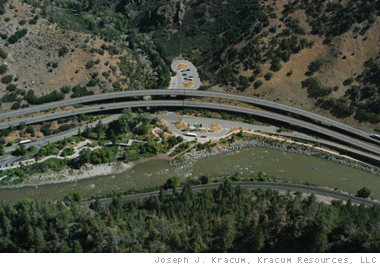 Environmental Safeguards
Although recreational conditions and opportunities clearly have improved, the impacts on plants and wildlife are less clear. Because no formal studies were conducted before or after construction, officials cannot determine precisely how the project affected the canyon's ecosystem. But several local environmentalists and wildlife experts familiar with the canyon suggest that the impacts are minimal.
"The tree and plant preservation program in Glenwood Canyon is one of the project's top accomplishments," says Smith. Prior to construction, workers marked and fenced off important trees and other vegetation. In places where heavy equipment would be used, trees and plants were trimmed to the ground but not removed. "After construction, the vegetation grew back thicker and healthier than before," he says.
In areas where heavy impacts were unavoidable, a massive revegetation program involving the seeding and replanting of more than 150,000 native plants helped bring the canyon back to its original condition after construction. Exposed rock cuts were stained to match their original colors, and the construction of bridges and viaducts above heavy growth areas helped minimize plant removal and damage.
"Glenwood Canyon is a model for how to minimize damage to the environment," Smith says. "The landscaping and revegetation programs are examples of how to bring back the natural look. The careful placement of pillars and columns made it possible to leave trees and vegetation in place during construction and after. It may have cost more, but it's been worth it."
Caudill adds, "When I drive through the canyon now, I definitely think the project has increased the canyon's overall beauty, particularly the vegetation. It makes me feel great to see how well the canyon turned out. I've never heard anything negative about the project from anyone in the area."
A Tunnel with Vision
"Located roughly at the midpoint of Glenwood Canyon is one of the most technologically advanced tunnel systems in the country," says Ron Speral, a program delivery engineer in FHWA's Colorado Division who worked as an operations engineer during the tunnel's construction. The 1,200-meter (4,000-foot)-long Hanging Lake Tunnel is a major reason for the improved safety of travel through the canyon since construction of I–70.
A first-of-its-kind traffic control and information center constructed deep inside the tunnel is equipped with an incident detection and traffic management system designed to track each vehicle through the tunnel using a system of sensors and closed-circuit television cameras.
A fleet of tow trucks, fire trucks, and other emergency vehicles stationed in a large garage in the middle of the tunnel are prepared, 24 hours a day, to remove vehicles from the tunnel and the entire canyon corridor when necessary. A lane-control system and variable message signs enable tunnel operators to employ and communicate closures of individual lanes or tunnel bores. In the event of a major incident, the system can provide advisories and even evacuation directions to motorists through an FM emergency broadcast radio system that automatically overrides a vehicle's radio inside the tunnel, regardless of the station the driver is listening to.
Over the past 12 years, CDOT has expanded and improved the technology to enhance mobility and improve safety. In 1996, for example, CDOT installed a variable message sign at the approach to one of the canyon's sharper, more crash-prone curves. The Smart Sign, as it is called, uses radar to detect a vehicle's speed and then prominently displays a message in flashing bold red letters: "YOUR SPEED IS 60 mph." Immediately after the first message, a second one follows, warning: "45 mph CURVE AHEAD." Since the sign was installed, average vehicle speeds at the curve decreased from 106 km/h (66 mph) to 98 km/h (61 mph), and even more significantly, average truck speeds went down to 77 km/h (48 mph), according to CDOT data.
In addition, CDOT upgraded the original emergency callbox system from radio-controlled to a cellular phone callbox and computerized answering system. The agency also placed callboxes about every 0.8 kilometer (0.5 mile) throughout the canyon and in several high-incident areas.
A CDOT employee in the Hanging Lake Traffic Control Center keeps a watchful eye on the tunnel and its approaches using recently upgraded computers and other equipment. Hanging Lake also is the traffic control center for western and southern Colorado, including the future Wolf Creek Pass Tunnel.
The Hanging Lake Traffic Control Center, located above the emergency vehicle garage in the middle of the tunnels, also received a much-needed upgrade. The technology in the control center, including camera monitors, computer consoles, and other high-tech systems for managing traffic, had become obsolete. Much of the hardware was no longer manufactured, making service difficult and replacement parts hard to find. As a result, CDOT has nearly completed a major $1.5 million redesign and upgrade of the computer and traffic-control systems that have kept the Hanging Lake Tunnel perhaps the most technologically advanced in the country.
Under the old system, all of the tunnel's safety functionsvariable message signs, highway advisory radio, emergency callboxes, and closed-circuit television camerasworked independently. The new PC-based system brings all of the tunnel's safety functions into a single, integrated program, providing CDOT with the latest in low-cost, high-performance microprocessor technology and programmable logic controllers. The new system is designed to make future upgrades easier and will provide the technology to enable CDOT to connect the control center to other State facilities.
After the upgrade is complete, the tunnel system will have a vehicle detection system involving a state-of-the-art computer that predicts a vehicle's arrival in each of the tunnel's 16 traffic-control zones. Failure of a vehicle to reach the next zone triggers an alarm, enabling the tunnel staff to respond more quickly to a stopped vehicle in the tunnel.
The Hanging Lake Traffic Control Center now controls 82 variable message signs installed throughout western and southern Colorado, and more signs are being added. Also, Hanging Lake Tunnel soon will become the control center for a new tunnel that is under construction at Wolf Creek Pass in southwestern Colorado on U.S. 160. Staff from Hanging Lake will monitor the new tunnel's traffic video images and other systems and functions such as fans and weather sensors. Although more than 320 kilometers (200 miles) apart, the two tunnels will function harmoniously, making better use of the State's resources.
All of these tunnel upgrades are making Glenwood Canyon and other highways in western and southern Colorado safer and more efficient.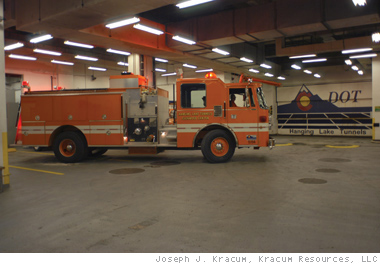 A garage deep inside the tunnel houses a fleet of emergency vehicles that responds 24 hours a day to keep the tunnel safe and operating smoothly.
Wildlife Issues
The final question from an environmental perspective is, How is the wildlife faring? Glenwood Canyon is bordered on both sides by the White River National Forest, where herds of elk, deer, bighorn sheep, and other species make their homes. Planners and designers concluded that a predominantly elevated roadway would give the wildlife ample opportunities to move freely across and through the canyon with minimal conflicts with traffic.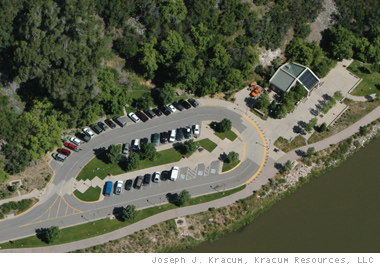 Although no formal wildlife studies were conducted in the canyon either before or after construction, two local biologists suggest that the effects of the upgraded interstate on wildlife are minimal if any. Based on personal observations, Bill Heicher, retired district wildlife manager with the Colorado Division of Wildlife, and Larry Green, who worked as a district wildlife manager for the division from 1971 to 1999 and served on the project's Technical Review Group, agree that construction of the interstate has not affected local wildlife adversely.
Is Glenwood Canyon Safer?
Numerous traffic studies show that when a State upgrades a road from two lanes to a four-lane divided highway, overall safety typically improves. This improvement is clearly the case with Glenwood Canyon, according to CDOT crash data.
Driving Glenwood Canyon before it was upgraded to an interstate was an experience in contrasts and sudden changes. Motorists would travel around 105 kilometers per hour (65 miles per hour) on the already-completed interstate sections, but upon arrival at the canyon, they would have to slow down abruptly to around 73 km/h (45 mph) to negotiate the much narrower, winding two-lane roadway. The old highway offered little or no room for driver error—a motorist could easily veer into oncoming traffic or off the road and into the Colorado River.
The sudden alteration of driver expectations of roadway conditions, combined with heavy traffic and poor roadway geometrics, led to the canyon's status as one of the most dangerous stretches of two-lane highway in the State. By 1979, the year before construction began, the number of annual crashes had reached an all-time high of 121 incidents, 25 of those involving injuries. This was a significant increase from the 86 crashes in 1978, 84 crashes in 1976, and 79 crashes in 1975. (CDOT crash data are unavailable for 1977.)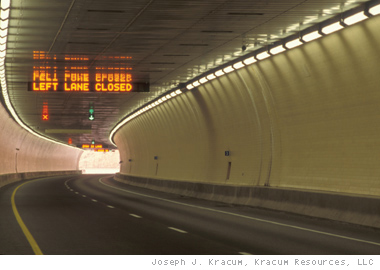 Since the route through Glenwood Canyon was upgraded to an interstate, the number of annual crashes dropped nearly 40 percent, despite significant increases in traffic volume. In the 5 years prior to construction, 1975–1980 (excluding 1977), the average number of annual crashes was 106. Over the most recent 5-year period for which statistics are available, 1997–2001, the average number of annual crashes dropped to 67. This reduction is significant, considering that average daily traffic has more than doubled since the start of construction.
Other data support Glenwood Canyon's improved safety. In May 2003, the National Highway Traffic Safety Administration's Fatality Analysis Reporting System showed that the national fatality rate on rural interstates in 2002 was 1.18 per 100 million vehicle miles traveled (VMT). For the section of I–70 through Glenwood Canyon between mileposts 118–130 the rate was 0.75 from 1992–2001.
Maintenance Challenges
Keeping Glenwood Canyon safe is an ongoing challenge for CDOT, particularly during the winter. Because many stretches of the highway remain shady for long periods during winter due to the steep terrain and elevated structures, CDOT takes extra maintenance precautions to prevent the roadway from becoming dangerously snow-packed and icy.
CDOT, with help from FHWA, tested new deicing equipment and snow-removal techniques during a 3-year study in the mid-1990s at the western end of the canyon. The results helped CDOT develop a successful program involving installation of an ice-detection system throughout the canyon. The system provides weather-related information that road managers can use to predict precise times when chemical deicing would work most effectively. As a result, winter driving conditions have improved significantly, according to CDOT studies and crash data from the State police. In addition to fewer snow-related crashes, less salt and sand now accumulate in the river, on roadside vegetation, and along the bicycle path.
To minimize potential traffic and safety problems related to the climate and future maintenance activities, CDOT completed an asphalt overlay in 2001 using a high-performance asphalt designed to be capable of withstanding the canyon's extreme weather and heavy traffic. The specially designed pavement combines asphalt transported from a lake on the island of Trinidad in the Caribbean, with steel slag aggregate, a byproduct from a steel manufacturing plant in Pueblo, CO.
Keeping Traffic Moving
Upgrading Glenwood Canyon to an interstate could not have come at a better time from the perspective of traffic congestion. As a two-lane highway, the canyon route often caused traffic to slow to a crawl during peak periods or come to a complete standstill after a crash. Congestion began to worsen noticeably during the 1970s when traffic volume nearly doubled from an average of 3,301 vehicles per day in 1970 to 6,026 in 1979. The 1980s, when most of the project was built, brought another significant jump in traffic volume, from an average of 6,586 vehicles per day in 1980 to 9,168 vehicles per day in 1989. By the time the project was completed in 1992, average daily traffic had climbed to 10,762. With Glenwood Canyon now a four-lane interstate, traffic flows through the corridor with few interruptions, despite average daily traffic now approaching 17,000 vehicles per day.
According to CDOT officials, if Glenwood Canyon had remained a two-lane highway, many motorists would have chosen an alternate route in the daytime or traveled at night to avoid lengthy delays. It would have been nearly impossible for emergency equipment to respond to incidents in the canyon if the old two-lane facility had to serve the 16,500-plus vehicles that currently pass through the canyon
every day.
After almost 12 years of service, the I–70 Glenwood Canyon project not only has delivered as promised but remains one of the crown jewels of the interstate highway system.
---
Karen Stufflebeam Rowe is a CDOT resident engineer for Colorado's Region 3, which includes Glenwood Canyon.
Eva LaDow, P.E., is a field operations engineer in FHWA's Colorado Division.
Steve Moler is a public affairs specialist at FHWA's Resource Center in San Francisco.
Tom Metheny of CDOT also contributed to the article, and Glen Fromm of Parsons Brinckerhoff contributed to the sidebar, "A Tunnel with Vision."
For more information about the Glenwood Canyon project, contact Steve Moler at 415–744–3103 or steve.moler@fhwa.dot.gov.