Wireless Communications: A Modern Necessity
Imagine that you are sitting in afternoon rush-hour traffic that is extremely congested because of a "fender-bender" and the ensuing clean-up efforts. You will not be able to pickup your child from the day-care center, and you need to let your spouse know. You wish you had a wireless telephone, but you do not have one because there is no wireless service in your community. Impossible, you say.
Let's try another scenario. You are having car trouble and need to contact your automobile club for assistance. Again, you are without a wireless phone due to a lack of wireless coverage. Preposterous, you exclaim!
The lack of wireless coverage is unacceptable because wireless phones have become an integral part of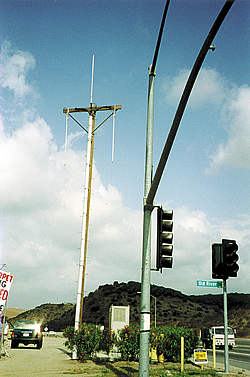 the everyday lives of so many people. Some may regard them as essential and may be unable to imagine getting by without them.
But what does this have to do with the Federal Highway Administration (FHWA) and the state highway agencies? It concerns the use of rights of way along the National Highway System (NHS). NHS has a total mileage of about 260,000 kilometers, and it includes the Interstate Highway System and other roads important to the nation's economy, defense, and mobility.
Between 1959 and 1988, FHWA and its predecessor, the Bureau of Public Roads, prohibited the installation of new utility facilities within the rights of way of access-controlled freeways except in some extraordinary cases. From Feb. 2, 1988, to January 1996, FHWA's policy changed to allow each state to decide whether to permit new utility facilities within these rights of way.1 In January 1996, Congress passed the Telecommunications Act of 1996 calling for open competition between utility providers, specifically in the communications arena (cable, telephone). Each state has the right to enter into agreements with communications providers; however, to do so, the state must provide the opportunity to all interested providers.
Now, you may be wondering what impact all this has on your ability to call someone from a wireless phone. FHWA recognizes that there are two forms of utility-provided communications: fiber-optic and wireless.
Fiber-optic communication occurs via telephone lines (above ground on telephone poles or through underground conduits). In many states, fiber-optic telephone service providers are considered public utilities (with facilities that are owned or leased by a government agency for its own use or are otherwise dedicated solely to governmental use) and, therefore, are entitled to be within the rights of way of state highways (as opposed to interstate highways) free of charge.
FHWA has adopted the position that wireless providers are private utilities (with facilities that are devoted exclusively to private use) and, therefore, are subject to Section 704 of the Telecommunications Act of 1996, which "establishes a comprehensive framework for the exercise of jurisdiction by state and local zoning authorities over the construction, modification, and placement of facilities such as towers for cellular, personal communications service (PCS) and specialized mobile radio (SMR) transmitters." In addition, Section 704 "prohibits any action that would discriminate between different providers of personal wireless services" and also "prohibits any action that would ban altogether the construction, modification, or placement of these kinds of facilities in a particular area."2 Consequently, wireless providers may be regulated according to 23 Code of Federal Regulations 1.23 (b) and (c) under the air space provisions, unless state statute defines wireless communications as a public utility.
Wireless technology is the transmission of your message via low-energy radio signals to the closest antenna site, which then connects with the local telephone network. Your message is then delivered via fiber-optic cable to a wired telephone or by radio signal to another wireless phone.
Because wireless providers use individual radio frequencies multiple times by dividing a service area into separate geographic zones, or cells, each cell requires its own radio transmitter/receiver antenna to transfer the wireless call from the limits of the present cell to the neighboring cell. A wireless tower requires generally between 14 and 46 square meters (150 and 500 square feet) depending on the number of antennas attached to the tower. The site contains the tower, which varies in height from 15 to 46 meters, and an equipment cabinet, both of which are placed on a concrete foundation within a fenced area. The equipment in the cabinet must be connected to a power source.
Wireless tower antennas require minimal maintenance -- perhaps readjusting the antennas once or twice a year. In fact, individual wireless antennas do not need to be affixed to a tower as they may be placed on highway sign supports, light posts, and even the roofs of buildings.
It is frustrating when you are traveling and your connection becomes distorted or terminates. This occurs because the present cell site is having difficulty successfully transferring the call to the nearest cell site due to its distance and/or elevation. If the nearest cell site is too distant, the connection may even be lost. Wireless coverage is only as good as a provider's network of cell sites or its proximity to other providers' networks. Wireless providers identify markets, and then, they seek to proliferate the market area with their cell sites. Of course, if the area has numerous private owners, the providers must negotiate with each owner for the ability to establish a cell site. Consequently, the wireless providers seek out owners with larger amounts of real estate in the hopes that multiple cell sites may be negotiated. Railroad rights of way and highways/roadways are an example of this situation. The federal government has recognized the importance of wireless communications and has instructed its executive departments and agencies to facilitate access to its property for the purpose of siting antennas.3
For states that do not legally define wireless communications as a public utility, FHWA regulations 23 CFR 1.23 (b) and (c) provide an avenue for reviewing/approving wireless tower requests as air space leases or licenses. Paragraph (b) explains that "all real property, including air space, within the right-of-way boundaries of a project shall be devoted exclusively to public highway purposes." The state highway agency is charged with "preserving such right of way free of all public and private installations, facilities, or encroachments, except" for three situations, one of which is air space. Paragraph (c) states that "the temporary or permanent occupancy or use of right of way, including air space, for non-highway purposes ... within the boundaries of the rights of way of federal-aid highways, may be approved by the administrator, if he determines that such occupancy, use, or reservation is in the public interest and will not impair the highway or interfere with the free and safe flow of traffic thereon."
These regulations illustrate that air space use allows the operating highway right of way to be used for non-highway purposes if FHWA or the state highway agency makes a finding that such use is in the interest of the public and that the use will not interrupt or interfere with the vehicular use of the highway. Due to the widespread use of wireless phones by the users of the highways, there is a demonstrable public interest inherent in allowing controlled and structured use of wireless tower air space in the right of way.
Any air space lease that is approved requires that access to the wireless tower site must be from outside the right of way. In certain instances, if there is a great preponderance of public benefit or interest, an encroachment permit may be granted for alternate access from the right of way with the approval of FHWA or the state highway agency. However, because an air space lease is an option and does not have to be approved, the state highway agency does not have to break access control on any controlled facility to allow wireless tower sites within the right of way. In addition, an air space lease requires fair-market rent to be paid, generally on an annual basis, by the user of the right of way. These annual funds are treated as income and should be deposited in the state's Highway Trust Fund to be used toward future highway projects.
Coordination between the state, wireless providers, and local governments is a prerequisite to the establishment of a policy to allow wireless communications within the right of way. The process must be open and competitive, and either a master agreement signed by the providers or a request for proposal will satisfy Section 704 of the Telecommunications Act of 1996.
For those states that do not legally define wireless communications as a public utility, the master agreement process promotes public participation while allowing any and all interested wireless providers to compete. California, New Jersey, and Ohio have successfully established a wireless program using a master agreement. The master agreement may be styled in the form of either a lease or a license; the license appears to be the document most often used. Therefore, the title of the agreement will appear as "Master License Agreement" (MLA). In addition, once any and all interested wireless providers have been given the opportunity to sign the MLA, a "Site License Agreement" (SLA) will be prepared for each wireless site.
The MLA should contain (at a minimum) a description of the purpose of the wireless program; a description of the purpose of the MLA and the SLA; use; term; rent structure (fair- market value rent predicated on the number of antennas and the area of the wireless site, whether urban or rural); a description of the improvements and mode of construction; the responsibility of the provider to arrange for utility connection and access; and all required insurance, indemnifications, and prohibited uses. There may be additional provisions, depending on each state's legal requirements, but the state highway agency must define the limitations sufficiently to protect the overarching purpose of the highway system -- the use by the traveling public. In addition, the fair-market value rent schedule will vary according to each geographic area's market rents. The right-of-way section of each state highway agency should be consulted to determine the rent schedule and should be involved in the processing (review/approval) of the wireless proposals.4
A number of important concepts must be considered when dealing with the wireless providers. First, the local municipalities must be involved in the selection of wireless tower sites. The wireless provider must obtain all local approvals (zoning permits, construction permits), as well as environmental clearance (Categorical Exclusion), prior to the review and approval by FHWA and the state highway agency. If the wireless provider is unable to obtain local approval to proceed, the state highway agency should not continue with proposal process.
For state highway agencies with district right-of-way sections, a district air space review team should be created to review the proposals. Members of the review team should include specialists in rights-of-way, landscaping, maintenance, encroachments (if necessary), engineering, and any other applicable discipline.
Second, the state highway agency should have space on the tower and space in the electrical vault reserved for public use. The reserved space is in addition to the annual fair-market rent. In-lieu services alone are not acceptable remuneration for wireless accommodations under the air space program.
Third, the state highway agency should only market sites that will not be required for highway projects for at least 10 years.
Fourth, the agency should require an application fee to cover all administrative costs for processing the wireless proposals.
Finally, the agency should encourage wireless providers to co-locate, which will limit the number of wireless sites, while allowing more wireless providers the opportunity to establish wireless service.
Proposals that entail the use of interstate system rights of way require FHWA review and approval. In addition, depending on the state highway agency's stewardship agreement with FHWA, proposals involving the other roads in the National Highway System may also require FHWA review and approval. FHWA review includes both rights of way and engineering, as well as safety and/or bridge aspects depending on the location of the proposal. A wireless proposal does not receive final approval until the state highway agency and, if necessary, FHWA have signed the environmental document (Categorical Exclusion). Prior to establishing a wireless program, the state highway agency and the FHWA Division Office in the state need to create licensing processes and siting guidelines that will permit an effective and efficient wireless program.
The benefits of a wireless program are self-evident, and the public benefits in several ways. The wireless communications needs of the public are served; the fielding of some intelligent transportation systems is facilitated; and future highway improvements are funded by the additional income received by the state highway agency. This is a win-win situation for the public, state government, and for wireless providers, especially if all parties involved work together to effectively communicate and coordinate their efforts. It promotes competition among the wireless providers. In addition, a public wireless program incorporates the flexibility granted by the Telecommunications Act of 1996 and satisfies the intent of the act.
Adapted From "Assessment of Rural ITS Wireless Communications Solutions"
by Qingyan Yang, Virginia P. Sisiopiku, James A. Arnold, Paul Pisano, and Gary G. Nelson
Advanced Rural Transportation Systems (ARTS) intend to use developing intelligent transportation systems (ITS) technologies to improve the safety and efficiency of rural surface transportation. Many rural ITS functions potentially require some type of wireless communications support. However, available wireless communications systems that currently serve urban areas may not be fully suitable for application to rural areas due to limitations in coverage, transmission rate, and so forth. To design for the desirable range of ARTS services, it is necessary to review and evaluate the potential of wireless communications systems and technologies within the rural environment.
Rural Wireless Communications Functions
Five types of rural ITS wireless functions are required to meet ITS needs in rural areas:
Vehicle-to-vehicle wireless communications are necessary to support ITS for inter-vehicle collision avoidance, passing safety, and warnings about slow-moving or stopped vehicles.
Roadside-to-vehicle broadcast communications could be used for warnings about safety hazards and for traffic advisories (e.g., animals on the road, collision or incident ahead, highway-rail crossing, work zone, weather conditions, changing speed limit, detour, local and attraction information).
Mobile wide-area wireless communications provide the potential for in-vehicle information systems, in-vehicle mayday function, interactive route guidance, en route warning systems, fleet dispatching and routing, onboard information recording and reporting, electronic payment systems, onboard safety monitoring, and emergency notification.
Fixed wide-area wireless communications permit remote roadside data collection and monitoring, roadside information displays, emergency fixed roadside terminal notification, traveler and service information access, transit demand management, and interagency coordination.
Short-range wireless communications support intersection collision-avoidance coordination, automated vehicle identification, commercial vehicle operations (electronic clearance, roadside safety inspection, weigh in motion, and automated vehicle identification), and priority signal control for transit vehicles and emergency vehicles.
Emerging Wireless Systems
A number of developing wireless communications systems and technologies may affect future deployment of rural wireless telecommunications infrastructures. Examples of emerging systems include:
Statewide Multiple-Agency Wireless Network Deployment
Currently, more than 30 states are proposing or developing a statewide wireless system shared by multiple agencies. Most of these systems use advanced digital trunk radio systems that form a wireless mobile communications network. The full deployment of these statewide wireless systems is expected to satisfy the rural ITS wireless requirements for law enforcement, emergency response service, and rural highway data collection and management.
Third-Generation (3G) Wireless Technologies
The 3G wireless system refers to the next generation of cellular technologies. The primary aim of 3G technologies is global coverage for speech and low-to-medium bit rate data services with the provision of high-bit rate services over a limited coverage area. The prototype 3G system testing is currently ongoing. The powerful data capability of the 3G system is expected to benefit rural ITS wireless applications such as slow-scan or real-time video transmission.
Rural LMDS and WLL Services
Local Multipoint Distribution Service (LMDS) uses microwave signals in the 28-GHz spectrum to transmit interactive voice, video, and data signals within small cells of 3 to 16 kilometers in diameter. It allows licensed holders to control a range up to 1.3 GHz of wireless spectrum, which can carry digital data at speeds more than 1 Gbps. LMDS promises a wireless alternative to fiber and coaxial cables to deliver two-way video and high-speed data services in rural areas.
In addition, the concept of Wireless Local Loop (WLL) aims at taking advantage of wireless access technologies to provide telecommunications connections instead of wireline infrastructures. WLL systems have to prove that they are at least as good as the services provided by cables to carry and deliver voice, data, video, Internet access, multimedia, and high-speed data.
Deployment of LMDS and WLL in rural areas will provide an alternative wireless backbone infrastructure -- a feature that is crucial for rural ITS applications.
Rural Satellite Services
Generally, the advantages of satellite-based mobile communications networks include wide-area coverage, network flexibility, compatibility with terrestrial existing networks, and terrain independence. Three types of commercial satellite systems are under development:
Direct Broadcast Satellite (DBS) systems deliver cable-like television programming directly from satellites.
Global Mobile Satellite Communications systems claim to provide services such as international roaming; rural telephone service; cellular fill-in services; commercial vehicle services; and maritime, aviation, and government services.
Broadband Satellite Service (BSS) systems are intended to provide flexible capacity on demand for high-volume telephony, video conferencing, broadcast video, and high-speed Internet data services. Most of the BSS system is still in development and will not be operational until 2001 at the earliest.
References
Synthesis of Highway Practice 224, Transportation Research Board, Washington, D.C.
Fact Sheet, Federal Communications Commission, Washington, D.C., April 23, 1996.
Federal Register, Vol. 61, No. 62, March 29, 1996.
California's Master License Agreement.
Lester G. Finkle II has been the right-of-way officer and civil rights specialist in FHWA's Connecticut Division Office since August 1999. For the previous three years, he managed the California Department of Transportation's (Caltrans') wireless program as a realty specialist in FHWA's California Division Office by coordinating the review and approval of all wireless proposals submitted to FHWA. He worked for more than four years as a right-of-way negotiator with the New Jersey Department of Transportation and joined FHWA as a realty specialist trainee in 1996. He has a bachelor's degree from Rutgers University.