The Strategic Highway Research Program: An Investment That Has Paid Off
In 1987, the U.S. Congress authorized the Strategic Highway Research Program (SHRP) - a five-year, applied research initiative - to develop and evaluate techniques and technologies to combat the deteriorating conditions of the nation's highways and to improve their performance, durability, safety, and efficiency.
Directed by a committee of top-level managers from state highway agencies, industry, and academia, SHRP operated as a unit of the National Research Council. The states paid for the program by contributing one-quarter of 1 percent of their federal-aid highway funds. Research, conducted under contract with private organizations and universities, was concentrated in four areas:
Asphalt.
Concrete and structures.
Highway operations (maintenance and work-zone safety).
Pavement performance (long-term pavement performance study).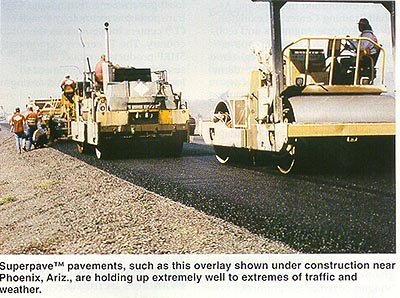 At the conclusion of the research phase, the Federal Highway Administration (FHWA) assumed coordination of a national program to move the 100-plus products developed or evaluated under SHRP out of the laboratory to those state and local agencies responsible for building and maintaining the nation's highway network. The American Association of State Highway and Transportation Officials (AASHTO) and the Transportation Research Board (TRB) also placed their resources solidly behind the SHRP implementation. The AASHTO Task Force on SHRP Implementation acted as a catalyst, and the TRB-SHRP Committee monitored progress.
This article, which draws extensively from the recently released report From Research to Reality: Assessing the Results of the Strategic Highway Research Program, chronicles that effort, cites specific product and process advancements resulting from SHRP, and examines their economic and safety benefits.
Partnership Is the Key
The SHRP research phase identified innovative ways to build and maintain a more durable highway system. The second, and equally important, phase was the commitment by FHWA and its partners to refine many of the products; get them to the state and local highway agencies for practical testing under real-world road conditions; and provide the training, demonstration, and other resources necessary to implement the products.
The 1991 Intermodal Surface Transportation Efficiency Act (ISTEA) funded these technology transfer activities. The second phase built on the successful partnerships created during the research phase. The partnerships functioned through distinct technical working groups (TWGs) and expert task groups (ETGs) composed of highway agency, industry, academic, and FHWA representatives, whose specialized guidance and careful planning ensured that any products developed met specific, identified needs.
Tools for Increasing Implementation of SHRP Products
FHWA and key partners such as AASHTO and TRB have produced a variety of creative programs to introduce the highway community to SHRP innovations, aimed at accelerating implementation and moving the nation closer to the ultimate goal of a stronger, safer, and more efficient transportation system.
Showcase Workshops
Regional SHRP showcase workshops became a primary vehicle for presenting the new technologies to the highway community. In addition to hands-on training and classroom instruction, participants were able to "test drive" the new technologies before committing to purchase.
Mobile Laboratories
Developed to take technology directly to the user, each mobile laboratory contains state-of-the-art equipment and is staffed by experienced instructors and technicians eager to share the technology and to assist in conducting field evaluations of the new technology.
Superpave Initiatives
FHWA established the National Asphalt Training Center in Lexington, Ky., to educate engineers and technicians about the new Superpave system. (Superpave is a registered trademark of the National Academy of Sciences.) To augment this system, state departments of transportation teamed with universities to establish regional Superpave centers in Alabama, Indiana, Nevada, Pennsylvania, and Texas. In addition to training engineers, technicians, and other highway workers, the five centers conduct ruggedness, precision, and bias testing of new procedures and equipment. The National Highway Institute also sponsors courses on the Superpave system. In addition, the asphalt TWG and regional user-producer groups remain active forums for bringing together government, academia, and private sector participants in this Superpave program.
LTAP T2 Center Programs
Although SHRP products were developed primarily to meet the needs of state highway agencies, FHWA's Local Technical Assistance Program (LTAP) sponsored a three-year project to introduce SHRP products to local governments. SHRP technologies were also promoted to local governments through the 57 transportation technology transfer (T2) centers located across the country. The T2 centers demonstrate SHRP products, conduct training sessions, and loan equipment to local governments for field testing.
Lead States Program
The AASHTO-sponsored lead states program enables states already implementing SHRP products to provide technical support and guidance to their peers in other states. Through the work of seven individual lead state teams, focusing on specific product areas, this program initiative broadens the potential for applying SHRP devices, tests, and specifications.
SHRP Assessment Project Evaluates Benefits
As SHRP innovations were implemented, the TRB-SHRP Committee proposed an assessment project to evaluate whether the anticipated benefits from SHRP projects exceeded the cost of SHRP research and implementation. FHWA contracted with the transportation technology transfer center at the University of Nevada-Reno (UNR) to coordinate and manage the assessment project.
UNR worked with four other technology transfer centers to collect information from state and local highway agencies about their use of SHRP products. Using telephone and mail surveys, the centers gathered information and compiled more than 100 detailed case studies. The studies, named RoadSavers, describe how highway agencies are using SHRP technologies to save money, time, and lives.
For the second part of the assessment project, the Texas Transportation Institute (TTI) was contracted to conduct a macroeconomic analysis of the benefits of SHRP products and the cost of their implementation. Based on the case studies, a team of TTI economists and engineers evaluated the total nationwide costs and benefits of researching, developing, and implementing technologies in five SHRP technology areas:
Superpave system.
Concrete and structures.
Pavement maintenance.
Snow and ice control.
Work-zone safety.
To conduct this economic analysis, the TTI team established a base 20-year implementation period. To represent different scenarios for the pace at which products would be adopted, the team applied three different time lines within that period. Along with costs, financial calculations included examining benefits realized from more durable roads and bridges and more efficient use of staff and materials. Equally important in the total equation were savings to motorists, who will benefit from fewer crashes and delays and from lower vehicle operation and repair bills. The TTI study provided clear evidence that SHRP technologies can improve safety and cut costs.
The analysis also demonstrated that the pace of implementation directly affects the states' return on investment. For example, if states adopt six of the SHRP-developed concrete test technologies over the 20-year period, the total annual savings could range from $4.1 million by slowly implementing the technologies to $15.5 million by adopting a faster implementation pace. Analysis of other products showed similar advantages of earlier, more rapid deployment. Regardless of the implementation rate, however, the analysis clearly demonstrated that states' investment in SHRP technologies will pay future dividends that greatly exceed the original $150 million that Congress authorized in 1987.
Superpave System
Asphalt concrete covers more than 90 percent of the nation's paved roads and requires an annual expenditure of $15 billion to meet increasing traffic volumes and loads. In addition to the financial toll, the creation of work zones during repair and rehabilitation projects disrupts traffic, and rough pavements pose safety risks and can damage tires and suspensions.
The SHRP solution is the Superpave system, which enables designers to select materials and design a mix to meet specific weather and traffic conditions at the project site. The three components of the Superpave system are:
Asphalt binder specification.
Design and analysis system based on the volumetric properties of the asphalt mix.
Mix-analysis tests and performance-prediction models.
The Superpave system relies on an innovative array of equipment that tests and evaluates asphalt binders and mixes. All state highway agencies currently have five of the six pieces of binder testing equipment, and all have at least one Superpave gyratory compactor, which simulates the effects of construction and traffic on an asphalt mix.
Case Studies
Highway agencies nationwide report that Superpave pavements are holding up well to heavy traffic and extreme climates. For example:
The Alabama Department of Transportation (DOT) reported that an 8-km resurfaced section of badly rutted Route 165 showed virtually no rutting after two years, despite heavy truck traffic and extremely hot weather.
A 1995 Superpave overlay on a section of Interstate 10 near Phoenix, Ariz., successfully withstood heavy truck traffic and 17 consecutive days of temperatures above 43 C (110 F). It continues to resist permanent deformation.
After four years of cold weather and heavy traffic, early Superpave test sections on Interstate 43 in Waukesha County and on Interstate 94 in Monroe County, Wis., are faring considerably better than adjacent sections constructed with Wisconsin's conventional mix.
Minnesota reported similar success with a 1995 Superpave overlay mix on a rural road in Blue Earth County.
Benefits
The TTI economic assessment of the Superpave system focused exclusively on the role of the asphalt binder in mix performance. Binder properties significantly affect the performance of an asphalt mix and its ability to resist permanent deformation and low-temperature cracking. Correct selection of binders, as provided by Superpave procedures, result in longer lasting pavements. In addition to benefits, the TTI analysis in all cases considered costs, such as the increased cost of Superpave binders over other grades of binders and the state's costs to purchase and maintain equipment and to train employees.
Even with conservative estimates, TTI forecasts tremendous potential savings from Superpave. Using a conservative projection that fewer than one-quarter of all overlays will benefit from the use of performance-graded binders and that those overlays would see only a 25-percent increase in service life, TTI projected that highway agencies could save between $484 million and $785 million annually, depending on how quickly they adopt the new specification. Motorists could save between $1.3 billion and $2.1 billion a year in user costs thanks to reductions in maintenance-related delays and in vehicle wear and tear.
At a cost of $53 million, Superpave research was the most expensive item in the SHRP budget. Additional costs to research, develop, and implement the Superpave binder specification were estimated at $230 million over 20 years.
Yet, these figures pale when compared to the expected benefits. If highway agencies take 10 years to implement the Superpave binder specification, they will save more than twice the total implementation cost annually for the next 20 years.
Concrete and Structures
Portland cement concrete is a key construction material in most bridge decks and piers; many high-volume roads; and most curbs, sidewalks, and median dividers. These structures cost highway agencies $6.5 billion annually. In addition, as structures built since the 1950s show signs of severe damage from traffic, weather, and other factors, these same agencies face $20 billion worth of needed repairs on steel-reinforced concrete bridges.
To meet the challenge of deteriorating concrete bridges and pavements, SHRP researchers developed or evaluated 44 products, including:
Nondestructive tools and procedures to assess the condition of concrete bridges and pavements.
New strategies to protect and rehabilitate concrete pavements and structures, including cathodic protection and electrochemical chloride extraction on steel-reinforced concrete bridges.
Guidelines for designing concrete mixes to make them less susceptible to spalling, cracking, and other common problems.
Methods to detect, mitigate, and prevent alkali-silica reactivity (ASR), a chemical reaction that can severely damage concrete.
Guidelines for using high-performance concrete in bridges and pavements.
Case Studies Implementing just these five SHRP technologies is producing benefits in a wide range of areas:
The Kentucky Transportation Cabinet (KTC) evaluated the hydraulic fracture test chamber, which simulates the effect of freeze-thaw cycles on aggregates. KTC concluded that the test can save highway agencies time and money because they can screen out aggregates susceptible to freeze-thaw cracking (D-cracking) in days rather than weeks.
The Nevada DOT evaluated the surface air-flow permeability meter, proving that this device to assess the permeability of concrete over reinforcing steel is quick, user-friendly, and dependable.
Alaska DOT bridge inspectors adopted a test developed by SHRP to measure the chloride content of steel-reinforced concrete bridges in the field rather than in laboratories. Alaska DOT anticipates that the $2,000 chloride test kit will save the agency about $1,400 on each bridge - $95,000 in just 1.5 years.
The Virginia DOT is using SHRP-evaluated electrochemical chloride extraction technology, which it anticipates will add 12 to 15 years to the service life of the two concrete bridges currently using this technology and will save travelers countless hours of traffic delays.
Applying SHRP's chemical test to detect ASR in portland cement concrete pavements and structures enables the Idaho Transportation Department to analyze samples in hours rather than relying on expensive private laboratory analysis.
Benefits
SHRP-developed test methods and guidelines for concrete and structures are extending the service life of bridges while cutting bridge monitoring and maintenance costs. TTI analysts anticipate that if one-fourth of all highway agencies adopted just six of the new tests and guidelines, annual savings could reach $4 million over a 20-year period. If all highway agencies adopt the guidelines, the savings could reach $15 million annually.
The analysis also assumes that the SHRP guidelines could extend the service life of affected pavements by 70 percent (from 10 to 17 years), effectively delaying the need for expensive rehabilitation work. One-quarter of highway agencies implementing these strategies over the 20-year period could average a total savings of $13 million annually; adoption by all agencies could result in a total savings of $48 million annually.
Motorists would benefit from fewer delays, which translates into a total projected savings of between $38 million and $143 million over the 20-year period.
More Innovative Products Expected
Several ongoing initiatives are helping highway agencies overcome hurdles associated with some products developed or evaluated by SHRP for concrete structures. These products can be expensive, complex, and difficult to implement. Examples include:
High-performance concrete. FHWA is helping to fund construction of bridge and pavement projects to demonstrate the capabilities of this durable and cost-effective alternative to conventional concrete mixes.
Van-mounted ground-penetrating radar (GPR) system. An equipment loan program allows highway agencies to test drive this nondestructive, but relatively expensive, way to collect information on pavements and concrete bridge decks at highway speeds before committing any funds.
Highway Operations (Maintenance and Work-Zone Safety)
SHRP highway operations efforts focused on helping highway agencies repair and maintain pavements, keeping them in good condition for longer times to enhance ride and to reduce wear and tear on vehicles. SHRP products developed for this area improve:
Pavement preservation and repair.
Snow and ice control.
Work-zone safety.
Pavement Preservation and Repair
U.S. highway agencies spend $25 billion annually to maintain pavements, but increasing traffic volumes and truck loads test their ability to keep pace with maintenance needs. As a result, agencies face a backlog of maintenance needs, and poor pavement conditions impair highway safety and damage vehicle tires and suspensions, prompting additional negative reaction from motorists and commercial users.
SHRP guidelines on preventive maintenance strategies and pavement repair methods allow highway agencies to tailor repair methods for potholes and cracks in asphalt pavement and for cracks and spalls in portland cement concrete pavement to specific traffic, climate, and financial realities.
Case Studies
State and local highway agency experience demonstrates that SHRP products can increase the durability and cost-effectiveness of pavement repairs and maintenance practices. Examples include:
The Alaska DOT's Glennallen District switched to a patching material custom-made for area conditions. Pothole repairs now last two to four times as long as the poorly performing cold-mix materials previously used. Because the material can be stored for extended periods, the remote district can now buy materials in bulk.
In Larimer County, Colo., the Road and Bridge Department adopted a spray-injection pothole repair method. The machine is faster and easier to use, and the finished work is much more durable.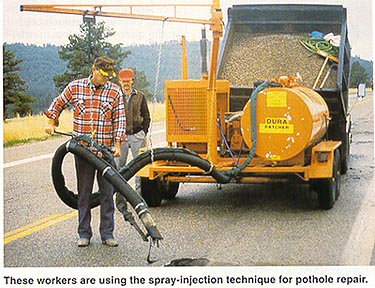 Benefits
TTI analysis focused on the economic benefits of using SHRP guidelines on pothole patching techniques and preventive maintenance strategies.
SHRP evaluation demonstrated that the quality of repair materials used, not the repair method, is the more important determinant of how well the pothole patch holds up. Thus, quality materials applied with either the throw-and-roll method or the spray-injection method produce repairs as durable as those using the more costly and time-consuming semipermanent method. Agencies could reduce repair costs by 25 percent. Annual savings could range between $24 million and $89 million, depending on the rate of adoption.
In many areas, typical current practice for new roadways may call for applying some type of preventive maintenance treatment at 10 years and then applying a full overlay at 15 years. SHRP recommendations advocate preventive maintenance treatment that, for example, may call for treatment at seven years and again at 14 years in the pavement's life, effectively delaying the need for costly overlays until the 19th year of service. This shift in maintenance scheduling toward a pavement preservation philosophy could save highway agencies nationwide between $102 million and $384 million annually, depending on the rate of adoption.
Estimated costs to research, develop, and implement SHRP pavement maintenance products are $45 million over 20 years, but the TTI assessment concludes that highway agencies could easily save twice that much annually by implementing the SHRP technologies and guidelines.
Snow and Ice Control
State and local highway agencies annually spend approximately $2 billion on maintenance activities to keep roads open and safe for travelers during winter storms. Traditional operations dispatched crews and trucks loaded with salt and other chemicals to clear the pavement after the onset of snow and ice. This after-the-fact approach stressed maintenance budgets, and the amount of salt and chemicals used threatened the natural environment. SHRP technologies focused on ways to increase the effectiveness of the maintenance effort while reducing personnel and equipment costs and decreasing environmental hazards.
Innovations such as reconfigured snowplows increase effectiveness and efficiency of plowing operations. Guidelines for more effective use of snow fences are keeping roads clear of drifting snow and improving visibility.
SHRP also evaluated two new snow and ice control technologies:
Anti-icing strategies involve applying salt and other chemicals to the pavement just before a storm strikes to prevent ice or snow from bonding with the pavement. Anti-icing operations effectively reduce costs in terms of equipment and crew operation time.
Road weather information systems (RWIS) that monitor pavement and weather conditions provide the real-time information that enables road managers to effectively coordinate anti-icing and snowplowing strategies, even across governmental jurisdictions.
To help highway agencies adopt these technologies, SHRP also developed guidelines on purchasing, installing, and using RWIS, and on implementing anti-icing strategies.
Case Studies
State highway agencies report considerable savings from RWIS networks and anti-icing strategies:
Using data from an RWIS station, the North Dakota DOT reduced its use of sand on an I-94 bridge near Fargo and saved $10,000 to $15,000 in just four storms.
RWIS network data saves the 153-km West Virginia Parkway about $2,300 in labor costs and $6,500 in materials costs per storm.
Anti-icing practices have reduced sand use in Boulder, Colo., by 55 percent. The $1,600 cost of anti-icing activities per lane-kilometer is half the cost of the conventional sanding and deicing strategy.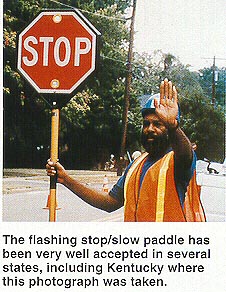 Benefits
Using data collected as part of SHRP field trials between 1991 and 1993, analysts report that anti-icing and RWIS technologies reduce the time that equipment and crews are on the road and cut down the amount of salt, sand, and other materials needed. For each kilometer in the route of salt or sand trucks, annual savings range from $416 in areas with 100 hours of storms per winter to $4,385 in areas with 900 hours of storms. Equipment costs slightly offset these savings.
State and local highway agencies could reduce winter maintenance costs almost $108 million annually by immediately adopting anti-icing strategies. Implementing the techniques over a 20-year period could produce annual savings between $55 million and $81 million. This dramatically exceeds the $45 million cost to research, develop, and implement SHRP winter maintenance products over 20 years.
Work-Zone Safety
Highway maintenance zones challenge workers and motorists alike. Changing traffic patterns in work zones can confuse motorists, increasing the risk of crashes. Maintenance crews risk injury or death because they are commonly protected from oncoming traffic only by traffic cones and/or a flagger. To meet the challenge, SHRP researchers used computer modeling, field tests, and other methods to develop effective and economic safety products that can be easily installed, used, and removed in temporary work zones. These innovations include flashing stop/slow paddles, opposing traffic lane dividers, intrusion alarms, portable rumble strips, and portable crash-cushion trailers. The value of these devices is demonstrated by the fact that all are commercially available and most are used by highway agencies nationwide. Case Studies
Flaggers in Alabama, Kentucky, Maine, New Mexico, North Dakota, and other states have been using flashing stop/slow paddles in work zones, and the paddles have been very positively accepted.
The Texas DOT uses opposing-traffic lane dividers to inform drivers when a one-way road has been changed to two-way operation and to guide the drivers through the work zone.
Work crews everywhere will be much safer once the remotely driven vehicle is in commercial production. The Minnesota-developed prototype, which is controlled from the safety of the roadside, protects the crew from oncoming traffic.
Benefits
Estimating the benefits and costs of work-zone safety devices is a difficult task. To arrive at a consensus, TTI safety experts reviewed experiences with the flashing stop/slow paddle and the opposing lane divider and estimated that full adoption could lead to a 5 percent reduction in highway work-zone crashes.
LTPP Study Continues, Products Roll Out
In addition to products and processes, part of the SHRP initiative involves a long-term pavement performance (LTPP) program. The LTPP program is a 20-year research project to monitor more than 2,000 test stations on asphalt and portland cement pavements throughout the United States and Canada to determine why some pavements perform better than others. Because LTPP is only at its midpoint, the program was not included in the SHRP assessment project. The program is, however, producing results. In addition, the RoadSavers case studies demonstrate that highway agencies are already benefitting from LTPP products, including:
Pavement monitoring procedures.
Materials testing procedures.
Equipment standards and calibration procedures.
LTPP experiments are also yielding valuable information on pavement maintenance treatments. An example of the calibration procedures is the guideline for calibrating the falling-weight deflectometer (FWD), a tool that determines the structural strength of a pavement. Calibration procedures were initially developed to ensure the consistency of FWD data collected at different LTPP sites. The procedures have proven so valuable that highway agencies now routinely use the FWD calibration procedures in pavement management.
Another example is the Georgia digital faultmeter, a device developed by the Georgia DOT and modified by SHRP. The device measures faulting - the vertical displacement at joints in concrete pavements - and the drop-off between the pavement and the shoulder. The device is easy to use, and it is safer and faster than other techniques. Workers can take and record measurements safely from the side of the roadway rather than having to kneel in the roadway.
The benefits of the LTPP program will be data that can be used to develop new guidelines for building, maintaining, and rehabilitating asphalt and concrete pavements. The guidelines will help highway agencies make more cost-effective decisions about pavement design and management. Drivers will also benefit from pavements that last longer and require fewer repairs.
From Research to Reality
Ten years and more than 100 products after SHRP was initiated, the benefits of this creative partnership can be seen in longer lasting asphalt and cement concrete pavements, improved winter maintenance techniques, and work zones that are safer for both highway workers and motorists.
The SHRP initiative also demonstrated the importance of involving all transportation partners, including researchers, state and federal representatives, private industry, and state and local highway representatives - the ultimate users of the technologies and processes - throughout the process from concept development through research to implementation.
Finally, comparing the economic benefits of SHRP products versus the costs of the program provides further validation of the financial and technical rewards realized through these promising products and processes. The practical focus of SHRP has also set the standard for planning future innovative technology programs. SHRP's success ensures the continued use of the creative partnerships so vital to the research, implementation, and success of new transportation technologies.
References
From Research to Reality: Assessing the Results of the Strategic Highway Research Program, Publication No. FHWA-SA-98-008, Federal Highway Administration, Washington, D.C., 1997.
RoadSavers, Publication No. FHWA-SA-96-045, Federal Highway Administration, Washington, D.C., 1996.
Economic Benefits of SHRP Research Program Background Report, Texas Transportation Institute, In Press.
For more information about these references, RoadSavers brochures, and SHRP product area reports and about how to order these publications, check out the Roadsavers web site at http://www.ota.fhwa.dot.gov/roadsvr.
Michael Halladay is the chief of the Technology Management Division within FHWA's Office of Technology Applications (OTA). He has managed the FHWA's SHRP Implementation Program since May 1996. He serves as the Secretary to the AASHTO SHRP Implementation Task Force, and he works closely with organizations such as TRB and AASHTO on future technology programs. Halladay joined FHWA in 1975, and his career has included assignments in federal-aid, design, construction, motor carrier safety, intelligent transportation systems, planning, and research and technology programs. He has a bachelor's degree in civil engineering from Duke University, and he is a registered professional engineer in Virginia.