PLAN Go Slows
Tennessee's 25-year, $85 billion transportation plan allows for growth in population, the economy, and freight movement, but the State is looking at different financial options to fund it.
Many States have growing lists of transportation needs, yet face the challenge of limited funds available to solve them. Managing increasing roadway congestion, developing effective multimodal options, repairing and enhancing existing infrastructure, and becoming better environmental stewards are challenges that must be addressed. Tennessee, like other States, also faces new transportation demands from an aging population, expanding economy, increasing commercial freight transport, and the need to make all transportation systems safer.
To address these challenges, the Tennessee Department of Transportation (TDOT) developed a long-range transportation plan spanning 2005 through 2030. Dubbed PLAN (not an acronym) Go , the 25-year plan was launched in November 2005 amid great optimism; however, the forward momentum has slowed as Tennessee looks at new sources of funding.
Tennessee's Growing Needs
TDOT's previous transportation plan was prepared in 1994 without considering multimodal options or citizen input. Since then, significant changes in demographics and income, employment, personal and freight transportation, technology, land use, energy, air quality, and financial resources have affected Tennessee's transportation network.
According to the U.S. Census Bureau, between 1990 and 2000 the State's population grew by more than 800,000 people, a growth rate 27 percent higher than the national rate. As with many Sun Belt States, Tennessee's population is projected to continue growing substantially — from 6 million in 2005 to 8 million by 2030.
TDOT planners expect the number of people over age 65 to increase from 12 to 20 percent of the total population between 2005 and 2030. As the population ages and driving abilities diminish in many cases, residents will demand multimodal solutions to replace automobiles.
Most of the growth in such demand will occur in suburban communities, where more professional jobs, services, and retail businesses tend to locate. TDOT expects the demand will be especially strong for commuter services between major cities and suburbs and within and between suburbs.
Another factor is the large and growing volume of freight crisscrossing the State. Memphis is the primary hub for shipping and logistics company FedEx®. Exports from Tennessee reached $22 billion in 2006, growing 89 percent in the 4 years between 2002 and 2006 and giving Tennessee the sixth largest gain among States, according to the Office of Trade and Industry Information at the U.S. Department of Commerce.
TDOT planners project that freight transported within Tennessee by all modes of transportation will grow by 70 percent between 2005 and 2030. Roads, highways, and rail systems must be improved to carry the increased flow of goods, especially as just-in-time inventory and delivery systems expand.
Further, in 2005, 19 of Tennessee's counties (20 percent) did not meet the U.S. Environmental Protection Agency's air quality standards. As the population grows and shifts to suburban communities, demand will increase for greener multimodal systems, including light rail, buses, people movers, and bicycle and pedestrian routes.
All of this data, gathered by TDOT in the early stages of PLAN Go development, pointed to a pressing need for improved roads and bridges, highway expansion, and a greater range of transportation choices. TDOT also wanted to extend the longevity of the existing infrastructure, improve service and fiscal responsibility, and increase accountability measures for tracking performance.
The Making of PLAN Go
In 2003, responding to the State's transportation challenges, TDOT and a consultant team began the extensive process of developing a long-range transportation plan that considers all multimodal options: highways, rail, public transit, ports, waterways, aviation, and bicycle and pedestrian alternatives. The resulting 25-year vision includes a 10-year strategic investment plan and a 3-year program of projects. Together, they comprise PLAN Go .
PLAN Go was a collaborative process, engaging elected officials, the business community, and the public through extensive outreach. The collaboration included a 65-member statewide steering committee, participants at nine regional workgroups, TDOT employees, and the public. TDOT's consultants compiled detailed studies of statewide transportation needs and integrated data from individual TDOT modal plans for aviation, rail, transit, and bicycle/pedestrian systems, and from long-range transportation plans developed by Tennessee's metropolitan planning organizations (MPOs). TDOT also collaborated with neighboring States to understand their needs and their initiatives for corridors leading into Tennessee.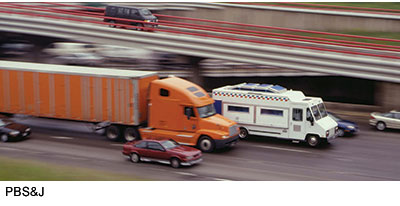 Federal and State guidelines were used to establish objectives and policies relating to safety, mobility, economic trends, environmental protection, and preservation of the existing transportation system — all values endorsed by the 2005 Safe, Accountable, Flexible, Efficient Transportation Equity Act: A Legacy for Users (SAFETEA-LU).
TDOT formally launched PLAN Go in August 2005. "TDOT is to be commended for developing the State's first long-range, multimodal transportation plan," Assistant Division Administrator Laurie Leffler, of the FHWA Tennessee Division, said at the time. "It provides an excellent basis for TDOT's investment decisions."
Vision, Plan, and Projects
PLAN Go's 25-year vision, estimated to cost $85.3 billion between 2005 and 2030, provides policy direction for investments and operating decisions. The vision defines seven guiding principles, putting the highest priority on public safety and preservation of existing infrastructure.
TDOT proposed more than $78 billion in highway spending in the 25-year vision to reduce a backlog of statewide needs. The department also recommended increased funding for system management, including intelligent transportation systems (ITS) and related technology, to increase the efficiency of existing transportation systems by 10 to 15 percent.
PLAN Go's 10-year strategic investment plan targets fast-track programs needed to advance the 25-year vision. The plan calls for spending an additional $2 billion between 2008 and 2015 beyond the projected revenue of about $20 billion to be received from traditional revenue sources between 2005 and 2015. The additional investment of $2 billion would target key projects in three areas called the 3Cs: congestion relief, choices, and corridors.
Congestion-related investments would accelerate interstate and other major highway improvements in urban areas, improve speed and safety of travel on rural highways by upgrading substandard lane widths and shoulders, eliminate major bottlenecks in both urban and rural areas by replacing functionally obsolete bridges, and deploy ITS and travel demand management (TDM) strategies (estimated cost $840 million). The choices theme would expand services by existing bus and van systems, launch new high-performance transit corridors such as commuter and light rail, and offer bicyclist- and pedestrian-friendly solutions (estimated cost $665 million). Corridor investments would improve strategic statewide and regional multimodal corridors (estimated cost $495 million) and upgrade rural connections to interstate highways.
PLAN Go's 3-year program of projects relies on a project evaluation system (PES) that enables State and local leaders to set priorities for multimodal projects and develop them on an annual basis. The PES is an analytical tool that assists in fairly assessing needs throughout the State by providing a consistent, objective framework for project evaluation. MPOs and rural planning organizations (RPOs) serve as forums for TDOT and local officials to discuss project needs and priorities.
Paying for PLAN Go
In 2005, Tennessee's projections for transportation revenues through 2030 were $69.0 billion, or $16.3 billion short of PLAN Go 's $85.3 billion price tag. According to Leffler, "Annually, TDOT is provided with about $800 million in Federal funds that must be used to operate and maintain the existing system and address future needs as well."
Along with other States, Tennessee was hit with a series of rescissions and was asked to return a portion of the Federal funds already apportioned for its fiscal years 2007 and 2008 budgets.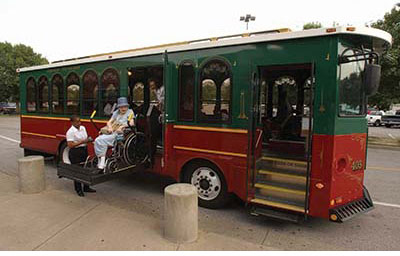 PLAN Go does not include a specific financing plan, but it does evaluate and propose for consideration by Tennessee's General Assembly a menu of possible revenue enhancements to offset the $16.3 billion gap. One option is to raise gasoline and diesel fuel taxes, which have not been increased in the State since 1989 (gasoline) and 1990 (diesel). PLAN Go projects that each penny of increased gas tax could result in an additional $435 million in total transportation revenue over the 25-year period 2005-2030. A 1-cent increase in the diesel tax could add $262 million total for the 25-year period.
Gas and diesel taxes also could be indexed for inflation. Tennessee's current tax is a set amount on each gallon of fuel sold and is not tied to the actual rate of fuel inflation. States such as Florida, Kentucky, and North Carolina index portions of their gas taxes, resulting in more transportation funding.
Another potential approach is to raise vehicle registration fees. Tennessee's fee is $24 per private passenger vehicle annually, which is not as high as the fees charged by most other Southeastern States. A 10 percent increase in the vehicle registration fee would add an estimated $657 million to the State's transportation fund over 25 years.
In addition to those strategies to increase the more traditional funding sources, PLAN Go describes potential advantages of other funding mechanisms, such as tolls and bonds, being used successfully in neighboring States.
Although unpopular with the public, tolls would bring new revenue to the table and enable Tennessee to participate in new Federal initiatives that allow selective tolling of interstate highways. This strategy also could open new opportunities for public-private partnerships (PPPs) to build toll facilities.
Traditionally, Tennessee has been a pay-as-you-go State, but PLAN Go offers some perspective on the judicious use of long-term debt. Bonds issued to pay for critical major assets with long life spans, such as new bridges or transit systems, can reduce overall project costs by allowing projects to be accelerated, reducing the time needed to purchase land right-of-way and build the project, and reducing the impact of inflation.
Finally, PLAN Go suggests expansion of the State Infrastructure Bank (SIB) to help fund investments in highway and transit projects. Under SAFETEA-LU, a State participating in the new SIB program may capitalize its SIB with up to 10 percent of funds apportioned to the State. The SIB funds can help finance the State's transportation projects through loans and credit assistance to both public and private entities. "Tennessee has a successful revolving loan fund to assist with major water and sewer infrastructure," notes Ed Cole, chief of environment and planning at TDOT. "There may be an opportunity to apply similar concepts to transportation infrastructure funding."
Plan on Hold
Much enthusiasm and momentum for PLAN Go accompanied its release in 2005, from both TDOT's partners in local government and the private sector. Because of the budget shortfalls, however, in 2008 TDOT's 25-year plan is not off to the optimistic start envisioned 3 years ago.
In addition to the cuts in Federal contributions, TDOT, like every State DOT, is facing significant increases in construction costs because of the hike in energy prices. China's economic boom is driving up demand for steel and increasing its cost. TDOT estimates that its construction costs have increased by 12 to 13 percent annually in the last 2 years alone. The U.S. Department of Transportation's Office of Inspector General's report, Growth in Highway Construction and Maintenance Costs , agrees that the construction cost increases are abnormally high: "We found that highway construction and maintenance costs nationwide grew approximately three times faster from 2003 through 2006 than their fastest rate during any 3-year period between 1990 and 2003, substantially reducing the purchasing power of highway funds. These increases are largely the result of escalation in the costs of commodities used in highway projects, such as steel and asphalt, and reflect structural, not transitory, economic changes. Consequently, we expect these commodity costs to remain elevated, and possibly continue expanding, in the near term."
"This has had a significant impact on PLAN Go ," says Cole. "It's taking longer to complete existing projects because as we reach the next phase of each project, we find the costs have increased significantly over what was budgeted. That extends the length of the project pipeline, meaning it's nearly impossible to start any new projects."
Tennessee is one of only eight States still using the pay-as-you-go approach to financing transportation systems. And because TDOT typically does not issue bonds or obtain loans for its transportation programs, the State is in a particular financial pinch.
Potential Revenue Streams Still Under Debate
At the end of the most recent legislative session, the General Assembly appointed a joint transportation study committee to review the State's current and projected financial situation and evaluate possible solutions. The financing options described in PLAN Go provide much of the background for the committee's discussion.
Increases in the State's fuel tax and vehicle registration fees were among the first options mentioned in the committee's meetings, but much of the significant discussion has focused on new funding mechanisms, such as tolling and PPPs.
A comprehensive bill that would have allowed private firms to participate in development, construction, and management of roadway facilities failed to pass the State legislature in 2007. Observers said the vote was affected by apprehensions about foreign ownership and investment, and the possibility that Federal environmental procedures would be bypassed. Perceptions of PPPs in Tennessee also were colored by the experience of a neighboring State. A proposal by a private consortium to add truck lanes to I-81 stirred controversy among Virginia citizens, as well as many residents of northeastern Tennessee, where I-81 terminates at Morristown.
However, another type of PPP might be entering the picture. TDOT and the Virginia Department of Transportation are looking at ways to mitigate freight traffic along I-40 (a major east-west highway) and I-81 (a major north-south highway), which form a corridor through northeastern Tennessee into Virginia.
Virginia recently entered into a partnership with a private railroad company to improve and expand rail lines along Virginia's portion of the corridor. The railroad also has indicated plans to upgrade tracks in eastern Tennessee and locate a new intermodal center there. PLAN Go recommends developing partnerships with major (class 1) railroads where such arrangements could enhance multimodal options for major interstate travel corridors.
"Norfolk Southern® [Corporation]'s proposed improvements in Tennessee could signal opportunities to follow up on that PLAN Go recommendation," Cole says.
New Toll Project Bonds To Be Issued
In July 2007 the State General Assembly passed the Tennessee Tollway Act, which enables the State to issue bonds to subsidize two pilot toll projects — one new bridge and one new roadway. TDOT has been granted tolling authority with extensive legislative oversight, and could evaluate and recommend sites for both projects to the legislature by early 2008. If the legislature approves, TDOT could begin project development as early as 2008.
Despite some initial public opposition, the toll legislation appears to have tapped into latent demand. Numerous communities and individuals in Tennessee already have petitioned TDOT to consider their areas for pilot toll projects, including chamber of commerce leaders and elected officials in Memphis who are seeking a new Mississippi River bridge to serve freight shippers and others in their fast-growing region. Leaders in the Nashville and Chattanooga regions also have approached TDOT with proposed bridge projects to shorten commute times and enhance regional connections.
Says State Representative Phillip Pinion, chairman of the Tennessee House Transportation Committee: "There are communities in this State [that] realize that in this funding climate their project may not get developed, and they're saying they are willing to pay a toll in order to have this facility available to them."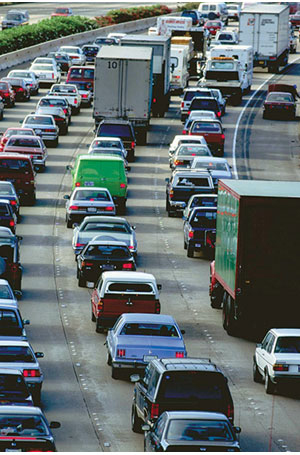 Finding Greater Efficiencies
Given the challenge of funding new projects, TDOT is doing what it can to begin addressing the problems and implementing the solutions presented in the long-range transportation plan. The first priority is to look for greater efficiency from the existing infrastructure as an alternative to constructing new highways.
TDOT is nearing completion of an ITS program called SmartWay, which uses advanced information technologies — radar, traffic flow sensors, video cameras, and dynamic message signs controlled through a remote management center — to improve highway safety and operation. Commuters can check TDOT's SmartWay Web site or phone 511 for congestion reports, maps, information, and alternative routes that make travel more efficient. SmartWay also has improved emergency management and integration with law enforcement agencies.
Further, TDOT is looking at solutions that include car/vanpooling and high-occupancy vehicle highway lanes, and is actively promoting TDM strategies that encourage employers to allow employees to stagger their travel schedules during morning and evening commutes to spread peak traffic over longer periods of time.
Even simple changes in signal synchronization along State routes can have enormous impacts. "Nashville decreased morning commute time by 30 percent on some corridors just by retiming signals," notes Cole.
Honing Needs Assessment
One of PLAN Go 's most immediate benefits is TDOT's approach to assessing transportation needs and improvements on high-congestion corridors. The plan helps Tennessee stretch its limited transportation dollars by identifying where needs are greatest.
For example, TDOT now works with local officials in RPOs to obtain input on transportation needs and desired priorities for proposed projects. Traffic and safety data are compiled and discussed with local officials to verify the need and determine the most cost-effective solutions. "Sometimes a problem that appears to require road widening can be solved with some minor operational changes," Cole notes.
At this point, TDOT is evaluating needs, prioritizing them, and putting them in the queue. "We're encouraging local governments to participate with us in the evaluation process to ensure that TDOT has all the information needed to show that a project is well justified," says Cole.
"A planning report for a lengthy highway corridor may identify short sections for near-term improvement," he adds, "but it also establishes a consistent cross section envisioned for the long term."
One of PLAN Go 's recommendations is to avoid investing dollars in piecemeal projects all over the State. Rather, TDOT should focus on completing work on an identified set of strategic corridors where numerous short-term projects will result eventually in a fully improved, interconnected network.
Emerging Agency Partnerships
"With less transportation funding available, TDOT has to leverage everything it's got," says Cole. "Synergy with other State and local agencies is essential. Our transportation investments can have a much greater impact in areas that are already working on other elements of their economic strategies."
For example, in early 2007 the Tennessee legislature reaffirmed the County Seat Connector Program to link every county seat by four-lane highway to the nearest interstate. TDOT is now working with the State's Department of Economic & Community Development to ensure that communities are studying their other infrastructure needs, workforce size and skills, and other factors that affect economic development potential. "It's those communities," Cole says, "that will see the most economic benefit when a county seat connector roadway is built."
Moving Forward
In 2008, 3 years into the 10-year strategic investment plan, TDOT still has numerous projects to tackle. Although some progress has been made in project evaluation and urban congestion, primarily through continued implementation of the SmartWay ITS system, other major projects remain on hold. Highway expansion and multimodal alternatives, particularly transit systems, are still in the queue.
As TDOT evaluates and plans the next steps it will take, accountability and transparency are more important than ever. "It becomes even more important to place taxpayers' money where the needs are greatest and in the most transparent way," Cole says.
Even in trying times, TDOT is doing its best to create an efficient transportation system that provides innovative options, while preserving and enhancing existing infrastructure. In the meantime, TDOT will be well organized and ready for action when more transportation funding becomes available.
Wayne J. Overman, P.E. , is a senior vice president and deputy transportation service director with PBS&J in Nashville, TN. He has 25 years of experience in key design, planning, and management roles in large transportation projects.
Mark M. Boggs, P.E. , is a project director and planning manager at PBS&J in Denver, CO. Boggs served as PBS&J's project manager for PLAN Go 's development, which was recognized by the American Council of Engineering Companies of Tennessee as a "2007 Engineering Excellence Award" winner. He has 32 years of transportation planning experience, focusing on statewide and regional planning and corridor studies.
For more information, contact Wayne J. Overman at 615-399-0298 or wjoverman@pbsj.com, or Mark M. Boggs at 303-221-7275 or mboggs@pbsj.com.