The Environmental First Lady
This tribute to Lady Bird Johnson (1912-2007) pays homage to her efforts to beautify America's highways by encouraging wildflower planting and junkyard screening.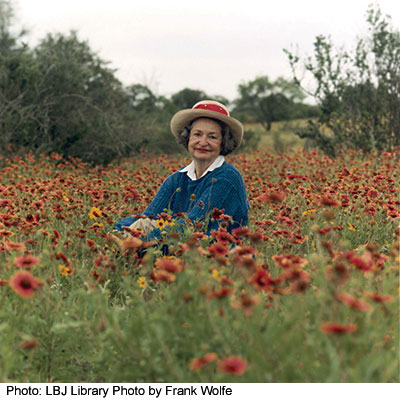 "In years past, I had not given any conscious thought to taking a hand in preserving our natural heritage or to heightening its beauty — except in our family surroundings. Gardening in my own backyard in Washington had brought me much pleasure. I remember planting a weeping cherry, a pink dogwood, and a crab apple to make a quadrangle with the old apple tree already growing there. Laughingly I told my husband that my epitaph would be, 'She planted three trees!'"
The planting legacy of Claudia Alta Taylor "Lady Bird" Johnson, wife of President Lyndon B. Johnson, goes well beyond those three trees. The National Park Service kept a running tab of the number of daffodil bulbs alone that were planted at Lady Bird's direction, and in 4 years the total reached 2 million, the largest planting in history.
At her passing on July 11, 2007, USA TODAY® noted, "Today, many people in the conservation field say Johnson's work raised the [Nation's] consciousness about its natural heritage and laid the foundation for the environmental progress that followed. It is hard to imagine how different the country looked when Johnson began her campaign to beautify it. In 1965, the Johnson [Administration] commissioned a study that showed there were 16,000 junkyards along highways. So she lobbied Congress. for a law to change the scenery. Three years later, President Johnson presented pens he used to sign about 50 laws on conservation and beautification 'to Lady Bird, who has inspired me and millions of Americans to try to preserve our land and beautify our [Nation].'"
A Legacy of Innovation
The Lady Bird legacy extends beyond flowering plants and the removal of junkyards and billboards. One of her biographers, Lewis L. Gould, who spoke of the role of First Ladies in general, said that Lady Bird Johnson "deserves to rank with Eleanor Roosevelt as one of the significant innovators in the history of the institution. Her achievements in Washington were important for the development of the role of the First Lady, and the consistency with which she pursued her vision of the environment after the White House added to her historical influence."
Following Lady Bird Johnson, most new First Ladies entering the White House appear to know that a certain amount of beneficent activism is expected of them.
Others have made the same comparison between Lady Bird and Eleanor Roosevelt. But Mrs. Johnson's press secretary, Liz Carpenter, was quick to point out a difference: "Mrs. Roosevelt was an instigator, an innovator, willing to air a cause without her husband's endorsement. Mrs. Johnson was an implementer and translator of her husband and his purpose — a wife in capital letters."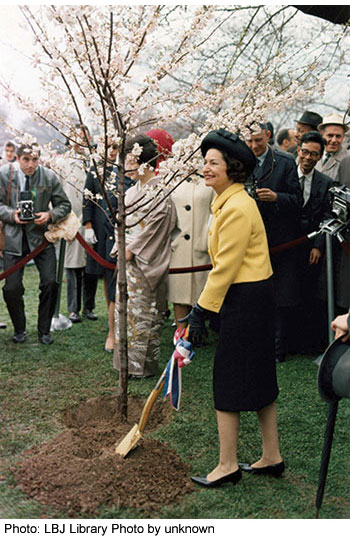 Environmental Activist
Shortly after the President's 1964 State of the Union address, Lady Bird invited 65 newspaperwomen to tour the family quarters and then adjourn to a meeting room for a talk. Herself a journalism school graduate with knowledge of the workings of the media, she told the women: "I want to be a useful First Lady." The next day, she invited them to accompany her on a tour of one of the poverty-stricken coal mining areas of Pennsylvania. After that trip, several of those reporters predicted that Lady Bird would be the most political First Lady since Eleanor Roosevelt. A longtime member of the White House press corps, Helen Thomas, reflecting later on Mrs. Johnson's many trips with the media, said, "Very soon, they [Lady Bird and Liz Carpenter] had us climbing mountains, swimming rivers, and planting flowers all over Washington."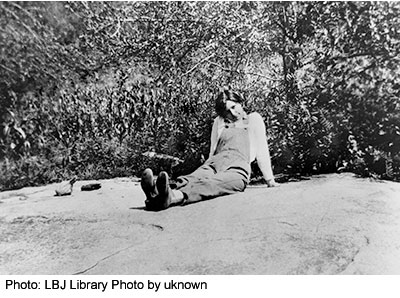 Perhaps her most crucial trip came in October 1964. After the death of John F. Kennedy, Vice President Johnson had become the Nation's 36th President, but now he was campaigning to be elected President in his own right. His strong support of the Civil Rights Act of 1964 angered voters in several southern States, and many prepared to abandon the Democratic ticket and vote Republican.
In response, the First Lady campaigned for her husband's election via a 4-day train trip through eight southern States. Her reception was anything but warm. In fact, she encountered insults, demonstrations, and even the threat of bodily harm. But through it all, she kept her dignity and charm. Her effort is thought to have played a major role in the President's carrying those States in the November election. Nationally syndicated columnist Max Freedman speculated that, because of that trip, Mrs. Johnson may have redefined the role of First Lady. "Perhaps this marks the emergence of women as central figures in a national contest instead of being on the edges of a campaign."
Earlier, her concern for the roadsides that she and the President encountered along other portions of the campaign trail had made its way into his speeches. In September, in Portland, OR, the President told his audience that the auto junkyards they had seen during the campaign "are driving my wife mad." She had speculated that if he lost the election, "one of the advantages of getting defeated is to give her some time to get out and do something about cleaning up the countryside and these old junkyards along our beautiful driveways." He preferred to win the election and then "develop a national policy for the control and disposal of technological and industrial waste."
As U.S. News & World Report explained, the President's references to the subject during the campaign prompted applause, so "the President observed: 'If it's beautifying they want, it's beautifying they'll get.'"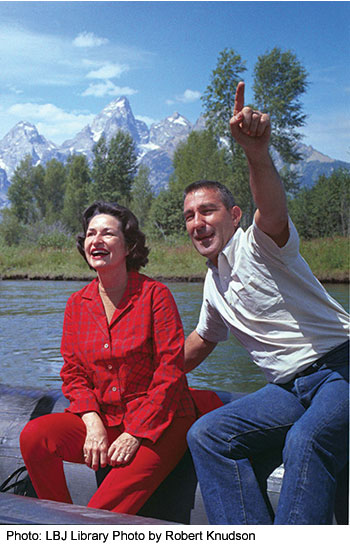 Impact on the Federal Care of Highways
True to his word, the President sent a letter to his Secretary of Commerce (which, at the time, included the Bureau of Public Roads) calling for a new approach to the care of highways. In his letter written on January 8, 1965, he stated:
"As a first step, I am directing you to undertake the following program towards achieving these goals:
Require that landscaping be made a part of all projects on the Federal-aid interstate, primary and urban highways.
Encourage the States to acquire land or easements adjacent to highway rights-of-way where necessary to preserve and enhance the beauty of our countryside.
Request the States to provide more rest areas adjacent to the highways.
Broaden the study now underway on the needs for scenic roads and parkways.
I will also expect the Department of Commerce and its Bureau of Public Roads to take an active part in the White House Conference on Natural Beauty which I will soon call."
On January 25, 1965, Federal Highway Administrator Rex Whitton sent a copy of the President's letter, along with a memo of his own, to the Bureau of Public Roads' regional and division engineers, saying, in part:
"We in the Bureau of Public Roads will exert every effort to implement and expedite this program...The State maintenance organizations are to be encouraged to aid and abet the growth of native [wildflowers] along the highways and civic groups and garden clubs are to be encouraged in their efforts to improve the appearance of the roadsides outside the highway right-of-way. It is my sincere hope and expectation that Bureau of Public Roads personnel will do all in their power to aid in these worthwhile endeavors. You will note from the President's letter to the Secretary that he will call a White House Conference on Natural Beauty and that he expects the Department of Commerce and its Bureau of Public Roads to take an active part in it. This, of course, we will do with enthusiasm and if any modifications in these instructions are deemed appropriate as a result of this conference, you will be advised at once."
Whitton's use of phrases such as "exert every effort" and "this, of course, we will do with enthusiasm" make the point in no uncertain terms that this was a serious matter, something that must be done, not something that might be done.
In his State of the Union address to Congress on January 4, 1965, President Johnson spoke of the need for stewardship of the Nation's natural bounty. "It would be a neglectful generation indeed, indifferent alike to the judgment of history and the command of principle, which failed to preserve and extend such a heritage for its descendants." His proposals covered not just highway beautification but also cities, counties, pollution, and rivers.
In a lengthy interview with U.S. News & World Report on February 22, 1965, Mrs. Johnson followed her husband's lead and highlighted a wide range of ways to beautify the country. Speaking of her home State, she said, "I am particularly proud of the Texas highways, perhaps because I know more about them than I do other States. For about 30 years, we have had a wildflower-seed-planting program there [that] has really made it a glorious experience to drive across the State [between] the middle of March and June."
History of Highway Beautification
As a child growing up in eastern Texas, Lady Bird had relished playing in fields of bluebonnets, wild poppies, and primroses. And later, her State was one of the first to couple beautification efforts with highways.
In 1933, the Texas Highway Department (today the Texas Department of Transportation) hired its first landscape architect, Dutch architect Jac Gubbels, who was charged with "beautification of highways." That same year, the State Citizens' Committee for Roadside Improvement was organized with the primary objective of shifting public awareness toward roadside consciousness. The landscape architect felt that, with that awareness, the public "will insist on safety and pleasant roadsides which in turn will develop pride, and will naturally eliminate unsightly dumps and ugly shacks as well as bootleg billboards."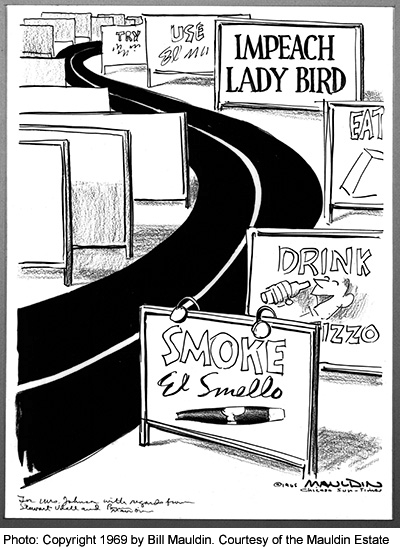 Johnson's campaign to beautify U.S. highways was not popular with everyone, as evidenced by this "Impeach Lady Bird" cartoon published in the Chicago Sun-Times. Photo: Copyright 1969 by Bill Mauldin. Courtesy of the Mauldin Estate.
Although Texas's efforts with wildflowers and highway beautification might predate those of some other States, work at the Federal level has a much longer history. In 1909, the Office of Public Roads, now the Federal Highway Administration (FHWA), issued a bulletin stating that "no matter how smooth and well constructed the traveled road may be, if the roadsides are not cared for, the highway as a whole will not give a good impression. All rubbish should be removed; the excavations should be filled and embankments smoothed and planted with grass wherever it will grow. Unsightly brush should be cut and grubbed out...All trees that are ornamental or which have value as shade trees should be preserved and protected."
And in an article titled "Uncle Sam Considers Roadsides," Thomas MacDonald, chief of the Bureau of Public Roads, pointed to the "problem of ridding the main traveled highways of the blatant commercial advertising signs." He stated, "While the Bureau has no authority to correct what often proves a menace to safe driving, it has done what it could toward eliminating the billboards by developing popular sentiment against them."
Through the years, much was done by other highway agencies. In 1941, for example, the Ohio Department of Highways and the Department of Landscape Architecture of The Ohio State University began sponsoring an annual Short Course on Roadside Development, which developed over the years into a national conference. Congress, too, saw the benefit of caring for roadsides, and, in the Federal-Aid Highway Act of 1938, approved the use of construction funds to cover the costs of roadside and landscape development. Here, for the first time, was a standard for Federal assistance in meeting costs beyond those incurred for purely engineering needs. Many roadside development activities were carried out as a result.
However, because the new provisions were optional and did not provide additional funds for roadside development apart from those earmarked for construction, a number of States were reluctant to allocate resources to such activities. Similarly, in the Federal Highway Act of 1940, Congress authorized the use of up to 3 percent of apportioned Federal funds, without State matching, to purchase land beyond normal right-of-way lines to preserve natural beauty. But, again, money used for such purchases would have to come from funds otherwise available for construction, and State highway agencies made only limited use of this option.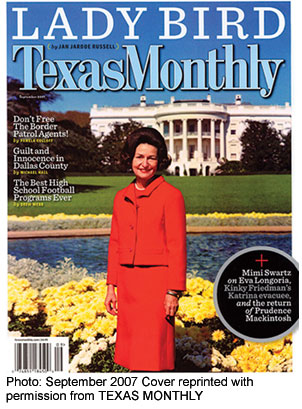 The Term "Beautification" Posed Challenges
More than directives from the White House would be needed to change the way highways were developed and maintained. That change would take the Highway Beautification Act of 1965, which provided separate funding for roadside development, and it was not until the passage of that Act that States really took advantage of the existing legislation.
The fact that the challenge of highway billboards and an unfunded roadside beautification program had existed for so many years does not diminish the feat of passing the Highway Beautification Act. It points instead to the need to establish dedicated funding for highway beautification efforts and also points to the level of difficulty in changing "the way things have always been done."
At the time, construction of the interstate program was well underway. The overarching motivation was moving the driving public from point A to point B, with little regard for the impact of highways on the environment or society, or for the need for landscaping along the rights-of-way. Of course, this was before the publication of Silent Spring in 1962; in other words, it was a time when few people were concerned about environmental impacts.
To bring the term "beautification" into a culture dedicated to function — creating the infrastructure for moving people — was a challenge in itself. Even Lady Bird herself said that beautification "sounds cosmetic and trivial and it's prissy." Press secretary Carpenter said, "It just seemed to rise up, and it was never a word we were totally satisfied with." Charles M. Haar, chairman of President Johnson's Task Force on Natural Beauty, said the term "sort of has a feminine aura to it, you know, and it's something sissy-like."
In describing Lady Bird's feelings toward the term, biographer Lewis L. Gould said, "Her attitude toward beautification as a word made sense in the short run. There were lasting negative consequences, too. Since beauty was such an ill-defined and easily mocked concept, her program could be showered with masculine sarcasm whenever opponents wished to make cheap points. Her male supporters could respond only in a tentative and an uneasy manner, lest they seem unmanly in their views. There was always an undeserved tone of apology and supplication about what Lady Bird Johnson did for the environment; it arose from the label beautification. In its way, her campaign became an instructive lesson in how constricted the role was that women, even a First Lady, played in American public life in the 1960s."
Lady Bird's preference was for the word "conservation" because it indicated the need to save something that was in danger of being lost. Nonetheless, "beautification" was the term that stuck to the effort, and the challenge to use it in an area focused on "efficient means" at the time was daunting.
Highway Beautification Act of 1965
To drive the necessary change, President Johnson realized that he needed to provide a legislative mandate to transportation agencies. In May 1965, he asked special assistant Bill Moyers to draft what the President called "Lady Bird's bill on highway beautification." The initial draft gave the States the power to regulate junkyards and billboards along federally funded roadways. If they failed in that effort, the Secretary of Commerce could withhold 20 percent of their annual highway apportionment of funds. During the give-and-take that accompanies all legislation, the amount was reduced to 10 percent.
Lady Bird played a hands-on role in the effort to persuade Congress to pass the bill. She made personal visits to key congressional leaders, a lobbying effort not typical of most previous First Ladies.
The battle for passage of the beautification bill was intense. On September 6, the Senate passed a version of the legislation. Debate began in the House of Representatives on October 7. Coincidentally, members of Congress and their wives had been invited that day to a Salute to Congress event at the State Department auditorium, followed by a reception at the White House. Buses to take them to the State Department arrived at 7 p.m., but there would be a long wait. President Johnson had sent word to the Hill that no members would be welcomed at the White House event until they passed the beautification bill. An account in Washington's Evening Star newspaper noted, "Some legislators eventually made it to the White House for a brief early morning festivity."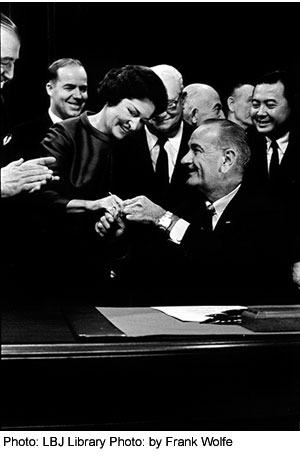 After the House vote, the bill went back to the Senate for reconciliation of minor differences. Congress completed work on the bill on October 14, and the President signed the Highway Beautification Act on October 22, 1965.
At the signing, President Johnson said, "We have placed a wall of civilization between us and the beauty of our countryside. In our eagerness to expand and improve, we have relegated nature to a weekend role, banishing it from our daily lives. I think we are a poorer [Nation] as a result. I do not choose to preside over the destiny of this country and to hide from view what God has gladly given." After adding, "Beauty belongs to all the people," the President signed the bill and gave the first pen to Lady Bird.
The new law covered three key areas: control of outdoor advertising, control of junkyards, and landscaping and scenic enhancement. As mentioned earlier, if States did not comply with the requirements, which included control of advertising on signs within 201 meters (660 feet) of the nearest edge of the right-of-way, their annual apportionment of Federal-aid highway funds could be reduced by 10 percent in the next apportionment.
Four years later, the House voted to delete the 10 percent clause. According to a U.S. Department of Transportation historical report, "The sense of the House seemed to be well expressed by Congressman William H. Harsha of Ohio, who stated that the United States could do without 'luxury and cosmetic programs' until the economic situation of the country had improved."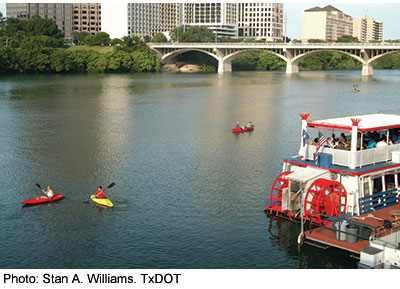 Rallying the Public
After the bill passed, Lady Bird realized the need for getting its message to the public. On the one hand, lobbyists for billboard companies were not going to sit by while their clients lost money. On the other hand, the First Lady expected the pressure on Congress and others in government to continue. She saw that having the public on her side would be crucial to keeping the Highway Beautification Act in place.
She rallied garden clubs and other women's groups throughout the country and went on more than 40 of what were referred to as "beautification trips," highlighting the natural beauty of the country and pointing out where specific natural wonders were in danger.
She also played the key role in the Committee for a More Beautiful Capital. The group was formed to improve the appearance of Washington, DC, to make it more on a par with Paris, Rome, and other major cities. The group that Johnson pulled together for the task included several wealthy business and civic leaders, including Laurance Rockefeller. Today, springtime in the Nation's Capital reveals a rich tapestry of flowering plants. Under Lady Bird's direction, millions of tulips and daffodils were planted through the parks and triangles of Washington, red oaks along Connecticut Avenue, crepe myrtle along F Street, and, of course, those cherry blossoms around the Washington Monument. As The Washington Post put it after her passing, "How could she have known how much we would come to count on her annual spring show in Washington and her wildflower stands along the interstates, more than 40 years later?"
In addition to women's groups and wealthy philanthropists, others were on the receiving end of Lady Bird's attention. She recognized the role that engineers and road builders played in the effort. In February 1966, she spoke to members of the American Road Builders Association (as it was called at the time) in Denver, CO, saying, "You, in the road building profession have done so well in your work that the public now takes the safety and utility of your pavement surface for granted. But what they remember about a trip are the masses of blooming flowers along the roadside and the stunning vistas, and the delightful camping and picnic spots. As one highway official told me, 'That's what brings in the fan mail!'"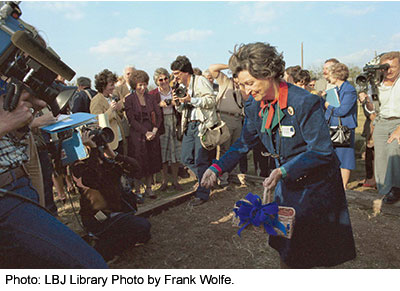 Post-White House Efforts
As the Johnson Administration came to a close, Lady Bird's work finally was publicized as a positive environmental effort. In 1969 the U.S. Postal Service issued a stamp with the slogan "Plant for a More Beautiful America," and Lady Bird Johnson Park was opened in Washington, DC, to honor her beautification efforts.
Some have estimated that Lady Bird played a major role in the enactment of as many as 300 environmental laws signed by her husband.
After their time in the White House was over, the Johnsons continued to influence those who build and maintain highways. Each year, they sponsored cash awards to be given to the Texas Highway Department's maintenance crews. And on her 70th birthday, in 1982, Lady Bird gave $125,000 and 24 hectares (60 acres) of land to establish the National Wildflower Research Center (now known as the Lady Bird Johnson Wildflower Center) in Austin, TX. Today, the center provides advice on planting, growing, and maintaining wildflowers to agencies and organizations throughout the world.
The seeds Johnson sowed, literally and figuratively, have multiplied. Most States now have wildflower programs; many even produce special license plates featuring wildflowers.
Long-Lasting Impacts
Today's transportation agencies are vastly different from their counterparts of the 1960s and 1970s. As transportation expert Stephen C. Lockwood, a former FHWA Associate Administrator for Policy under Administrator Thomas D. Larson, described the situation in a May 2003 presentation to State department of transportation (DOT) leaders, "Most [States] have taken their environmental stewardship responsibilities seriously. Over the last 35 years since NEPA [the National Environmental Policy Act of 1969], environmental values and processes have been internalized into most project-development processes, from planning to maintenance. In many [States], departmental philosophies now reflect an ethic that goes beyond minimizing and mitigating to quality improvements toward 'sustainable' approaches."
Perhaps Lady Bird Johnson was looking ahead to this expanded view when she addressed a convention of the American Institute of Architects in 1968. She said that we need "a new conservationism." She added, "The answers cannot be found in piecemeal reform. The job really requires thoughtful interrelation of the whole environment...and that, of course, only begins with trees and flowers and landscaping."
True to Johnson's vision, State DOTs, with a widened view of the impact of highways, find themselves in a much more complicated role. No longer can they simply focus on the engineering and construction aspects of getting roads built. Now they must consider such things as context sensitive solutions, smart growth initiatives, and environmental stewardship. This broader responsibility is not limited to the environment; it includes aspects of civil rights, such as building in accordance with the Americans with Disabilities Act, developing innovative financial approaches, and not merely building highways but operating them as systems that are an integral part of society.
At Lady Bird's memorial service in Austin, TX, Moyers reflected on how the First Lady had withstood those hostile protesters during the 1964 train tour in the Deep South. He noted how she did not flinch despite the catcalls, insults, and signs attaching a racial slur to President Johnson — nor even the threat of violence that prompted Federal agents to check, foot by foot, an 11-kilometer (7-mile) bridge that her train would cross.
Moyers quoted her statement to the protesting crowds: "You might not like what I'm saying, but at least you understand the way I'm saying it." Then Moyers concluded: "Yes, she planted flowers, and wanted and worked for highways and parks and vistas that opened us to the Technicolor® splendors of our world. Walk this weekend among the paths and trails and flowers and see the beauty she loved. But as you do, remember — she also loved democracy, and saw a beauty in it — rough though the ground may be, hard and stony, as tangled and as threatened with blight as nature itself.
"Claudia Alta Taylor — Lady Bird Johnson — served the beauty in nature and the beauty in us — and right down to the end of her long and bountiful life, she inspired us to serve them, too."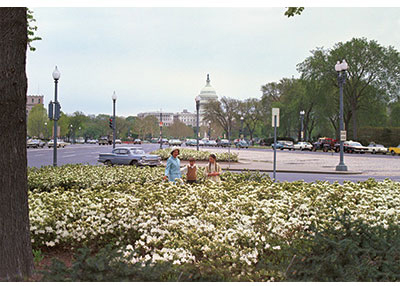 ---
Kathleen A. Bergeron is a marketing specialist with FHWA in Washington, DC. Prior to joining FHWA, she managed communications and marketing programs for consulting engineering firms and transportation agencies at the State and local levels, including the Texas DOT. During that time, she met Lady Bird Johnson several times. Bergeron has a bachelor's degree in journalism from The University of Texas at Austin and a master's degree in transportation management from San José State University.
For more information, contact Kathleen A. Bergeron at 202-366-5508 or kathleen.bergeron@fhwa.dot.gov.