Better Options for Older Adults
Local planners are establishing supplemental transportation programs nationwide to help meet the needs of the growing senior population.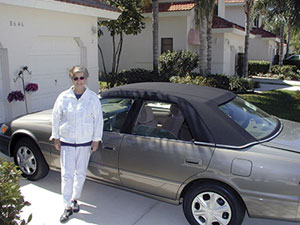 Older adults need to go to a variety of life-sustaining destinations—the doctor, grocery store, perhaps an exercise class. They want to go to any number of life-enriching locales—the library, recreation center, church, a volunteer job. By reaching these destinations, they continue to participate fully in society as workers, volunteers, family members, friends, and consumers. Unfortunately, not everyone is able to stay mobile as they age.
According to a 2004 study by a national nonprofit advocacy organization, the Surface Transportation Policy Project, 20 percent of adults age 65 and older do not drive. Of that age group, 54 percent stay home on any given day (compared to 9 percent of people of all ages who drive). Reduced mobility translates into 15 percent fewer trips to the doctor for nondriving older people and 65 percent fewer trips for social, family, and religious purposes.
Communities and service providers across the Nation experience the transportation challenges facing older adults, especially the very old who may need personal assistance. Many communities and organizations nationwide have created Supplemental Transportation Programs (STPs) for seniors to add to traditional transportation services, which often do not meet the needs of nondriving seniors.
Although some STPs may provide transportation to people with disabilities and even to the general population, most were created to serve seniors, especially those who are frail and in need of assistance. Similar to traditional services, they offer transportation to a variety of destinations. Most STPs also supply "supportive transportation" in the form of door-to-door and door-through-door assistance. They may even arrange for an escort to stay with a passenger at a destination. In many instances the STP's driver or escort is a volunteer.
STPs are among a mix of transportation options beginning to take shape for seniors. "Public transportation systems around the country are working with their communities so that older adults have options to go shopping, visit family and friends, volunteer, or go to the doctor," says William Millar, president of the American Public Transportation Association (APTA). "Programs should constitute a family of services that best meet the needs of older adults and are the most cost effective for the community. Depending on their physical needs and destinations, older adults would get around by bus, train, community center van, medical ambulance, or another senior who volunteered to drive them. Seniors would call one number to find out the best way to get to their destinations or look it up and schedule it right on the Internet."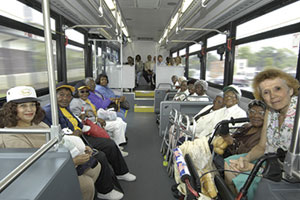 Attention at the Top
The White House Conference on Aging (WHCoA) takes place once every 10 years. It now has a 50-year history of bringing together policymakers, planners, service providers, and older Americans to make policy recommendations to Congress and the President on the full range of aging-related issues.
At the most recent conference, held in December 2005, some 1,200 delegates appointed mainly by Governors and Members of Congress were asked to name 50 top policy priorities. Assuring availability of transportation options for seniors was voted number 3 among the 50 resolutions, ahead even of those addressing Medicare and Medicaid. This top ranking represents a fundamental shift from prior WHCoAs and further reflects a growing understanding among aging-service professionals, transportation experts, and seniors themselves that transportation is the key to maintaining quality of life for older Americans.
Giving Up the Keys
Concerns about older drivers' safety, coupled with the need to maintain mobility in the community, are responsible for much of the growing interest in transportation options. Although most older adults are safe drivers, many choose to limit their driving to surface streets and no freeways, their immediate neighborhoods, and daylight hours. Others give up their keys because they fear driving or have a physical, mental, or financial limitation. As a result, many outlive their ability to drive.
According to "Driving Life Expectancy of Persons Aged 70 Years and Older in the United States," by Daniel J. Foley et al. in the American Journal of Public Health, both men and women are likely to live beyond the time that they can drive safely, as much as 6 years for men and about 10 for women. During that period, they will lose the independence of the personal automobile and become dependent on alternative transportation.
In years past, family members or friends were expected to help older adults who no longer drove. But today in the United States, multigenerational families are no longer common. Therefore, fewer stay-at-home caregivers are available to fill the driving gap. Many nondriving seniors depend instead on public and community-based transportation services, such as fixed route, circulator route, paratransit, dial-a-ride, taxi service, and human service transit programs. However, many communities do not offer these services, and even where they are available, older adults may be unable to use them because of the physical conditions that forced them to give up driving in the first place.
Target Population
The projected rapid expansion of the 65-plus age group in the next 20 years presents major challenges to society in terms of consumer markets, workforce composition, and productive retirement. Transportation poses one of the greatest challenges, and meeting the needs of the 85-plus group is the most difficult task within that challenge. That group may need special assistance that traditional public transportation systems, particularly fixed route and paratransit services, were not designed to provide. In contrast, 65- to 85-year-olds often serve their communities and help older adults by being volunteer drivers.
According to the U.S. Census Bureau, in 2000 there were more than 35 million Americans age 65 and older. That number is expected to increase beyond 71 million by 2030. Although the number of "young old" (ages 65-85) will increase dramatically, the "old old" (age 85-plus) will show even greater growth. For example, 10.9 percent of the population was age 65-85 and 1.5 percent was age 85 and older in the year 2000. These numbers will increase to 17.0 percent and 2.6 percent, respectively, by 2030, and to 15.7 percent and 5.0 percent in 2050.
"The United States is at a critical juncture in ensuring that older Americans have the mobility and independence that have been the hallmark of the baby boomer generation," says APTA's Millar.
This presents communities with an emerging challenge. They can join the two sides of aging—the "young wellderly," who may have the time and energy to contribute as paid or volunteer drivers, with the "old elderly," who are transportation-dependent and need community-based options.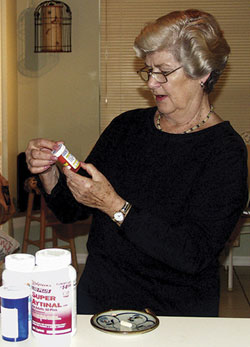 Need for Senior-Friendly Options
Many in the aging-service community note the difficulty if not impossibility of stopping driving if no alternative is available. Simply having options, however, may not be sufficient, as transportation services must be "senior-friendly." The Beverly Foundation in Pasadena, CA, has conducted extensive research to arrive at five principles defining the issue. These "Five A's of Senior- Friendly Transportation" include availability, accessibility, acceptability, affordability, and adaptability.
Meeting these senior-friendly requirements can be difficult for public transit and Americans with Disabilities Act (ADA) paratransit services (special-demand responsive systems for people with disabilities), and even for human-service organizations that provide transportation to seniors. Restrictions on funding and the distance to destinations often limit the available transportation to a single purpose, or to certain days of the week or hours of the day.
Consequently, transportation often is unavailable for "quality of life" destinations. A senior may be able to find community transportation to a doctor's appointment but may be unable to get to a bridge group or the hairdresser. Costs for paid staff, vehicles, equipment, and insurance can limit dramatically the ability of a transportation service to do more than provide fixed-route or curb-to-curb service for older adults. Further, drivers without proper training who treat seniors with insensitivity can mean the difference between seniors getting where they need to go and choosing to stay at home.
Perhaps the major reason that many traditional transportation providers find it so difficult to serve the "old old" is that their services simply were not designed to meet the special needs of this population. Providers may drive passengers from one point to another, but their services generally do not include helping passengers into and out of vehicles, or staying with passengers at destinations. On the other hand, supportive transportation includes door-to-door and door-through-door assistance and often involves escorts at the destination—all essential elements of senior-friendly service for many older adults. In many instances the only means of providing this support is by involving volunteer drivers and escorts.
Local Communities Take the Lead
STPs were first identified in a joint effort by the Beverly Foundation and the AAA Foundation for Traffic Safety in Washington, DC. "Given the expected [increase in the number of] seniors over the age of 65, it is essential that our society provide transportation alternatives to folks who can no longer safely drive," says Peter Kissinger, president and chief executive officer of the AAA Foundation. "To that end, STPs will continue to play a vital role, and we have been delighted to collaborate with the Beverly Foundation to develop resources for organizations to use in planning and implementing them in their communities."
Projected Changes in U.S. Population, 2000-2050 (in millions)
Age
2000
(Actual)
2030
(Projected)
2050
(Projected)
All Ages
282.125
363.584
419.854
65-84
30.794
61.850
65.844
85+
4.267
9.603
20.861
Source: U.S. Census Bureau.
The two foundations initiated the partnership in 2000 with a national survey of STPs. In annual surveys from 2000 to 2005, the groups documented 492 STPs throughout the United States. Because of that research, STPs now are recognized as an approach with national significance.
Although some STPs are large and costly to operate, the majority are relatively small and inexpensive. Annual budgets range from $1,000 to $9.8 million, with a median of $58,000. Thirty-three percent of STPs target rural areas, 44 percent use automobiles as their transportation vehicles, and 49 percent can provide escort services. Although 46 percent of the STPs charge fees, 75 percent draw on grant revenue, and 23 percent tap into funding from Federal, State, or local government for some or all of their support. (The figures do not add to 100 percent because STPs typically draw on a mix of funding sources.) Although driver recruitment and funding are said to be major challenges, the fact that the STPs average 24 years in service suggests they are remarkably successful in sustaining their operations.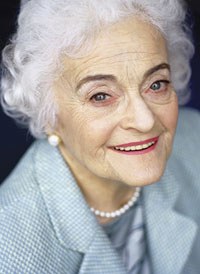 Volunteer Drivers
Transportation services that use paid drivers report that the salaries generally constitute 50 percent or more of the budgets. Vehicle ownership is another major expenditure. Volunteer drivers and their vehicles enable many STPs to serve older adults adequately. Although some volunteers are reimbursed for mileage, the savings realized from not paying driver salaries or purchasing vehicles are substantial. Also, volunteer drivers generally are committed to being helpful and thus are able to provide the door-to-door, door-through-door, and destination assistance needed.
In the study of STPs, 55 percent used volunteer drivers and 76 percent provided door-to-door service. The 2004 and 2005 surveys documented 179 volunteer-driver STPs and 728 volunteer drivers.
The data from those surveys suggest some major differences among volunteer-oriented STPs. Budgets for volunteer STPs range from $1,000 to nearly $4.4 million, with a median of $23,500. Seventy-four percent of volunteer STPs are in rural areas, 84 percent use the vehicles of volunteer drivers, 97 percent provide door-to-door service, and most say that drivers act as escorts. Although only 13 percent charge fees, 71 percent draw on grants, 62 percent use rider donations, and 18 percent tap tax revenues for some or all of their support. Volunteer-driver programs are a somewhat newer phenomenon than STPs in general, but they appear to be successful in sustaining their operations, because statistics show that they average 17 years in operation to date.
Volunteer drivers have been described as the engine that drives not only the vehicle but also the program. Of the 728 volunteer drivers in the database, 63 percent are age 65 and older, 51 percent have graduated from college, 65 percent have household incomes of $30,000 or more, and 67 percent are married. Fifty-five percent have been volunteer drivers for more than 3 years. Many volunteers report that getting to know passengers is one of their greatest sources of satisfaction, and a large number indicate that they hope such a program will be there for them when they are no longer able to drive.
Range of STPs
STPs vary widely, as indicated by the following descriptions of programs across the Nation:
West Austin Caregivers. Located in Austin, TX, West Austin Caregivers is a Robert Wood Johnson Foundation-Faith in Action program sponsored by local congregations. Caregivers began operating in 1985 with an urban service area of 59.6 square kilometers (23 square miles), and it now has an annual budget of around $65,000. It provides assistance to older adults but emphasizes transportation for frail elders. The transportation service is provided by 100 volunteer drivers who use their own vehicles, and the program schedules curb-to-curb, door-to-door, and door-through-door assistance. In 2005 Caregivers provided 4,860 rides to older adults and supported its activities with donations from riders, community organizations, and foundations. A consortium of eight volunteer driver programs that serve greater Austin jointly market the services, recruit volunteer drivers, and raise funds to support their individual and group activities.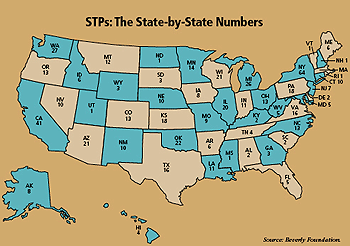 Transportation Reimbursement and Information Program (TRIP). TRIP began operating in 1993, serving 18,647.9 square kilometers (7,200 square miles) in Riverside County, CA, with an $802,946 annual budget. The program is a stand-alone service with organizational and financial links to the local agency on aging and the county transportation service. Although it recruits some volunteer drivers, TRIP is organized to recruit riders who then recruit their own drivers. Thus the agreement for transportation is made between the rider and driver, and it is not necessary for staff to schedule rides. Many drivers act as escorts and even assist riders with daily activities. In 2005, TRIP provided 82,406 rides (and more than 700,000 rides during 13 years of operation) with support and funding from the Riverside County Transportation Commission.
Prairie Hills Transit. Located in Spearfish, SD, Prairie Hills started service in 1990 as a senior transportation program and evolved into a community transportation provider, with a service area of 25,428.5 square kilometers (9,818 square miles) and a budget of $986,000. The program provides medical and general-purpose trips, many of which cover 120.7 kilometers (75 miles) one way. The needs of the senior population make it necessary to provide some door-to-door and through-the-door help. The program operates 21 vehicles with 21 paid drivers. It uses volunteer drivers mainly to take people to church on Sunday. In 2004, Prairie Hills provided 91,565 rides and funded its services primarily from State department of transportation (DOT) funds, aging-services money, Medicaid, funds from city and county fare box revenues, and donations and fundraising activities.
Ride Connection. Located in Portland, OR, Ride Connection was organized as a network of transportation providers that receives public funding to complement the ADA service available through the municipal corporation (Tri-Met) that provides public transportation for much of the three local counties. With a service area of 9,580 square kilometers (3,699 square miles) and a budget of $5 million, Ride Connection is a volunteer transportation service run for and by older adults. It links responsive transportation with the needs of older adults and people with disabilities. In 2005 the service connected a network of more than 30 service providers, scheduled more than 358,749 rides for 10,447 people, and involved 233 paid drivers and 374 volunteers in providing personalized and accessible door-to-door services. Ride Connection receives the majority of its grant funding from the Oregon DOT and Tri-Met.
Profile of STPs, 2005

| Programs | West Austin Caregivers | TRIP | Prairie Hills Transit | Ride Connection | OATS |
| --- | --- | --- | --- | --- | --- |
| Budget (2005) | $65,000 | $802,946 | $985,789 | $5,024,339 | $18,214,293 |
| Number of Rides (2005) | 4,860 | 82,406 | 91,565 | 358,749 | 1,461,988 |
| Start Date | 1985 | 1993 | 1992 | 1986 | 1971 |
| Service Area (square kilometers) (square miles) | 59.6 (21) | 18,647.9 (7,200) | 25,428.5 (9,818) | 9,580.4 (3,699) | 131,157.0 (50,640) |
| Number of Drivers (2005) | 215 | 760 | 21 | 607 | 530 |
| Number of Riders (2005) | 338 | 389 | N/A | 10,725 | Up to 40,000 |
| Number of Collisions* | 0 | 0 | N/A | 4 | N/A |
* In past 10 years resulting in bodily injury. Source: Beverly Foundation.
OATS, Inc. Located in Columbia, MO, OATS began as a senior transportation program in 1971 and evolved into a community provider with a service area of 131,157 square kilometers (50,640 square miles) and an $18.2 million budget. OATS provides reliable transportation for transportation-disadvantaged Missourians so they can live independently in their own communities. OATS fulfills its mission by providing group transportation to seniors, people with disabilities, and the public. It operates a fleet of 622 vehicles and a driver force of 530 paid drivers. In 2005, OATS provided more than 1.5 million rides and funded its services through private contracts, State general revenue, Older Americans Act funding, and multiple Federal Transit Administration programs.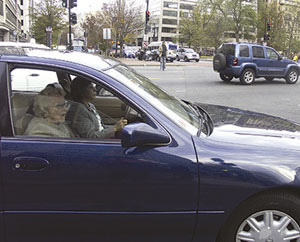 Who's Doing What?
More and more people and organizations in the fields of health care, law enforcement, driver licensing, social and aging services, and transportation safety are leading the expansion and improvement of transportation alternatives. Many of these groups now offer training, technical assistance, financial support, research, community events, and other services that increase awareness and broaden transportation options.
For instance, the Community Transportation Association of America advocates for senior mobility in several areas, such as nonemergency medical transportation, employment transportation, and rural and public transportation. The association promotes universal design in transportation, provides funding and technical assistance to small communities and nonprofits as they set up new or expanded transportation services for seniors, and pursues other activities that instill "senior-friendliness" in transportation. (See www.ctaa.org.)
The AAA Foundation for Traffic Safety funds a number of research and demonstration projects to improve older road user safety, such as signal timing, invehicle technologies, and medications and driving. Some projects are devoted to enhancing alternatives to driving. In particular, a demonstration project, "Getting Around," is now underway with the Center for Healthy Aging in Santa Monica, CA, to see how best to organize local community groups to provide a range of transportation options. A Web site and video are in the works. (See www.seniordrivers.org.) The American Public Transportation Association is working to increase senior mobility on public transit through several avenues, such as development of best practices guidelines for transit providers. For example, the Easy Rider program encourages public transportation providers to improve the senior-friendliness of their services. (See www.apta.com.)
AARP has offered driver improvement courses for more than 25 years, and millions of drivers have attended. More recently AARP has moved beyond driver safety to focus also on mobility alternatives. AARP is active with local metropolitan planning organizations, ensuring that the voice of the age 50-plus consumer is included when transit decisions are made. Under the banner of its Social Impact Agenda, AARP wants to ensure that "complete streets" are available to all, so that when driving is no longer an option, individuals may walk, ride bicycles, or use transit. The most recent revision to the classic AARP driver safety curriculum now includes a section on transitioning out of driving. (See www.aarp.org.)
Many large professional organizations, such as the Gerontological Society of America (GSA) and American Society on Aging (ASA), are seeing significant increases in members interested in transportation and aging. Within these associations, special-interest groups dedicated to enhancing safe and effective senior transportation have formed recently, and the annual conferences now feature a growing number of sessions that reflect the broad range of transportation projects currently underway. These groups have joined with other organizations to improve driver safety (the CarFit and DriveWell programs, both by ASA, for example) and have published research, white papers, and special issues of journals. (See www.geron.org/interest.htm for GSA and www.asaging.org for ASA.)
ITN Innovation
Reminiscent of 19th-century entrepreneurial social service models, the 21st-century Independent Transportation Network (ITN®) combines modern information technology, volunteerism, and local community support to create an economically sustainable solution to the transportation needs of seniors and their families. ITN began as a graduate school project at the Edmund S. Muskie School of Public Service in Portland, ME, and was launched in 1995 with research and development funded by a public-private partnership of the Federal Transit Administration (FTA), the Transportation Research Board's Transit Innovations Deserving Exploratory Analysis (IDEA) program, AARP, and numerous private philanthropies. The nonprofit model now is rolling out nationally as ITNAmerica® with the help of a $3.5 million grant from the Atlantic Philanthropies.
The ITN model comes from the understanding that seniors, like most Americans, rely on private automobiles for transportation. ITN replicates the feelings of independence and choice that are the hallmarks of private automobile ownership. Transportation is provided only in cars, is available "24/7," and gives customers the option to ride alone—at a slightly higher price—or with others. Among the differences between this model and a regular taxi are the membership structure, lower cost, and variety of innovative payment programs, such as transportation credits for volunteer driving, CarTradeTM, and copayments from merchants and healthcare providers. Seniors who use the service become dues-paying members of the organization and open personal transportation accounts that are debited to pay for rides. They may trade their automobiles for credits to fund their accounts, or they may pay cash. Family members also may purchase gift certificates for rides, and volunteer drivers who earn credits for their current efforts may plan for their own future mobility needs through ITN's Transportation Social Security program. The combination of these features helps make the ITN model and the ITNAmerica national network unique among senior transportation services.
Seniors have described ITN as "the next best thing to driving." See www.ITNAmerica.org for information on replication of the ITN model, or see the FTA's publication, "How to Start an ITN® Affiliate in Your Community."
Katherine Freund President and Executive Director, ITNAmerica
Why It Matters
Many transportation planners understand that they cannot build their way out of congestion, so one of their goals is to provide a range of transportation choices such as carpools, buses, and light rail that people will actually use. But in providing choices for older people who no longer drive, planners also must make sure that the choices are senior-friendly.
Transit and transportation officials, human service planners, and transportation providers who are exploring ways of meeting the transportation needs of older Americans increasingly are recognizing the senior-friendliness of the STP. Although it can take considerable time and extensive involvement by numerous groups and community leaders to organize an STP, the cost may be lower than other alternatives, and the result will be a senior-friendly service that older people will actually use.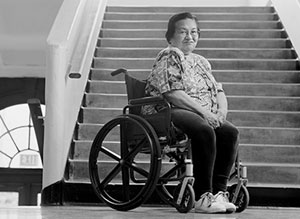 Alternative transportation programs are about enabling people to reduce or stop driving when they need to do so. They are about providing a safe transportation alternative and ensuring the availability of low-cost, senior-friendly options. They are about enabling older adults to secure the basic necessities. They are about community involvement and community support. And ultimately, they are about adding life to the years that have been added to life.
The Five A's of Senior-Friendly Transportation
Availability:
Transportation exists and is available when needed.
Accessibility:
Transportation can be reached and used (bus stairs can be negotiated, bus seats are high enough, bus stop is readable, van comes to the door).
Acceptability:
Standards relate to conditions such as cleanliness (bus is not dirty), safety (bus stops are located in safe areas), and user-friendliness (transit operators are courteous and helpful).
Affordability:
Costs (fees) are affordable, comparable to or less than driving a car, and vouchers or coupons help defray out-of-pocket expenses.
Adaptability:
Transportation can be modified or adjusted to meet special needs
(wheelchair can be accommodated, trip chaining is possible).
Source: Beverly Foundation, 2001.
10 Maxims of STPs An STP:
Is a supplemental option and not a competitive opportunity.
Is a community option that can be built within the community.
Needs to be linked with local transit, aging, and human services.
Can be designed to limit exposure and potential liability.
Can involve "volunteer vehicles" and does not need to purchase them.
Can use volunteers and does not need to pay drivers.
Can be organized so that it can secure insurance.
Can provide transportation in urban, suburban, and rural areas.
Can be started with limited funds.
Can be supported and sustained without charging fees.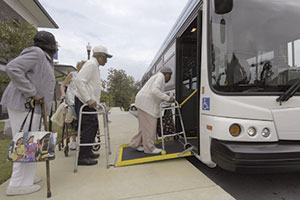 ---
Helen Kerschner, Ph.D. is president and chief executive officer of the Beverly Foundation, which promotes research, demonstrations, and education to foster new ideas to enhance mobility and transportation for older people. She has more than 35 years of experience in health, aging, transportation, and international development, including positions at universities, corporations, the Federal Government, and the nonprofit sector. Dr. Kerschner holds a bachelor's degree from North Texas State University (renamed the University of North Texas in 1988) and a master's and doctorate from the University of Southern California.
Joan Harris has been with the U.S. Department of Transportation for more than 16 years, in the Office of the Secretary of Transportation and with the National Highway Traffic Safety Administration. She has worked mainly in research, policy, program, and communication activities to improve road safety and transportation choices for older road users. She has a bachelor's degree from the University of California at Los Angeles and a master's from the University of Southern California.
For more information, consult the Beverly Foundation's Web site and TurnKey Kit at www.beverlyfoundation.org, which includes information for planning, implementing, and evaluating STP volunteer driver programs. Stories From The Road, Stories From the Heart, a book published in 2006 by the Beverly Foundation, provides data on volunteer driver programs and conveys the stories of 98 volunteer drivers. Also, contact Helen Kerschner at 626-792-2292 or hkerschner@beverlyfoundation.org, or Joan Harris at 202-366-1827 or joan.harris@ost.dot.gov. WHCoA Transportation-Related Resolutions #3 Ensure that older Americans have transportation options to retain their mobility and independence #47 Support older drivers to retain mobility and independence through strategies to continue safe driving For more information, see www.whcoa.gov. Projected Changes in U.S. Population, 2000-2050 (in millions)