Providing Comprehensive Training in LRFD
Since October 2007, the Federal Highway Administration has required all new bridges on Federal-aid projects to use load and resistance factor design (LRFD). LRFD is a probability-based design method in bridge engineering that aims to provide a uniform level of safety for all span lengths and material types. 
The National Highway Institute (NHI) recently launched a series of three Web-based courses to help meet the training needs of structural engineers, designers, and project managers. These new trainings address design considerations for bridges according to the American Association of State Highway and Transportation Officials' LRFD Bridge Design Specifications. The series is a followup to NHI's popular instructor-led course launched in late 2016, LFRD for Highway Superstructures. Here's a peek at the new courses. 
Special Topics in LRFD
The series begins with LRFD Design of Common Bridge Elements: Decks and Bearings, course number 130081C. This course provides a summary of general deck design procedures, including an introduction to different types of bridge bearings. Participants also learn steps for the design of elastomeric bearings and high-load multirotational bearings.
The second training, LRFD Steel I-Girder Details Design, course number 130081D, teaches participants to apply key LRFD limit state verifications for specific details associated with steel girders. A limit state is a condition of a structure beyond which it no longer fulfills the relevant design criteria. This course describes LRFD requirements for stiffeners, shear connectors, cross-frames, diaphragms, welded connections, and bolted field splices.
Prestressed Concrete Girder Topics, course number 130081E, is the final training in the series. The course describes prestressed concrete bridge materials and prestressing losses, along with design considerations for prestressed girders made continuous.
These Web-based trainings take a total of 8 hours to complete. NHI recommends them for structural and bridge engineers in the private and public sectors with up to 20 years of experience. At a minimum, participants should hold a bachelor of science in civil engineering or equivalent degree. Each course in the series costs $25 per participant. Participants are not required to take all three courses, but NHI recommends completing the series for a stronger foundational understanding of LRFD.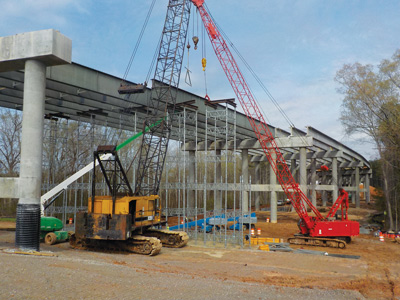 LRFD for Superstructures
The new series complements NHI's LRFD for Highway Bridge Superstructures, course number 130081, which has been updated from instructor-led to a mixed-delivery format and follows AASHTO LRFD specifications. The course combines instructor-led discussions with Web-based material and workshop exercises to describe LRFD for steel and concrete highway bridge structures, using extensive student exercises and sample problems to demonstrate overall design, detailing, and construction principles. As an alternative to the full 4-day course, NHI offers two individual 2-day courses: 130081A, a version of the course focusing only on steel structures, and 130081B, a version on concrete superstructures.
Courses 130081, 130081A, and 130081B all require participants to complete a no-cost prerequisite, General Superstructure Design Considerations, course number 130081P. The Web-based prerequisite provides training on the fundamentals of designing LRFD highway superstructures, including a basic understanding of LRFD development and implementation, general design and location features related to superstructure design, and the primary loads and load combinations used for superstructure design. 
"This new mixed-delivery approach provides a superior learning experience for participants, making the instructor-led training more effective," says Brian Kozy, the team leader for the Structural Engineering Team in FHWA's Office of Bridges and Structures. "Code [or governing specifications] application is taught via Web-based training so that participants may work at the pace appropriate for their experience level. [Having participants complete] the Web-based course before entering the classroom allows the instructors to spend more time interacting with participants, explaining behaviors and assumptions so they better understand the basis of the code."
For more information, visit www.nhi.fhwa.dot.gov. To register for a session or to sign up to receive alerts when sessions are scheduled, please visit the individual course description page.
---
Judy Francis is a contracted marketing analyst for NHI.