Developing Leadership in Transportation Maintenance
Today's transportation agencies face a number of leadership challenges. High turnover rates create knowledge and skill gaps, and, at the same time, agencies expect new hires to shoulder multiple responsibilities and come up to speed quickly. Maintenance leaders across the Nation are looking for effective, targeted training to help newer supervisors on a wide range of maintenance issues, develop employees, and prepare more seasoned managers to advance through the organizational pipeline.
To help, the National Highway Institute developed course 134063, Maintenance Leadership Academy, a comprehensive training for State, district, and county maintenance supervisors who need to acclimate quickly to expanding roles.  The academy provides a deep dive into six key areas: maintenance administration and asset management; roadways and shoulders; roadside maintenance and drainage; weather-related issues; traffic services; and environmental issues, regulations, and compliance. It provides an opportunity for transportation agencies to support career development while advancing new technologies in the field of maintenance.
The Maintenance Leadership Academy "is a worthwhile learning endeavor for all junior foremen and supervisors who aspire to advance their careers," says Mike O'Neill, the deputy director of maintenance for region 1 at the Colorado Department of Transportation (CDOT) and a participant in the 2015 CDOT session.
Participants typically have minimal to moderate experience in statewide, regional, or county maintenance operations.  They must possess a basic knowledge of asset management; materials management; quality assurance; and scheduling, budgeting, and planning for maintenance functions, as well as experience with treatments to preserve pavements.
"Our number one goal is to have a great succession plan because training our leaders and future leaders will be the key to our success," says Gilbert Jordan, a maintenance support branch supervisor with the Texas Department of Transportation (TxDOT). "To further that goal, TxDOT has hosted NHI's Maintenance Leadership Academy several times.  The demand from our maintenance personnel is such that each session has been filled at 30 participants, with ample waiting lists to fill any last-minute openings."
Blended Training
To minimize travel costs and time away from the job, the academy uses a combination of Web-based, classroom, and independent study and activities. Successful participants and their supervisors plan for the necessary time commitment to complete independent study requirements. NHI suggests allowing 9 to 12 or more weeks for completing all coursework, but the schedule can be modified to accommodate workloads.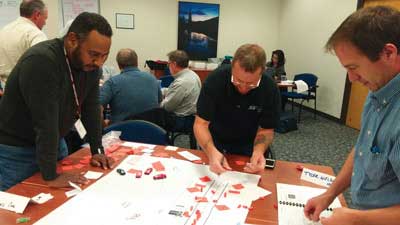 An hour-long live Web conference introduces the instructors and the course. Participants then alternate between independent study and instructor-led training and group activities.
Graduates leave with an indepth understanding of the complex decisionmaking surrounding their organization's bridge and highway systems and how to collect, record, and communicate relevant data. Participant evaluations consistently report that the topics are pertinent and useful, and can be applied on the job immediately.
"Everything we discussed pertained to what management supervisors do and how we do it," says Fred Cummings, a maintenance foreman with CDOT and a 2015 graduate of the Colorado academy. "What we learned about customer service, budgeting, and planning and scheduling will be incredibly useful in my day-to-day.  The academy teaches you how to take the best action at the most appropriate time, using the right resources."
Regional Collaboration
The course can be offered regionally, with transportation communities working together across State lines to host and fill the training sessions.  This flexibility gives neighboring States and local transportation agencies a chance to collaborate with their peers.
Regional academies provide an uncommon forum for participants to share successful maintenance practices and discuss innovation with nearby agencies facing similar challenges. The result is a highly effective academy where participants benefit from the diversity of experiences and exchange of ideas.
For more information, visit www.nhi.fhwa.dot.gov or call 877–558–6873.
---
Vanessa Almony is a contracted instructionalsystems designer for NHI. Gay Dugan is a training program manager for NHI. Judy Francis is a contracted marketing analyst for NHI.