Utility Coordination for Highway Projects
Every highway agency participates in construction projects that include accommodation and relocation of utilities along public rights-of-way. If planners do not fully consider the potential impact of utilities on construction--and of construction projects on existing utilities--during a project's planning stages, the result can be costly delays and dissatisfied stakeholders. To improve the process, the National Highway Institute offers course 134006 Utility Coordination for Highway Projects.
The course explores the importance of ongoing communication, cooperation, and coordination of utility-related activities throughout a project's entire life cycle. Recently, the Rhode Island Department of Transportation (RIDOT) hosted the course for its highway planners and engineers, as well as utility representatives.
"With the financial constraints that State transportation agencies across the country face today, the importance of utility coordination has never been greater," says Wilfred Hernandez, a managing engineer in RIDOT's Construction Management Group. "The course provided valuable technical information, including resources that enable participants to create a personal resource toolkit to guide the owner, contractor, and stakeholders through utility-related issues."
A Blended Approach
The course employs two methods for delivering training: Web-based training and instructor-led training. This blended approach enables participants to minimize time away from the office by completing self-paced, introductory material online whenever and wherever it is convenient. As part of this Web-based introduction, participants explore the importance of a State policy for accommodating utilities, differentiate between requirements for public and private utilities, are introduced to clear zone policies, learn about subsurface utility engineering quality levels, review agreements and memoranda, and identify safety concerns.
After completing the Web-based portion, participants arrive at the 2-day instructor-led session with common baseline knowledge. The valuable classroom time is spent working together to predict risks and focus on applying resolutions at the most appropriate stage of a project.
A Cooperative Effort
The course targets Federal, State, and local personnel who are responsible for planning, designing, constructing, operating, and maintaining transportation facilities that involve the accommodation or relocation of utilities. The course is most effectively delivered with participation of public and private utility companies, State department of transportation contractors, risk managers, right-of-way staff, mid- to senior-level managers, and engineering consultants.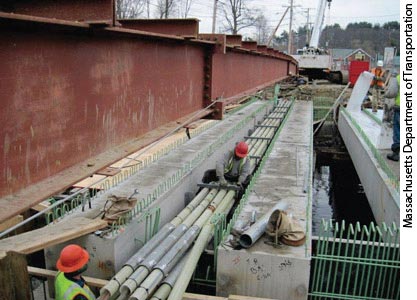 Including utility company representatives, contractors, and risk managers is integral to the success of the course. A minimum of 10 percent of the participants in every class should come from outside Federal, State, and local transportation agencies; up to 30 percent is ideal.
"Due to the unique application of utility coordination, training opportunities for frontline utility engineers are extremely limited," says Ken Leuderalbert, a utility program manager with the Federal Highway Administration. "This NHI training helps to fill the void and provides State and local transportation agencies, as well as the utility owners, with tools to improve business practices that are proven to reduce utility claims and construction project delays."
Transportation agencies interested in hosting course 134006 may submit a host request form or find more information at www.nhi.fhwa.dot.gov/training/intro_hosting.aspx. To register for a course or sign up to receive email alerts when new sessions of a particular course are scheduled, visit the course description page.
---
Judy Francis is a contracted marketing analyst for NHI. Vanessa Almony is a contracted instructional systems designer for NHI.
Continuing Education and Professional Development
NHI offers more than 300 courses spanning 19 program areas. Professionals interested in earning continuing education units (CEUs) or professional development hours can browse the digital course catalog at www.nhi.fhwa.dot.gov. NHI is accredited as an authorized provider by the International Association for Continuing Education and Training (IACET). As such, NHI offers CEUs for its programs that qualify under the American National Standards Institute/IACET Standard. Completion of course 134006 Utility Coordination for Highway Projects earns 1.2 CEUs.